Odds for Every MLB Team Under .500 Reaching the 2013 Playoffs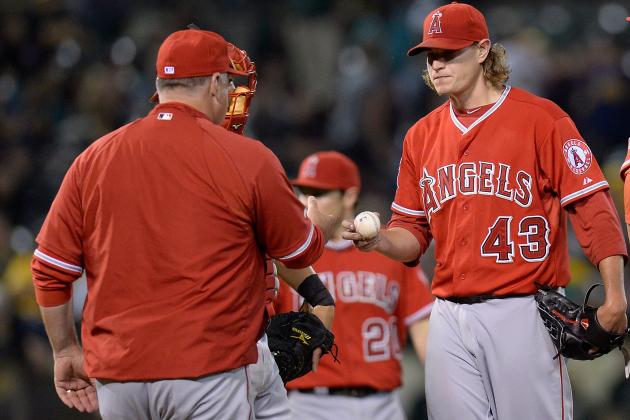 Thearon W. Henderson/Getty Images

Baseball is a long, grueling marathon of a season. High highs and low lows are no way to go through the grind as a fan. Living and dying with every pitch will likely lead you closer to an ulcer than your favorite team to October.

That being said, we're now over 30 games into this 2013 season. It's still a relatively small sample size, but one big enough to have winning teams feeling good about themselves moving forward.

It's also enough of a sample to have losing teams question who they are, where they are going and how to achieve success before it's too late.
A year ago today, the Oakland Athletics, according to Baseball Prospectus' playoff odds, had a 3.9 percent chance of qualifying for the postseason. That, obviously, turned out different than most expected. In fact, the eventual World Series Champion Giants had just a 49.7 percent chance to even qualify for October.

Playoff odds and betting lines are often wrong, but, on the other hand, they tend to have reason behind them.

Four out of the five teams with a better than 60 percent chance to make the postseason on this date last year actually did qualify.

Hot starts aren't necessary, but they do make life easier. Cold starts aren't necessarily the end of a season, but it makes life an uphill climb.

Here's my crack at setting the odds for every current team under .500 making the 2013 MLB Playoffs.

*All records and run differentials are up to date as of the end of play on May 8.
Begin Slideshow

»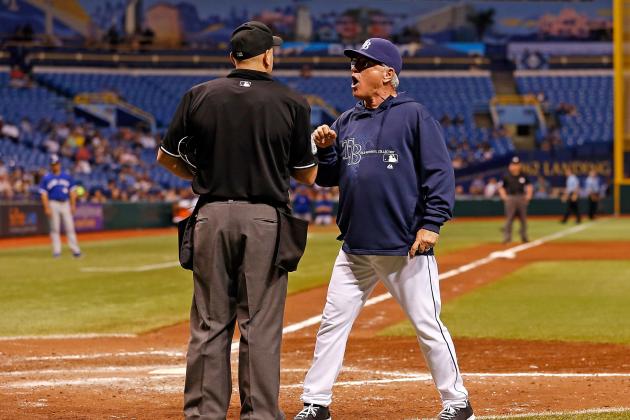 J. Meric/Getty Images

Record: 15-18
Run differential: +4

Why you should be optimistic:
Their run differential points more towards the makings of a .500 team.
Wil Myers is a call-up away from helping the offense.
The three teams ahead of them in the AL East standings—New York, Boston, Baltimore—all have roster questions moving forward.
Evan Longoria is healthy.
David Price, owner of a 6.25 ERA, is capable of rolling off two months of dominance heading into the All-Star break.
Joe Maddon always gets the most out of his roster.
Why you should be pessimistic:
Coming off one of the greatest seasons in the history of relief pitching, coupled with a heavy workload in the WBC, Fernando Rodney is scuffling to the tune of a 5.06 ERA.
Jeremy Hellickson's ability to limit runs without big strikeout totals could be coming to an end.
Desmond Jennings hasn't taken the leap into stardom yet.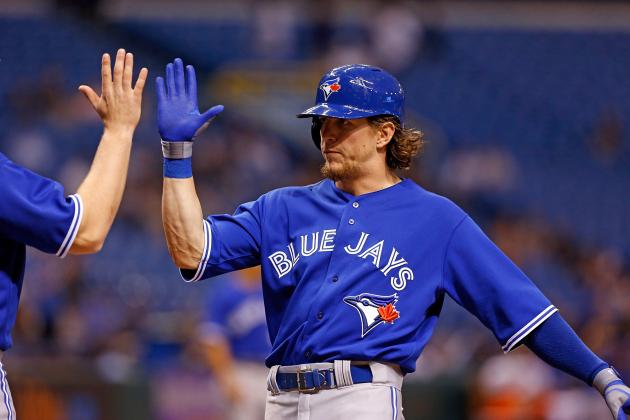 J. Meric/Getty Images

Record: 13-22
Run differential: -50

Why you should be optimistic:
The worst seems to be over.
R.A. Dickey, Brandon Morrow, Josh Johnson and Mark Buehrle can't possibly be any worse from this point forward.
Colby Rasmus looks to have reached his potential.
Jose Reyes should be back by mid-summer.
J.P. Arencibia's power makes up for his on-base deficiencies.
Brett Lawrie and Jose Bautista are healthy.
General manager Alex Anthopoulos isn't afraid to improve the roster on a daily basis.
Why you should be pessimistic:
In a division that will likely take 90 games to secure, Toronto would have to go 77-48 to reach that mark.
Melky Cabrera's .355 slugging percentage looks more like the numbers he posted in New York and Atlanta than Kansas City and San Francisco.
Ricky Romero looks as lost as he did last year.
John Gibbons has never proven to be anything more than an adequate manager.

Mike Stobe/Getty Images

Record: 14-18
Run differential: -12

Why you should be optimistic:
This team posted a better record than the division-winning Tigers through the first 140 games last season.
Since ditching a more aggressive approach at the plate, Adam Dunn has hit more like himself the past few weeks.
Paul Konerko is too good of a hitter to post a .646 OPS for much longer.
If Jake Peavy and Chris Sale are healthy, there aren't many fiercer 1-2, righty-lefty combinations atop major league rotations.
Robin Ventura proved that he could manage at this level last season.

Why you should be pessimistic:
There are very few impact prospects on the horizon to inject life into the club.
The collective lineup averages out to be 30.7 years old, meaning decline is likely and their upside has come and passed.
Minnesota, Cleveland and Kansas City are improved from last season, taking wins away from Chicago early and often in divisional play.
Gavin Floyd is out for the season.
John Danks' return from shoulder surgery is still weeks away.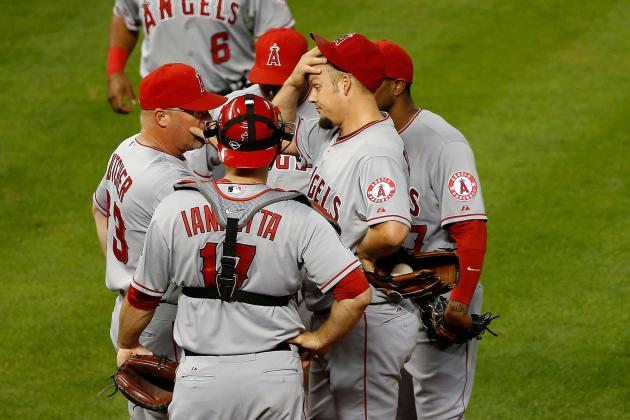 Scott Halleran/Getty Images

Record: 11-22
Run differential: -35

Why you should be optimistic:
The everyday lineup boasts Mike Trout, Albert Pujols and Josh Hamilton.
Jered Weaver should be back by early June.
Mark Trumbo, the fourth-most dangerous hitter in the lineup, is on pace for over 45 home runs.
Despite the constant harping about their starting pitching, C.J. Wilson, Jason Vargas and Tommy Hanson all boast earned run averages under 4.00.
Ernesto Frieri is one of the most dominant strikeout pitchers (12.2 K/9) in baseball for the back end of their bullpen.
The Angels went 75-55 from this date forward in 2012.

Why you should be pessimistic:
Mike Trout is a likely All-Star, but he's not putting up the same eye-popping numbers from last season.
Josh Hamilton has a .312 OBP and 181 Ks since his four-homer game for the Texas Rangers a year ago this week.
Six regulars in their lineup, including Albert Pujols, are posting OBPs in the .320s or worse.
Bud Norris, the enigmatic Astro righty, has beaten them twice this season after posting a total of seven victories in 2012.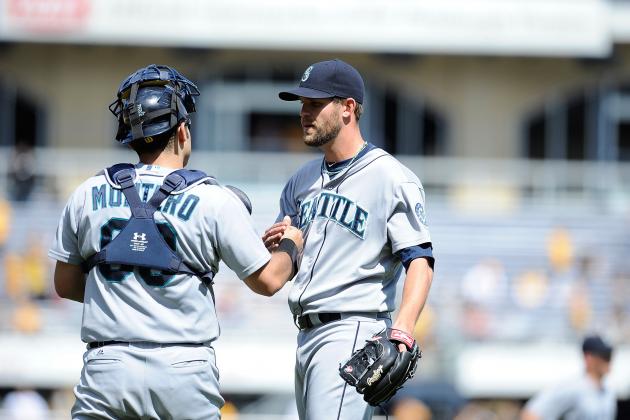 Joe Sargent/Getty Images

Record: 16-19
Run differential: -27

Why you should be optimistic:
Felix Hernandez (1.53 ERA, 56 Ks) pitches every fifth day.
Hisashi Iwakuma (1.61 ERA) backs him up as one of the most unappreciated starting pitchers in the game.
Kyle Seager is proving to be a capable everyday third baseman for the second straight season.
Mike Morse (nine HR) brought his mammoth power from Washington.
Mike Zunino could arrive at some point this summer to lift the lineup with offense from the catching position.

Why you should be pessimistic:
Outside of Hernandez and Iwakuma, the rotation is horrendous.
As a team, Seattle has a .304 on-base percentage.
Giving at-bats to Jason Bay and Raul Ibanez is delaying the next inevitable rebuilding process, not allowing young, potential contributors to develop and supplying opponents with free outs.
Dustin Ackley, Jesus Montero and Justin Smoak aren't showing enough growth to become the players they were touted to be.
The AL West is stacked around them.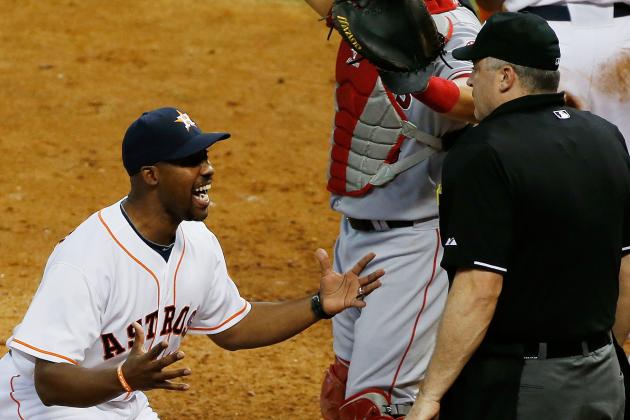 Scott Halleran/Getty Images

Record: 10-24
Run differential: -72

Why you should be optimistic:
Led by a group of smart, forward-thinking front office members, the future is bright. In fact, Bill James, while speaking at the recent SABR analytics conference, told the panel he thinks Houston will be winning 95 games per season within five years.
Unfortunately, the future isn't here yet.

Why you should be pessimistic:
They've already struck out 343 times, well on the way to the major league record.
Outside of Bud Norris, no pitcher in the rotation has an ERA under 4.50.
Moving to the AL West did them no favors.
Outside of Jose Altuve, not one member of their regular lineup has been an above average offensive player this season.
The best prospects in the system are likely years away from truly arriving.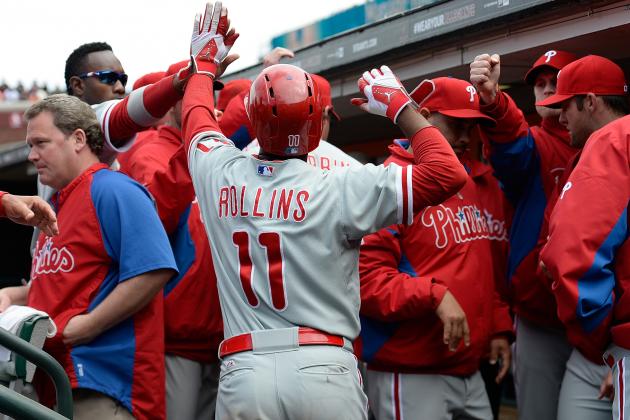 Thearon W. Henderson/Getty Images

Record: 16-19
Run differential: -27

Why you should be optimistic:
Cliff Lee and Cole Hamels are a great 1-2 punch.
Chase Utley and Ryan Howard are both healthy and slugging over .500.
Dominic Brown (six HR) finally looks like more than just a prospect.
Kyle Kendrick (47.2 IP, 2.45 ERA) has transformed himself from long reliever to adequate back-end starter to something much, much more early on this season.
The NL East may not have 95-100 win teams in Atlanta and Washington.

Why you should be pessimistic:
Roy Halladay's shoulder surgery will probably sideline him for the rest of the season.
As a team, they have a collective .298 on-base percentage.
Delmon Young is being asked to play the outfield on a regular basis.
Charlie Manuel is a lame-duck manager.
If the deficit is large in July, Ruben Amaro may be forced to sell.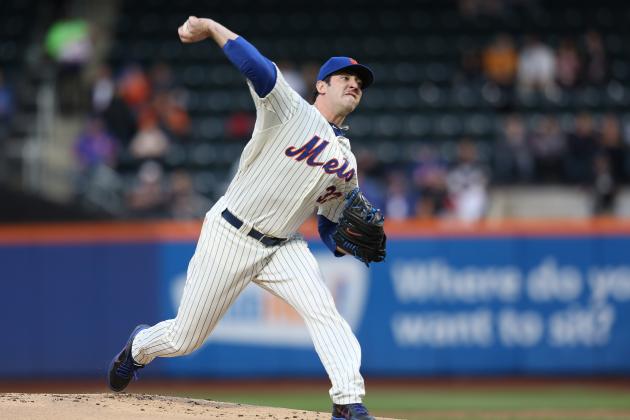 Nick Laham/Getty Images

Record: 13-17
Run differential: -3

Why you should be optimistic:
Matt Harvey has developed into one of the best pitchers in the sport, giving the Mets a dominant performance in almost every outing.
David Wright has a .970 OPS.
Lucas Duda, despite the defensive adventures in left field, is an on-base machine, posting a .391 mark to go along with seven home runs.
Bobby Parnell (1.29 ERA) has been lights-out in the closers role.
At some point this summer, top prospects Travis d'Arnaud and Zack Wheeler could arrive to give a boost.

Why you should be pessimistic:
From all indications, the process for winning is for next year, not 2013.
Ike Davis continues to start slowly, limiting his overall value.
Travis d'Arnaud's injury and Wheeler's arbitration clock have delayed the arrival of two talented contributors.
Jon Niese is walking more batters and striking out fewer than during his breakout season of 2012.
Matt Harvey can only pitch once every five days.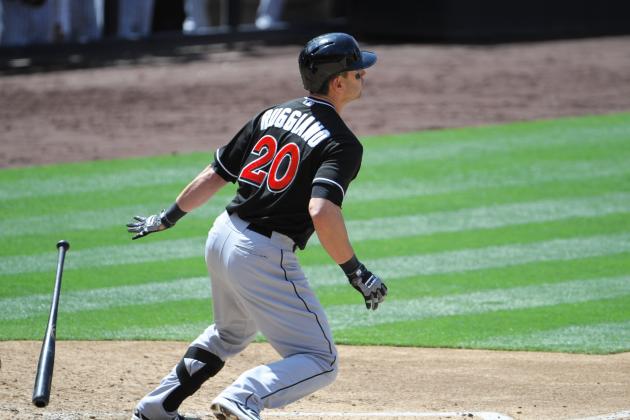 Denis Poroy/Getty Images

Record: 10-25
Run differential: -49

Why you should be optimistic:
20-year-old Jose Fernandez (9.3 K/9) looks like a budding ace to build around.
Eventually, Giancarlo Stanton will return from injury to solidify the rest of the lineup.
Outside of Justin Ruggiano, there are few valuable veterans that could be traded from the roster this July in a further attempt to gut the team down to where it is now.

Why you should be pessimistic:
Outside of Stanton, literally no one in the lineup scares opposing pitchers.
The roster is so decimated of talent that not even losing Mets and Phillies teams can prevent Miami from finishing in last place.
The lack of fans in the ballpark gives their home games a sullen, sad atmosphere.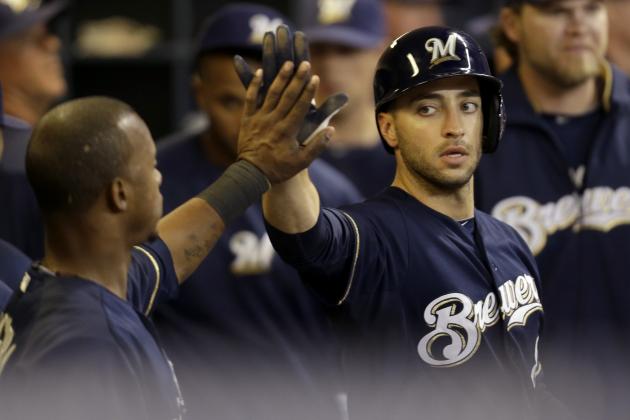 Mike McGinnis/Getty Images

Record: 15-17
Run differential: -13

Why you should be optimistic:
Ryan Braun's yearly dominance over National League pitching.
Carlos Gomez's emergence as a more than capable offensive player to complement his value in the field and on the bases.
The emergence of Jean Segura as a future star at shortstop.
Corey Hart's arrival off the disabled list within the next month.
Yovani Gallardo's 4.50 ERA suggests he hasn't truly gotten going yet this season.
Jim Henderson's ascension into the closer role.

Why you should be pessimistic:
Baseball's crusade to bring down Ryan Braun on PED charges this season.
Rickie Weeks' battle at the dish, constant strikeouts and declining numbers.
Question marks in the rotation from Wily Peralta and Marco Estrada after last season's breakout for each, respectively.
Battling in a division with the stacked Reds, gritty Cardinals and upstart Pirates.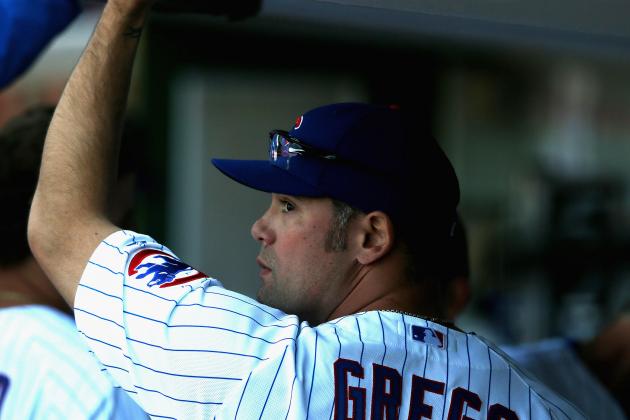 Jonathan Daniel/Getty Images

Record: 13-21
Run differential: -16

Why you should be optimistic:
Nate Schierholtz (.889 OPS) looks like one of the free-agent steals of the winter.
Matt Garza is on track to return at the end of May.
The quartet of Carlos Villanueva, Travis Wood, Jeff Samardzija and Scott Feldman has pitched 174.1 innings of 2.89 ERA baseball for the rebuilt Cubs rotation.
Starlin Castro (.680 OPS) hasn't warmed up yet.
Anthony Rizzo (nine HR, .554 sluggling) looks like a 40-homer bat.

Why you should be pessimistic:
Edwin Jackson can't find the plate.
Matt Garza hasn't thrown a pitch since mid-summer.
Houston isn't in the division to provide a cushion from last place.
Alfonso Soriano looks more like the player of 2010-2011 than the one who excelled once again in 2012.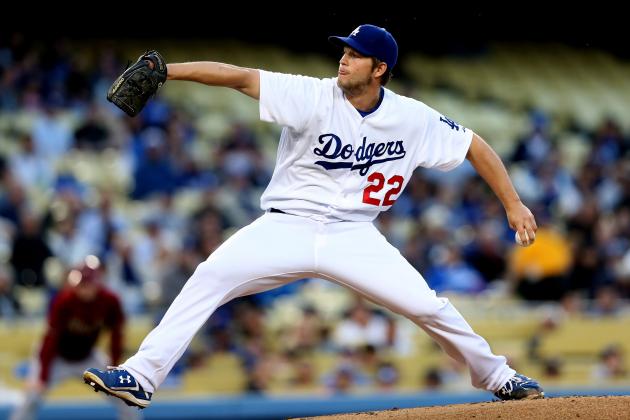 Stephen Dunn/Getty Images

Record: 13-20
Run differential: -37

Why you should be optimistic:
Clayton Kershaw has pitched to a 1.56 ERA and struck out more than a batter per inning, yet you get the feeling he hasn't started rolling yet.
Greinke's collarbone is healing ahead of schedule.
With an .864 OPS, Carl Crawford could be heading for a Comeback Player of the Year Award.
Despite talk about losing his power, Adrian Gonzalez is still slugging .500.
Hyun-jin Ryu has surprised the National League, pitching well enough to be the NL Rookie of the Year.
If needed, ownership will spend to improve the team at the deadline.
While Arizona and San Fransisco are good, neither profile at teams that will win 90-plus games and run away with the NL West.

Why you should be pessimistic:
Josh Beckett has a 5.13 ERA, and Matt Kemp has a .676 OPS.
There's constant injury trouble for Hanley Ramirez.
Don Mattingly's lame-duck status in the dugout.
They're allowing Justin Sellers and Nick Punto to receive extended playing time.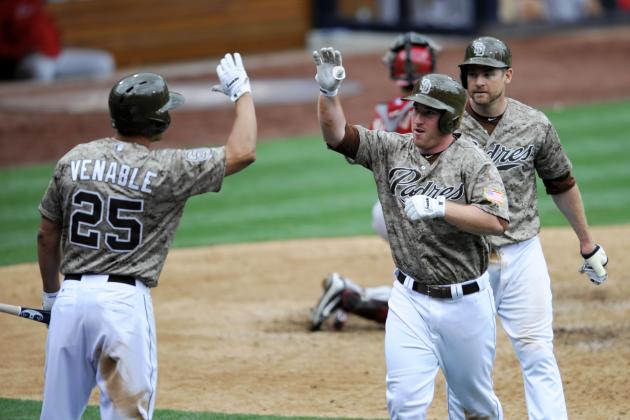 Denis Poroy/Getty Images

Record: 16-18
Run differential: -16

Why you should be optimistic:
Chase Headley returned to the middle of the lineup.
Yasmani Grandal's 50-game suspension for PEDs is nearly 75 percent complete.
As usual, the bullpen is lights-out.
Last season, San Diego played 47-36 baseball from July on, looking like a playoff team in the National League over the final few months.
Andrew Cashner is healthy and looking like a top-of-the-rotation arm.
Why you should be pessimistic:
Four of their five starters are walking 3.8 or more batters per nine innings.
Carlos Quentin is likely to miss time with injury, stunting their power.
Headley is against talking contract extension during the season, which could expedite trade talks.
Which below .500 team has the best chance to turn it around?

Comment below, follow me on Twitter or "Like" my Facebook page to talk all things baseball!