Biggest Adjustments NY Knicks Must Make vs. Indiana Pacers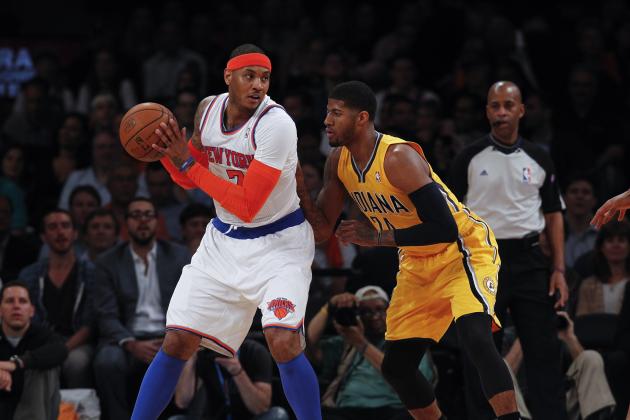 Jeff Zelevansky/Getty Images

The second-round series between the New York Knicks and the Indiana Pacers has been a close affair so far, and it should continue to be to the very end.
With the series heading to Indiana at 1-1, New York will need to make some adjustments to get ahead after losing home-court advantage.
The Knicks have the talent to get past the Pacers—after all, the Knicks won two games against them in the regular season—but if the first two games have shown us anything, it won't be easy.
If Mike Woodson makes these adjustments, however, the Knicks should be able to get the job done and advance to the Eastern Conference Finals for the first time in more than a decade.
Begin Slideshow

»
Jeff Zelevansky/Getty Images

After a fantastic regular season, J.R. Smith has gone cold in the playoffs and is hurting the team with his poor shooting.
Smith is shooting only 34 percent from the field in the playoffs and struggling to provide the spark that the Knicks need at the shooting guard position.
Although he's talented enough to get out of this slump, the Knicks have two players in Pablo Prigioni and Iman Shumpert who can cover his minutes for the time being.
Both have been shooting well and play better defense than Smith, but neither averages more than 30 minutes. It would make a lot of sense on both ends of the floor to give them more burn as Smith tries to regain his rhythm.
With a significant number of Smith's minutes coming at small forward, it may even be worth giving Chris Copeland a shot. He hasn't done too well in the playoffs so far, but given some consistent playing time, he can be an efficient, floor-spreading scorer just like he was in the regular season.
Smith is still a major part of the Knicks and should get back on track soon; but when he's hurting the team, there's no need to have him on the floor with better options available.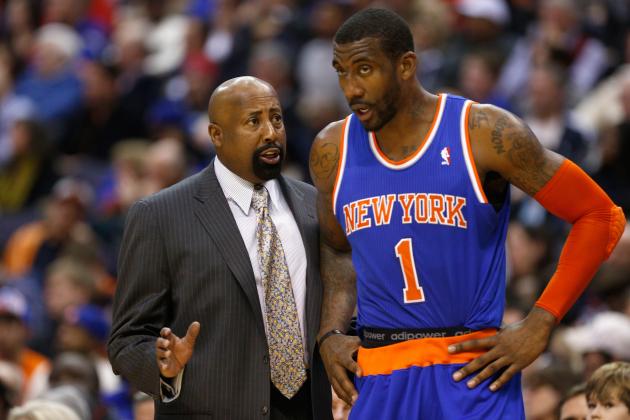 Rob Carr/Getty Images

According to the New York Post's Marc Berman, Amar'e Stoudemire is on the verge of returning to action and is likely to play a small role in Game 3.
Stoudemire will only play 10-15 minutes in his first game, which is a good start for integrating him slowly into the team.
It's a tough situation to add a new player to the rotation in the middle of a close playoff series, but STAT's skill set can help the Knicks right now. If he shows signs of the efficient offense he brought in the regular season, those 15 or so minutes can make a big difference.
Facing a defense as solid as the Pacers', the Knicks need as much offensive help as they can get, and Amar'e can provide a lot of it. He has the height and talent to take on David West and Roy Hibbert, who have caused New York problems so far.
Stoudemire shouldn't be a major part of the team in these playoffs, but he adds depth and a much-needed offensive boost coming off the bench.
It's hard to know what to expect from him so soon after an injury, but with all the work he's put in, there's a good chance he can be productive.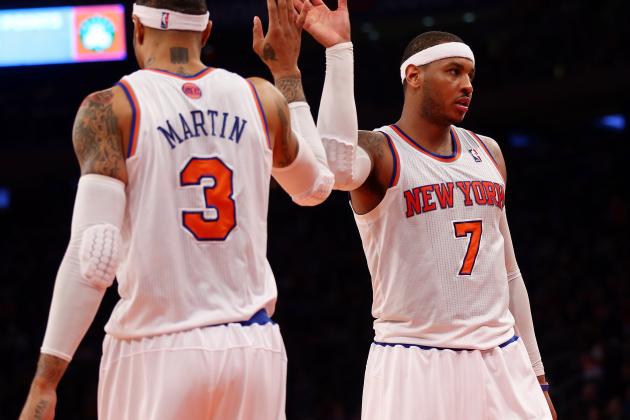 Elsa/Getty Images

The Pacers have one of the best defenses in the NBA, and by going with a small lineup, the Knicks are playing right into their hands.
Against most teams, going small gives the New York an advantage, as the Knicks can spread the floor and use the extra quickness in half-court sets. With the height and physicality of the Pacers, however, that advantage just isn't going to be there in this series.
With Kenyon Martin, Marcus Camby and now Amar'e Stoudemire coming off the bench, the Knicks have the personnel to play a traditional lineup. They should look to use it more often.
It doesn't have to be their starting lineup, but we should see Carmelo Anthony, K-Mart and Tyson Chandler in the frontcourt together more often. It helps out defensively and is still capable of being productive offensively.
Though he hasn't played much at all this season, Camby is still a solid rebounder and shot-blocker, which will ensure New York has a solid defensive presence at all times. With STAT also coming off the bench, Camby will help to cover his weaknesses on that end of the floor as well.
Being too stubborn has caused Mike Woodson a number of problems this season, but with Melo now wearing a shoulder pad, it's clear that playing at the 4 has taken its toll on him.
He can have his way with West at times, but over the course of the 40 minutes that he's going to play every game, he needs to get a longer break from the pounding inside.
Jared Wickerham/Getty Images

Through the first eight games of the postseason, Raymond Felton has been the Knicks' best player on offense.
With J.R. Smith and Carmelo Anthony struggling, Felton's penetration and efficient offense have gotten the Knicks out of a number of tough situations.
Despite his play, Felton hasn't been shooting much late in games, and the team never capitalizes on his hot hand.
As the point guard, Felton's primary role is to create for others, but if his teammates aren't making shots and he is, it makes sense to give him more opportunities. With Pablo Prigioni and Jason Kidd also in the rotation, he can play off the ball, which makes use of his improved spot-up shooting.
Melo is still the Knicks' primary scoring option, but there's nothing wrong with giving Felton more shots if he's burying them. And there's no excuse for not running the high pick-and-roll more often, as it consistently opens up good looks for others as well as Felton.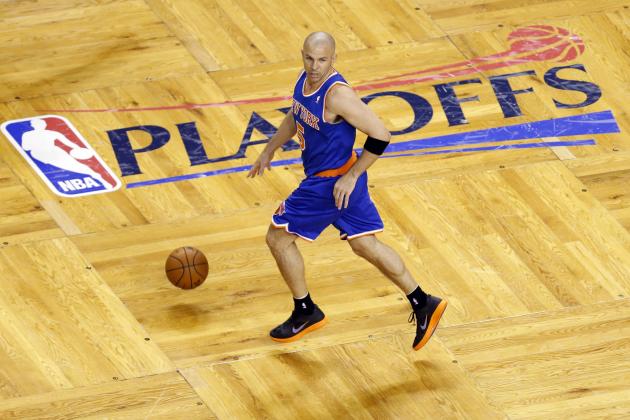 David Butler II-USA TODAY Sports

It's been six straight games since Jason Kidd last scored a point, and that will need to change soon.
Kidd is still making plays defensively, and his decision-making has been on point, but the Knicks need to find a way to involve him in the offense. You might assume he's just not shooting well, but in reality, he's not even taking shots.
When the Knicks offense was at its best in the regular season, Kidd was locked in from behind the arc. His long-range game gives opposing teams one more player to worry about, and his passing can be devastating when defenders leave their man to close out when he's wide open.
Kidd is never going to be a major scorer for the Knicks, but creating shots for him will spread the floor, which is important against a dominant defensive side like Indiana.
Though he's played off the ball a lot this season, it could also be useful to have him run the point every now and then. The Knicks have been running slow half-court sets in this series, and that's where Kidd thrives.
He knows whom to give the ball to and when, which will help Carmelo Anthony and J.R. Smith get back on track with their shooting.