10 Contract-Year Stars Set to Explode in 2013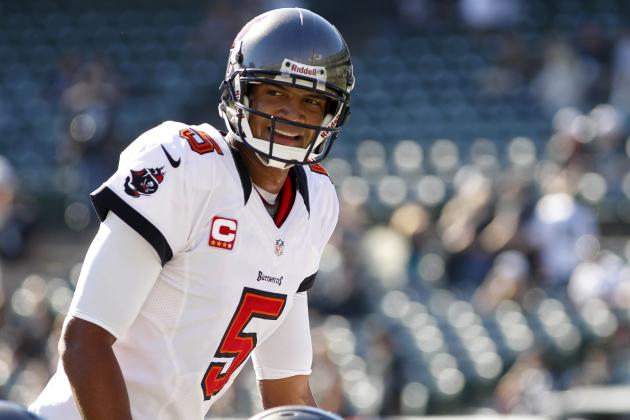 Cary Emondson-USA TODAY Sports

Never doubt the persuasion of the almighty dollar.
While the 2013 NFL season is still four months away, a number of players are scheduled to enter next season on the last year of their respective contract. The goal ahead, at least contractually, is very simple: play well in 2013, and the free-agent market of 2014 will pay handsomely.
Seemingly every year, we see examples of looming free agents putting together a big season and then cashing in the next spring.
In the following slides, we'll present 10 free agents in 2014 who will use their final year under contract to push towards big deals in free agency.
Note: Players under the franchise tag, or one-year deals signed this spring, were not considered.
Begin Slideshow

»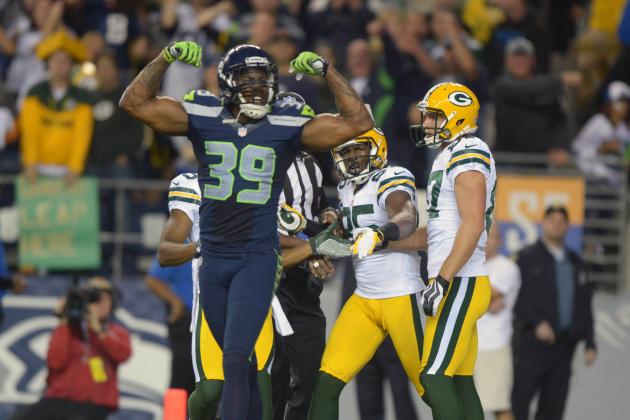 Kirby Lee-USA TODAY Sports

Most have now heard of Richard Sherman, Seattle's loud but incredibly talented cornerback.
By 2014, new money could speak volumes for Browner, Sherman's running mate on the outside in the Pacific Northwest.
In terms of strictly pass coverage, Pro Football Focus (subscription required) has graded Browner as a top 25 cornerback in each of the last two seasons, including a top 10 finish in 2012. The former CFL find also has nine interceptions, three forced fumbles and 29 passes defensed since 2011.
Another impressive season defending the pass could certainly earn Browner a very good lump of cash on the open market, even if he'll turn 29 years old this August. Cornerbacks who are 6'4" and 220 pounds and can cover as well as Browner are almost impossible to find.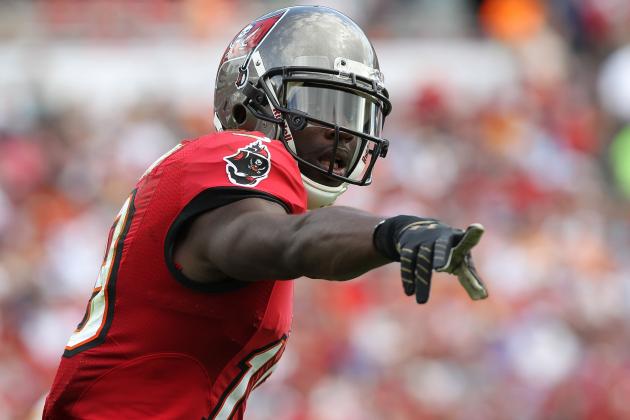 Kim Klement-USA TODAY Sports

After breaking into the NFL with 11 touchdowns and nearly 1,000 yards receiving as a rookie, Williams regressed during his second season and all but fell off the radar as a top NFL receiver.
He helped put his name back on the map with an impressive 2012 season.
With a legitimate No. 1 receiver in Vincent Jackson finally in Tampa Bay to help ease his burden, Williams caught 63 passes for a career-high 996 yards and nine scores as one of the game's better No. 2 receivers. His 15.8 yards per catch was the eighth highest among receivers with 50 or more catches.
The Bucs are now making every attempt to re-sign Williams to a long-term deal before the start of the 2013 season, according to Pat Yasinskas of ESPN. But if Tampa Bay can't agree to a deal prior to next season, another big year from Williams could push his price tag out of the Bucs' range.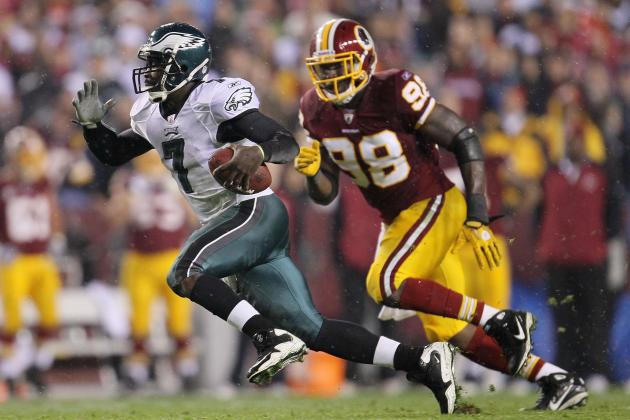 Chris McGrath/Getty Images

An impressive three-year start to Orakpo's NFL career appeared to have the former first-round pick on the path to both gridiron greatness and the money that goes along with it.
A lost season in 2012 has altered those plans.
After just two games last season, Orakpo tore his pectoral muscle—the same injury he had nine months earlier—and was placed on season-ending injured reserve. Entering a contract year, it's now on Orakpo to prove he's healthy and ready to return to the dominating edge-rusher he was to begin his career.
Keep in mind, Orakpo tallied 28.5 sacks from 2009-2011. In 2011, he finished as a top-7 3-4 outside linebacker at Pro Football Focus (subscription required). When healthy, the talent and production are both there.
If there's no further problems with the pectoral muscle and Orakpo is back to his sacking ways in 2013, expect the money to follow next spring (or sooner, if Washington is able to re-sign him).
Kelley L Cox-USA TODAY Sports

Maybe it's naive to think a member of one of the worst defenses in recent memory will suddenly rebound in a contract year. Maybe it's even crazier considering that same defense just drafted a player at his position in the first round.
But in Jenkins' case, I wouldn't rule out a surprising season in 2013.
Under new defensive coordinator Rob Ryan, the Saints should be an attacking defense that relies on pressure and creating havoc. New Orleans should be light years better on that side of the ball next season.
And while first-rounder Kenny Vaccaro presents a risk to Jenkins' job, it's certainly possible that Vaccaro will only play in nickel situations where all three safeties are on the field. The former Texas safety showed an ability to come down and cover the slot in college.
Jenkins has the physical ability to be a good NFL safety. He now has the motivation of both a new deal and potentially losing his job. If that doesn't get the best out of the 2009 first-rounder, nothing will.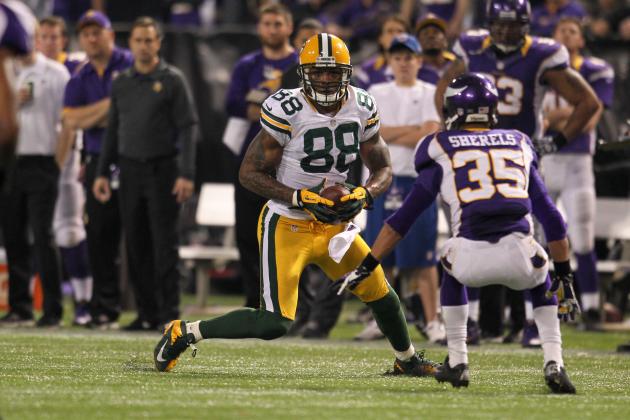 Brace Hemmelgarn-USA TODAY Sport

Few offensive players will have the kind of golden opportunity available to them in 2013 as the one staring Jermichael Finley in the face.
Finley, a 6'5", 250-pound matchup nightmare at the tight end position, will be only 26 years old when his current deal expires. He's also in possession of one of the game's most coveted skill sets (big, tall and fast) and will have more and more opportunities (no Greg Jennings) to catch passes from Aaron Rodgers in 2013.
What more could a looming free agent ask for?
The Packers likely have limited options to keep Finley past 2013, especially if he blows up and posts big numbers next season. He could really make himself some money by playing up to his all-world potential in what looks to be his final season in Green Bay.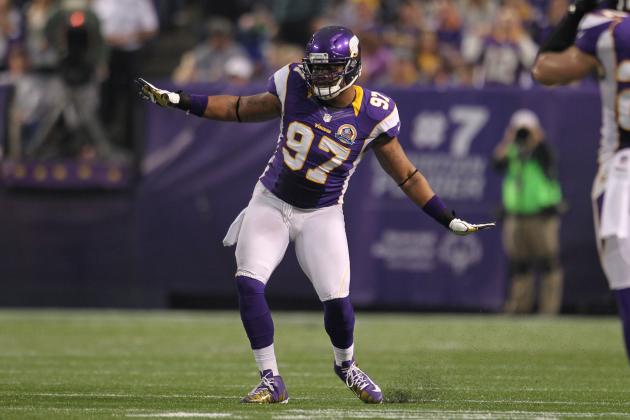 Brace Hemmelgarn-USA TODAY Sports

There may not be a more underrated pass-rusher in the game than Griffen, who is a backup in Minnesota but plays like a full-time starter.
Over less than 700 defensive snaps last season, Griffen tallied eight sacks and 35 other pressures. He recorded another sack in the postseason. There's no questioning his ability to get to the quarterback.
The Vikings have played Griffen at end, tackle and linebacker in an attempt to get him on the field more, and he's also an accomplished special teams player.
Considering the Vikings' four best defensive linemen are entering contract years, it's going to be nearly impossible for GM Rick Spielman to keep the rotation intact. A big year from Griffen—especially if given a more prominent pass-rushing role—might force Minnesota to either sacrifice depth at the position for his new contract or wish him well in free agency.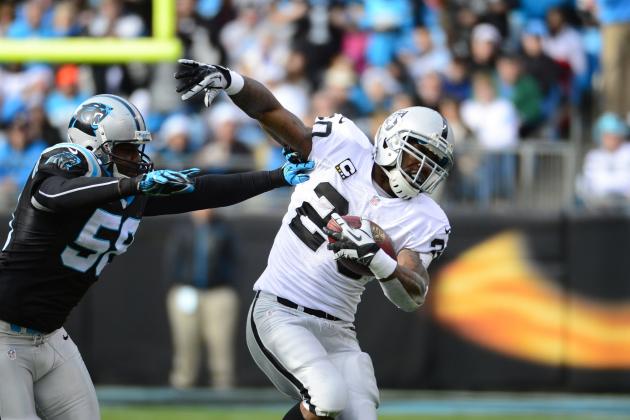 USA TODAY Sports

It's make-or-break time for Darren McFadden in Oakland.
While one of the most physically-talented NFL running backs (6'2", 210 pounds, 4.3 40-yard dash), McFadden has struggled with injury and inconsistency during his five-year run with the Raiders.
With McFadden now in the final year of his rookie deal, Oakland appears ready to tailor the running game around what the talented back does best.
According to Jerry McDonald of the Oakland Tribune, the Raiders have ditched the zone-running scheme for a more downhill, attacking style of offense. The hope is that a healthy McFadden will thrive in the new look.
Injuries will always be a worry for McFadden (23 games missed in five years), but the talent and scheme appear to be aligning in a contract year.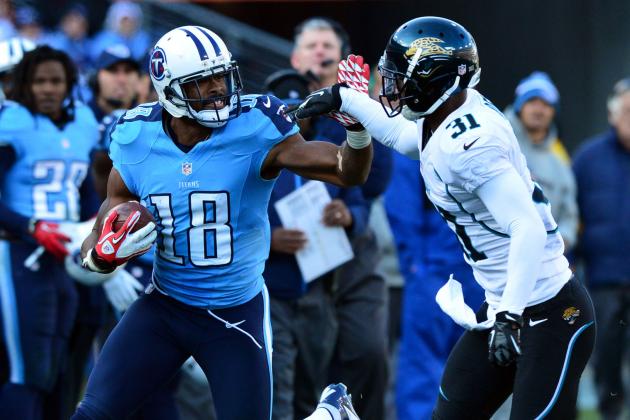 Don McPeak-USA TODAY Sports

Kenny Britt would have to be professionally blind not to notice what is happening around him.
The Titans, after spending a first-round pick on Britt in 2009, are slowly but surely preparing themselves for life after him on offense. Tennessee drafted Kendall Wright last season and then Justin Hunter last month. A free agent after next season, Britt likely has one last chance to prove he belongs in the team's long-term plans.
But maybe he's finally ready to grasp such an opportunity.
Finally close to 100 percent after a pair of knee surgeries in 2012, Britt enters 2013 on an offense loaded with talent. He's arguably the most naturally gifted of the three receivers and should be a main target for quarterback Jake Locker.
Healthy and certain to be motivated, Britt could really rebound next season.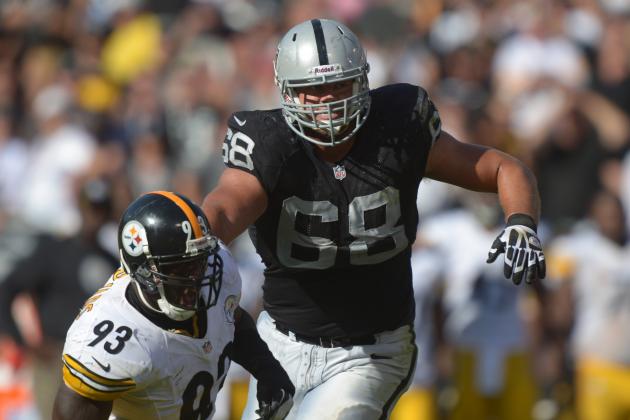 Kirby Lee-USA TODAY Sports

If the 2013 NFL draft taught us anything, it's that offensive tackle is still one of the big-market positions in the NFL.
Three of the top four picks came at the position. Not needing a tackle at No. 3 overall, the Raiders moved down and accumulated picks.
The reason a tackle wasn't needed in Oakland? The presence of highly underrated left tackle Jared Veldheer.
A mountain of a man at 6'8" and 320 pounds, Veldheer graded out as the eighth best pass-blocking left tackle (per PFF). Overall, he finished as the 11th best left tackle in the game. He's improved leaps and bounds on the blind side since entering the NFL in 2010.
The Raiders are still lacking the salary cap space to do much in terms of contract extensions, so Veldheer might have to wait to see his money. Oakland can't wait too long, however, as Veldheer would almost certainly be a hot commodity on the open market after next season.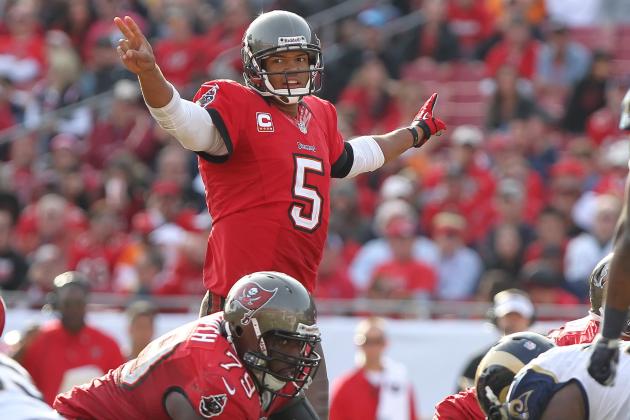 Kim Klement-USA TODAY Sports

A first-round pick of the Buccaneers in 2009, Josh Freeman is entering a contract year this season—which, in this day and age, remains a rarity for "franchise" quarterbacks.
Freeman now hopes he can turn in a Joe Flacco-like season and cash in following 2013, preferably in Tampa Bay. If he doesn't rebound, his run as the Bucs' starter might be over.
At 6'6" and 248 pounds, the physical talents are all there for Freeman. His 2010 season, in which he threw for 25 touchdowns against just six interceptions, proves he's capable of producing the kind of year necessary to keep his job.
And with all the arriving talent in Tampa Bay, there's no excuses for Freeman not to be much better than he was in 2012 (27 touchdowns, 17 interceptions, 81.6 passer rating). He could finally put it all together for an underrated Bucs team in 2013.