Panthers Veterans Who Have Been Put on Notice This Offseason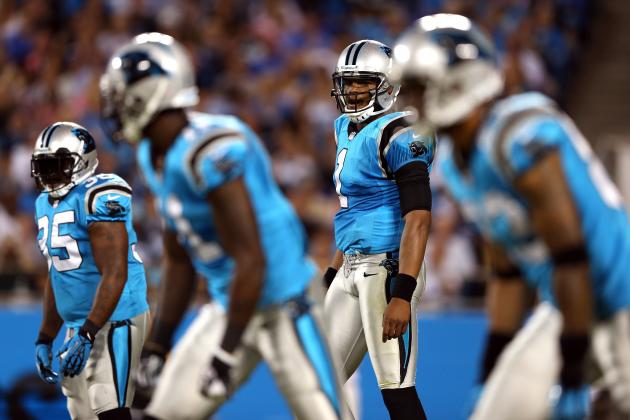 Streeter Lecka/Getty Images

The Carolina Panthers are set to open rookie minicamp this weekend and then begin preparations for OTAs later in the month. When the latter takes place, certain veterans will have to prove their worth before the season begins and quite possibly do the same throughout the season.
Carolina features a roster full of young talent and one-year deals with established veterans. There are a few players to keep an eye on as their level of play will dictate their future with the team either before or after the 2013 regular season.
While some of these veterans may not be surprising, there are a couple who could stand out and spark some debate. Regardless, all who are mentioned will be closely watched over the summer and fall.
Without further adieu, here are the veterans who have been put on notice this offseason.
Begin Slideshow

»
It seems unnecessary to list the tandem of Double Trouble here but after selecting Kenjon Barner in last April's draft and with all the trade speculation surrounding DeAngelo Williams, it can be assumed that both Williams and Jonathan Stewart have been put on notice.
Williams could still be cut or traded before the season begins. If he enters the 2013 season on the roster, he could find himself in an audition of sorts to remain with the team at the end of the year. While the smart money is on Williams being shown the door, Carolina could retain the running back who has the more productive season.
Both Williams and Stewart have proven to be feature backs but it has been nearly four years since the Panthers have had a 1,000 yard rusher on the team. Coincidentally, they both eclipsed that mark in 2009.
Carolina has a lot of money tied into Williams. If he can have a stellar season and stay healthy, he could stay with the team. This would allow the Panthers to shop Stewart, which may be easier to do compared to Williams.
It will come down to Dave Gettleman's willingness to keep such a rich contract on the team. The only way Williams stays is if he has a Pro Bowl season and even then there is no certainty.
Regardless of who stays and who goes, this should be the last year that has this running back tandem representing the Carolina backfield. With any luck, they both play well enough to make the front office's decision a not-so-easy one.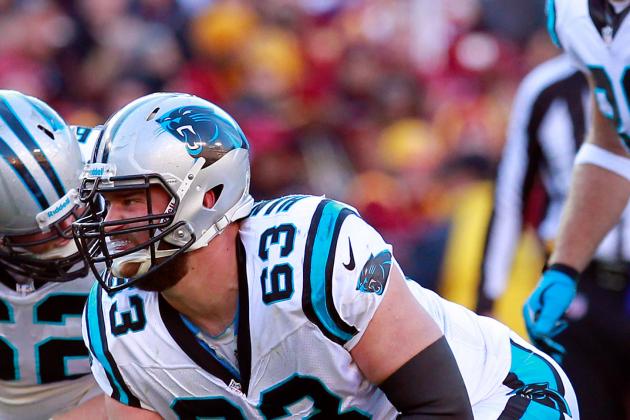 Geoff Burke-USA TODAY Sports

Last April, the Panthers drafted Edmund Kugbila in the fourth round. If anyone can challenge a seasoned veteran on the offensive line, it will be the big man from Valdosta State. Geoff Hangartner has been a solid presence in the trenches but his play last year seemed sub par.
While it is unfair to Hangartner to put blame on the ineffectiveness of the line in 2012, he was the only long-term veteran to play the majority of last season's games (12). With the absence of Ryan Kalil and Jordan Gross, Hangartner was the the default leader of the offensive line which featured a patchwork ensemble of linemen with then rookie Amini Silatolu and the young Byron Bell as the only mainstays.
Hangartner has a lot left in the tank and he possesses favorable size for his position. Kugbila should challenge him and even Silatolu but the veteran will be entering his ninth season in the league. If the rookie outplays him, expect Hangartner to be a cap casualty next offseason.
Rob Carr/Getty Images

Byron Bell may be young and he may have played well enough to replace Jeff Otah at tackle. However, he had his moments of inconsistency in 2012 and like Geoff Hangartner, could be challenged by Edmund Kugbila. The rookie lineman has played both guard and tackle so it shouldn't surprise anyone if Kugbila earns a starting spot somewhere on the line.
Bell has shown promise. If he figures to be a long-term option when Jordan Gross hangs it up, he must step up his performance.
Protecting Cam Newton is vital to the Carolina Panthers success. If Bell is unable to contain the outside pass rush, his future in Charlotte will be limited. Additionally, he must hold his blocks long enough to give the rushing attack a legitimate chance to find space.
Bell and Hangartner have the misfortune of being the only two veteran linemen to earn this distinction of being on notice when camp opens later this year. Ryan Kalil and Gross both figure to end their careers with the Panthers and if they can stay healthy should provide solid, reliable play over the next couple of seasons.
The jury is still out on Bell but he won a spot last year over Bruce Campbell. Bell has the tools to be an everyday starter for years to come. He will be closely watched this summer and going into the season because the play of the line could ultimately determine how Dave Gettleman goes about his offseason moves in 2014.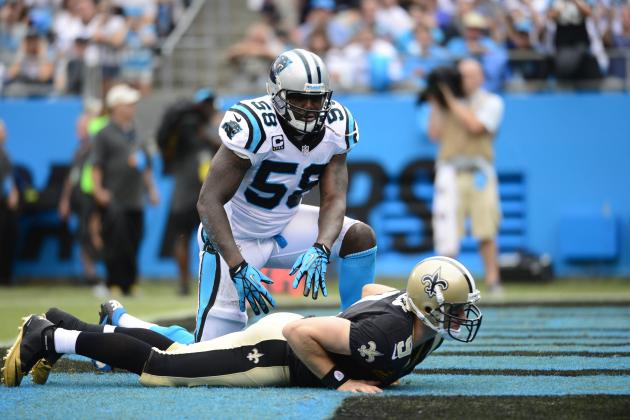 Bob Donnan-USA TODAY Sports

It would seem unthinkable that the Carolina Panthers would entertain the notion of parting ways with Thomas Davis or even putting him under the microscope. However, this isn't Marty Hurney's Panthers anymore and Dave Gettleman will do what he thinks is the best course of action for the team.
Davis finally rebounded from his knee injury last year and after missing a significant amount of playing time between 2009-11, he returned with a vengeance in 2012. There is no doubt about his motor as he played hard and hit hard when on the field, making a strong case for Comeback Player of the Year.
If he can maintain his health and bring the same intensity he always has, then he should be safe. However, if he becomes injured again, expect Gettleman to part ways with the Carolina favorite.
With the possibility of Jon Beason being released following the season, seeing Davis gone would immediately prompt the Panthers to rebuild their linebacker corps. Fortunately, they have Chase Blackburn and rookie A.J. Klein to fall back on negating the need to bring in a top free agent or draft an elite prospect from the 2014 class.
There is no questioning Davis' heart and his productivity is good. In the end, his health and durability will factor into his future with Carolina.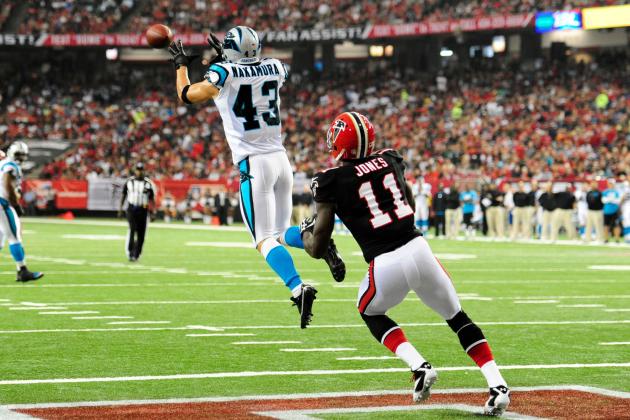 Dale Zanine-USA TODAY Sports

Carolina has a very questionable secondary. If anyone needs to be put on notice this offseason, it's Haruki Nakamura. The former Baltimore Raven was signed via free agency last year after backing up long-time starter Ed Reed. Unfortunately, he hasn't lived up to expectations.
A series of missed tackles and bad coverage put Nakamura in an unfavorable light with the fan base. Perhaps the most glaring misstep was his inability to prevent Atlanta's Roddy White from catching a late-game pass which set up the Falcons game-winning field goal in the Georgia Dome last season.
Nakamura earns the dubious honor of being on the watch list because Charles Godfrey looks to remain in place and the cornerbacks will unlikely be as heavily scrutinized. Captain Munnerlyn is on a one-year deal and Josh Norman is still young and gaining experience.
Safety will be key in controlling the passing game on defense and with Colin Jones, Mike Mitchell, D.J. Campbell and Robert Lester coming into camp, the competition should be fierce.
Despite what happens in camp, Nakamura at worst could be a special teams player while providing backup duties to whomever the Panthers name as the starting safety opposite of Godfrey. While an outright release isn't likely, don't rule it out.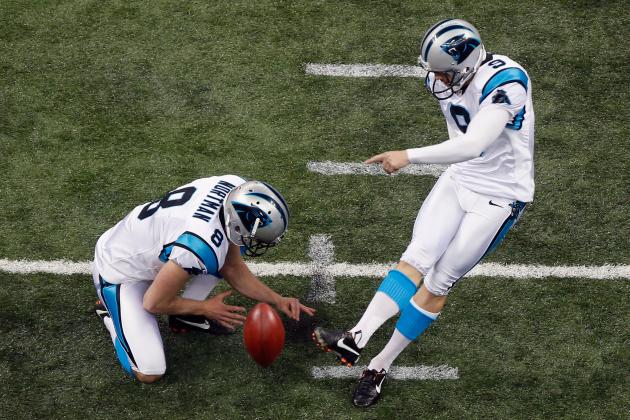 Chris Graythen/Getty Images

Graham Gano has only spent part of a season with the Carolina Panthers. While he seems safe as the team's kicker, nothing is guaranteed. Such has been the cases of Olindo Mare and Justin Medlock. Gano enters camp as the incumbent but the Panthers will bring in an additional leg to challenge Gano if not to lighten his workload over the summer and the preseason.
That other leg is undrafted free agent Morgan Lineberry. Lineberry could be an under-the-radar challenger to Gano for the team's kicking duties.
Recent history has shown the struggles of the Panthers when it comes to kicking field goals, especially from ranges of 50 yards or more. Lineberry has the ability to kick the long ball and if he is able to hit the majority of his attempts from 40 yards or more, Carolina will have a decision to make.
Gano's career field goal percentage is 74.7 with a career long of 59 yards. He connected on a 51-yard field goal last season through 11 attempts.
Kicker has been a bit of an Achilles' heel for the Panthers since the release of John Kasay in 2010. Shoring up that aspect of special teams will be vital to their success in the years to come.
Gano is a young kicker with four years of league experience under his belt so he should only get better. If he is to have a long-term future with the team, he must improve his numbers from long distance. He has only hit from beyond 50 yards 11 times in his career. This will be crucial if he is placed in a game-tying or winning situation.
Bottom line: he needs to be clutch moving forward.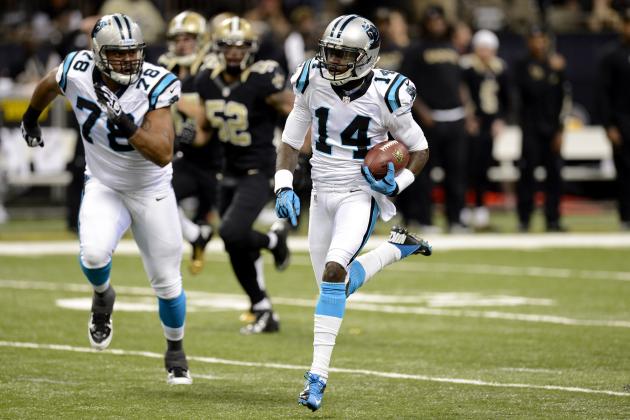 USA TODAY Sports

Armanti Edwards was drafted with the hope of becoming a speedy receiver and playmaker on special teams. Four years into his professional career, it seems as though the experiment to convert the former college quarterback into a receiver and return man has come up short.
Edwards did show some flashes last season, hauling in an 82-yard reception and returning a punt for 69 yards. However, two plays doesn't make a career or guarantee anything.
Carolina drafted Joe Adams to return punts and kicks in last year's draft then signed veteran Ted Ginn, Jr. during this offseason. Needless to say, Edwards has a lot of competition going into camp.
It remains to be seen what will become of Edwards when the preseason concludes but he is a player who has sparked debate over where he is best suited. Some feel he should be given the opportunity to back up Cam Newton at quarterback, citing his mobility and similar skill set. Others have determined Edwards to be unfit for the Panthers and need to cut ties with him.
Whatever happens, Edwards will ultimately control his own destiny. A solid showing in camp should keep him on the roster. If he falters in the preseason or is outplayed by Adams or Ginn, his tenure in Carolina may come to an end.