Prospects with Most on the Line During 2013 NBA Draft Combine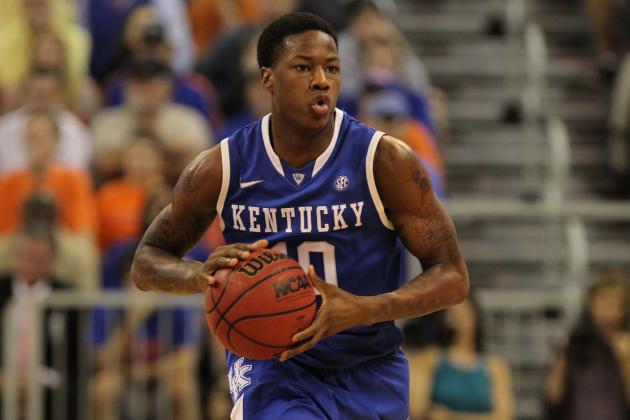 Kim Klement-USA TODAY Sports

The NBA Combine is an event that gives all prospects equal opportunity to showcase their talents under one roof.
There isn't much five-on-five live-game action. Most of the combine consists of drills—shooting, dribbling, fast-breaking, three-on-three halfcourt. There's also athletic testing and physical-measurement sessions on the finals days of the four-day event.
Think about the combine as a first interview. From there, prospects hope to get called in for second interviews by individual teams, where they're asked to work out in a more private and concentrated setting.
The following players will have a lot on the line once the combine gets started. Some have plenty to lose; others have much to gain.
2013 NBA Combine TV Schedule
Thursday, May 16: 10:00 AM ET—2:00 PM ET on ESPNU & 2:00 PM ET–3:00 PM ET on ESPN2
Friday, May 17: 10:00 AM ET—2:00 PM ET on ESPNU & 2:00 PM ET–3:00 PM ET on ESPN2
Begin Slideshow

»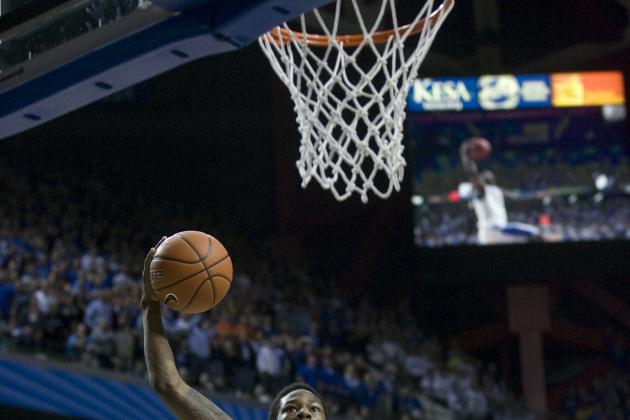 Mark Zerof-USA TODAY Sports

Like Grant Jerrett of Arizona, Archie Goodwin will leave three years of college eligibility on the table without a guaranteed contract waiting for him in the pros.
If you recall after Kentucky's loss in the NIT, Goodwin told the media, "If any of us were saying we think we should leave, then we'd all be delusional." I remember nodding my head in agreement, only to scratch it in confusion after he declared for the draft days later.
He's an exceptional athlete who can explode to the rim and finish above traffic. But he's far from NBA-ready after demonstrating poor decision-making, a loose handle and minimal range on his jumper.
Goodwin is going to hope his long-term potential really shines at the combine. Otherwise, he could end up having thrown away some valuable years at Kentucky.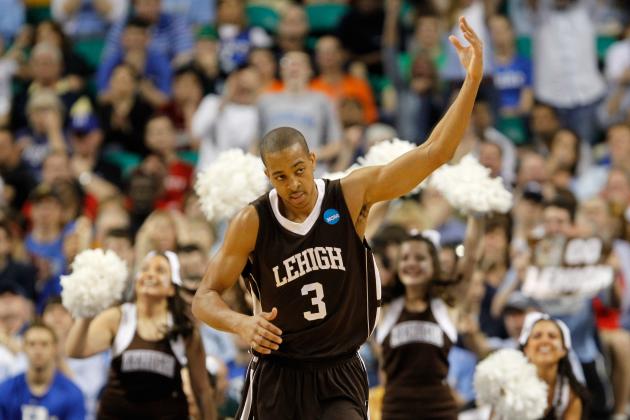 Streeter Lecka/Getty Images

C.J. McCollum missed the majority of his senior year after breaking his foot in January. The NBA Combine will be the first time scouts get to see him in action since then.
McCollum has a lot to gain from this event. Right now, he's pretty much lumped into the mid-first round with a handful of other prospects.
But the combine will give McCollum a chance to stand out and rise above.
He'll be arguably the most skilled, polished basketball player at the event. Between his handle, three-point range and precision shooting off the dribble, McCollum projects as an excellent workout prospect. Like Damian Lillard did last year, McCollum has the chance to shed the mid-major label by competing with and showing up some of the top prospects in the country.
Even if McCollum had played the entire season, his NBA draft outlook still would have come down to his performance over the next few weeks, starting with the combine.
If all goes well, he'll have the chance at jumping into the top 10 thanks to one of the more fundamentally sound skill sets in the class.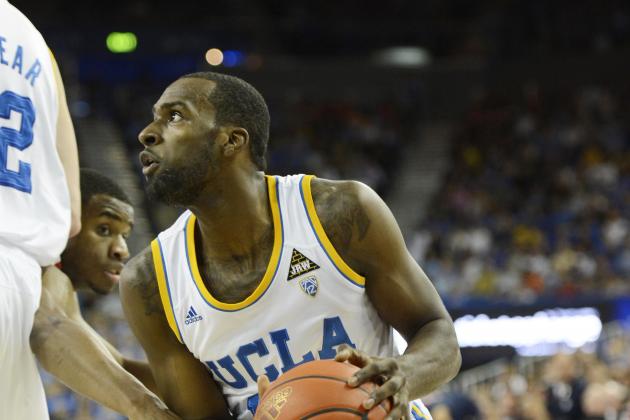 Richard Mackson-USA TODAY Sports

Shabazz Muhammad's draft stock took a serious hit as his freshman year progressed, but with a weak field to begin with and multiple first-rounders returning to school, process of elimination says he's bound to go top 10.
However, Muhammad still has plenty to lose in Chicago.
He does not project as a strong workout player, considering he struggles off the dribble and relies on instincts rather than fundamentals.
Muhammad averaged nearly 18 points per game this year, scoring a ton of his points as a catch-and-shoot player on the perimeter. But as the year went on, his shot fell off.
He shot 0-of-6 from downtown in UCLA's loss to Minnesota in the NCAA tournament, making only three of his last 23 attempts from behind the arc.
If Muhammad doesn't shoot well during the combine, his stock could take an even bigger hit than it did during the regular season. Considering much of his game is predicated on making shots on the perimeter, it wouldn't be a good look if he struggles to connect in a workout setting.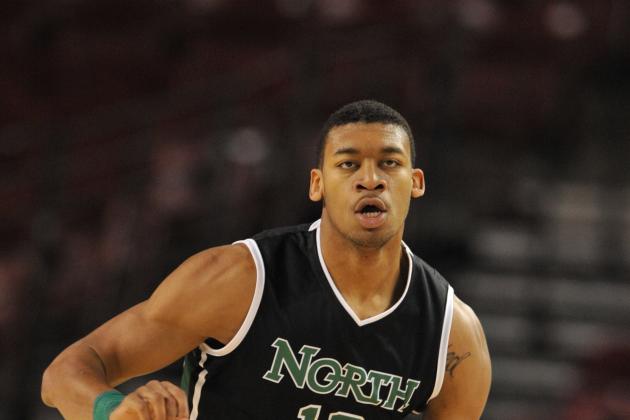 Andrew Fielding-USA TODAY Sports

Tony Mitchell entered his sophomore year as one of those "can't-miss prospects" after a freshman year that landed him all over NBA radars.
It turns out you actually didn't miss much if you forgot to set your DVR when North Texas played.
Mitchell's numbers took a hit across the board, most notably his field-goal and three-point percentages, rebounding and scoring numbers.
But what didn't change is his elite physical tools. Mitchell is one of the most dynamic and explosive athletes in the country and possesses a monster wingspan and incredible leaping ability. He's bound to ace the measurements and athletic testing.
As a sophomore, Mitchell fell victim to the methodical nature of college game. There isn't much half-court, five-on-five basketball that's played at the combine or team workouts, which is good news for Mitchell. He'll be able to operate and ultimately flourish with space for him to showcase his elite athleticism and offensive versatility.
Mitchell's stock has fallen to the point where he's no longer a lock for the first round. He's got plenty to gain from the upcoming combine. If he makes a strong impression on scouts, Mitchell could shoot right back up into the mix.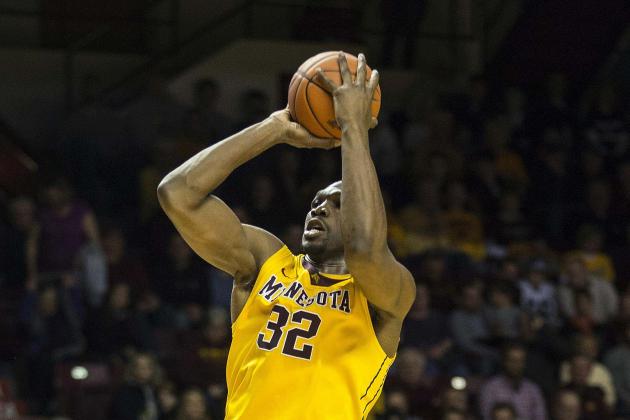 USA TODAY Sports

Like most of the prospects in the gym, Trevor Mbakwe will be fighting for a job in the NBA. But Mbakwe will have more to prove than most.
After tearing his ACL in 2011-12, he returned to the Gophers lineup in a limited role. You just didn't see the same explosiveness he had before the injury when he was projected as a lottery pick.
In terms of a skill set, Mbakwe has an advanced one that many NBA teams could use. But they aren't going to pay for it until they know it's going to work.
The athletic testing could be an obstacle for Mbakwe, who will have to prove to NBA scouts that he's regained full strength in his knee. And at already 24 years old, Mbakwe will learn that coaches aren't likely to be too patient.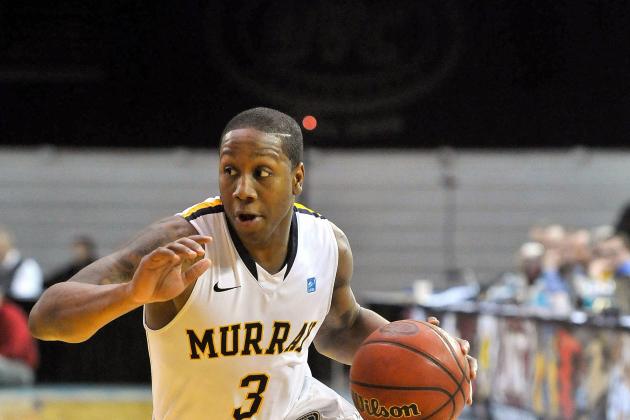 Jim Brown-USA TODAY Sports

I've been all-in on Isaiah Canaan since 2012 when he led Murray State to a No. 3 seed in the NCAA tournament. The NBA Combine and the workouts that follow are built for guys like Canaan, who get the opportunity to transcend their mid-major label and show up the more coveted power-conference prospects.
I can almost assure you that Canaan is going to be a hot name over the next few weeks. He's got a bulldog build like Raymond Felton and a laser-focused approach like Damian Lillard. These are qualities that stand out just by watching him dribble a ball and a run a play.
But he's also been one of the most lethal shooters in all of college basketball over the past few years, and that's something he can show off in a workout setting.
In four years at Murray State, Canaan nailed 304 threes at a deadly 41.9 percent career clip. And trust me, he's got NBA range. You can find Canaan pulling up from 26 feet whenever the Racers take the floor.
There isn't any standout point guard after Trey Burke and Michael Carter-Williams. Canaan will have the opportunity to enter the conversation if he plays up to his capabilities over the next few weeks.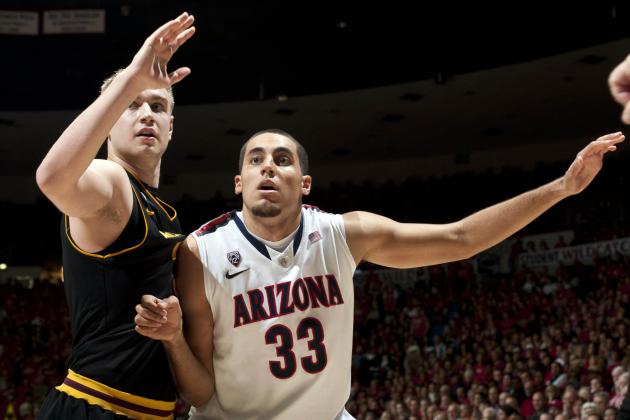 Casey Sapio-USA TODAY Sports

Grant Jerrett hasn't been projected by many analysts, if any, to be selected in the 2013 NBA draft—which is why it was bizarre when he decided to give up three years of college eligibility and leave after his freshman season.
Jerrett played a minimal role at Arizona, finishing the year with averages of 5.2 points and 3.6 boards per game. He actually made more three-pointers than two-pointers, a strange statistic for a 6'10'', 235-pounder.
He's not overly athletic and his post game needs work, but Jerrett will try his chances anyway, hoping that a team likes his upside.
If he fails to stand out at the combine or the workouts that follow, Jerrett could have wasted the opportunity to stay at Arizona and really improve his stock as a sophomore.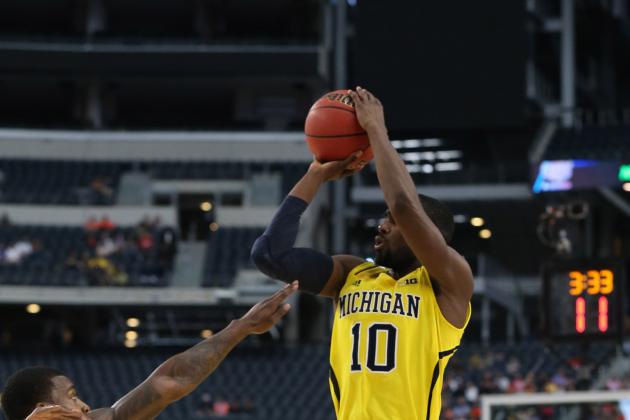 Matthew Emmons-USA TODAY Sports

Tim Hardaway, Jr. is another one of those borderline first-round picks who will be competing for draft position with a number of other shooting guards (Allen Crabbe, Brandon Paul, Erick Green, B.J. Young, Glen Rice, Jr., Ricky Ledo).
And for Hardaway, the name of the game is accuracy and consistency. When his jumper isn't falling, chances are he won't be much of a factor. When it's on, Hardaway can take over a game as a rhythm scorer.
Hardaway is an excellent athlete who should perform well during testing. But he's got to shoot the ball well, both in three-point and one-on-one drills.
He'll be auditioning for a complementary scoring role, as someone who can play off the ball or generate offense with it when the time calls. As a perimeter scorer, Hardaway is capable of creating separation on his mid-range jumper or spotting up from long range.
But if that jumper isn't falling at the combine or workouts, chances are someone else's jumper will be. A guaranteed contract could be on the line here.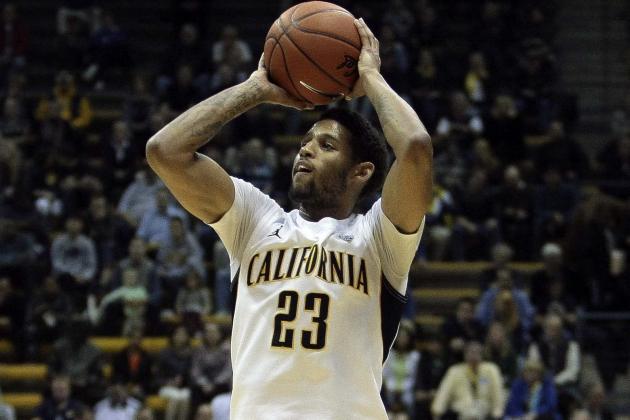 USA TODAY Sports

Starting at the NBA Combine, Allen Crabbe will begin his fight for a first-round bid. He's slated to go in that 20-to-40 range. If he ends up in the first half of that range, he gets himself a guaranteed contract. If he goes No. 31 or later, he doesn't.
It's no secret that the majority of Crabbe's 18.4-point-per-game average comes from jump shots. This isn't necessarily a bad thing. Crabbe's role at the NBA level will be to knock down shots created by ball movement or dribble penetration by his teammates.
But if he doesn't shoot well at the combine or workouts, his 34.8 percent three-point stoke as a junior might be emphasized instead of ignored.
Crabbe will need to shoot the ball well in drills and workouts for a team to feel confident handing him a guaranteed contract. It shouldn't be a problem for him, though Crabbe won't want to remind scouts his three-point percentage dropped over five percentage points from a year ago.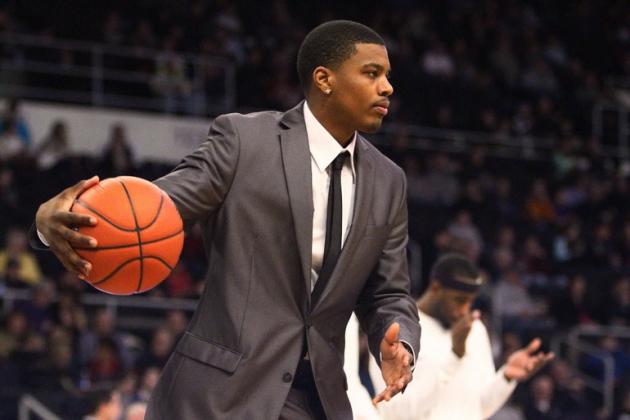 Photo courtesty of the Providence Journal
Ricky Ledo never played a lick of college ball after being ruled ineligible as a freshman and bolting for the draft soon after.
I'd say everything Ledo does from now til June 27 will be monitored, documented and analyzed.
With no film at Providence for scouts to review, Ledo will have to make the most of his time at the NBA Combine and the workouts that follow.
He's an electric scorer who can handle the ball, and at 6'6'', he should measure well and test strongly during the athletic drills.
Some project Ledo as a first-rounder, but he'll have to showcase that type of potential in a setting more controlled than a high-school gym.