Ranking Best Potential NBA Fits for Phil Jackson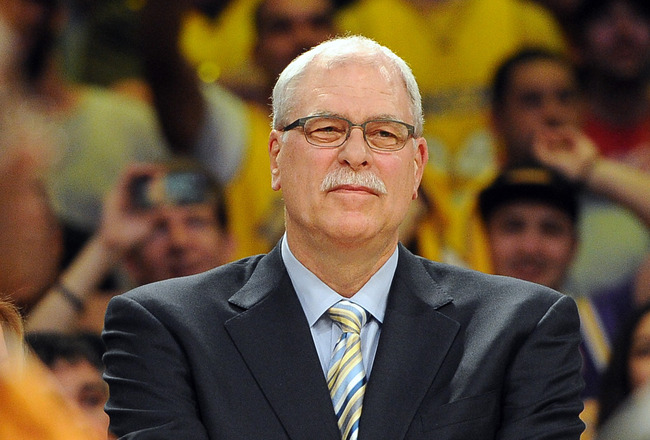 Phil Jackson, future general manager?
Jayne Kamin-Oncea-USA TODAY Spor
Among non-players who aren't Michael Jordan, Phil Jackson is arguably the biggest name in the NBA. Since he isn't even in the NBA right now, that statement speaks volumes to just how much buzz his name still garners across this league.
Every time a marquee position opens up, the Zen Master is discussed.
Mike Brown gets fired. What's Phil doing?
The Brooklyn Nets get unceremoniously bounced in the first round during their inaugural season in New York? Call Phil.
Vinny Del Negro is the worst. Does Phil still live in Los Angeles?
However, Jackson doesn't want to be on the sidelines, according to Stefan Bondy of the New York Daily News. Jackson wants to be an executive, forming a team as the undisputed head of basketball operations, not coaching one.
There are a few teams across the league that could benefit most from his services.
Brooklyn Nets
Nets owner Mikhail Prokhorov talks to the media.
Anthony Gruppuso-USA TODAY Sports
Next season, Deron Williams will not be playing for the second Hall of Famer who coached a team during the 1997 and 1998 NBA Finals.
Phil Jackson, whose Chicago Bulls beat Jerry Sloan's Utah Jazz to win back-to-back titles in the late 1990s, immediately squashed the idea that he would have any interest in coaching the Brooklyn Nets almost as soon as his name came up following the franchise's decision to axe P.J. Carlesimo.
But that was expected.
Jackson reportedly has no interest in coaching an NBA team right now—and perhaps ever again—according to various reporters, including Sam Amick of USA Today.
He will reportedly listen to offers to run a front office, however.
Jackson's desire for control would seem to rule out the Nets, which just gave a multi-year contract extension to general manager Billy King. Still, owner Mikhail Prokhorov is a wild card, so options remain in play.
I wouldn't put it past Prohorov to change his mind, for example, and hire Jackson while getting rid of King before the ink on his new contract is even dry.
Really though, that seems like pure make believe.
Above the frivolous spending it would create, it's just horrible business. Who would deal with Prokhorov again after such a move? The NBA is a fraternity, somewhat, not the Russian mining industry. There would likely be some long-term fallout of operating that way, and the Nets owner should know that.
Thus, a more likely situation: Jackson isn't enticed by any other team's front-office proposals and Prokhorov makes him an offer he cannot refuse. Not in the Godfather way but in the sense that the Russian mogul hands him a Brinks truck full of money to serve in a support role with King.
Jackson doesn't want that, reportedly.
But for enough money, with a cushy-enough arrangement, it may be possible. It's nice work, if you can get it.
Charlotte Bobcats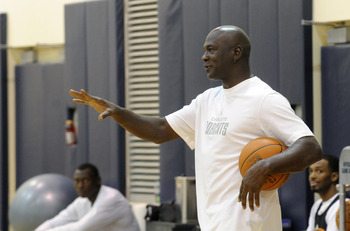 Sam Sharpe-USA TODAY Sports
Michael Jordan and Phil Jackson: Together, they took over the NBA in the 1990s and became the greatest player/coach tandem since Red Auerbach and Bill Russell.
With Jordan now the owner of the Charlotte Bobcats, may they reunite?
In some ways, the Bobcats are exactly what Jackson should want.
They are a team with no history of success, so it would be very hard to "fail." He could build the team from nothing, with no fear that it could get worse. Perhaps Jackson cannot step in as the top executive and bring the team to the promised land, but in Charlotte, even making the second round of the playoffs would be seen as miracle working.
That's an insular perspective, however.
From the outside—and to Jackson—that isn't success.
For a guy with 11 rings, that is failure.
Jackson isn't a young man, so perhaps the Bobcats' situation—a starless team that finished with the league's second-worst record—is just too daunting? This wouldn't be a place where he could step in and make immediate gains. It would be a slow-build project that would likely take three or four years to show signs of real turnaround.
Does Jackson have that timeline in mind?
Perhaps an even larger challenge: money.
Jordan has yet to make a splashy hire in the front office or on the sidelines. The NBA's salary cap restricts what owners can spend on player salary, but they can pay coaches and general managers any amount they like. Deep-pocket teams like the New York Knicks and Los Angeles Lakers have often used this to their advantage, throwing vast sums at the people they want.
Jordan hasn't, and given his stance during the lockout and the meager potential to turn a large profit from a team in Charlotte, I wouldn't expect him to change course just to hire his old coach to make personnel decisions.
Jordan probably cannot afford Phil.
Los Angeles Clippers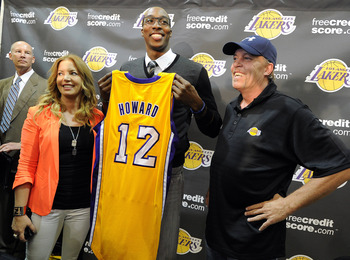 Jeanie and Jim Buss pose with Dwight Howard after the Lakers traded for the big man.
Jayne Kamin-Oncea-USA TODAY Sports
Phil Jackson played in New York, became a six-time championship coach in Chicago and found immortality in Los Angeles. Why would he want to make a fourth stop?
Moreover, the relationship between Jackson and the Los Angeles Lakers franchise, especially since it became led by Jim Buss, is strained.
Jackson's fiancé, Jim's sister Jeannie Buss, reportedly went months without speaking to her brother, according to Kevin Ding of the Orange County Register, after Jim fired Lakers coach Mike Brown at the start of the season and hired Mike D'Antoni—not Jackson—for the gig.
Well, what better way to stick it to the punk, future-brother-in-law than to go run the Los Angeles Clippers? The Lakers still have Kobe Bryant and, for now, Dwight Howard, but the Clippers have Blake Griffin and, for now, Chris Paul.
The situation is already set up for some success, and if Jackson stepped in, he could, for example, fire Vinny Del Negro and bring in a hand-picked successor like Brian Shaw.
Then again, there are limits to what can be done.
Jackson wouldn't be able to put an immediate imprint on the team, as re-signing Paul would be job one. Would the arrival of Jackson and, say, Shaw, with the implications of the triangle offense be a selling point to Paul?
That, more than trying to get Jackson, is the biggest question in Clipperville.
But even if Los Angeles did want Jackson, would he actually work for Clippers owner Donald Sterling?
The man has one of the worst reputations in the NBA, and having been around Los Angeles for as long as Jackson has, I'm sure he knows some inside information on Sterling.
As much as the soap opera drama would make it fun to have Jackson as a rival to the Lakers and Jim Buss, this one seems unlikely at best.
Toronto Raptors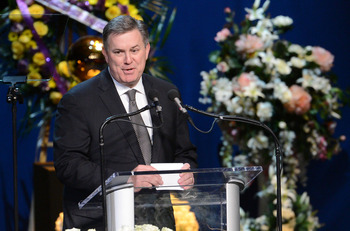 Tim Leiweke, formerly of AEG in Los Angeles, is now top boss for the company that owns the Raptors.
Jayne Kamin-Oncea-USA TODAY Sports
The Toronto Raptors have had a sad existence since joining the NBA as an expansion franchise in 1995. In those near-two decades, they have made the playoffs four times, only getting past the first round once.
That "bright spot" was soon sullied by the ugly breakup with Vince Carter, and the ensuing Chris Bosh era was one of more disappointment followed by another All-Star departure.
This team needs something.
Hiring Phil Jackson, one of the greatest basketball minds in history, to shape the roster makes sense. The team isn't poor; it can afford Jackson's reportedly high asking price. Toronto is a cosmopolitan town; Jackson likely wouldn't recoil at the thought of making a home there.
The team has young talent, a basketball operations head in Bryan Colangelo whose time to depart is past due and a need to make a splash. Last summer, the franchise (foolishly) spun its wheels while pursuing Steve Nash.
Going after Jackson wouldn't be the same, short-term waste of time.
It also might have an in.
Maple Leaf Sports and Entertainment, the company that owns the Raptors (and the NHL's Toronto Maple Leafs), recently hired Tim Leiweke as its new president and CEO. For years, Leiweke ran AEG, the Los Angeles-based entertainment and sports conglomerate that owns the Staples Center (and Minneapolis' Target Center, home of the Minnesota Timberwolves).
The proximity of the two, Jackson and Leiweke, gives them a history. With Colangelo possibly on the outs, who would be better as the new top boss (who has more important matters to deal with than the Raptors, frankly) to bring in than a familiar face?
If he believes that Jackson has the chops to mold a team, the Raptors should do all they can to go after him. If the team can meet his price, the next step is finding a first-rate, business-side executive who could help with the salary-cap issues and negotiations while hiring the guy with too many rings for two hands to turn this franchise around.
Keep Reading