Players Championship 2013 Leaderboard: Day 1 Scores, Results and Analysis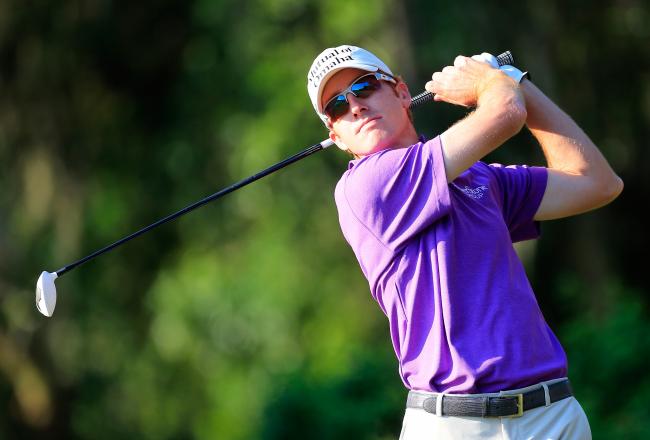 Roberto Castro dazzled in the first round of the 2013 Players Championship.
Sam Greenwood/Getty Images
Day 1 of the 2013 Players Championship is in the books and one of the biggest unknowns in the game is leading.
Roberto Castro, ranked 267th in the World Golf Official Rankings, opened the proceedings with a course-record tying 63. His nine-under par total was never threatened the rest of the day, the closest any one got was Rory McIlroy and Zach Johnson at 6-under par.
Tiger Woods played a superb round, going bogey-free through 17 holes before making a bogey at 18. He finished with a 67.
Thirty-three players shot rounds in the 60s, although a good forecast will insure the course gets harder and faster over the next three days.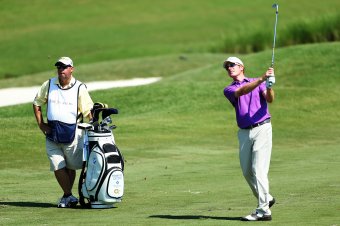 Andy Lyons/Getty Images
That will wrap up today's blog from the 2013 Players Championship.
Roberto Castro had the highlight round of the day, shooting a course-record 63 and that lead held up under perfect conditions.
The virtual unknown has a three-shot lead over Zach Johnson and Rory McIlroy.
Check back here tomorrow for a complete rundown of second-round action.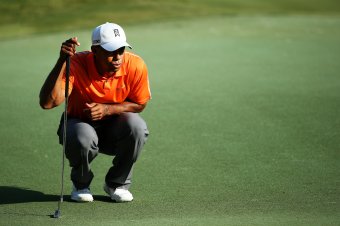 Andy Lyons/Getty Images
So much for that no-bogey round by Tiger Woods.
A second shot that was a bit long left him behind the green. He chunked the chip shot and didn't get it to the green.
He tried to chip the next shot in but missed just right.
Woods finished with a 67 and is tied for fourth.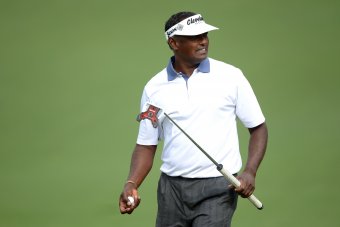 Harry How/Getty Images
All of a sudden, Vijay Singh becomes a person of interest for TV.
There aren't as many people on the course now, but the reaction to good shots by Singh from those who are there is considerably muted as opposed to others who hit good shots.
The veterans who have played the Players Championship know just how vulnerable the Stadium Course was Thursday.
It played just about how golfers would like it: a bit firm, greens that were receptive enough to good shots and a nice, comfortable putting speed.
They also know that will change. With sunny forecast and the expectations that winds will blow as they normally do, changes are really, really good that the PGA Tour will have this place blazing for Saturday and Sunday.
Hey! Guess who's tied with Rory McIlroy at six-under par at the Players Championship?
Yep, Tiger Woods.
After making his sixth birdie of the day, including on all four par fives.
They're tied for second with Zach Johnson.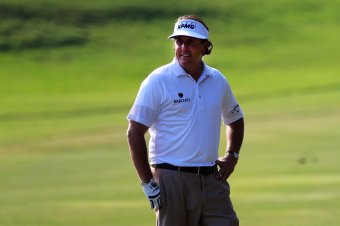 Sam Greenwood/Getty Images
Another ho-hum, nothing kind of round for Phil Mickelson.
Four birdies, two bogeys and a double bogey add up to a 72.
We've seen a lot of that from him recently.
In 10 previous rounds, Webb Simpson had never posted a round in the 60s at the TPC Sawgrass.
That streak came to a screeching halt Thursday when he finished with a 67 and is right in the hunt.
Just saying, he'll be in contention Sunday evening.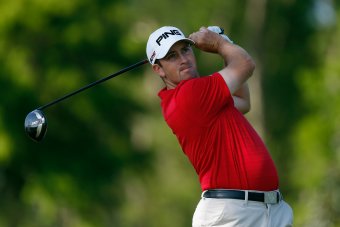 Chris Graythen/Getty Images
Michael Thompson produced the shot of the day in the first round of the Players Championship.
His 3-iron on the 231-yard par three eighth hole rolled into the cup, the sixth time an ace had been recorded on that hole.
It was the first since 2000.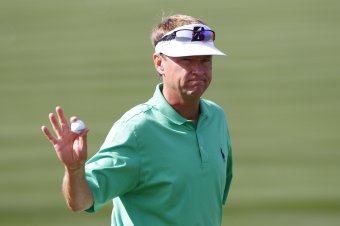 Hunter Martin/Getty Images
Props to Davis Love III for his performance in his first round back after having disc fusion surgery.
The PGA Tour veteran and most recent Ryder Cup captain finished with a two-under par 70.
I'm not a big Sergio Garcia fan, but you have to give him credit for how he played on Thursday.
The tempestuous Spaniard made five birdies and just one bogey through 15 holes.
Of course 16, 17 and 18 await.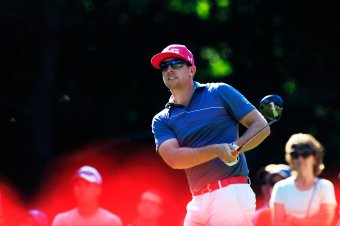 Sam Greenwood/Getty Images
In his last 16 rounds, Hunter Mahan had one round in the 60s.
He came out in the first round Thursday and shot a no-bogey 67 and is in a logjam at five-under par.
Ryan Palmer finishes off a five-under par round of 67 by making a short birdie putt on the ninth hole.
It's his first round in the 60s at Sawgrass and puts him in a tie for fourth at the moment.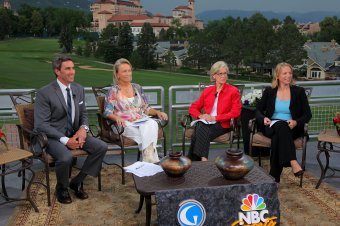 Doug Pensinger/Getty Images
I've often wondered why those who broadcast golf insist on saying "It's a beautiful afternoon" wherever they are.
Don't they think we can see the blue sky and the puffy clouds behind them?
The Golf Channel's Terry Gannon is the king of that, although Kelly Tilghman is closing in on Gannon's lead.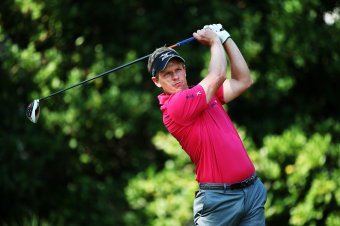 Andy Lyons/Getty Images
Whatever happened to Luke Donald?
The one-time best player in the world hasn't been a big factor in a long time and looks like he won't be here, either.
He's at even-par after making one birdie and one bogey through 13 holes.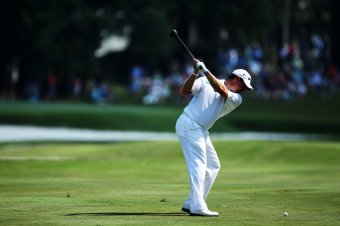 Richard Heathcote/Getty Images
Stop the presses!
Lee Westwood's streak of pars ends at 15 when he knocks in a birdie putt.
All good things must come to an end.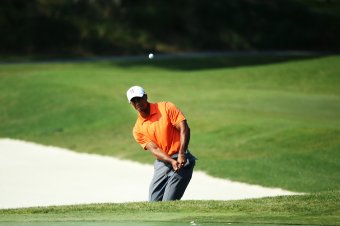 Andy Lyons/Getty Images
Look out boys and girls, here comes Eldrick!
Another birdie putt on the 12th hole, a five-footer, falls and he's at five-under par.
A no-bogey round as he steps onto the 13th tee and Tiger's tied for fifth.
Five straight birdies for Brandt Snedeker.
The man is putting lights out and has gotten to three-under par.
The pop is back!
The 16th hole at the TPC Sawgrass is a great risk/reward hole, with water down the right side, some trees guarding the green on the left and water behind the green as well.
Y.E. Yang and Stewart Cink experienced the thrill of the water in the first round, Yang going long and Cink going right and both got wet.
Tiger Woods has made his third straight birdie, moving him to four under par.
Playing partner Brandt Snedeker went one better, making four in a row.
Woods is four-under par and Snedeker two-under.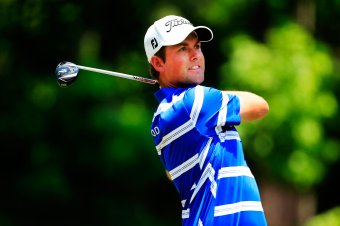 Sam Greenwood/Getty Images
Talk about a good bounce.
Webb Simpson's tee shot on the 13th hole hits one of the railroad ties that surround the green and bounce straight up in the air. Instead of ker-plunking into the water, the ball went just a bit forward and hit the green.
Be wary of the man who gets the bounces.
Ryan Palmer stuffs his approach shot to two feet on No. 6, makes the birdie and moves into a tie for second at six-under par.
It seems like such a long time since Phil Mickelson won in Phoenix in February.
Since then, when you think of him, your thoughts are dominated by missed putts and wayward tee shots.
He's one-under par but it feels like he's miles away from the lead.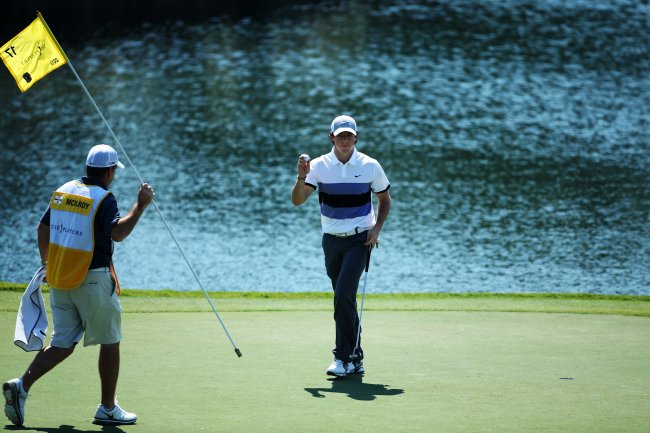 Richard Heathcote/Getty Images
PGATour.com is doing a neat thing today.
They're tracking each group's distance from the hole on the par three 17th and posting a running total.
Fun to compare.
Check it out at at: http://www.pgatour.com/tournaments/the-players-championship/closest-to-the-pin-17.html
Brandt Snedeker is on the run.
After making bogeys on the second and third holes, Snedeker has settled in quite nicely.
He's recorded birdies on the eighth, ninth and 10th holes.
Snedeker will be a factor before it's all over.
Andy Lyons/Getty Images
What is the world coming to?
Phil Mickelson just fluffed a bunker shot from a greenside bunker on the 11th hole, leaving it short of the putting surface.
Maybe he needs to get a Frankenwedge?
This article is
What is the duplicate article?
Why is this article offensive?
Where is this article plagiarized from?
Why is this article poorly edited?