Most Heated NFL Training Camp Battles in the Last 25 Years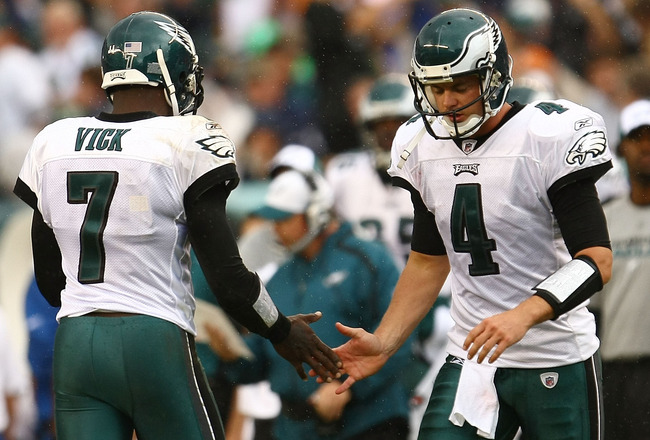 Chris McGrath/Getty Images
Quarterback controversies dominate the most heated camp battles in NFL history. There's nothing like a duel between passers to define the struggles or successes of a franchise.
This list features a third overall pick being overshadowed by a lowly seventh-round choice. There's also room for a Super Bowl-winning starter trying to fend off his former backup.
Three intriguing battles for control of a running game also make the list. Here are the most heated camp battles in recent league history.
9. Priest Holmes vs. Larry Johnson, Running Back, Kansas City Chiefs, 2005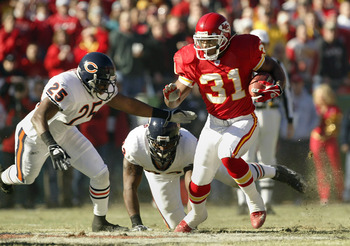 Priest Holmes was eventually chased down by his young understudy.
Brian Bahr/Getty Images
In the early half of the naughties, Priest Holmes had emerged from relative obscurity to dominate the NFL. He joined the Kansas City Chiefs in 2001 and promptly posted three straight 1,000-yard rushing seasons.
Holmes was the best back in football, but injuries limited him to only eight games in 2004. Enter Larry Johnson.
The Chiefs drafted him in the first round that season and the former Penn State standout saw his chance to usurp a hobbled Holmes. Johnson had the momentum during camp in 2005, but Holmes remained a favorite of head coach Dick Vermeil.
However, Holmes lasted only seven games in 2005 and Johnson seized his opportunity to take the job. He would produce his own string of stellar seasons for the Chiefs.
8. Ottis Anderson vs. Rodney Hampton, Running Back, 1990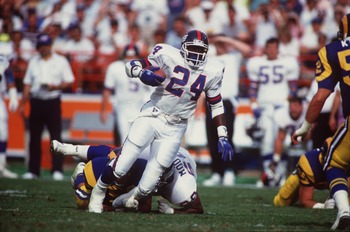 Ottis Anderson spent the last years of his career fighting off a first-round pick.
Stephen Dunn/Getty Images
Some 15 years before Johnson and Holmes locked horns, the New York Giants hosted their own battle between young and old running backs.
Ottis Anderson was the experienced workhorse in the Giants' backfield. In 1989, he had enjoyed a career renaissance.
Anderson had posted his first 1,000-yard season since 1984. However, that didn't stop head coach Bill Parcells using a first-round pick to select Rodney Hampton in 1990.
Hampton promptly pushed Anderson to one side, despite the old man's herculean efforts the previous season. Hampton was the Giants' starter for most of the 1990 campaign.
However, his debut pro season was derailed in the playoffs when he suffered a broken leg. That thrust Anderson back into the limelight.
He gave his career a late flourish by becoming the MVP of Super Bowl XXV. Yet, over the next two seasons, a recovered Hampton gradually assumed control.
7. Heath Shuler vs. Gus Frerotte, Quarterback, Washington Redskins, 1995
Seventh-round pick Gus Frerotte won his battle with 1994's third overall pick.
Doug Pensinger/Getty Images
The first of two battles featuring the Washington Redskins involved quarterbacks drafted in 1994. Coming off a 4-12 collapse in 1993, the Redskins needed a complete overhaul.
The key to the process was going to be quarterback Heath Shuler. The Redskins used the third overall pick to select Shuler.
However, he wasn't the only quarterback taken by the Redskins. They also used a seventh-round choice on Gus Frerotte.
He didn't really stand much of a chance, though. The job and the team were Shuler's to lose. The more touted rookie promptly did both, not long after taking the field in the NFL.
Shuler bumbled his way through his rookie season, throwing 12 interceptions in eight starts. That type of form let Frerotte start four games and set up a real controversy for the next season.
Shuler was portrayed as the choice of the coaches and front office, while Frerotte was very much the populist pick. The very suggestion of Shuler starting again raised the ire of many Redskins fans.
Frerotte took control in 1995. He started 11 games that season and by 1996 Shuler was planted firmly on the bench.
6. Terry Allen vs. Stephen Davis, Running Back, Washington Redskins, 1999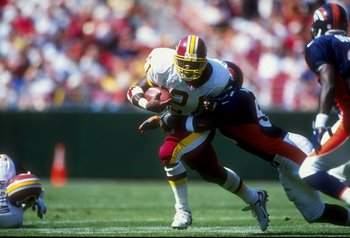 Despite fine production, Terry Allen soon found himself under threat.
Getty Images/Getty Images
Terry Allen was quite literally the one bright spot for the Redskins in the mid-'90s. He posted consecutive 1,300-yard seasons in 1995 and 1996.
However, by 1997, Allen had young upstart Stephen Davis snapping at his heels. Davis had joined the team as a fourth-round pick in 1996.
Initially, he posed little threat. Yet, when niggling injuries slowed Allen dramatically during 1997, Davis took his chance to ignite a brewing battle.
He averaged four yards a carry that season, but that wasn't enough to prevent Allen from reclaiming his job in 1998.
Injuries would again slow Allen and start a clamour for Davis to be given more work, though. Head coach Norv Turner finally made the call ahead of the 1999 season.
He axed Allen after Davis won the job. Davis rushed for 1,405 yards and 17 touchdowns that year.
5. Kevin Kolb vs. Michael Vick, Quarterback, Philadelphia Eagles, 2010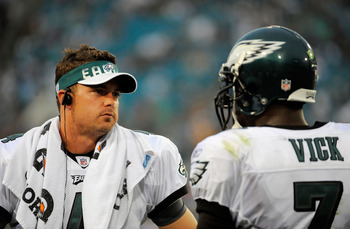 Kevin Kolb was quickly outmatched by Michael Vick.
Doug Benc/Getty Images
Another NFC East quarterback battle saw a fan favorite initially lose out to a coach's choice. When Kevin Kolb and Michael Vick locked horns to replace Donovan McNabb in 2010, controversy raged.
Many fans wanted Vick under center because of his big-play ability. Many were loathed to consider Vick leading their franchise after his involvement in the infamous dog-fighting scandal.
At the same time, it also seemed like the Eagles' brass had anointed Kevin Kolb as McNabb's successor. He was highly touted for reasons beyond understanding and seemed to be given the job ahead of Vick based on perception rather than merit.
When Kolb was knocked out of the season-opener by the Green Bay Packers, Vick stepped in and wowed the league. He proved he could still deliver the spectacular.
Kolb did make a brief comeback, but Vick's first-week cameo was enough to make him the choice of most. He eventually claimed the job outright and took the Eagles to the playoffs.
4. Doug Flutie vs. Rob Johnson, Quarterback, Buffalo Bills, 2000
Rob Johnson wasn't exactly the people's choice in 2000.
Andy Lyons/Getty Images
The popular choice may have won the day in Washington and Philadelphia, but that's not always the case. The Buffalo Bills' quarterback battle of 2000 proved that.
Former NFL castoff and subsequent CFL star Doug Flutie had become a hero for the Bills in 1998 and 1999. He had helped the team survive the end of the Marv Levy era and move on from the days of Jim Kelly.
Flutie's wild style of play and scrambling heroics earned him cult status. The pint-sized marvel led the Bills to the playoffs in 1999, throwing for 19 touchdowns in the process.
Yet Rob Johnson loomed over everything Flutie did. The Bills had signed Johnson to a big deal in 1998. He exuded the style of a classic pocket-passer, at least in appearance.
That was the antithesis of Flutie's mercurial talent for manufacturing big plays. Head coach Wade Phillips stoked the fires of this heated battle when he put Johnson in ahead of Flutie for the playoffs at the end of the '99 season.
The Bills lost that game, but that didn't deter Phillips from eventually picking Johnson to start the season after the 2000 training camp. The Bills have never been the same and haven't made the playoffs since.
3. Phil Simms vs. Jeff Hostetler, Quarterback, New York Giants, 1991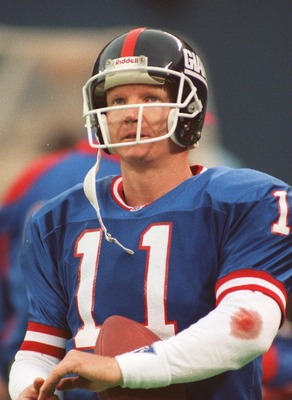 Phil Simms had to settle for the bench for most of 1991.
Rick Stewart/Getty Images
What do you do when you've won a Super Bowl with your starter and one with your backup? That was the conundrum facing the defending champion Giants heading into the 1991 season.
New head coach Ray Handley had to choose between Phil Simms and Jeff Hostetler. Simms had been the starter since 1984.
He won a Super Bowl in '86 and was enjoying a fine 1990 season before suffering injury in Week 15 against the Buffalo Bills. Perennial backup Jeff Hostetler had stepped in and beaten the mighty San Francisco 49ers and the high-powered Bills to earn Big Blue's second Lombardi Trophy.
Hostetler was younger and more mobile and boasted greater potential for big plays. He also appeared more durable than Simms, who had often been blighted by the brittle label.
Maybe Handley just wanted a dramatic change to establish his own identity for the team after Bill Parcells. Whatever the reason, he ignored Simms's superior skill as a dropback passer and comfort with the offense.
He went with Hostetler and Simms was left on the outside looking in for most of the next two seasons. The Giants went 14-18 in that time, and Dan Reeves ended the battle for good by dumping Hostetler in 1993.
2. Drew Brees vs. Philip Rivers, Quarterback, San Diego Chargers, 2006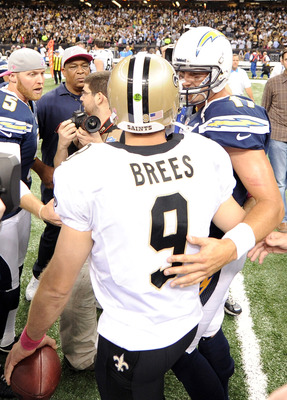 Brees and Rivers' talents made for a fascinating camp battle.
Harry How/Getty Images
In 2005, the San Diego Chargers already had a great quarterback in Drew Brees. However, he was ticketed for free agency and there were concerns about his shoulder.
The team had traded Philip Rivers who was the fourth overall pick in 2004, after being forced out of playing their own top choice, Eli Manning. As soon as the Chargers went to those lengths to secure a young quarterback, Brees seemed on borrowed time.
However, the diminutive throwing ace wouldn't go quietly. He kept Rivers on the bench during his rookie season and threw for over 3,000 yards.
The 2005 training camp only increased the intensity of this competition. However, Brees won out again and repeated his 3,000-yard effort from the previous season.
Rivers remained lurking in the shadows though and the Chargers finally made the call to go with their high-round youngster over Brees for 2006.
While this battle lasted, it was fierce. Both players' talents were highly regarded and Rivers was the frustrated youth who couldn't easily supplant the irked veteran, who many felt didn't deserve to be under pressure.
1. Steve Young vs. Joe Montana, Quarterback, San Francisco 49ers, 1988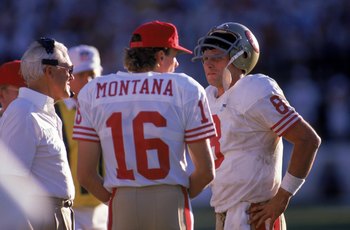 Two great quarterbacks with a coach caught in the middle.
George Rose/Getty Images
The barely contained rivalry between Joe Montana and Steve Young is easily the most heated camp battle in league history. While the two great quarterbacks vied for supremacy more than once, the competition was most intense in 1988.
In the classic case of the old master being chased by the young upstart, Montana found himself being nudged aside by a rather obnoxious understudy.
What made the rivalry great was that Young didn't respect reputations. Despite the aura surrounding the man that was "Joe Cool," Young made it clear from day one that he should be starting.
This presented legendary head coach Bill Walsh with his greatest dilemma. His handling of this battle in 1998 can be read in two ways.
If it wasn't master manipulation of two highly competitive egos for the good of the team, it was a nervous flip-flop, induced by the fact the contest was simply too close to call.
Each quarterback made double-digit appearances for the 49ers that season. One was often replaced by the other during games.
Aside from age against youth, it was a fascinating clash of styles. Young was the more dominant physically, yet Montana's instinct for the game was unmatched in the history of football.
In the end, the old master reminded everyone that he still had it. In one of the NFL's greatest stories, Montana took his job back and again led the 49ers to glory.
The cerebral precision of his game-winning drive in Super Bowl XXIII was perhaps the best moment in a brilliant career.
Young's time would come, but it wasn't really his position, or his team, until Montana finally left San Francisco in 1993.
Keep Reading