Washington Capitals vs. New York Rangers Game 4: Live Score, Updates, Analysis
This opening-round Eastern Conference playoff series shifts back to Washington D.C. knotted up 2-2 after New York held serve on home ice for the second time in three days. The Rangers topped the Capitals 4-3 in Game 4 and never trailed throughout the pivotal matchup,
Goalie Henrik Lundqvist, named a Vezina Trophy finalist once again, stopped 27 shots and turned away a Capitals shot in the closing seconds of regulation to preserve a tightly contested victory. The third period began with the score tied 2-2 but a power play goal by Dan Girardi gave New York a lead it would never relinquish.
Derek Stepan scored his second goal of the series six minutes into the third period, providing the Rangers with some insurance. Both teams have won a pair of games at home.
After scoring just one goal in two games on the road, the Rangers racked up eight scores in Games 3 and 4.
Final: New York 4, Washington 3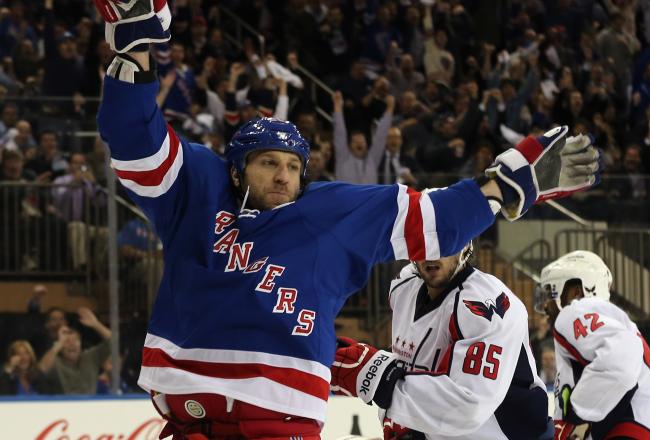 Rangers tie series 2-2 as Lundvquist locks down last Capitals scoring chance!
New York returns to Washington with two wins in its pocket and new life in this first-round Eastern Conference showdown. The Rangers held serve at Madison Square Garden, prevailing 4-3 against a Capitals team that came to Manhattan on Monday ahead 2-0 in the series.
Goalie Henrik Lundvquist came up big in the game's final minute, swatting away Washington's final shot with seconds remaining on the clock. The Vezina Trophy finalist finished the game with 27 saves.
New York never trailed in Game 4.
Capitals cut deficit in half on first playoff goal of Karl Alzner's career with 12:29 remaining in regulation!
Azner draws Washington within one score, trimming New York's lead to 4-3. He was assisted by Joel Ward and Mathieu Perrault.
The Rangers have led throughout Game 4, aside from a 2-2 tie at the second intermission. Lundqvist and teammates must bear down and deny the Caps in order to preserve the slightest of leads.
Rangers ride furious rally to 4-2 lead in opening minutes of third period!
New York has suddenly doubled up Washington after surrendering a two-goal lead in the second period. The Rangers surged ahead 4-2 on a power play goal and even strength score.
Dan Girardi tallied his first goal of the postseaon on a power play 59 seconds into the third period. He was assisted by Derick Brassard, who had three points in Game 3, and Mats Zuccarello.
Minutes later, it was Derek Stepan scoring his second goal of the series. He cashed in with 13:58 remaining in the third period.
Stepan was assisted by Carl Hagelin and Ryan Callahan. New York now has its sights set on finishing off the Caps and heading back to Washington in a 2-2 series.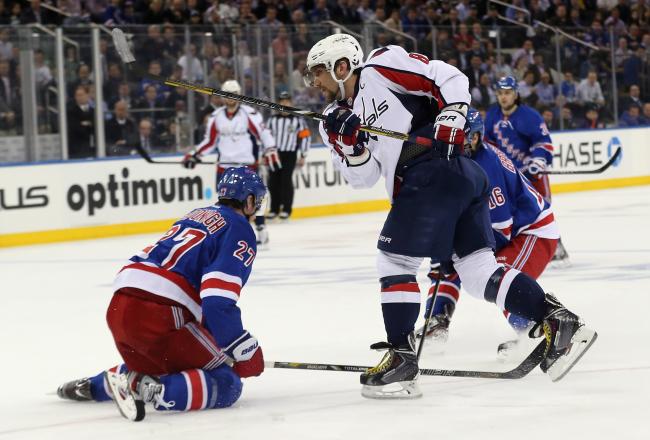 Washington withstands late flurry of Rangers chances, knots game at 2-2 with 17 seconds left in second period!
Believe it or not, the Capitals have charged back to tie the game at two goals apiece. Washington scored twice in the final ten minutes of the second period to rally from a 2-0 deficit.
New York threatened to extend its advantage in the closing minute but Washington goalie Braden Holtby hung tough. He now has 24 saves on 26 Rangers shot attempts.
Troy Brouwer beat Lundqvist with 17 seconds left on the clock, coming off an assist from Mike Green. The Caps have two goals on 15 shots.
Stay tuned for the exciting conclusion of Game 4 from Manhattan...
Washington cuts lead in half with timely goal. New York now leads 2-1 with 6:52 left in second period!
The Capitals finally connected on a score just when Game 4 appeared to be slipping away. Mathieu Perreault slipped into the side of the net and snuck a shot past Lundqvist from his left side.
Assists are credited to Joel Ward and Jason Chimera. Washington only has 11 shots tonight so it was important to make the most of a point-blank opportunity.
We'll see how New York responds.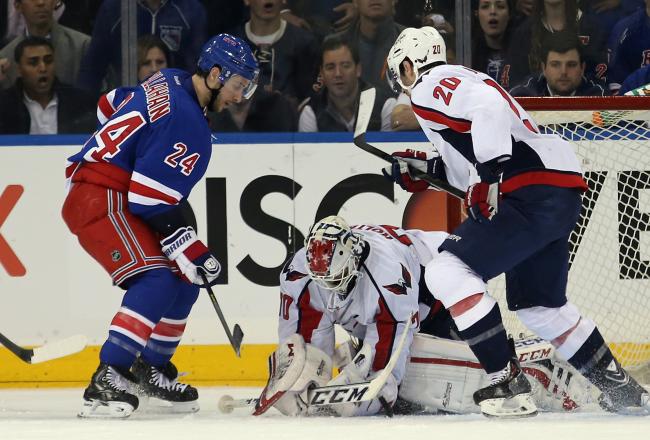 New York 2, Washington 0 (7:32 2nd Period)
Fast fact: Since the first 12 minutes of this matchup, New York has outshot Washington 17-3. The home squad is on a roll tonight.
New York nets another goal, extends advantage to 2-0 with 9:47 left in second period!
The Rangers continue to pummel Washington with scoring opportunities. New York has an 8-2 shot advantage in the second period and 21-8 edge in that category overall.
Carl Hagelin scored his second goal of the series as the clock ticked past the midway point of the second stanza. Teammates Derick Brassard and Ryane Clowe provided the assists.
Henrik Lundqvist hasn't been tested much tonight so this two-goal leads seems rather daunting. Washington has work to do if it aims to head home with a 3-1 series advantange.
New York 1, Washington 0 (12:15 2nd Period)
The Capitals were able to kill another power play. New York is 0-for-3 with a man advantage tonight, two days after it used the power play to its advantage.
Washington is 0-for-2 on power plays in Game 4.
New York 1, Washington 0 (16:30 2nd Period)
Washington survived a half-minute of 5-on-3 play, as Holtby continues to play well. The Caps' netminder has 16 saves so far tonight, including a pad save of Derek Stepan's breakaway surge and shot.
The Capitals have managed just seven shots tonight and need to create some offensive opportunities in order to keep pace with an aggressive Rangers attack.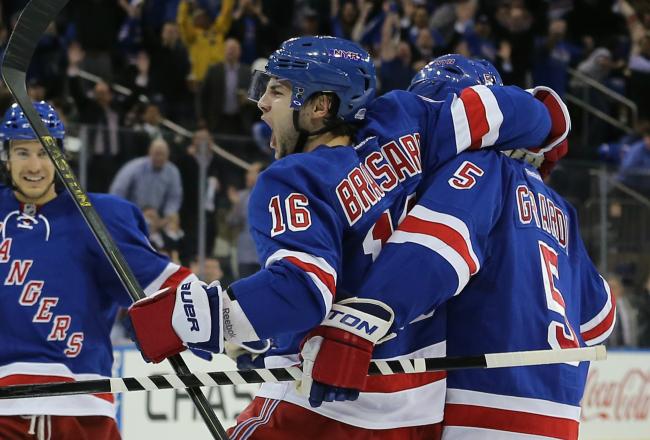 First period ends with Rangers ahead 1-0!
Washington goalie Braden Holtby blocked nine shots attempts, three more than counterpart Henrik Lundqvist. However, he made a costly mistake while handling the puck and the miscue led to the game's lone goal.
Brad Richards put New York in front with less than four minutes remaining in the period, Madison Square Garden is rocking as the Rangers look to even this series at two wins apiece.
The teams are a combined 0-for-4 on the power play.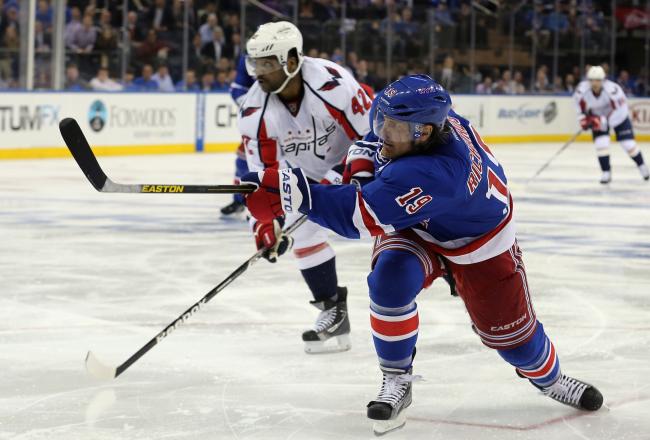 New York takes 1-0 lead on Richards' rebound goal with 3:35 remaining in first period!
The Rangers are first on the scoreboard tonight in Manhattan. Veteran stalwart Brad Richards buried a rebound shot past Holtby 16:25 into the opening period.
He was assisted by Carl Hagelin and Taylor Pyatt. After managing just one goal in the first two games of this series, New York has five scores in less than four periods.
New York 0, Washington 0 (4:40 1st Period)
Despite a series of scoring chances on each end of the ice, Game 4 remains locked in a scoreless stalemate. Washington has outshot New York 7-6 to this point as both goaltenders have stood tall through early tests.
New York 0, Washington 0 (11:25 1st Period)
Washington goalie Braden Holtby has look much more composed here in Game 4. He was tremendous in Games 1 and 2, limiting the Capitals to one goal in a pair of home wins, but surrendered four scores during Game 3 when he appeared rattled at times.,
Holtby has stopped all four shots put on net by New York in Game 4, including a couple highlight-reel snags. He must be sharp playing across from Rangers netminder Henrik Lundqvist, who is a finalist to win his second straight Vezina Trophy.
NBC Sports Network throws up an interesting statistical graphic before the game gets underway. This matchup between New York and Washington has been the most contentious series so far in the opening round of 2013 Stanley Cup playoff action.
The teams have been tied for 116:35 (62 percent of total series). The Rangers have led for 37:02 (19.7 percent) and the Capitals have held a lead for 34:23 (18.3 percent).
Needless to say, we're expecting another close game tonight in Manhattan.
This article is
What is the duplicate article?
Why is this article offensive?
Where is this article plagiarized from?
Why is this article poorly edited?