Los Angeles Dodgers: 5 Things Wrong with the Dodgers This Season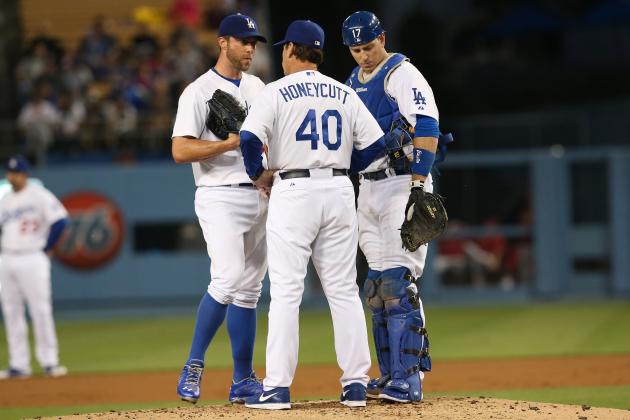 Stephen Dunn/Getty Images
Chris Capuano's pair of despicable starts aren't the Dodgers' only problems
50 years ago, the Los Angeles Dodgers won the World Series. 25 years ago, another World Series win. This season, the Dodgers are 13-19, last in the NL West, having dropped the last six in a row. Their woes are a combination of subpar performances in a number of statistical categories.
Here are five reasons why the Dodgers' 2013 season is off to a rough start.
Stats courtesy of ESPN.com and Baseball-Reference.com.
Begin Slideshow

»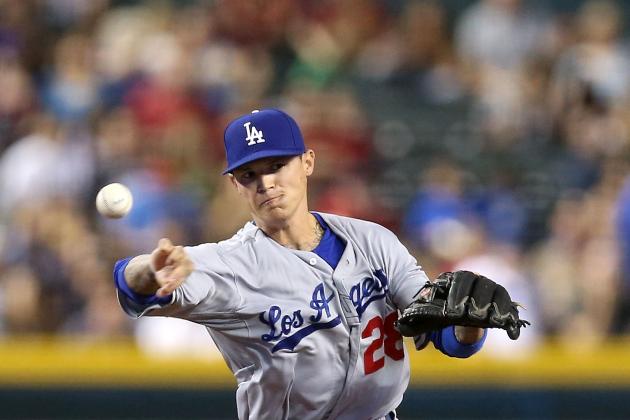 Christian Petersen/Getty Images
Justin Sellers
The Dodgers already have racked up 22 errors this season; only four teams have more. Almost one-third of them have been credited to Matt Kemp or interim shortstop Justin Sellers, yet another thing to dislike about a player with a .191/.267/.250 triple hash on the season.
Although, to be fair, the Bums also have 26 double plays turned on the season.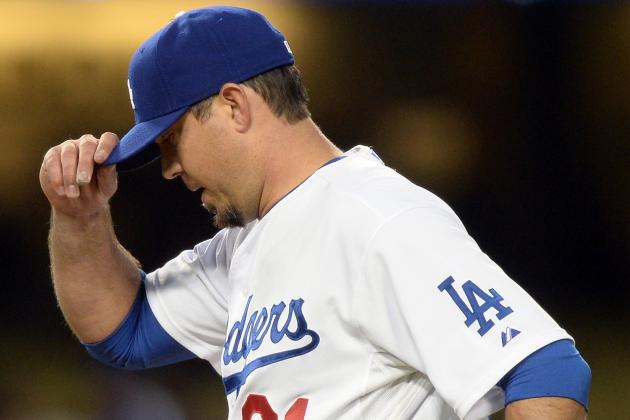 Harry How/Getty Images

Three Dodgers pitchers have had six or more outings: Clayton Kershaw, Hyun-jin Ryu and Josh Beckett. Of those three, Beckett is the only one without a victory, though he has as many losses as the other two combined.
In 40-and-a-third innings of work, Beckett's ERA is a calamitous 5.13, and he has surrendered three or more earned runs in all but one of the games he's started this season. Eight of those were homers.
Beckett's batting average surrendered is .294, his OPS surrendered is a whopping .861 and his strikeout-to-walk ratio is just 2.8. Sabermetrically, his WAR (according to ESPN) is -0.4.
Well, at least he's better than Capuano…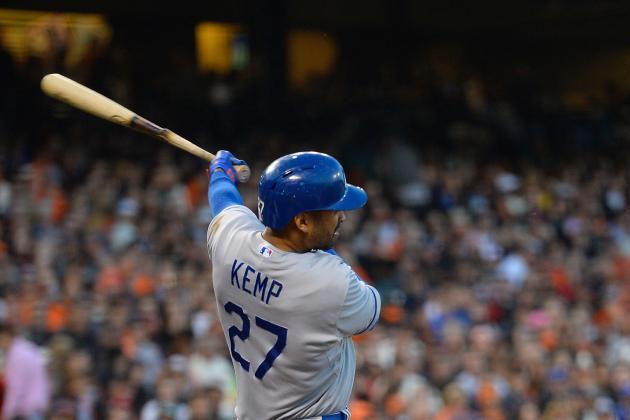 Thearon W. Henderson/Getty Images

In 2011, Matt Kemp had 39 dingers. Through the first 32 games of this campaign, he has just a single dinger and has only eight extra base hits. That gives him just a .681 OPS, which is awful when considering the best bats in the league are over .900.
Kemp's woes are one of the reasons that the Dodgers are one of only nine teams with a sub-.700 OPS on the campaign.
Kemp's numbers are even worse when you consider that Andre Either (.243/.344./.369 triple hash) has been equally bad. Combined, Kemp and Ethier have driven in just 24 runs this campaign, hardly the numbers you need from two of your three best bats.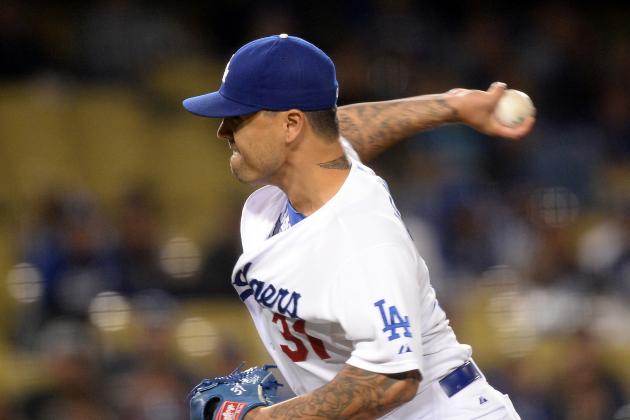 Harry How/Getty Images
Brandon League
The Dodgers are 26th out of 30 MLB clubs in relief ERA with a disastrous 4.71, a full run more per nine innings than the league average. Collectively, the Bums' bullpen is surrendering a .265 batting average and a .749 OPS. Only the White Sox's bullpen has incurred more defeats then the Dodgers.
Josh Wall is the worst offender in this department, surrendering 17 hits, 6 walks and 14 earned runs in just seven frames. Brandon League, who the Dodgers shelled out serious coin to make their closer, has a 5.40 ERA with 2 defeats and 3 homers surrendered in just 13-and-a-third frames. Javy Guerra also has an ERA worse than 10.00.
Maybe this will all be resolved when Scott Elbert comes back or Steve Ames is called up.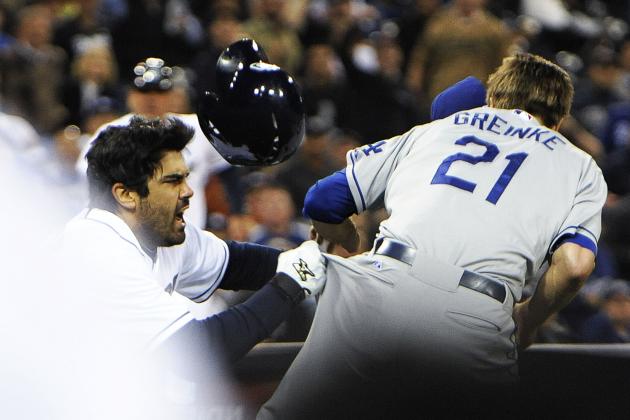 Denis Poroy/Getty Images
Zack Greinke getting manhandled by the Padres' Carlos Quentin
The Dodgers shelled out big money to get key people in the middle of last season and in this offseason. Now, a great many of those acquisitions are on the DL.
Mark Ellis was one of the Dodgers' bright spots this season…until he went down with a quad injury. Hanley Ramirez has had a grand total of 12 plate appearances on the season.
Scott Elbert, slated to be the best lefty in the Dodgers' bullpen, hasn't pitched a single frame for the Bums this campaign due to elbow trouble. Then there's the Carlos Quentin-inflicted injury of Zack Greinke.
Needless to say, Ted Lilly and Chad Billingsley are also hurt.
If the Dodgers' roster was at full strength, I don't think it'd be a stretch to say that record could be turned around.