10 Most Creative Players in Europe This Season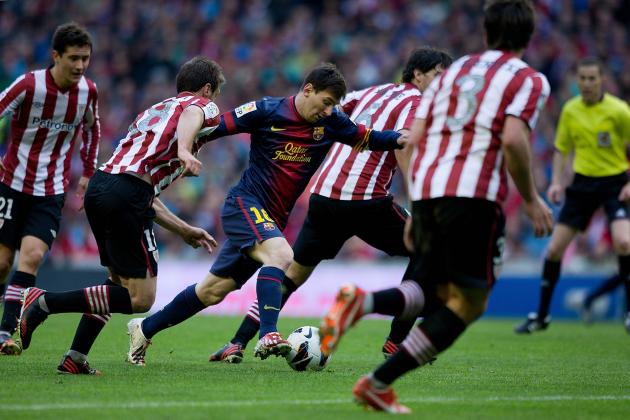 Gonzalo Arroyo Moreno/Getty Images
Messi has this season yet again shown why he is rightfully known as one of the world's greatest ever players.
With the end of the European football season fast approaching (and having already arrived in some leagues), it is time to look back at a selection of the players who gave us such an enthralling 10 months.
Some are being closely monitored by other clubs, while others have already confirmed that they will move over this summer. The rest will be guarded under lock and key as teams look to improve their squads in time for August, when it all begins again.
In no particular order, this is a list of the 10 players who have given the most to their clubs. This is not just in terms of goals—hence the omission of Robin van Persie and a few others—but also chance creation, be it setting up their teammates or creating goals for themselves.
All stats are courtesy of transfermarkt.co.uk
Begin Slideshow

»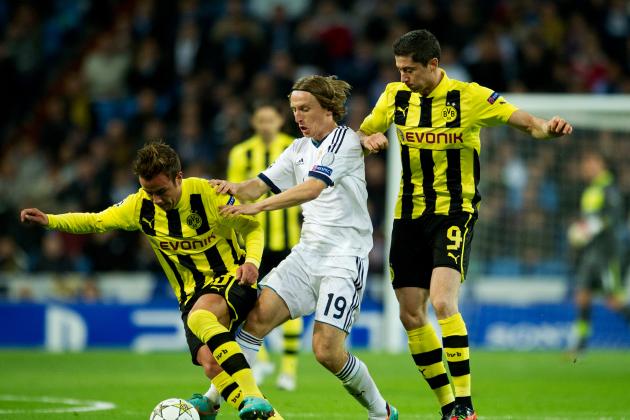 Jasper Juinen/Getty Images
Gotze has already confirmed that he will leave Borussia Dortmund in the summer.
The 20-year-old Mario Gotze has been one to watch for a few years now, and once again he has justified the attention. His stocky build enables him to power through defences, not unlike a young Wayne Rooney. On top of quick feet and a deft touch, he also boasts a stinging shot.
Gotze was a crucial part of Borussia Dortmund's back-to-back Bundesliga titles and, more recently, their progression to this year's Champions League final. He scored 16 goals and provided 21 assists in 2012-13.
However, Dortmund's resurgence has taken a blow with the recent announcement that Gotze will be leaving the club he has been with since 2001. He is headed to Bayern Munich, for 37 million euros, in a summer move that will make Gotze the most expensive German player of all time.
Set to play under new Bayern manager Pep Guardiola, it appears that Gotze's development could accelerate under the tutelage of the brains behind Barcelona. He will become even more prolific with the likes of Schweinsteiger and Martinez feeding him.
It will be very interesting to watch how he performs in the Champions League final between Dortmund and Gotze's future employers Bayern Munich.
David Ramos/Getty Images
Lionel Messi has made a good case for potentially collecting his fifth Ballon d'OR.
The heir apparent to Diego Maradona, and the newest member of the elite few to have been dubbed the "greatest player in the world," Lionel Messi will be appearing on lists like this for the next ten years.
There is no need to describe Messi's skills and attributes. All we have to do is bask in the fact that we are among the luckiest football fans to have ever lived, being able to watch one of the greatest players that ever lived. I'll do it anyway though.
His step-overs, ball control, bursts of speed, the ability to slide between two defenders like a cat through a flap—the list could go on and on.
The player who broke Gerd Muller's 40-year-old goals-in-a-calendar-year record with 91, has had yet another unstoppable season. Messi has scored 60 goals while creating 18, and will most likely go on to collect his sixth La Liga title in two games time.
With his contract running until 2018, it appears that no other team will ever have Messi gracing it. That is none other than his hometown club, Newell's Old Boys, whom Sky Sports report Messi has voiced a desire to finish his career with.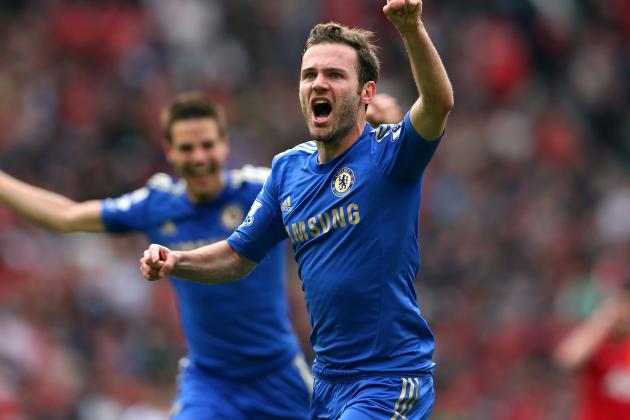 Alex Livesey/Getty Images
Yet again, Mata makes the difference for Chelsea in their 1-0 triumph over Manchester United on Sunday.
Juan Mata has been one of Chelsea's star performers since arriving from Valencia in the summer of 2011. Operating in a stellar attacking trio that also features Oscar and Eden Hazard, it speaks volumes that the diminutive Spaniard is able to take control of the game when surrounded by such talent.
His finely tuned eye for passing has garnered him a vast repertoire, from delicate one-twos to sweeping cross field balls.
It can be argued that, had Mata had better strikers to supply, rather than Dembe Ba and Fernando Torres, he would have bettered his phenomenal 33 assists for the season. This while finding time to score 18 goals on the side.
But Chelsea are Chelsea, and manager Roman Abramovich will surely be making funds available to the next manager for a summer haul. This will especially be the case if the new manager turns out to be the self-styled "Special One".
According to Express, targets are Radamel Falcao and Edinson Cavani, both of whom would take a larger percentage of the chances that Mata carves out.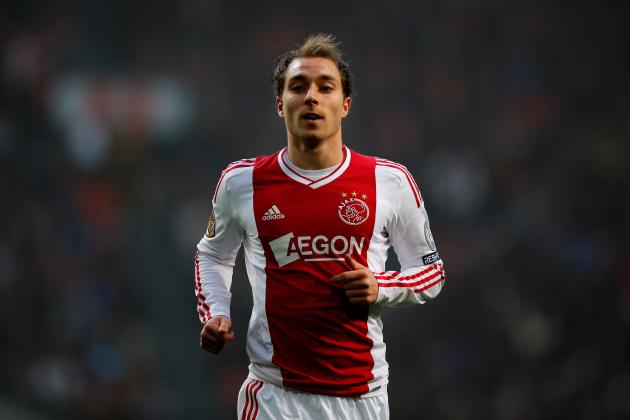 Dean Mouhtaropoulos/Getty Images
The Danish international is one of the most exciting young players in Europe.
Notching 13 goals and a remarkable 23 assists this season, Christian Eriksen has been coveted by Premier League clubs for several years. So far, however, the Danish international has not been ready to leave the Dutch Eredivisie.
Despite having trials with teams such as Barcelona, Real Madrid and Manchester United, Eriksen decided to sign with Ajax. He believed playing in Holland would better aid his development, and that decision has paid off.
An accomplished passer with a knack for finding space on the 18-yard line—not forgetting a fast pair of legs—the Dutch Football Talent of the Year and Danish Football Player of the Year (both 2011) has established himself as an integral part of his team. Eriksen scored in Ajax's 5-0 thrashing of Willem II on Sunday to clinch his third successive Eredivisie title.
It appears that his resistance to a move away from Ajax may be crumbling, as reports suggest an unwillingness to sign a new contract with his current club. This could signal that he is ready to take on a new challenge, as both Tottenham Hotspur and Liverpool are rumoured by Express to be interested.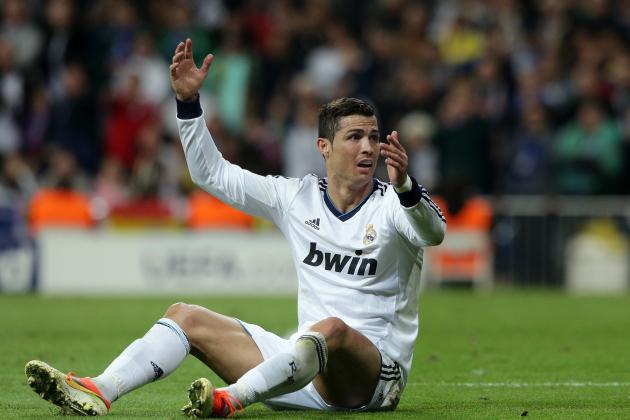 Gonzalo Arroyo Moreno/Getty Images
Ronaldo has the unfortunate accolade of being the world's "second" best player.
The man who would be the best player in the world if it were not for one diminutive Argentinian, must wonder what else he has to do to claim that elusive second Ballon d'Or.
Cristiano Ronaldo has been one of the best players in the world since playing under Sir Alex Ferguson at Manchester United. Upon his £80 million move to Real Madrid, he has developed into a very close second best.
The Portuguese forward has provided a large portion of Madrid's goals this season, netting 53 and creating 12, and is in the midst of the peak years of his career.
In my humble opinion, a team is perhaps better off with Ronaldo than Messi. While the Argentinian is the master of ball control and quick-steps, Ronaldo is the more complete player—though the disparity in points at the top of La Liga says otherwise.
It remains to be seen how long Ronaldo will remain at Real Madrid—the club he joined in order to win more European honours—if they stay in the shadow of Messi and Barcelona. The next post of Jose Mourinho is thought to be an influence, while a return to his old club, Manchester United, is not out of the question for Ronaldo (per the Daily Mail).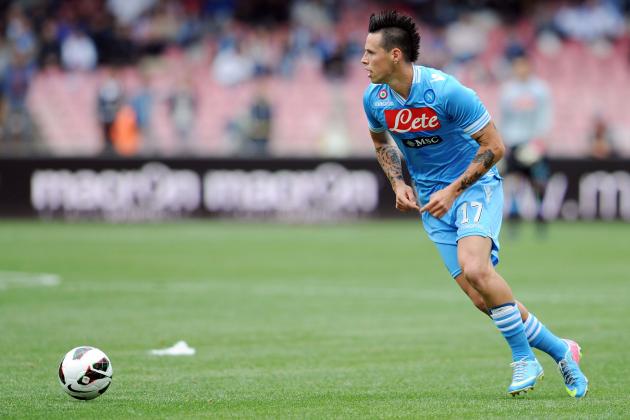 Giuseppe Bellini/Getty Images
Along with Edinson Cavani, Hamsik has been central to the resurgence of Napoli.
Marek Hamsik often slips under the radar at Napoli, leaving the limelight for teammate Edinson Cavani. His contribution is not to be undermined though, with the Slovakian international providing 21 assists and 9 goals this season from attacking midfield.
Hamsik's influence on the Napoli squad has always been fairly consistent, with an average of 43 appearances and 11 goals per season since joining from Brescia in 2007. But it is only over the past couple of seasons that he has turned provider, with 11 and 21 assists in 2011-12 and 2012-13 respectively.
The fact that Naples were newly-promoted to the Serie A when Hamsik signed for them—and have placed in the top six since 2010—shows how important the 25-year-old's development as a creator has been. All those Cavani goals had to come from somewhere.
Having signed a contract extension which will keep him in Naples until 2016, it will be intriguing to see how Serie A's top provider for this season fares next year. Should Cavani move on, Hamsik's upturn in assists could reverse, seeing as how the increased output coincided with the arrival of the Uruguayan.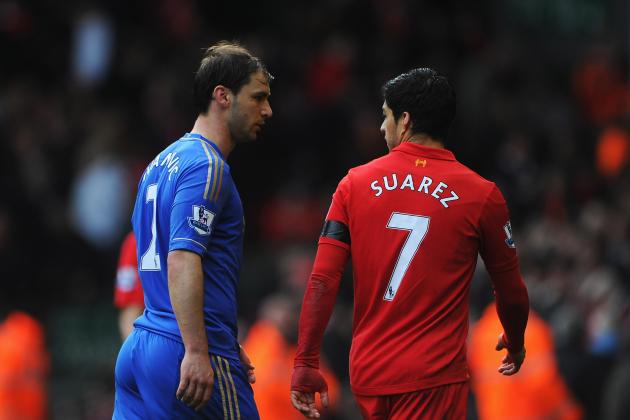 Michael Regan/Getty Images
Luis Suarez's undeniable talent is often over-shadowed by his predilection for controversy.
An entry based not on how many goals he scored, but how he created almost every chance for himself, then scored.
One of the most controversial players to have reached European shores, at least Suarez has the skill to distract from his many personality flaws.
Even though what he did to Branislav Ivanovic was deplorable, there was still a sense of disappointment when the realisation hit that he would not be exhibiting his seemingly endless talents again this season.
His reactions, the unshakeable balance, the twisting runs and drops of the shoulder that turn defenders inside out have made him the most exciting player to watch in England this season, if not the world. Quite simply, without him, Liverpool would be far lower than seventh.
Liverpool's undisputed star player has scored 30 and created 13 competitive goals this season, a record that has afforded him more leniency at the club that many others would get. Though, somewhat unsurprisingly, in the wake of the Ivanovic incident and a 10-match ban for Suarez, some seem to be suggesting that Liverpool may sell (such as The Telegraph).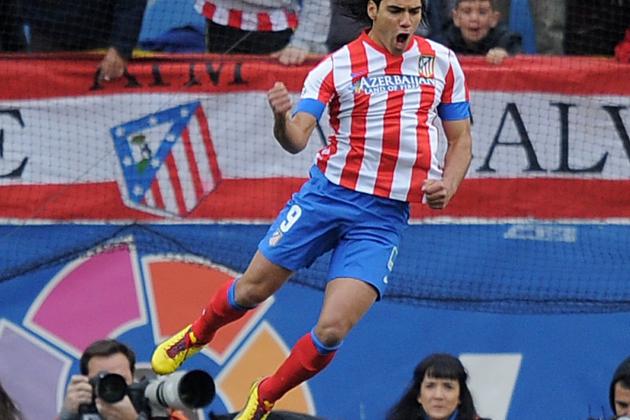 Denis Doyle/Getty Images
Falcao has enjoyed an excellent goals-to-games ratio throughout his career.
The goals-to-games ratio that the 27-year-old Colombian has forged is nothing short of astounding. Radamel Falcao has netted 185 goals in 278 games since 2005 at last count.
It is no secret how adroit in front of goal Falcao is. His ability to contort himself to connect with the ball when it appears out of reach, and his aerial prowess—despite being relatively short—being just two attributes in his impressive arsenal.
Although this is not a list of players who have scored the most, Falcao makes it in here purely on how far his goals have taken his side. Without them, neither Atletico nor Porto would have reached such heights.
The influence he has had on his teams over the past few years is there to be seen in the stats and silverware. By winning the Europa League in 2012 in his first season with Atletico Madrid, he became the first player to win it consecutively with different teams, having won it in 2011 with Porto.
Falcao was also the top scorer in both campaigns.
Atletico Madrid seem resigned to losing their star player this summer as he enters the prime years of his career. They are rumoured to be lining up Liverpool striker Suarez as a possible replacement in light of heavy interest from Chelsea (per the Daily Mail).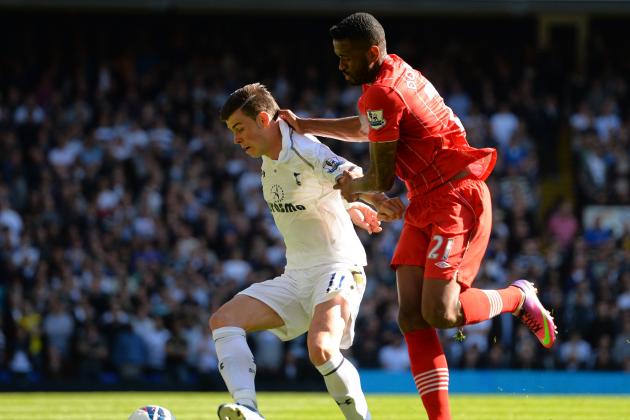 Shaun Botterill/Getty Images
Moments of individual brilliance have become fairly commonplace where Bale is concerned.
Gareth Bale, the FWA, PFA and PFA Young Player of the Year was one of the first names on this list, for obvious reasons. In three seasons, Bale has grown from a nippy winger whose showpiece was to knock on and chase, to being the focal point of Andre Villas-Boas' Tottenham Hotspur.
Of course, he still has the speed, but has added an array of skills to his growing repertoire.
When Spurs are struggling, it has become almost inevitable that Bale will fire a white-hot shot from anywhere between 18 and 30 yards, with all probability that it will land in the back of the net. When Spurs are winning, it's pretty much the same story.
His set-pieces are unerring, and while finding space is not his strongest aspect, his speed allows him to break away from his marker. More often than not, he bears down on the opposing goalkeeper, where his confidence does the rest.
A tidy 25 goals and 15 assists are figures that he will want improve on for 2013-14.
Recent reports from Metro claim that Bale will sign a new contract with Spurs this summer; if that happens, then the club have already made their most important signing for next season.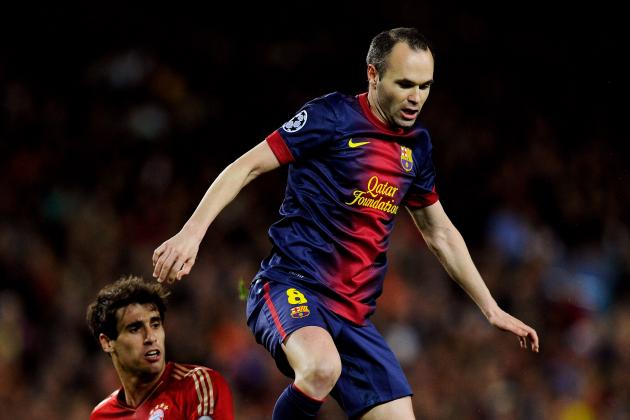 David Ramos/Getty Images
Iniesta is sure that Barca will bounce back from their CL semi-final whipping at the hands of Bayern Munich.
One of the few automatic entries, for yet another season the real "little wizard", Andres Iniesta, has shown why he is one of the best creative players to ever step on the pitch.
Twenty-two assists for the season have driven Barcelona on course to claim their 22nd La Liga title, a feat made even more admirable when you look at the points gap between them and Real Madrid (11 points).
Despite having been with Barca for over a decade, Iniesta did not really get into the international spotlight until the emergence of Guardiola's side, who are often cited as the greatest ever football team.
The plethora of talent around him in Messi, Xavi and Eto'o complimented Iniesta's wide range of skills. He finally had a group of players around him who could play at his level.
Iniesta and Barcelona may have been trounced by Bayern Munich in this year's Champions League semi-final—a 7-0 aggregate thrashing that will live long in the memory— but they will surely be back. The shocking defeat takes nothing away from Iniesta's stunning La Liga contribution.
An honours list that includes five league titles, two Copa Del Reys, five Spanish Super Cups, three Champions Leagues, two UEFA Super Cups, two Club World Cups, one World Cup, and two European Championships, poses the question: What do you get the man who has everything?
Perhaps a worthy replacement for Xavi, when he retires.