Boise State Football Recruiting 2014: Updates on Commits, Visits and Offers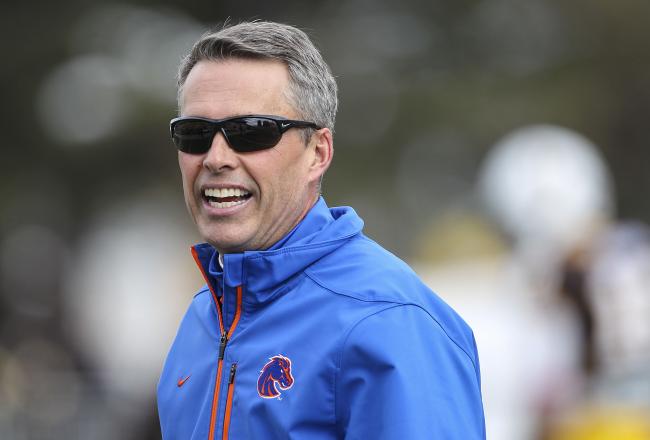 Troy Babbitt-USA TODAY Sports
Make sure to follow this exclusive tracker from now until national signing day for the latest news and happenings surrounding the Boise State Broncos 2014 recruiting class.
Here are lists of the Broncos' 2014 current commitments, top targets and scheduled, upcoming visitors.
Click here and select Boise State from the college drop down menu to see where all the Bronco's recruits hail from.
All recruiting rankings via 247Sports.com.
Monday, June 24
According to Scout, Boise State has landed a pair of wide receivers in Sean Modster and Shay Fields. Both are 3-star recruits, according to 247Sports.
Modster told Greg Biggins of Scout (paid link) that he is excited about his decision:
I committed earlier today. I'm really excited about it and I think it's a great all around fit for me. I camped with Boise State last week and loved the place. They have a great campus, I like the coaching staff and the offense is great for a receiver like me.
Fields also told Biggins that although other schools may contact him, he has his heart set on Boise State.
I called up coach Petersen this morning and told him I was ready to commit and he was real excited for me. I feel like a big weight off my back too and I'm very glad to have this out of the way before my season gets here. I know other schools will still come around but Coach Pete said to not let them get in my head and remember who I was committed to. I don't see anyone beating out Boise State for me.
This now gives Boise State nine commitments and the first two wide receivers.
Follow Bleacher Report's interactive recruiting map to find out where Boise State is recruiting the hardest.
Tuesday, May 28
Running back Calvin Green has nine offers on the table and has already told Brandon Huffman of Scout his top five schools (subscription required):
My top five is Arizona State, Washington State, Fresno State, Boise State and Nevada. Washington State is probably my top school. They've been showing me a lot of interest. Coach (Clay) McGuire is the coach recruiting me and he's told me all the ways they'd use me in their offense.
Green is a playmaker who is capable of playing receiver or running back, but would also like to see some action on special teams. According to the report, Green is expected to visit all five schools sometime in the fall.
Tuesday, May 21
Bama and boise came by today

— Tyrell Crosby(@Tyrellcrosby) May 20, 2013
Even though offensive tackle Tyrell Crosby committed to Oregon in April, it hasn't stopped a couple of schools from visiting him, according to his Twitter account.
Wednesday, May 15
Kammy Delp is an underrated lineman who is picking up more offers by the day. Already with an offer from Boise State, the 3-star recruit tells Adam Gorney of Rivals that he is in no hurry to make a decision:
I'm trying to take a bunch of unofficial visits to all the schools in California like Stanford, San Jose State, I already visited Cal so I'm trying to get as many unofficial visits done before the season starts and then probably after the season I'll take my five official visits.
Delp is capable of playing either side of the ball and received an offer from the Broncos on May 6.
Monday, May 13
Defensive end Jaylen Johnson has provided Lindsey Thiry of Scout his top five favorite schools. The list includes Boise State, Oregon, Northwestern, California and Arizona.
"Oregon and Boise both [made the list] because of their 'at home' type of atmosphere," Johnson explained. "Northwestern and Cal both have that academic prestige that I really like. And I like the Arizona campus and program, I can see myself living there."
According to the report, Johnson plans on visiting Boise State in June but hopes to hear from LSU and Ohio State soon.
Wide receiver Erik Brown has a lot of interest in the home schools such as USC and UCLA, but he is also considering taking his talents to Boise State. With an offer already on the table, Brown told Greg Biggins of Scout (paid link) that he will take an official visit to see what the Broncos are all about.
"I really like Boise State a lot," Brown said. "I'm definitely going to take an official visit there. I want to take all my visits if I can and Boise State, Oregon State and California are schools I want to check out. Of course I'll visit Washington and I know I can see UCLA any time since it's close to home."
Brown is a 6'1" wideout and capable of lining up in multiple spots on the field. Truly an underrated player in this class, he would have the chance to provide an instant impact to this Boise State offense.
Kammy Delp received his latest offer from Boise State, and it will be interesting to see if he shows any interest. At 6'4", 300-plus pounds, Delp is a massive football player who can play either side of the ball and even go out for passes. While that likely won't be his role in college, it is fun watching him run downfield in his highlight video.
Delp holds other offers from Washington State, Nevada, Arizona and Fresno State.
Running back Squally Canada received an offer from Boise on March 1 and couldn't be any more excited about it. At 6'0", 185 pounds, Canada is a physical runner who has also spent some playing time at safety for his high school in Milpitas, Ca.
Here is what Canada told Justin Hopkins of 247Sports about his offer from the Broncos:
"I've got great interest in Boise State," Canada said. "They have been showing a lot of interest in me for a while now. I really like coach (Keith) Bhonapha, he is a real nice guy."
The 3-star runner also holds an offer from Colorado and has visited San Jose State. According to the report, he hopes to visit Boise State sometime in June and could end up making an early decision.
This article is
What is the duplicate article?
Why is this article offensive?
Where is this article plagiarized from?
Why is this article poorly edited?

Boise State Football: Like this team?