Seattle Mariners: 4 Lineup Changes Team Should Implement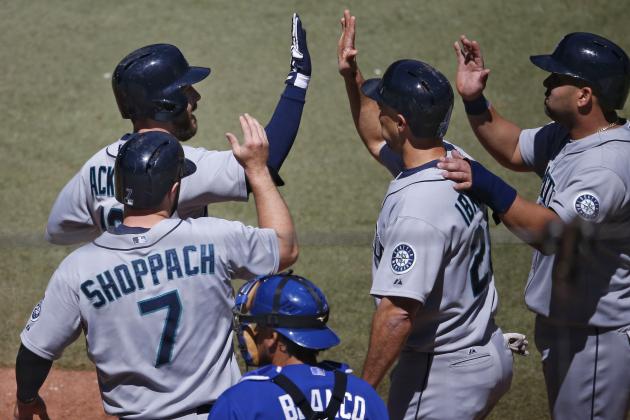 Tom Szczerbowski/Getty Images

The 2013 baseball season is well underway and the Mariners offense is still struggling to produce consistently. Manager Eric Wedge has shuffled the lineup and key players have been hurt, but something isn't clicking. However, Wedge has stayed positive and optimistic.
"We are going to get better offensively, and these guys are going to figure it out," said Wedge after Seattle's 5-0 loss at Texas on April 20th, according to thenewstribune.com.
The runs have increased a little since then, but not enough. It might be time to make some lineup changes to get something going.
Here's the lineup Wedge has been going with lately:
1. Saunders, CF
2. Seager, 3B
3. Morales, DH
4. Morse, RF
5. Bay, LF
6. Smoak, 1B
7. Ackley, 2B
8. Montero, C
9. Andino, SS
Robert Andino's already taken Brendan Ryan's spot in the lineup, but it hasn't paid dividends.
Here are some more changes that could help kick-start the M's offense.
Begin Slideshow

»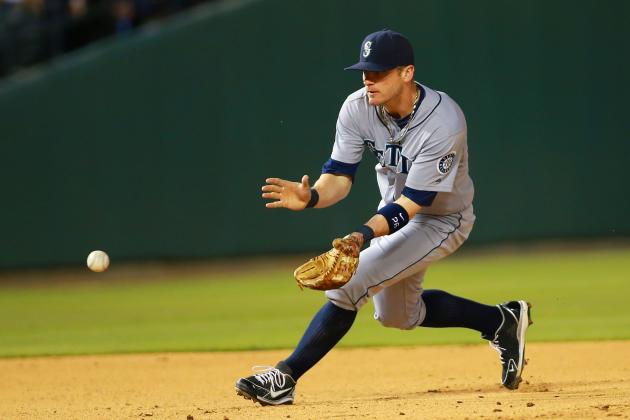 Rick Yeatts/Getty Images

Shortstop Brendan Ryan has become synonymous with Seattle's offensive woes. He was hitting .143 when Andino was named starting shortstop, and that hasn't done much to generate more offense.
Both of their stat lines are abysmal—Ryan's slash line is at .137/.220/.137, while Andino is hitting .179/.220/.232—but with runs coming at a premium, Ryan's superior defense outweighs Andino's slightly less terrible offense.
Runs saved are just as good as runs scored, and putting Ryan back at short will bode well for the team.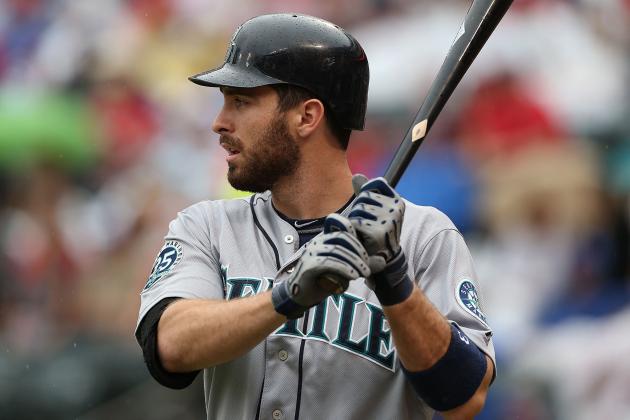 Ronald Martinez/Getty Images

Dustin Ackley's bat is coming around. The Mariners' second baseman recently snapped a 10-game hitting streak and looks much more confident at the plate.
Moving Ackley to second in the lineup would get him more at-bats and give run producers more opportunities to hit with runners in scoring position.
A top four of Saunders, Ackley, Seager and Morse would present starting pitchers with difficulties, especially right-handers given the three southpaws.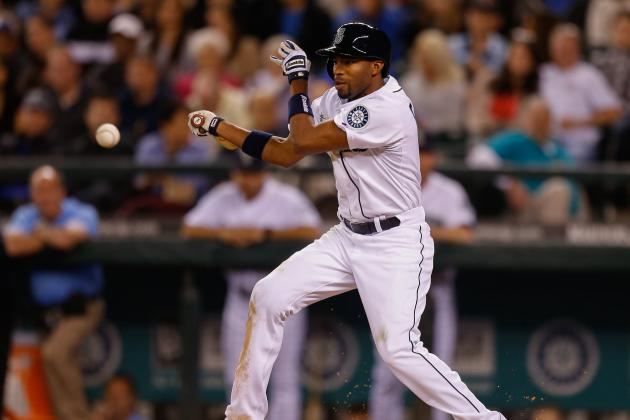 Otto Greule Jr/Getty Images

With the injuries to Michael Saunders and Franklin Gutierrez, veteran outfielder Endy Chavez saw everyday playing time. Since Saunders has returned, Chavez has rarely been in the lineup.
He's hitting .283 and gives the Mariners some much needed speed in the lineup and a dependable glove in the outfield. His playing time will surely decrease even more once Gutierrez gets healthy, so Wedge should use him as much as he can with Guti on the shelf.
Conventional wisdom points to more playing time for Chavez coming at the expense of Jason Bay, but what has Justin Smoak been doing? His bat has been a non-factor this season. Chavez could play left field, moving Bay to DH and Morales to first, taking Smoak out of the lineup. Chavez is a defensive upgrade and currently a better offensive option than Smoak.
Wedge rarely gives Smoak a day off, and maybe a few days on the bench will help him turn things around.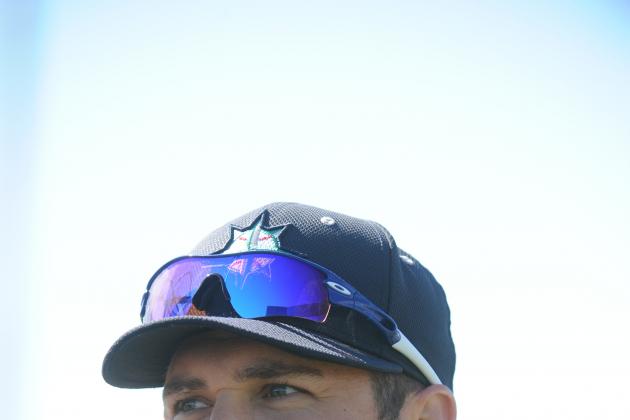 Rich Pilling/Getty Images

Backup catcher Kelly Shoppach has been more productive in less playing time than Jesus Montero this season. The 33-year-old backstop is besting Montero in nearly every offensive category and is far superior defensively.
Montero's young and has never had the opportunity to play behind a veteran catcher, and maybe he needs that. Shoppach's been around the league and back and can definitely help Montero develop as a player.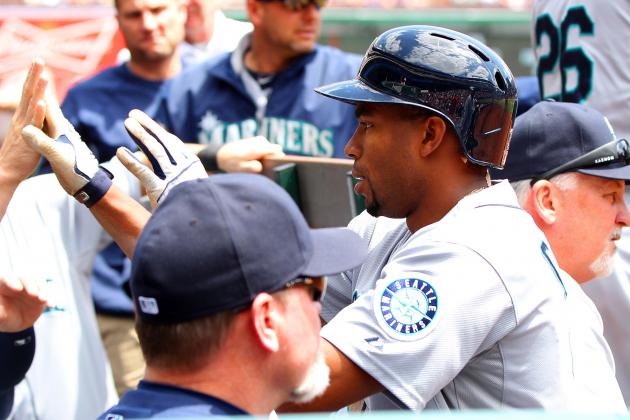 Rick Yeatts/Getty Images

Here's a potential lineup with the aforementioned changes in place:
1. Saunders, CF
2. Ackley, 2B
3. Seager, 3B
4. Morse, RF
5. Morales, 1B
6. Bay, DH
7. Chavez, LF
8. Shoppach, C
9. Ryan, SS
Feel free to share your thoughts with me in the comments section or on twitter.