Ohio State Basketball: 5 Effects Roster Changes Will Have on Buckeyes in 2013-14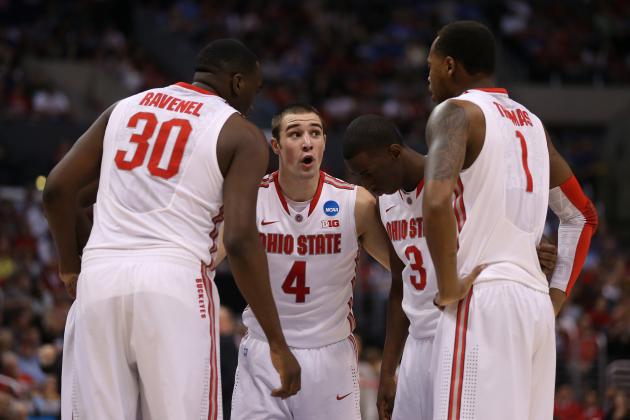 Jeff Gross/Getty Images

There were some teams that had dramatic roster changes this offseason—we are looking at you Kentucky—and others that basically stayed intact, like as Michigan State; but most fell somewhere in the middle.
That is where the Ohio State program finds itself heading into the 2013-14 season, at least in terms of the quantity of alterations. The Buckeyes basically underwent a two-for-two trade with Deshaun Thomas and Evan Ravenel departing and incoming freshmen Marc Loving and Kameron Williams joining the fold.
There will undoubtedly be some effects from losing the top scorer in the Big Ten and adding two potentially dynamic freshmen that are wild cards at this point. Read on to see five of those impacts.
Begin Slideshow

»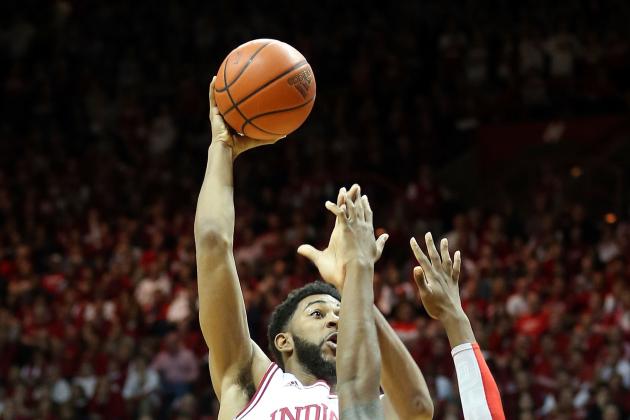 Andy Lyons/Getty Images

Ohio State contended for a Big Ten regular season crown, won the Big Ten tournament and made it to the Elite Eight on the back of its excellent defense in 2012-13. For as good as last year's Buckeye defense was, though, it will be even better next season.
Deshaun Thomas was a great offensive force, but he struggled his entire career on the less glamorous side of the ball and often got lost and couldn't match up with the bigger guys in the conference. Marc Loving figures to be a better defender right out of the chute thanks to his length and athleticism, and he proved in high school he can be a shot blocker and rebounding force.
The backbone of the Buckeyes' defense is still its backcourt, and the addition of Kameron Williams will only exacerbate that. He is quick and shifty and will add even more athleticism to the Aaron Craft and Shannon Scott full-court press combination. There are plenty of Big Ten point guards that will have headaches this winter.
Evan Ravenel will be difficult to replace on the defensive side, but Williams and Loving should help offset that loss. Plus, the loss of Thomas is almost addition by subtraction when it comes to defense, even if he did improve over the course of his junior year.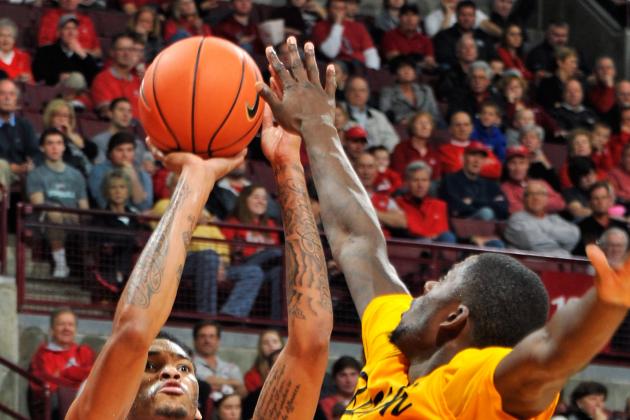 Jamie Sabau/Getty Images

The fact that Sam Thompson was the only player on the roster that shot better than 40 percent from behind the three-point arc last year has to be a concern for Thad Matta, and Thompson was barely over 40. What's more, Thompson was fifth on the team in attempts, so lesser shooters, percentage-wise, were taking the majority of the looks.
The three-point shooting will certainly improve in 2013-14.
Evan Ravenel was obviously not a long-range factor, so his departure doesn't impact the three-point game. Deshaun Thomas was a capable perimeter shooter but often forced contested shots instead of exploiting his obvious mid-range advantages. His percentage suffered as a result.
Marc Loving won't shoot many threes, if any, but Kameron Williams certainly will. He scored the ball at an incredible clip in high school and will benefit from the defensive attention that Aaron Craft and LaQuinton Ross draw next year. Look for Williams to shoot a solid clip from behind the arc.
Ross should also continue the rapid development that fans glimpsed in the NCAA tournament.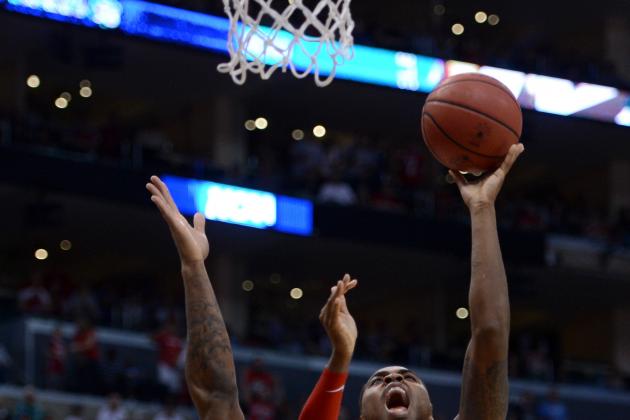 Harry How/Getty Images

Yes, the three-point shooting will improve in 2013-14, but that doesn't mean the half-court offense as a whole will see a significant boost. In fact, it will take a step backwards.
Deshaun Thomas may have been a flawed player, but he was Ohio State's bailout so many times last season that it was easy to lose count. He often rescued the Buckeyes at the end of the shot clock, drew fouls from opposing players and ultimately led the Big Ten in scoring.
For as much potential as Marc Loving and Kameron Williams bring to Columbus, neither is going to be Thomas on the offensive end right away. Thomas was a special offensive player who will be missed dearly when the Buckeyes are struggling to score.
Furthermore, Evan Ravenel's graduation means that Thad Matta will be counting on Amir Williams to finally live up to his McDonald's All-American status. Ravenel was never a volume scorer, but he did save many of his best games at Ohio State for the biggest moments. He scored plenty of timely baskets, much like Thomas.
The Buckeyes struggled in their half-court offense plenty last season. Expect that to once again be the case with no Thomas to play the role of shot-clock savior.
Jamie Sabau/Getty Images

There was a number of contributing factors to Ohio State's late season surge last year. One of them was the faster tempo it started to play with on both sides of the ball.
Aaron Craft and Shannon Scott combined to create a suffocating full-court press that frustrated opponents and led to easy looks off turnovers. Craft also used his underrated speed to slash the lane more and create opportunities for himself and teammates.
For as valuable as Evan Ravenel and Deshaun Thomas were to the Buckeyes, neither got out much in transition or controlled the game through pace of play. Marc Loving is comparable to Thomas in the speed and versatility categories, but Kameron Williams is the type of shifty and speedy guard that will make Ohio State's pressure defense almost unbearable.
Simply put, trading Ravenel and Thomas for Loving and Williams may not help the Buckeyes in the scoring department, but it will add speed to both sides of the ball.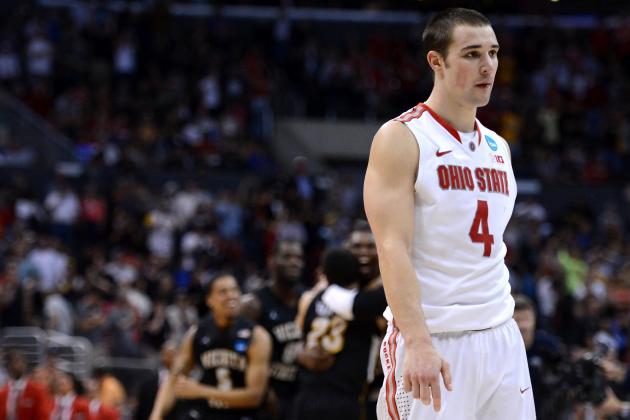 Harry How/Getty Images

All eyeballs will be on Aaron Craft this season when it comes to Ohio State basketball.
The senior point guard will once again be the fan favorite among Buckeye faithful and a hated man elsewhere in the Big Ten. He is the perfect example of someone who fans would love to have on their team but hate to play against, even if he has drawn some criticism from Ohio State supporters who are looking for more offense.
The departure of Deshaun Thomas puts even more pressure on the Buckeye point guard. Craft was already in charge of spearheading Thad Matta's defensive pressure and providing leadership, but now he will have to score more if Ohio State hopes to accomplish its goals in 2013-14.
Marc Loving and Kameron Williams both have the potential to develop into collegiate stars one day, but the fate of the Buckeyes' season this year hangs in the balance of Craft's hands. If he improves his offensive ability to the point where it is even comparable to his defense and intangibles, Craft will be one of the best players in the nation.