Shane Carwin Retires: Power Ranking His UFC Fights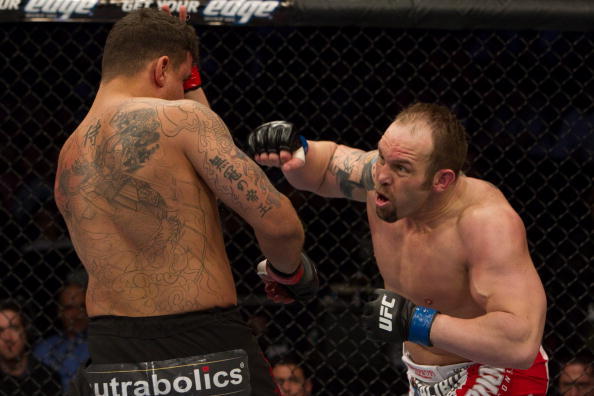 Josh Hedges/Zuffa LLC UFC via Getty Images
Shane Carwin announced his retirement from mixed martial arts on Tuesday evening. The former interim UFC heavyweight champion did so via Twitter, saying "Officially retired 2day:-) thank you to my family, friends and fans! #dreambig GOD BLESS!!!"
Carwin leaves the sport with a record of 12-2, with those two losses coming in the final two fights of his career.
Carwin fought for the UFC six times. The fighter, known as "The Engineer" due to his day job as an engineer for the North Weld County Water District in Colorado, went 4-2 during an injury-plagued run with the promotion.
Carwin's last fight was a bloody and bruising loss to Junior dos Santos in June 2011.
Here's a look at Carwin's run in the UFC.
Begin Slideshow

»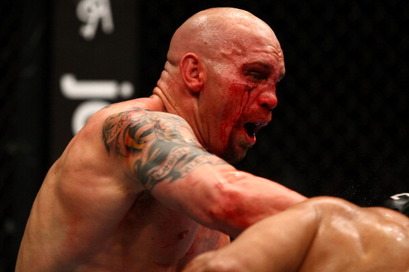 Donald Miralle/Zuffa LLC/Zuffa LLC via Getty Images
Shane Carwin and Junior dos Santos headlined UFC 131, with the winner moving on to fight UFC heavyweight champion Cain Velasquez.
Early on in this fight, it became clear that Carwin was going to have a tough time dealing with the speed of dos Santos. Dos Santos tagged Carwin with jab after jab, never letting Carwin find his range.
As the first round came to a close, dos Santos dropped Carwin and teed off, pummeling Carwin and leaving him a bloody, lumpy mess as he headed back to his corner at the horn.
The fight was pretty much over at that point, dos Santos had established his game plan and never let Carwin accomplish much of anything.
In the end, dos Santos would take home the unanimous decision (30-27, 30-27, 30-26) and earn a UFC title shot.
Key stats from the fight: Dos Santos landed 104 of 212 strikes, while Carwin landed only 22 of 88.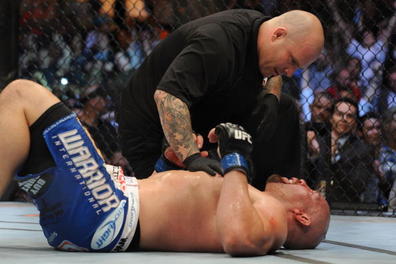 Jon Kopaloff/Zuffa LLC/Zuffa LLC via Getty Images
The main event of UFC 116 featured UFC heavyweight champion Brock Lesnar facing off against interim UFC champion Carwin. The winner of this one would walk out of the Octagon as the undisputed possessor of the UFC heavyweight crown.
With 3:45 left in the first round, it looked like Carwin was well on his way to victory as he had Lesnar down and was laying heavy leather on him. The problem was that Lesnar was covering up, and while some of the punches were sneaking through, many were not.
Carwin, perhaps caught up in the moment, didn't pick his spots, he just kept throwing punches. As time wore on, those punches lost a lot of their oomph.
With 1:30 left in the first round, Carwin's punches had ceased altogether, and Lesnar got to his feet. The fighters spent the rest of the round kind of just leaning against each other and catching their wind.
When the second round began, it was clear that Carwin was still struggling to get things together, a fact that was not lost on Lesnar. Lesnar capitalized on Carwin's low gas tank, taking him to the mat and eventually earning the arm triangle choke submission.
Was this fight exciting and was Carwin close to ending it? Yes he was, but he wasn't patient as he punched himself out, and that's why it ranks so low.
Key stats from this fight: Carwin landed 61 of 112 strikes, while Lesnar was 28 of 37.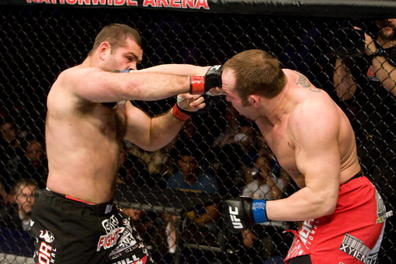 Josh Hedges/Zuffa LLC via Getty Images
Carwin's first two UFC fights took place on the preliminary card. At UFC 96, he graduated to the main card and took on Gabriel Gonzaga.
Gonzaga was the aggressor early in this fight, earning a takedown in the early going and working Carwin against the fence. Carwin was able to gain his feet due to his positioning against the cage, and once they were standing, the two fighters separated.
From there, Carwin showed his power, catching Gonzaga with a short right that was nothing but power, dropping Gonzaga to the mat and bringing the fight to a quick stop.
The knockout was impressive, but Carwin was outstruck and taken down in this one. Had the Gonzaga takedown happened in the center of the Octagon instead of against the fence, the outcome of this one could have been different.
Stats for this fight: Carwin landed 4 of 10 strikes, while Gonzaga went 7-of-10 and had a takedown.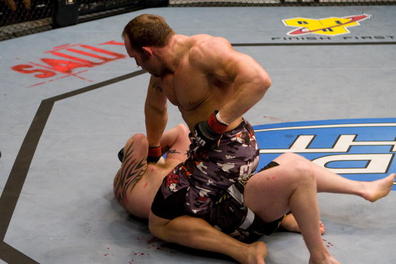 Josh Hedges/Zuffa LLC via Getty Images
There was a pronounced difference in physiques in this one, as Carwin met Neil "Old School" Wain on the UFC 89 preliminary card.
Wain caught Carwin with some strikes early which sent the wrestler in for the takedown, which he gained with ease. Carwin then moved to side control and eventually into full mount where he quickly earned the TKO win.
It was the second UFC fight for Carwin and second quick TKO.
Carwin landed 23 of 33 strikes to go along with the takedown in this one.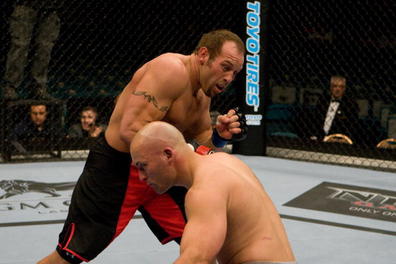 Josh Hedges/Zuffa LLC via Getty Images
Carwin carried an 8-0 record into his UFC debut at UFC 84. In front of a very sparse crowd, Carwin earned a quick TKO win over Christian Wellisch.
Carwin didn't look fully comfortable in his first trip into the Octagon, but he did showcase his power when he caught Wellisch right on the chin to end the fight at the 44-second mark of Round 1.
Carwin landed five strikes in the fight.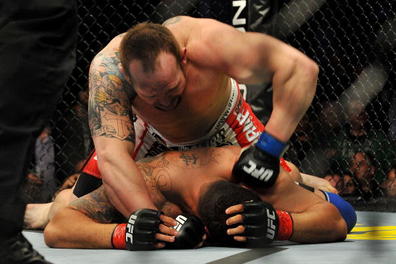 Jon Kopaloff/Zuffa, LLC via Getty Images
Carwin would face Frank Mir at UFC 111 for the interim UFC heavyweight crown. The two fighters kept their distance for the first 40 seconds of the fight. It was Mir that closed that distance first, looking to land strikes, but Carwin would get inside and force Mir to the cage, holding him there and leaning his frame into Mir.
The referee would separate the two fighters, and again, the fighters went to the fence. Mir looked to control the hands of Carwin, but he was unable to do so.
Once Carwin's left was free, he found space for multiple short, sharp uppercuts that dropped Mir. Mir ate a lot of punches on the ground and briefly looked to secure an arm, but Carwin's heavy hands prevented that from happening, and the stoppage came as Mir lay face down on the canvas.
Key stats from this fight: Carwin landed 74 of 89 strikes in the time—3:48—it took to earn the stoppage.