Pittsburgh Penguins vs. New York Islanders Game 4: Live Score, Updates, Analysis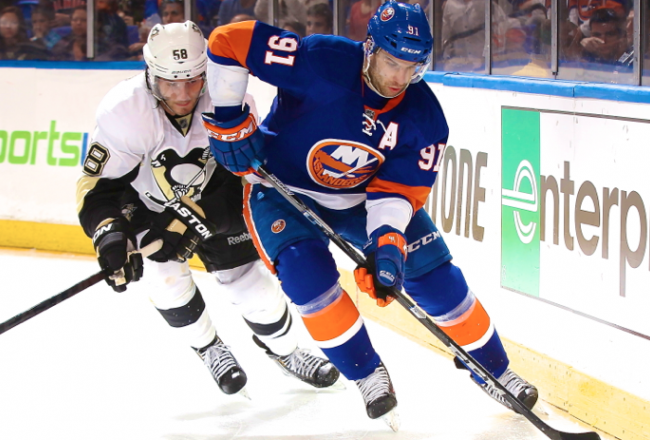 The New York Islanders earned the franchise's first home playoff win since 2002 on Tuesday night. Pittsburgh goalie Marc-Andre Fleury, who tied the Penguins record for postseason shutouts (six) in Game 1, is suddenly on the hot seat after surrendering several questionable goals in a 6-4 defeat.
New York evened up the best-of-seven Eastern Conference series at Nassau Veterans Memorial Coliseum. Regular-season MVP candidate John Tavares tallied a pair of goals, including the game-winner, in an action-packed victory.
The Islanders, winless in postseason series since 1993, have suddenly found a way to rattle Fleury. New York scored six goals on 24 shot attempts, accumulating 14 goals in the past three games.
Final: New York 6, Pittsburgh 4
Game 4 comes to a close with fight, 6-4 Islanders victory!
New York and Pittsburgh players dropped gloves and got into a scrum at the conclusion of Game 4, which ends in favor of the Islanders. The home team prevailed 6-4 to tie the series with top-seeded Pittsburgh at two wins apiece.
New York outscored the Penguins 3-1 in the final period to pull into a series tie.
New York secures Game 4 win with goal, giving Islanders 6-4 lead with 1:16 remaining in regulation!
There's suddenly a goalie controversy in Pittsburgh. Marc-Andre Fleury surrendered his sixth goal of the game when Casey Cizikas connected for his second score of the postseason.
Cizikas scored from a difficult angle to beat Fleury. Michael Grabner and Colin McDonald picked up the assists.
New York 5, Pittsburgh 4 (2:19 3rd Period)
Nassau Veterans Memorial Coliseum is rocking as this Game 4 collision nears its conclusion. The Islanders are seeking an improbably 2-2 series split and forcing a return trip to home ice.
New York has lost seven straight home playoff games, dating back to 2002. Pittsburgh must put a goal on the scoreboard here in the final 140 seconds in order to continue that streak.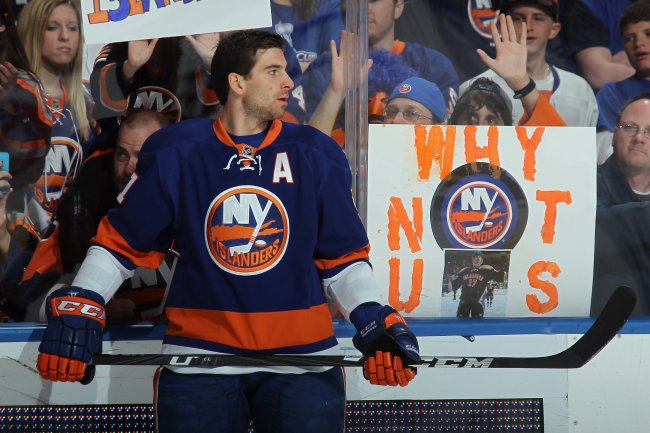 Bruce Bennett/Getty Images
Tavares scores second goal of the game to give Islanders 5-4 lead with 9:49 remaining in regulation!
The Islanders are in front past the midway point of the third period. Regular-season MVP candidate John Tavares tallied his third goal in the past three games when he converts on his own rebound opportunity.
New York is less than half a period away from evening this series at two wins apiece. Top-seeded Pittsburgh is suddenly against the ropes in Game 4.
Tavares was assisted by teammate Brad Boyes.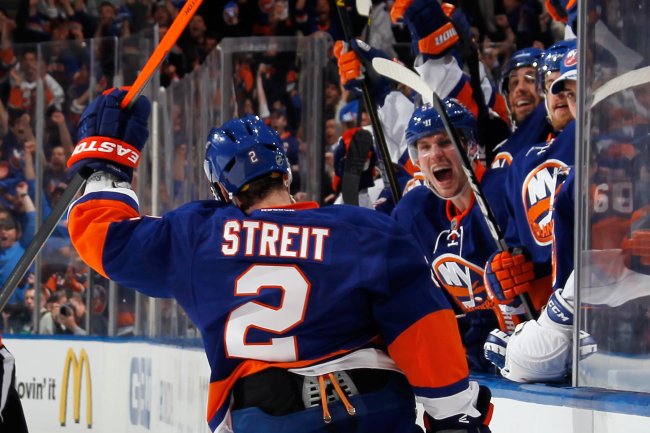 Bruce Bennett/Getty Images
Islanders answer back by tallying game-tying goal with 15:30 left in third period!
New York responds to a one-goal deficit yet again. The Islanders tied things up at 4-4 when Mark Streit connects for his first goal of the playoffs.
Streit connected on a strike to Fleury's left, with assists credited to Casey Cizikas and Brady Boyes. That's Cizikas' second assist of the evening and the game's fourth stalemate.
Since Pittsburgh prevailed 5-0 in the series opener, the past two games have been one-goal affairs. This matchup seems destined to follow the same suit.
Penguins pick up go-ahead goal in opening minute of third period!
Pittsburgh entered the final frame of regulation of tonight's contest scoreless in 2013 postseason third periods. The Penguins quickly halted that drought when the puck ricocheted off Pascal Dupuis's leg 41 seconds into the third period.
Dupuis is credited with his fourth goal of the series, as assists went to Chris Kunitz and Sidney Crosby. This is the second time New York has trailed in this contest.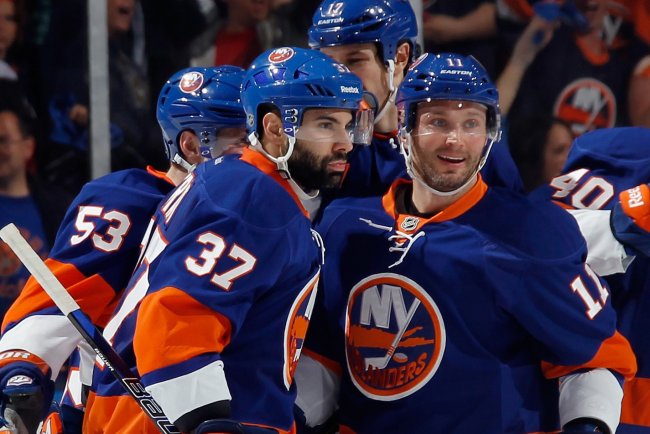 Bruce Bennett/Getty Images
Islanders even things up at 3-3, Game 4 heads into third intermission locked up!
Kyle Okposo continues a hot playoff series with his third goal in four games. He beats Pittsburgh goalie Marc-Andre Fleury with 1:24 remaining in the second period to tie the contest at three goals apiece.
Top-seeded Pittsburgh couldn't prevent the pivotal game-tying score as action neared the third intermission and we now have our fourth tie of the game. Okposo was assisted by Travis Hamonic and Mark Streit, who've each tallied two points tonight.
Pittsburgh picks up second goal of period, claims 3-2 lead with 8:57 left in second session!
The Penguins are in the lead for the first time in Game 4 thanks to Brandon Sutter's first goal of the postseason. He was assisted by teammates Brenden Morrow and Matt Cooke.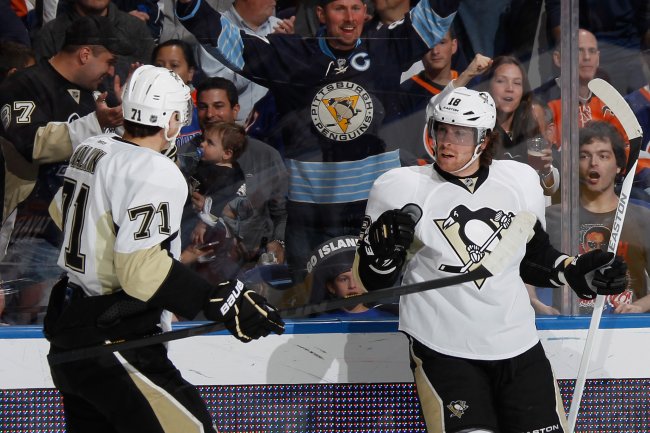 Bruce Bennett/Getty Images
Penguins strike back, tie game at 2-2 with 12:43 left in second period!
Pittsburgh hasn't wasted any time answering the Islanders' success tonight. The Pens scored 45 seconds after New York's first goal of the game and evened things up quickly after the Islanders seized a 2-1 advantage.
Evgeni Malkin evened things up at two goals apiece with just 58 seconds after New York went up 2-1 in the second period. It's the Pittsburgh star's second goal of the playoffs and comes off assists from teammates Jarome Iginla and Marc-Andre Fleury.
New York regains lead on power play goal with 13:41 remaining in second period!
After coming up empty on the game's first three power play opportunities, the Islanders cashed in on a man advantage to take a 2-1 lead less than seven minutes into the second period.
Mark Streit scored off assists from John Tavares and Travis Hamonic. New York led briefly in the first period before Pittsburgh tied the game at one goal apiece 45 seconds later.
New York 1, Pittsburgh 1 (16:57 2nd Period)
The Islanders are 0-for-25 on power play opportunities in losses against Pittsburgh this season. If that trend is any indication, New York is on the wrong track this evening.
The Penguins killed New York's period-opening mad advantage, keeping the score locked at one goal apiece. The Islanders are now 0-for-3 on power plays in tonight's game.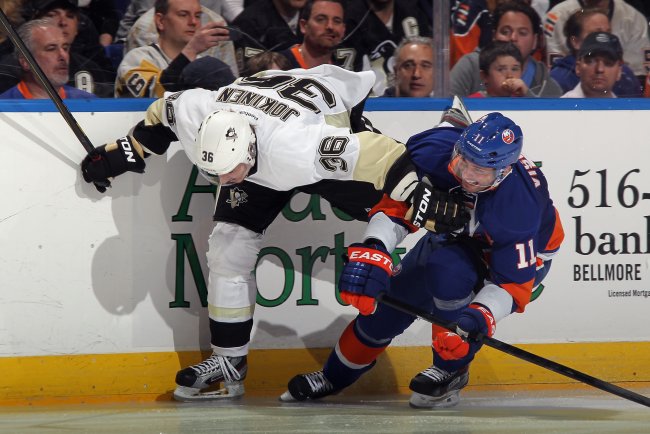 Bruce Bennett/Getty Images
First period comes to close with score tied 1-1, Islanders on power play!
Pittsburgh and New York traded goals in the 15th minute of first-period action. Brian Strait scored the game's first goal and Penguins' James Neal notched a game-tying score 45 seconds later.
The Islanders outshot top-seeded Pittsburgh 10-7 in the opening period. Stay tuned for second-period action and analysis!
Penguins and Islanders trade goals, knotted at 1-1 with 5:10 remaining in first period!
Pittsburgh scored just 45 seconds after the Islanders grabbed the game's first lead. The teams notched goals on consecutive shots.
Brian Strait scored 14:05 into the opening period on assists from Lubomir Visnovsky and Casey Cizikas. Pittsburgh answered less than a minute later when James Neal connected on his first goal of the playoffs on assists from Evgeni Malkin and Jarome Iginla.
On a sidenote, Sidney Crosby has returned to the ice after taking a puck to the neck after a deflection.
New York 0, Pittsburgh 0 (6:40 1st Period)
Penguins superstar Sidney Crosby appears to be shaken up after taking a puck off his upper body here in the first period. He is appearing in his third game since missing more than a month with a broken jaw.
Remember, this is the same building where Crosby incurred the injury.
Crosby takes a puck off the face. Why does that always happen in this building?! I swear Nassau is cursed -SK

— Pens Inside Scoop (@PensInsideScoop) May 7, 2013
New York 0, Pittsburgh 0 (12:59 1st Period)
Brooks Orpik is back on the ice and back in the penalty box. The Penguins defenseman picked up a roughing call and the Islanders on the power play for the second time tonight.
So far, New York has outshot Pittsburgh 5-1 in the contest.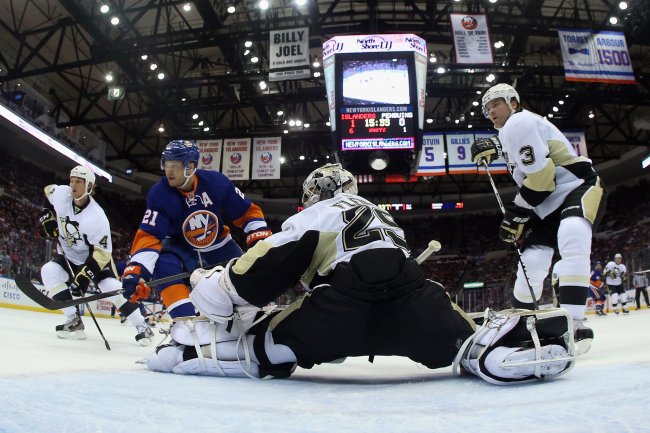 Bruce Bennett/Getty Images
New York 0, Pittsburgh 0 (18:34 1st Period)
Goalie Marc-Andre Fleury makes his 79th straight postseason start for Pittsburgh. He tied the franchise record in Game 1 of the series with his sixth career playoff shutout.
He'll be tested early, as the Islanders begin the game's first power play less than 90 seconds into the game. Penguins star Evegeni Malkin was whistled for hooking.
The Penguins have confirmed that two key players will return to the ice tonight for Game 4 action. Forward James Neal and defenseman Brooks Orpik are expected to be ready to roll after short absences.
Neil has been sidelined since Game 1 of this first-round series, while Orpik is in uniform for the first time since April 23.
This article is
What is the duplicate article?
Why is this article offensive?
Where is this article plagiarized from?
Why is this article poorly edited?