Chicago Cubs vs. St. Louis Cardinals: Live Updates, Commentary, and Analysis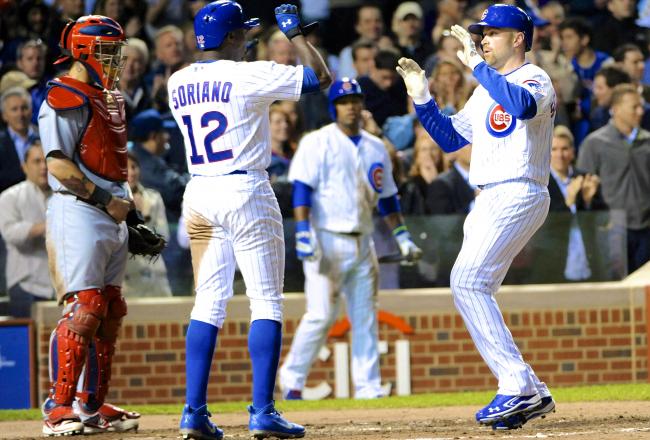 Tasos Katopodis/Getty Images
SCORE UPDATE: 2-1 Cubs Win!!
Two-run blast by Nate Schierholtz - 4th inning
Solo shot by Allen Craig - 2nd inning
That's a wrap, folks. Thanks for joining me in my first foray into B\R live blogging. Hope I get to do this again sometime soon.
Go, Cubs, Go!
Entering the 9th. Let's see if Kevin Gregg can remain perfect with the Cubs and get his fifth save in five chances.
Rizzo just hit a ball that was as close to being a home run I have ever seen.
And in form with the rest of the Cardinals' half of the eighth inning, the third out came in spectacular fashion with Marmol's pick off of Yadier Molina. What a play!
Castro's swipe tag missed Molina by just a hair. This has definitely been an exciting half-inning.
Awesome play by Castro. That's a Web Gem if I've ever seen one.
Could someone please explain to me why Nick Cannon was singing the 7th Inning Stretch? The Cubs should either have only people with a connection to the club or Chicago, play a recording of Harry Caray doing the stretch, or do away with it. Having random celebrities sing the stretch is played out.
MARMOL DID WHAT!? I don't believe it! Somebody catch me...
Seventh straight quality start for Travis Wood. Not bad, Mr. Wood. Not bad at all.
...and Cubs fan's hearts everywhere sunk when, after Dale Sveum signaled the bullpen, the camera showed Carlos Marmol was the one getting the nod. Rejoice Cardinals fans.
Oh no, Marmol is coming in.#Cubs #CubsvsCards

— Brian Irwin (@KingofMonterey) May 8, 2013
Looks like both managers want their respective horrible bullpens to have minimal involvement in tonight's proceedings.
If that was Beltran "charging hard" as Len Kasper said, then how slow is he when he walks?
In other news, the Islanders have tied up their series with the Pittsburgh Penguins at 2 a piece; it should or could actually be 3-1 Islanders. That will be a series to watch.
JD ponders if Matt Harvey of the New York Mets would be in Len's top five pitchers to throw a future no hitter (that has yet to throw one). Who would be your top five?
Already 75+ pitches for Wood. He's gone over the 100+ pitch count only once this season.
Nate "The Great" Schierholtz puts the Cubs on top, 2-1, with a long bomb to center field. Let's see if the Cubs can go back-to-back.
Scary moment in Tampa tonight. Thoughts and prayers go out to Blue Jays pitcher, J.A. Happ. He took a line drive to the side of his head off the bat of Des Jennings. JD says the ball careened into a dugout. Don't look if you're squeamish.
VIDEO: Toronto Blue Jays Pitcher J.A. Happ gets drilled in the head from a line drive deadsp.in/3W2C0IP

— Deadspin (@Deadspin) May 8, 2013
An error on Castro to extend the inning. We all know what happens when an error extends an inning.
A swinging bunt hit for Yadier Molina. That is probably the first time "bunt", "hit", and "Molina" have been used in a sentence...Ever...For any Molina.
A quick 3rd inning for Lance Lynn. For the most part he is locating his pitches very well tonight.
The Cardinals are getting a lot of solid, hard hits off Wood tonight; their bats and the pitcher.
Guy in the stands with an excellent handlebar mustache. That just proves how old Wrigley is. There are still old bareknuckle boxers roaming the grounds.
Tomorrow's game vs. STL is a "pink out" at Wrigley Field in support of the fight against breast cancer. Be sure to wear pink if you go to the game tomorrow. Break out your old Bret Hart glasses and t-shirts if you have to, but support the fight.
Already had two long balls hit off Wood, one left the yard. Good for thing for the Cubs the wind isn't blowing out.
Allen Craig, Solo Home Run with no outs, Top of the 2nd
This article is
What is the duplicate article?
Why is this article offensive?
Where is this article plagiarized from?
Why is this article poorly edited?

Chicago Cubs: Like this team?