Fact vs. Fiction: Debunking the New York Knicks Postseason so Far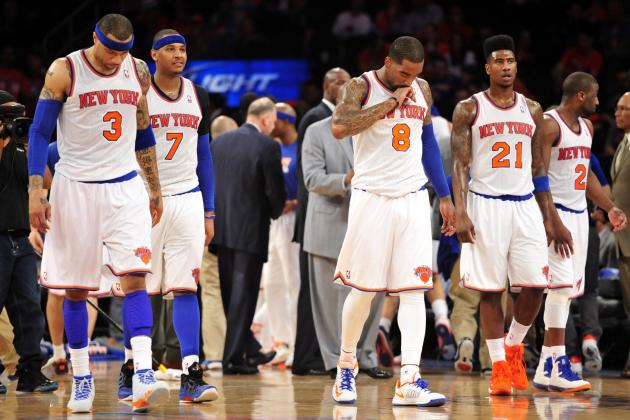 Joe Camporeale-USA TODAY Sports

Amidst great expectations, the New York Knicks finally made a quantum leap towards continual success. It was an exciting, if not always consistent, year for the citizens of the country's largest market.
On one hand, New York was one of two teams (the Houston Rockets being the other) to break the NBA record for made three-point attempts. On the other hand, the Knicks sandwiched a mediocre midseason between two pleasurable winning runs, re-signed and retired the precocious but eccentric Rasheed Wallace and stumbled past a piddling Boston Celtics team.
A roller-coaster season coupled with a tough playoff series against the "constantly threatening to relocate" Indiana Pacers leaves New York in a serious philosophical debate: Should New York forgo regular season small ball success to size up with the Pacers bigs? Can the Knicks win with so many threes?
So let's reflect on the postseason so far, offering up advice where needed and analysis to help these Garden heroes reclaim their regular-season swag.
Stats and figures courtesy of NBA.com/stats and Basketball-Reference.com.
Begin Slideshow

»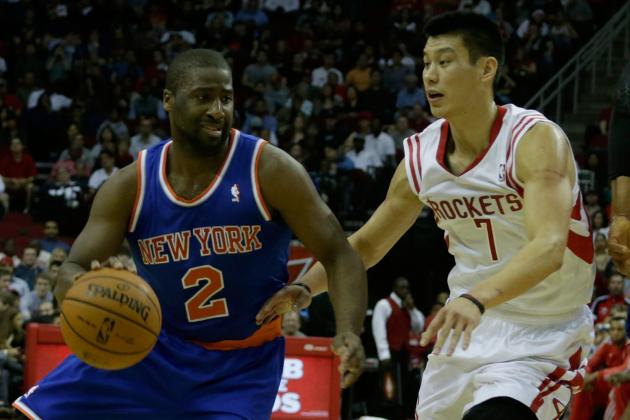 Scott Halleran/Getty Images

Before you throw chalk on my doorstep and scream for my ouster, let me explain. I loved LINSANITY! more than most. Jeremy and I go way back, back to the days of him owning John Wall in Summer League, and I realize that my next few sentences may alienate me from the Harvard scoring prodigy.
Unfortunately for Lin, I can only spit truth here: The Knicks made the right decision to keep Felton.
2013 NBA Playoffs: Raymond Felton vs. Jeremy Lin
Starts
Minutes/Game
Points/Game
Assists/Game
Jeremy Lin (4 games, 2 DNP)
3
21.0
4.0
2.0
Raymond Felton (8 games)
8
38.9
16.9
4.8
Ouch. So, according to NBA folklore: John Wall
Wait a second. Ray Felton did stymie a spectacular defensive guard in Avery Bradley, posting a lower turnover percentage (10 percent) than his regular-season rate (14 percent), per Basketball-Reference.com. Ray Felton did almost lead the Knicks in scoring in Game 5. And Ray Felton didn't lose his spot to a rookie journeyman after only 3 postseason games.

To be fair, Jeremy Lin's DNPs were due to his chest and back injuries, which limited his effectiveness.
But still, it makes you wonder, doesn't it?
Iman Shumpert and J.R. Smith have been buddies for quite some time now.
Only a few short months ago, before the ACL tear, Shump and Earl were best friends. Shump and Earl hung together, smiled a lot and served up double alley-oop NBA.com facials on Knicks opponents.
However, recent news in Knicks camp might suggest that these men have lost that loving feeling. Mike Woodson said on the Stephen A. Smith and Ryan Ruocco ESPN Radio show:
I feel good about the guys that come in off that bench just like I feel good about J.R. But if he's struggling and I feel the need (that) I've got to pull him, then I will do that as the head coach and then other guys have got to come in and step up and play.
This begs the question: Has Iman Shumpert surpassed J.R. Smith, the reigning Sixth Man of the Year?
In a short sample size, yes.
Since elbowing Jason Terry in the chops in Game 3 of the first-round series, Smith has shot a paltry 15-of-57 (26 percent) and 7-of-24 from three-point land (23 percent).
Comparatively, the defensive-minded Shumpert has challenged opposing defenses with his torrid 51 percent mark, dually spacing the Knicks offense with his 44 percent three-point shot from the promised territory.
Again, determining trends with such a small sample window is challenging (four games). However, if this trend holds over the next few games, we will see Iman over. J.R. for minutes as the playoffs roll along.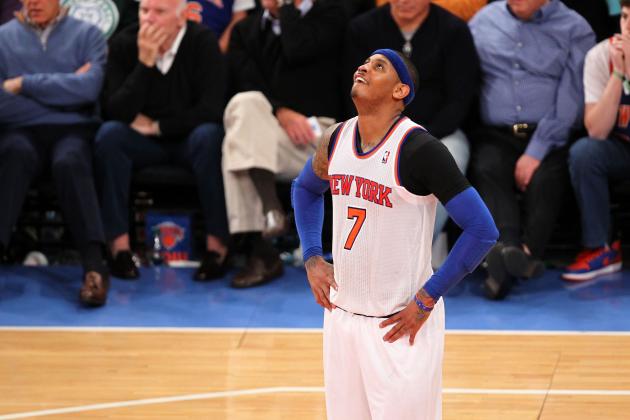 USA TODAY Sports

What in the world happened to Carmelo Anthony?
Carmelo Anthony: Piping Hot to Ice Cold
Points/Game
Field Goal Pct.
3-Point FG Pct.
Off. Rating
Regular Season (last 15 games)
32.5
49%
40%
117.7
Playoffs (8 games)
29.3
39%
28%
100.0

Before we start flipping couches like a grandmother hunting for loose change, let's keep Carmelo's struggles in perspective.
The Carmelo cool-off was bound to happen, as only four players in NBA history have even averaged that 50-40-90 threshold Melo teased over an entire season (Larry Bird, Steve Nash, Dirk Nowitzki, Kevin Durant), with only two of those guys equaling the points per game totals of Anthony (Bird, Durant).
All that being said, Melo's shot has turned to ice. Credit Boston for understanding exactly how to defend Melo, having four games each regular season since the Melo trade to perfect their strategy.
In addition, as has been vociferously documented, Melo is wasting seconds to react and think, isolating himself from his teammates and making less accurate offensive decisions.
However, the worst of Melo's woes might be behind him. Carmelo Anthony had an explosive Game 2, with 32 points, nine rebounds, 50 percent field-goal shooting and 40 percent three-point shooting.
Subsequently, his Knicks only isolated on nine percent of their offensive possessions, down from their 25 percent isolation play average during the postseason, per Synergy Sports.
Can Melo continue to make quick decisions and trust his teammates? Only time will tell.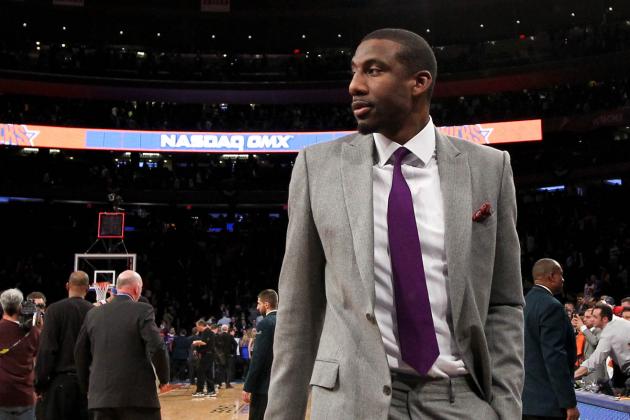 USA TODAY Sports
It's OK, Amare...we know you posed for this.
Despite the atypical overall success the Knicks have boasted with small ball, his visage (and massive contract) continues to hover over the "cheap" seats in Midtown Manhattan's world-famous arena.
Amar'e Stoudemire is seriously considering his return and should be in full uniform by this weekend. Although many shout from tenement rooftops decrying Stoudemire's one-dimensional game, his singular ability to get buckets in bunches demands consideration.
As stellar Grantland NBA beat writer Zach Lowe pointed out this week, Amar'e has been incredibly effective, albeit in small doses, operating within the Knicks offensive system this season.
The Carmelo-Tyson-Amar'e lineup was the fourth-most-used five-man lineup this season by minutes played, and it was generally effective at creating offense. However, Amar'e's off-Broadway defensive sieve performance was also evident, with the Knicks ranking as one of the NBA's worst teams on defense in a small Amar'e sample size, per NBA.com.
Can Amar'e be the punch needed to push the Knicks over the edge in the weeks to come? Possibly, as long as Coach Woodson makes sure to take him in small doses.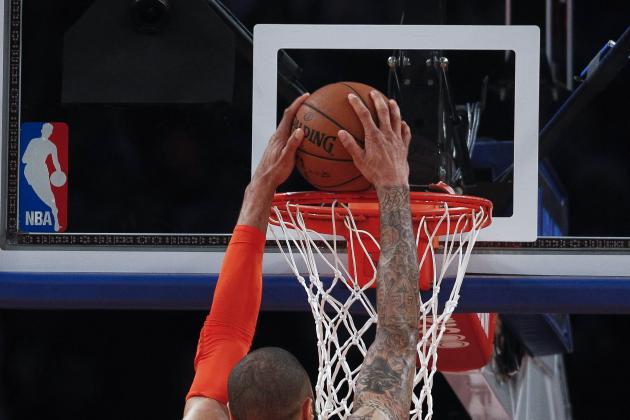 Jeff Zelevansky/Getty Images

Like fine wine, Tyson Chandler has gotten better with age.
This year, Tyson started the playoffs fighting the flu bug and a tight neck. Although the rejuvenated Kenyon Martin was effective as a stopgap, the Tyson Zone (h/t Bill Simmons) has proven its worth:
2013 NBA Playoffs: The Tyson Chandler Effect
Tyson Minutes
Opp Points/Game
Team Defense Rating
Tyson Fouls
Game 5 (L vs. Celtics)
34
86
106.7
4
Game 6 (W vs. Celtics)
34
80
92.1
4
Game 1 (L vs. Pacers)
28
103
112.1
6
Game 2 (W vs. Pacers)
31
79
93.4
3
Simply put, the more Tyson plays and the less he fouls, the better the chance at a Knicks win.
Officiating will play a big role in this Knicks/Pacers series. Tight whistles may limit Tyson's effect on the defensive game plan for the Knicks. Laissez-faire NBA official action may lead to physical play for bruising Pacers big men, who can then lay serious wood on Carmelo Anthony when playing defense.
Tyson has played better since his long regular-season layoff, but the Knicks need his undivided attention, poise and defensive pressure.
Only then can the Knicks hope to threaten for the championship.
Throughout the playoffs, other than that Pacers Game 2 outlier, the Knicks have relied generally on three plays to generate shots on offense, per Synergy Sports.
1. The Carmelo Anthony ISO (either on the high or low post, Carmelo catches the ball, stares at his defender for roughly three seconds and then attempts a dribble-drive or pull-up jumper.)
2. The J.R. Smith ISO (usually consisting of Earl Smith II using the remaining seconds of the shot clock to hoist an unseemly fadeaway jumper.)
3. The Raymond Felton/Tyson Chandler Pick-and-Roll (Easily, as shown by the accompanying video, the most enjoyable offense to watch. Felton enjoys running this action from left to right, getting the ball in his power hand to either get a clean pull-up look for himself or a reverberating dunk for his moving target big man.)
Most importantly (as proven by the Knicks' huge win over Indiana in Game 2), ball movement must be a priority. When the basketball swings like a pendulum around the perimeter, shots come more easily for New York.
Consider: In Game 2 of the Indiana series, New York's effective field-goal percentage was stationed at 55.1 percent, rising back to its regular-season hovering point of 51.5 percent (effective field-goal percent accounts for the fact that a three-pointer is worth more than a two-pointer).
This eFG percentage is, of course, well above league average. The stats and highlights of the good times should replay in the minds of these Knicks constantly if they desire to sniff the Eastern Conference Finals.