Ranking MLB's 10 Most Shocking 2013 Batting Champion Contenders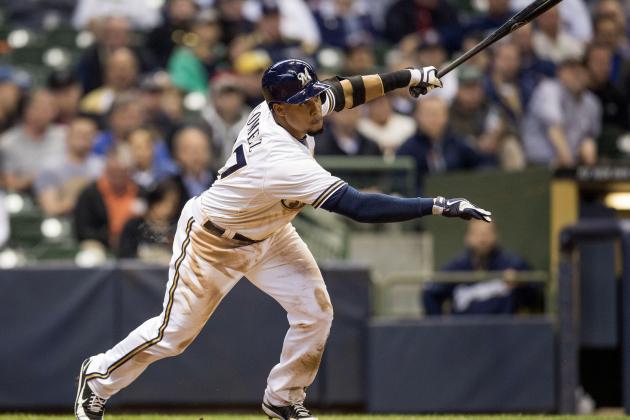 Tom Lynn/Getty Images

With the 2013 MLB season not yet at the one-quarter mark, statistics are still somewhat skewed. Nonetheless, there are still some surprising developments.
Several names have appeared at the top of the heap in the race for the batting title in both the American and National leagues. None of them have ever come close to contending in years past.
The bigger question is whether they can sustain their hot streaks and remain at the top of the leaderboard.
Here is a ranking of the 10 most shocking MLB batting title contenders.
Note: All statistics courtesy of MLB.com and are current as of Tuesday, May 7.
Begin Slideshow

»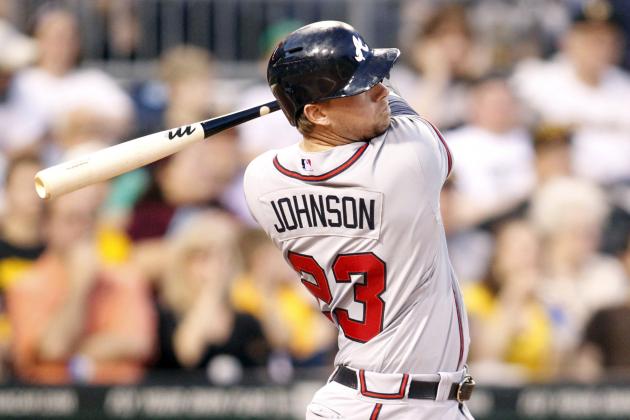 USA TODAY Sports

It's not a complete shock to see Atlanta Braves third baseman Chris Johnson on this list—he broke in with a .308 average in his first full season with the Houston Astros in 2010.
Johnson brought a .276 average with him from the minors and has been relatively consistent with the bat throughout his career.
It also remains to be seen whether Johnson can qualify at the end of the season with enough plate appearances. He's in a platoon with Juan Francisco at third base, and Francisco is hitting .293 himself, with four home runs and 12 RBI.
Johnson's current .323 average has him 11th in the National League.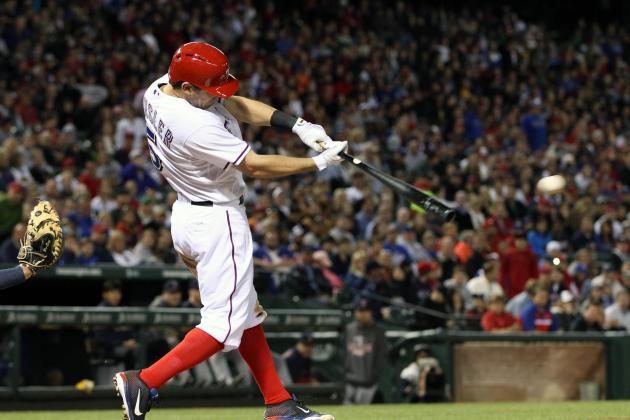 Jim Cowsert-USA TODAY Sports

In his third season in 2008, Texas Rangers second baseman Ian Kinsler finished fourth in the American League with a .319 average. Again, not a total shock to see him on this list.
Kinsler's current .313 average has him ranked 11th in the American League, a full 72 points behind leader Miguel Cabrera.
Kinsler has batted leadoff for much of his career in Texas, but more for his on-base capabilities (.352 career OBP), power and speed.
He's also a notoriously fast starter with a .299 average in April, the highest of any month.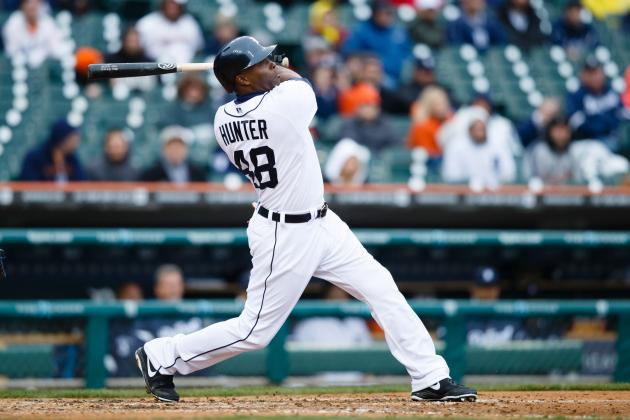 Rick Osentoski-USA TODAY Sports

Throughout his entire career Torii Hunter has always been a steady and consistent hitter, entering the 2013 season with a .277 career batting average.
Last year, with the Los Angeles Angels, Hunter hit .313, finishing seventh in the American League and establishing a career high.
This year, Hunter has broken out with a .361 average, second in the AL behind teammate Miguel Cabrera.
He has more of a focus now to get on base in front of Cabrera, Prince Fielder and Victor Martinez. While he may not be able to sustain his current pace, it wouldn't be all that shocking to see him continue to show up high on this list throughout the season.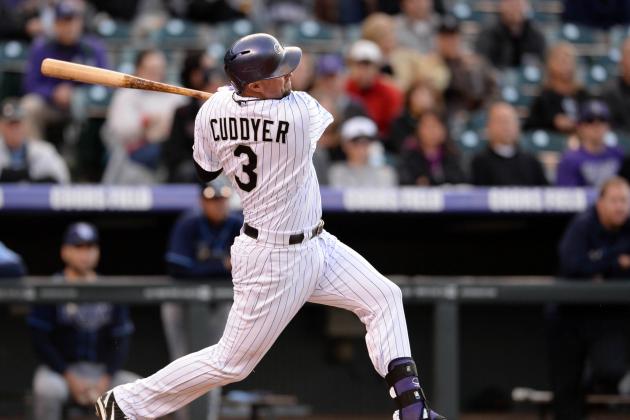 Ron Chenoy-USA TODAY Sports

Before this season, Michael Cuddyer had never hit higher than .284 in his 12-year career.
His current .330 average has him tied for seventh in the National League.
Playing half his games at Coors Field certainly doesn't hurt as his Colorado Rockies currently lead the majors with a .285 average.
But for Cuddyer, it's been a nice blend of power, production and the ability to get on base that's been a nice surprise thus far.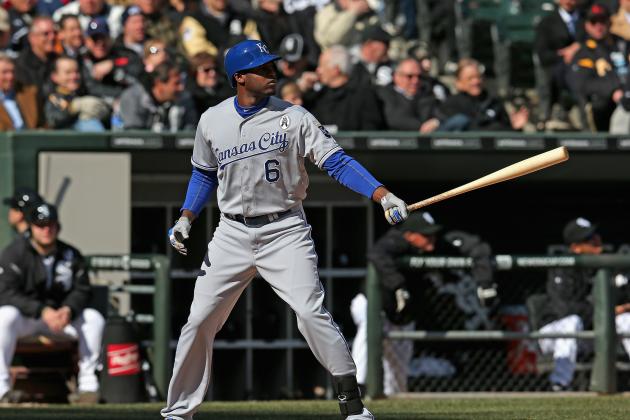 Jonathan Daniel/Getty Images

Lorenzo Cain put together a nice resume in the minor leagues, in which he hit .294 before finally earning a promotion to the majors.
Cain impressed while with the Milwaukee Brewers in 2010, hitting .306 in 43 games before being dealt to the Kansas City Royals at the end of the year.
He was named the starting center fielder last year, but injuries limited him to just 61 games, hitting just .266 on the season.
Cain has broken out of the gates with a .333 average thus far, placing him fifth in the American League. Cain gives the Royals an outstanding option in the middle of their batting order, providing excellent protection for both Billy Butler and Eric Hosmer.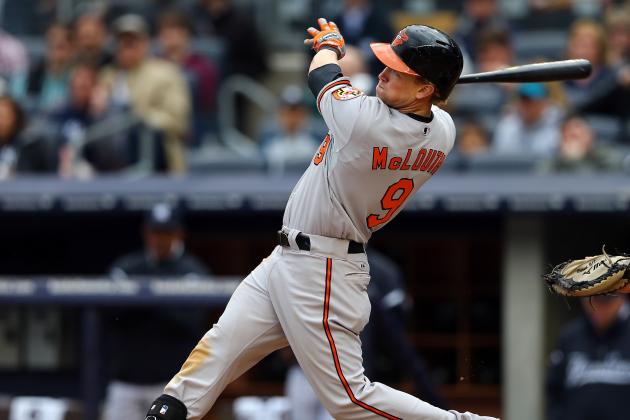 Elsa/Getty Images

Before outfielder Nate McLouth joined the Baltimore Orioles last year, he had been discarded by two teams—the Atlanta Braves and Pittsburgh Pirates—who essentially gave up on him.
McLouth was an up-and-coming star for the Pirates in the late 2000s, leading the National League with 46 doubles in 2008, earning a selection to the All-Star team and winning a Gold Glove Award as well.
The Pirates traded McLouth to the Braves in June 2009, where he suffered through a miserable existence. He hit just .229 in parts of three seasons before being granted free agency in 2011.
Last year the Pirates took another chance on McLouth, hoping he could recapture his earlier magic. It never happened—McLouth hit just .140 in 34 games before being released.
The Orioles then took a chance, signing him to a minor-league deal. He spent nearly two months in the minors before earning a call-up in early August. McLouth was a key contributor down the stretch as the Orioles made the postseason for the first time in 15 seasons.
Baltimore signed McLouth to a one-year, $2 million deal during the offseason, and that investment is paying huge dividends thus far. He's hitting .313 thus far, good for 10th in the American League. He's provided a huge spark at the top of the Orioles batting order.
His nine stolen bases also rank second in the league behind Jacoby Ellsbury, so McLouth has clearly been both a nice surprise and a shocking member of this list.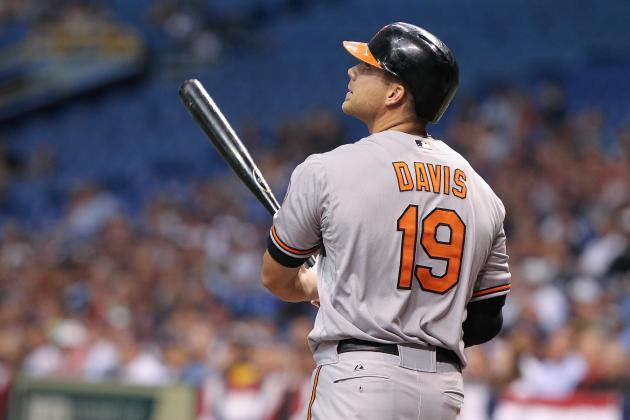 Kim Klement-USA TODAY Sports

The Baltimore Orioles have four players among the top 10 in batting in the American League. One of them—Adam Jones—isn't surprising. Manny Machado can flat-out rake. And we've already discussed Nate McLouth as well.
But Chris Davis is indeed a shocking name on this list.
Davis—mainly known as a power guy—hit 33 home runs with 82 RBI last year, easily establishing career-highs. But his .270 average was his highest since his rookie year when he hit .282 in 2008.
His current average of .318 is a full 56 points above his career mark.
Davis has cooled considerably since reaching above the .400 mark on April 21, so it's a stretch to think that his name will continue to stay on the leaderboard for much longer.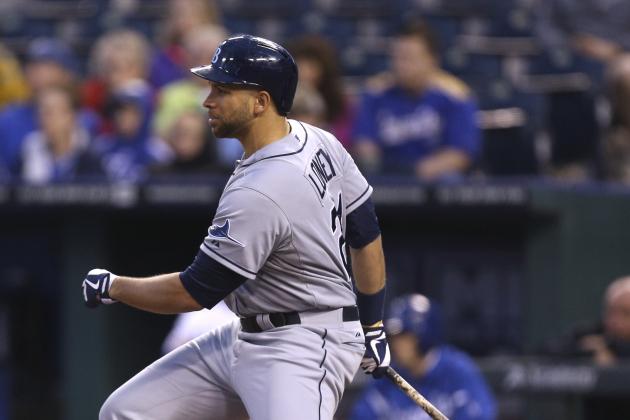 Ed Zurga/Getty Images

James Loney is just one plate appearance short of qualifying for the batting title. If he qualifies in the next few days and keeps up his current pace, he will lead the majors in batting with a .385 average.
Loney signed with the Tampa Bay Rays for one year and $2 million. In fact, here is what I wrote about Loney in a piece published on Tuesday:
At the time of his signing, Rays manager Joe Maddon thought it was the perfect time to grab a guy who has underachieved for much of his career:

"I know there's probably some chicken left on the bone there yet," Maddon said. "He's also at that optimal age, like 28 years of age, right in that sweet spot, where we like to get guys, and maybe possibly what you would consider have underachieved to a point. And all of a sudden, they come to us, and this is like the perfect time to get them."
Loney has never been a bad hitter—he hit .331 in his rookie year in 2007. But he's coming off a year in which he hit just .249 for the Los Angeles Dodgers and Boston Red Sox, taking a low-ball contract with the Rays just to prove he was worth the risk.
I'm thinking the Rays are absolutely loving taking that risk.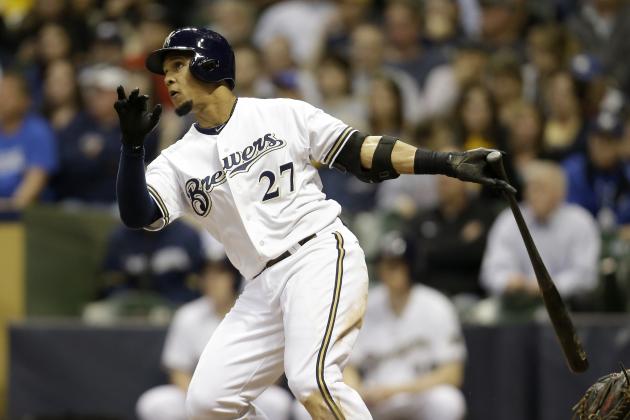 Mike McGinnis/Getty Images

Milwaukee Brewers center fielder Carlos Gomez established a career high last year with a .260 batting average.
The fact that he's now hitting 104 points higher and leading the National League is indeed a shock.
Gomez entered this season with a .247 average and .294 OBP—he's obviously figured some things out.
In fact, ESPN Stats & Info points out that Gomez has 14 opposite-field hits this season already—he totaled 18 such hits for the entire 2012 season.
Other trends were noted as positives as well by ESPN, but it still represents a major shock if judging just on past history.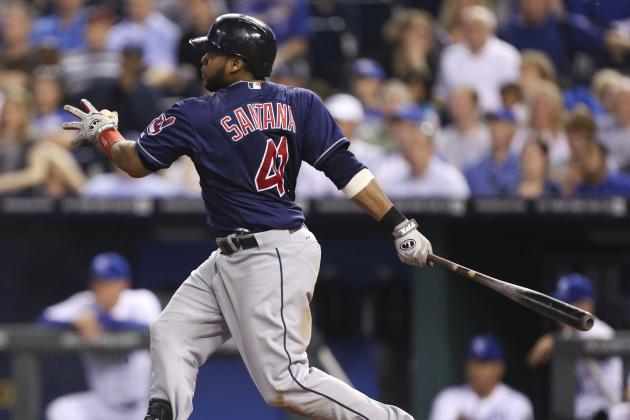 Ed Zurga/Getty Images

If there was ever an unlikely name at the top of the batting title chase, it would have to be Cleveland Indians catcher Carlos Santana.
Santana entered this season with a .247 career mark in three seasons. His previous high mark was .260 in his abbreviated rookie season in 2010.
Santana is currently hitting a full 108 points beyond the lifetime average he brought into the 2013 season. At .355, Santana is third in the American League behind Miguel Cabrera and Torii Hunter.
It's an absolutely blistering pace thus far for Santana, and whether or not he can sustain that pace remains to be seen. But for Indians fans, it's been a lot of fun to watch thus far.
Doug Mead is a featured columnist with Bleacher Report. His work has been featured in the Seattle Post-Intelligencer, SF Gate, CBS Sports, the Los Angeles Times and the Houston Chronicle.
Feel free to talk baseball with Doug anytime on Twitter.