Clemson Football Recruiting 2014: Updates on Commits, Visits and Offers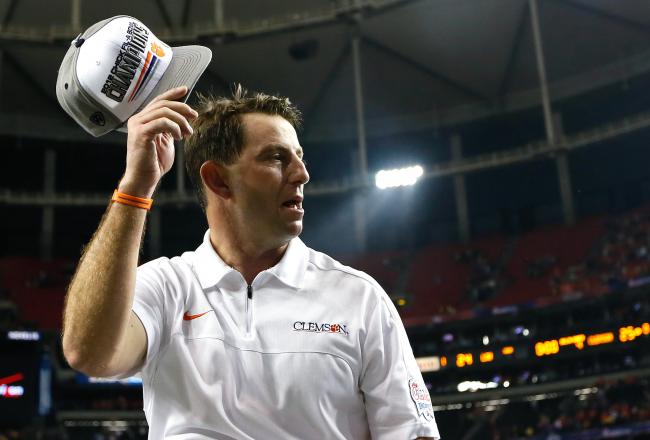 Kevin C. Cox/Getty Images
Make sure to follow this exclusive tracker from now until national signing day for the latest news and happenings surrounding the Clemson Tigers 2014 recruiting class.
Here are lists of the Tigers' 2014 current commitments, top targets and scheduled upcoming visitors.
Click here and select Clemson from the college drop down menu to see where all the Tiger's recruits hail from.
All recruiting rankings via 247Sports.com.
Monday, June 17
Clemson has received the commitment from 3-star linebacker Kendall Joseph. According to Scout (paid link), Joseph picked the school over his other finalists in Louisville and Duke.
"I really like Clemson because of coach [Brent] Venables, he's a great coach," Joseph said. "He's a great mind, he's really developed linebackers and he's just a great coach. He's done a lot in his career. It's an amazing program.
"You can't go wrong with Clemson."
Clemson now has 14 commitments in the 2014 class.

Follow Bleacher Report's interactive recruiting map to find out where Clemson is recruiting the hardest.
Thursday, May 30
Clemson continues to recruit at the speed of light, as another recruit has decided to hop on the bandwagon. This time it is 4-star wide receiver Demarre Kitt, as he announced his decision on Twitter.
Kitt was looking at other schools such as Tennessee and Ohio State. He originally committed to Georgia before decommitting last year. He is an explosive receiver at 6'1" and gives this Clemson team yet another offensive weapon to work with.
Wednesday, May 29
I am officially committed to Clemson University.

— Korie Rogers (@KD_Rogers43) May 29, 2013
Clemson has added yet another commit to the 2014 class, as 4-star linebacker Korie Rogers made his announcement on his Twitter account:
Rogers took an unofficial visit to Clemson on April 13 and seemed to be torn between both the Tigers and Georgia. He is now the eighth commitment and the second defensive player of this promising 2014 class.
Tuesday, May 28
The only offer wide receiver Elliott Davis has at the moment is from Clemson. Cory Fravel of 247Sports recently caught up with the 2014 recruit to find out what he likes about the school (subscription required):
"The location considering my entire family is from Conway, South Carolina, and offensively they throw the rock."
Davis is capable of playing either cornerback or receiver, but with his speed and sure hands, you will likely see this guy on offense if he picks Clemson.
Wednesday, May 22
According to Kipp Adams and William Wilkerson of ESPN, running back Adam Choice has committed to Clemson.
"I committed to Clemson," Choice said. "I felt like I felt when I went up there. Like I belonged."
For more on the Tigers' seventh commitment, click here.
Tuesday, May 21
Running back C.J. Fuller decided to commit to Clemson over schools like North Carolina and North Carolina State. According to Keith Niebuhr of 247Sports, the 5'10", 3-star running back from Easley, S.C., made head coach Dabo Swinney extremely happy:
I called Coach Swinney after practice today. He was happy. I've known him for a couple years and I've talked to him face to face some. I could tell he was happy. He was telling me that a commitment is like a marriage, that I should be done with my recruitment and done talking to coaches.
Fuller rushed for more than 2,000 yards at his high school last season and lives about 30 minutes from campus, according to the report.
Tuesday, May 14
My Top 5 Colleges are...... 1.UNC 2.Tennessee 3.Clemson 4.Ole Miss 5. N.C. State

— Ty Tomlin 1⃣ (@X_ThePhenom) May 14, 2013
Outside linebacker Tyrell Tomlin has been high on both Tennessee and North Carolina, visiting both schools on Junior Day. But he took to his Twitter to tell Clemson fans they aren't out of the mix just yet.
Monday, May 13
Defensive end Jalyn Holmes will check out Clemson for the second time on June 12, according to Keith Niebuhr of 247Sports. Holmes, who visited Clemson last season, will camp with his team in about a month, giving the program another chance to speak to the 4-star recruit.
Holmes has offers from Florida State and Virginia Tech, among others, but he says Clemson is well in the mix.
"They are coming about the same as everyone else; everybody is coming hard," Holmes said. "(Venables) is a good person. He is real energetic. He is a Christian man. He cares about his players."
Thursday, May 9
Quarterback Deshaun Watson has been committed to Clemson since last year. However, according to Michael Carvell of the Atlanta Journal-Constitution, there is company.
Alabama offered Clemson QB commit Deshaun Watson

— Michael Carvell (@RecruitingAJC) May 9, 2013
#Auburn will observe Clemson QB commit Deshaun Watson today, while The Ohio State expected on Fri.

— Michael Carvell (@RecruitingAJC) May 9, 2013
The good news is that Watson has been a longtime commitment who hasn't shown many signs of backing off. Although, it is a little scary once Nick Saban sticks his nose in the conversation.
Thursday, May 9

According to Kipp Adams of ESPN (paid link), Clemson has landed tight end Milan Richard. The nephew of Herschel Walker was originally planning on making his announcement on June 4 but couldn't wait any longer.
"I have committed to Clemson," tight end Richard said.
This is now the fifth commit for Clemson and the second tight end along with 4-star Cannon Smith.
Clemson will find out soon if tight end Milan Richard will become a Tiger. The nephew of the legendary Herschel Walker has listed Clemson, South Carolina, Vanderbilt and Ole Miss in his top four and is expected to make a decision on June 4, according to Kipp Adams of ESPN (subscription required).
Richard made an unofficial visit in November to check out Clemson, and he said he came away impressed by head coach Dabo Swinney.
"Their offense is very similar to ours at Calvary," Richard said in the ESPN article. "They have a great tradition with the hill, and I just feel like Coach [Dabo] Swinney is a great coach. I love his attitude and fiery spirit."
Wide receiver Demarre Kitt plans on making his announcement on June 10, according to Keith Niebuhr of 247Sports (subscription required). Schools such as Tennessee, Clemson and Ohio State are the front-runners, but he plans on visiting Auburn during Auburn's Big Cat Weekend before making his decision.
Kitt, a 6'1" receiver, made an unofficial visit to Clemson last year and attended the Tigers' pro day on Feb. 2.
Kevin Crosby is considered a 4-star tight end and outside linebacker by 247Sports. He wasn't expected to make his decision until July, but according to Keith Niebuhr of 247Sports (paid link), he will make his official announcement on June 1.
Crosby's uncle has listed Alabama, Clemson, North Carolina and South Carolina the favorites, according to the report.
This article is
What is the duplicate article?
Why is this article offensive?
Where is this article plagiarized from?
Why is this article poorly edited?

Clemson Football: Like this team?