Creating the Perfect Offseason Plan for the Washington Wizards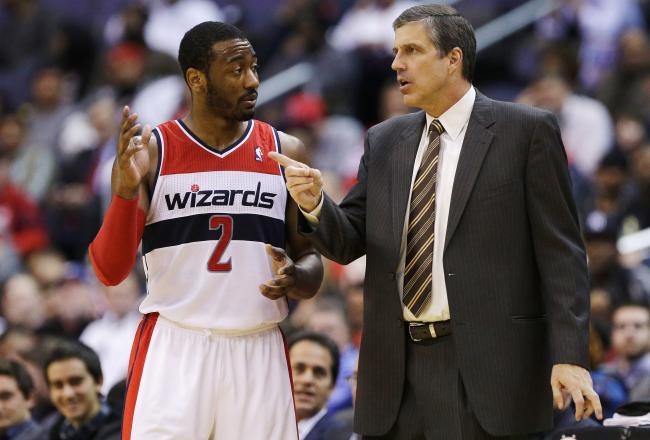 Randy Wittman and the rest of the Washington coaching stuff must fill several holes on the team this offseason if the Wizards want to contend in the Southeast division next season.
Rob Carr/Getty Images
As is customary for the Washington Wizards, it is time once again to forget about the dreadful season that the team had and look toward the offseason.
Washington was successful in its offseason endeavors last year, as general manager Ernie Grunfeld attempted to redeem himself from previously flubbed offseasons.
The Wizards did win in the draft, picking up shooting guard Bradley Beal, who quickly became the second-best player on the team. He also dumped the dreadful Rashard Lewis contract by trading Lewis to the New Orleans Hornets in exchange for Emeka Okafor and Trevor Ariza.
The head coach position was also (somewhat) sured up after Randy Wittman signed a two-year contract with the team.
This offseason, Grunfeld and the rest of the front office will look to continue building their young team through the draft, free agency, trades and eventually changing the way the game is coached.
First up in the offseason is the draft, which this year falls on June 27. Since it's impossible to tell where the Wizards will fall in the pick order, there is only serious speculation around who the team will take.
Right now, it looks like the Wizards' best chance is to fall to No. 9 in the draft, leaving them with someone like Shabazz Muhammad out of UCLA or Victor Oladipo or Cody Zeller, both from Indiana.
Muhammad, who generally played small forward for the Bruins, has a lot of upside and is young, at only 20 years old.
However, Muhammad's track record isn't all that long, having only played one season in college. Muhammad is a pure shooter, averaging just under 18 points per game in college. The 6'6" forward shot 44 percent from the floor, all while picking up over five rebounds per game.
Muhammad would be a good pickup for the Wizards, considering small forward is a lacking position for them outside of Martell Webster.
The two Hoosiers, Oladipo and Zeller, have longer track records than Muhammad.
Oladipo is impressive, averaging six rebounds and two steals per game, which led him to being named Big Ten Defensive Player of the Year.
He mainly played shooting guard with Indiana, but only averaged 12 points per game. With Bradley Beal already occupying the shooting guard spot on the team, Oladipo may not be the best pickup for the Wizards, but he could be moved to another position.
None of that matters, however, if Zeller is available when the Wizards' pick comes around. Zeller is easily the best fit at power forward/center for Washington, who currently have the aging Nene and Emeka Okafor occupying those two spots.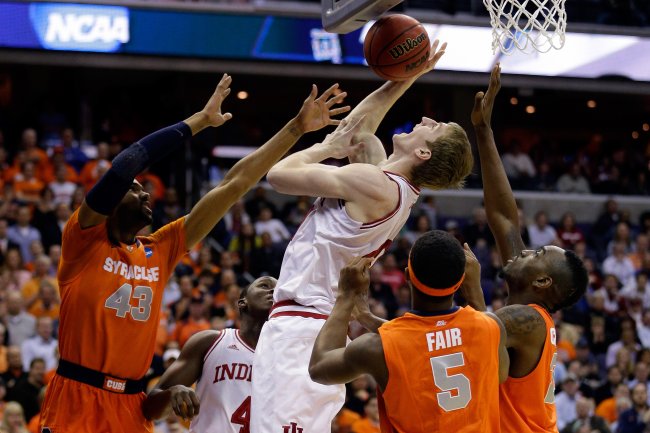 Rob Carr/Getty Images
Zeller, standing at seven feet tall, averaged 16 points, one block and eight rebounds per game in his sophomore year at Indiana. His 56 percent field goal percentage would provide a boost to a Wizards roster that struggled with shooting this year.
If Zeller is available when the Wizards are on the clock, Grunfeld would be making a huge mistake to not take him.
After the draft, the Wizards need to use free agency to fill any holes they still have on the roster. First off, they need to deal with their own free agents.
Martell Webster's contract is up, but the small forward deserves to be back with the team. Webster really caught fire in the second half of the season once John Wall returned from injury.
The 26-year-old finished the season averaging over 11 points per game along with just under four rebounds and two assists per game.
While Webster may not be the starter depending upon who the Wizards pick up in the draft, he at least deserves some solid playing time on the team.
As far as other team's free agents go, backup point guard, power forward and center are the major holes on the roster.
A.J. Price, who started several games at point guard this year when Wall went down, is facing free agency. No one expected to much out of Price, but there are better backups available in free agency that would be more apt to fill in, should Wall get hurt again.
Jarrett Jack will be available after spending this year with the Golden State Warriors. Jack averaged just under 13 points per game, the second-highest average of his career, while shooting 40 percent from three.
Jack made $5.4 million this year, but having him as a backup or coming off the bench for Washington would be a huge boost to the offense.
As previously mentioned, power forward and center are lacking positions for Washington, and could use a boost.
David West of the Indiana Pacers will be a free agent this offseason, and would bring extra star power, along with some scoring, to Washington.
David West, who is currently on the Indiana Pacers, will become a free agent at the end of this year. West has a high price tag at $10 million this year, but that much money just might convince him to play for the Wizards.
West averaged 17 points per game while shooting 49 percent from the floor. West also grabbed eight boards per game this year.
While he is 32, West is a much better option at power forward than Nene.
The same goes for the center position, which is currently occupied by Okafor. The Wizards should look at a younger player at that position to at least play backup during Okafor's final year of his contract.
However, there aren't too many young free-agent centers, with most of them being in their late 20s or early 30s. Therefore, it would be best for Washington to address the center position in the draft.
Once the personnel is in place for the 2013-14 season, the coaches should reconsider their strategy heading into next year.
The majority of the offense this year ran through Wall, especially when Beal was injured. The coaches should take a look at spread the ball around more to Beal, Webster and Nene, who are solid offensive options.
What should the Washington Wizards focus on more next season?
However, the coaches should continue to put an emphasis on defense. Washington finished the year as the eighth-best scoring defense in the NBA, and the team should continue to rely on that.
Okafor, Ariza, Nene and Kevin Seraphin were all great on defense for the Wizards, and the team should continue to stress that in a league that generally struggles to play solid defense.
Should the Wizards be able to achieve all of these things in the offseason, they will be primed to at least contend for a playoff position in 2014.
This article is
What is the duplicate article?
Why is this article offensive?
Where is this article plagiarized from?
Why is this article poorly edited?

Washington Wizards: Like this team?