This article examines Wilfried Bony, the Ivorian forward who may well be set for a move to the Premier League in the near future. As we draw close to the summer, teams begin taking stock of their year's progress and looking forward to the inevitable building process that accompanies the warmer months.
Naturally, the papers will be awash with rumours and speculation, linking the hottest properties in Europe and beyond to the 20 clubs that form England's elite. One star who has long been connected with a move to the top flight is forward Wilfried Bony. As an aficionado of the African game, I have long tracked the career of the Ivorian frontman, and I believe that he could be a valuable asset to many—if not any—of the division's sides.
In recent times I have been asked to write a great deal about the electric striker—a testament to the way his goalscoring feats are winning so many admirers in Holland. My writing has predominantly focused either on his role in the Ivorian succession narrative—the question of who will eventually replace national icon Didier Drogba, or the attacker's potential future in the EPL, and specifically, London.
With Drogba's storied tenure with the national side finally drawing to a close, there is the potential for a power vacuum at the head of the Elephants' attack. Fans of the West African nation can take solace, however, from the presence and development of Seydou Doumbia, Lacina Traore and Bony—who may just be the pick of the bunch.
Where will Wilfried Bony end up next season?
These men offer optimism that the departure of a legend may not be felt so keenly by the Ivorians.
The striker deals in one currency, goals, and his recent, prolific record has bolstered his reputation and dramatically raised his international profile.
Currently with Arnhem side Vitesse in the Dutch top flight, the Eredivisie, the striker is the latest in a long line of forwards that have taken Holland by storm. With 46 goals in 63 games for Vitesse to date, Bony has topped the Eredivisie scoring charts this season, with 31 goals—five clear of second-placed Graziano Pellè.
As reported by the BBC's John Bennett earlier this month, excluding Lionel Messi, no scorer in a major European league has more goals this season than Bony.
His haul this year has made him the first Vitesse player to top the national scoring charts since Nicky Machlas's impressive season in 1997-98—a fan favourite in Gelderland, Vitas fans may have gently made themselves aware that all good things come to an end, and that Bony's magical year is likely to carry him to pastures new.
While the Dutch league carries a reputation for being a 'soft touch', I have little doubt that Bony's electrifying ability would translate to some of Europe's tougher divisions. His performances this season have led to his name being uttered in some of the sport's most exalted corridors, and I would certainly consider him among Africa's finest performers at this time.
For a while it has appeared that Chelsea is his most likely destination, and there is certainly a beautiful symmetry of Bony replacing Drogba at club as well as county.
The prospect of the Ivorian heading to Stamford Bridge is tantalising; here, he could line up alongside another 'New Drogba' in Romelu Lukaku, or he could dovetail with January acquisition Demba Ba, or lead the line as a sole striker ahead of the tricky trio of Oscar, Juan Mata and Eden Hazard.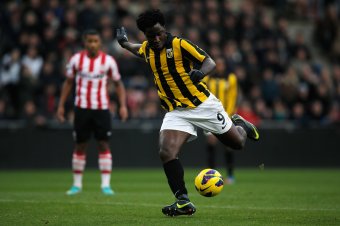 Dean Mouhtaropoulos/Getty Images
Recent reports, however, have also identified West Ham United as a potential destination for the forward. Indeed, with Andy Carroll's wage demands and £17 million price tag looking likely to prevent his permanent switch to East London, boss Sam Allardyce may choose to turn to Europe in order to recruit some much-needed firepower.
Liverpool have also been associated with the forward in the past, and while the recent acquisitions of Phil Coutinho and Daniel Sturridge may negate the immediate need for more attacking talent, any potential Luis Suarez departure this summer could lead to the Reds making a move for the Bingerville-born forward.
Newcastle, Arsenal and West Bromwich Albion are also reported to show interest in the forward, and the swathes of clubs pursuing him lends credence to the prognostic that he will be a Premier League player next season. Whilst Bony could emerge as Lukaku's partner at Chelsea, he could also be called in to replace him at the Hawthorns, with the giant Belgian set to return to his parent club this summer.
The striker has indicated that he is ready to take a step away from the Eredivisie, and has suggested that the EPL would be his preferred destination. A fee of approximately £12 million has been identified as the required amount to snare Bony, the evidence of this season suggests that he would be well worth the outlay, and I, for one, would be keen to see this prodigal attacking talent make a move to the Premier League.