2009 New York Giants Draft Analysis
The 2009 NFL Draft was undoubtedly one of the more exciting ones in recent memory. The Jets traded up to obtain their franchise quarterback, the Patriot's worked their usual draft- day magic, and the Oakland Raiders confused each and every one of us at least a few times during the process.
However, their may be no more impressive feat in this year's draft than the body of work put forth by Jerry Reese and the New York Giants. With that said, here is my analysis of the New York Giants' 2009 draft picks:
1) Hakeem Nicks: North Carolina (WR)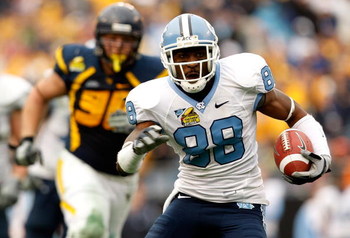 The Giants used their 1st round draft pick to find some help at the wide reciever position. Nicks is a possession type reciever who has reliable hands and big play ability.
He wasn't a workout warrior out the Scouting Combine, but very few receivers from this year's draft are as NFL ready as Nicks.
Grade: A-
2) Clint Sintim: Virginia (OLB)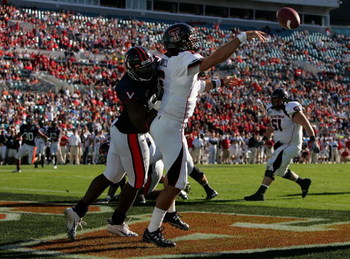 Clint Sintim was an absolute steal for the Giants in the 2nd round of the draft. He's big, strong, and pretty quick for his position.
Furthermore, Clint has proven himself to be a jack of all trades, as he is someone who can sack the quarterback, stop the run, or even drop back into pass coverage. Sintim will have a chance to compete for a starting job this year for the New York Giants.
Grade: B+
3) William Beatty: Conneticut (OT)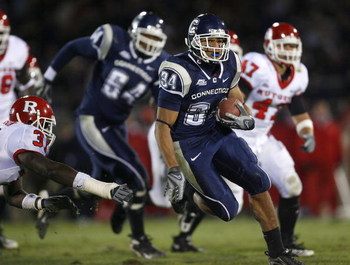 The big left tackle from Conneticut was at one point looked at as a potential 1st round pick, but the Giants were fortunate to find him availabe at the back end of the 2nd round.
Beatty has been criticized as being soft at times, but he put forth an accumulate senior year that showed signs of brilliance.
If his senior year is any indicator of what Beatty will be capable of at the NFL level, the Giants have found an absolute steal.
Beatty will likely begin the season as a backup, and may eventually compete with David Deihl for the starting left tackle job.
Grade: B
4) Ramses Barden: Cal Poly (WR)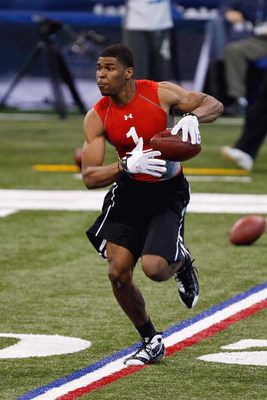 Hakeem Nicks may have gotten all the publicity and hype, but in the end it is Barden who may be the future of the wide receiver position for the New York Giants.
At 6'6, Barden will become the tallest wide receiver in the NFL. However, Ramses is more than just a jump ball receiver, as he posesses a 4.6 40—yard dash time and great hands that will help make him a household name at the next level.
Five years from now, I believe this pick will be considered the steal of the draft.
Grade: A-
5) Travis Beckhum: Wisconsin (TE)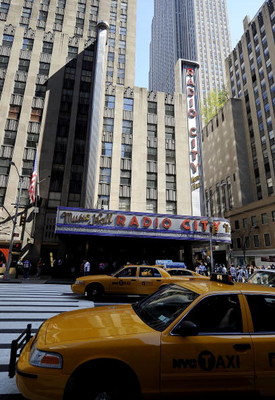 With their 2nd pick of the 3rd round, the Giants landed Beckhum, a solid pass- catching tight end who isn't much of a blocker.
However, despite Travis' glaring weakness in in-line blocking, Beckhum's receiving ability will serve as an excellent compliment to the more well-rounded Kevin Boss in two- tight end formations.
Grade: B-
6) Andre Brown: North Carolina State (RB)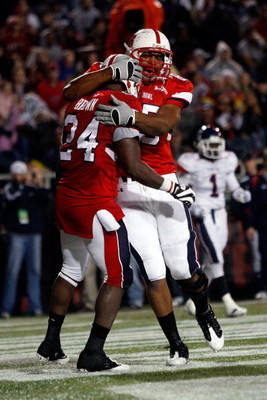 With their 4th round pick in the 2009 draft, the Giants went with a running back who can replace Derrick Ward as the 3rd piece to the "Earth, Wind, Fire" running game of the New York Giants.
Brown is a talented all around running back who will be an effective pass catcher out of the backfield, thereby immediately providing him with a roles of the Giants' team.
He is considered to be a steal at this point in the draft, and he should provide the team with immediate dividends for taking a chance on him.
Grade: B-
7) Rhett Bomar: Sam Houston State (QB)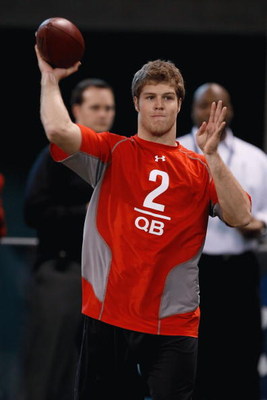 With their 5th round pick, the Giants made a somewhat purplexing selection by going with the quarterback out of Sam Houston State.
While Bomar is immensely talented and athletic, the Giants are currently quite set at the quarterback position, with Eli Manning as the starter and former No. 1 overall pick David Carr as the backup.
Also, the Giants drafted their a 3rd string developmental quarterback, Andre Woodson, at about this point in last year's draft.
However, this draft pick may be an indicator of some dissatisfaction with Woodson's development thus far, as Bomar will undoubtedly be competing with Woodson this year for a roster spot.
While the Giants' need for a quarterback here is questionable, the speed and strength that Bomar possesses would eventually make him a valuable backup for the team.
Grade: C
8) DeAndre Wright: New Mexico (CB)
DeAndre is a relatively strong and athletic cornerback who really stood out to the New York Giants' scouts. He should be considered a good value for a 6th round pick, and he will definitely have an opportunity to compete as a backup with the New York Giants this season.
Grade: C
9) Stoney Woodson: South Carolina (CB)
With their final pick in the 2009 NFL draft, the Giants selected Stoney Woodson out of South Carolina.
In a nutshell, Woodson is a speedy cornerback who didn't quite light up the track during the Scouting Combine as well as you would expect.
However, game speed is more important than track speed, so I expect Woodson to have a decent chance for success in the NFL.
Grade: C-
Keep Reading

New York Giants: Like this team?