Predictions for Steelers' Rookies Based on Past Evidence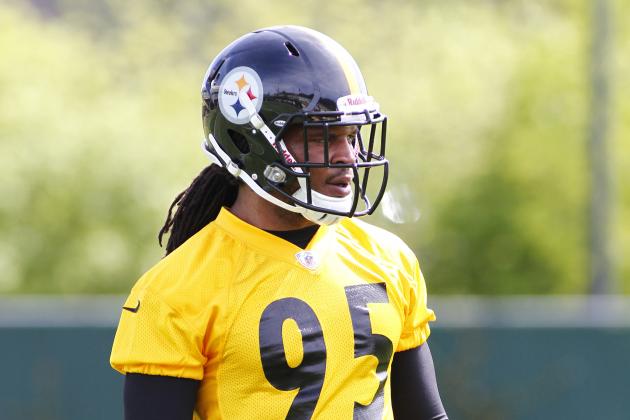 Justin K. Aller/Getty Images

In the NFL, it's hard to predict anything.
Given the fact that we have an average of four new playoff teams every year, it's hard to even know who's going to be playing in the postseason that year. Now try and guess how well rookies will play, and you're in a whole nother ballgame.
Fortunately, the Pittsburgh Steelers have traditionally been one of the most predictable teams over the last five decades.
The Steelers haven't really changed how they've gone about business, players they target, the style in which they play or how they've drafted since the team began winning Super Bowls in the mid-70s. So that might be able to give us an easier read into this year's draft class.
Let's take a look at what we can expect from the Steelers' draft class in 2013, based on past evidence of former players. This doesn't mean these players' careers will be the same or their numbers will be exact. It just means that they're in similar situations and could produce a similar result.
Begin Slideshow

»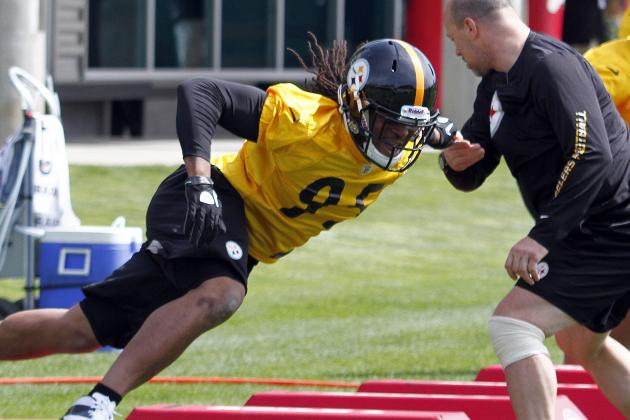 Justin K. Aller/Getty Images

Season Comparison: LaMarr Woodley's 2007 Rookie Season
Woodley's Stat Line: 13 games played, 0 starts, 14 tackles, 4 sacks
In 2007, LaMarr Woodley came into a nearly identical situation as the one Jarvis Jones has entered in 2013.
Pittsburgh had just released longtime star pass-rusher Joey Porter and needed someone to fill the 60-career sacks (at the time) gap he left. But it wasn't Woodley the team turned to. Instead, Tomlin went with eight-year vet Clark Haggans to fill the void.
Woodley was clearly the future of the team at that point, but the Steelers took the safe road and went with the veteran to start all 16 games for the team. Both Woodley and Haggans ended up with four sacks a piece in 2007, with Woodley playing less than half as many snaps.
Haggans was released following the 2007 campaign, paving the way for Woodley to become the starting left outside linebacker.
This situation should sound very familiar to Steelers fans.
This offseason, Pittsburgh released longtime pass-rusher James Harrison and drafted Jones in the first round. But all signs point to incumbent Jason Worilds getting the first crack at the starting job.
Jones is certainly a better pass-rusher than Worilds, who has never been able to live up to his second-round hype. But the Steelers have a tradition of giving their veterans every chance to win a starting job, whether it's the right move or not.
Bottom line: Steelers fans should temper their expectations from Jones for at least this season. He'll probably be used solely in pass-rush situations to start the year and could add time by the season's end.
2013 Projections: 16 games played, 2 games started, 38 tackles, 8 sacks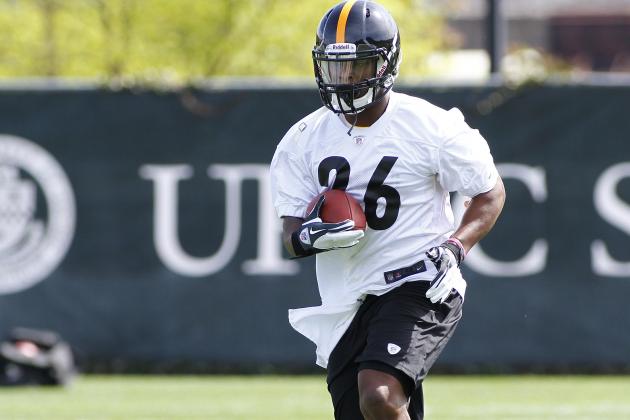 Justin K. Aller/Getty Images

Season Comparison: Jerome Bettis' 1996 Season (1st w/ Steelers)
Bettis' Stat Line: 12 starts, 320 carries, 1,431 rushing yards, 11 rushing touchdowns
By no means do I think Le'Veon Bell is going to run for over 1,400 yards and carry the ball over 300 times in his rookie season. But I do think that Bell's rookie campaign and Bettis' inaugural season in Pittsburgh could have some similarities.
The Steelers made a deal with the Rams to acquire Bettis in 1996 because a scandal involving starter Bam Morris left them thin in the backfield in 1995. The team's leading rusher was Eric Pegram, who amassed just over 800 yards.
In 2012, the Steelers had one of the worst rushing seasons in the long history of the franchise. Jonathan Dwyer led the way with 623 yards and no back scored more than two touchdowns on the ground.
By investing a second-round pick in Bell, the Steelers seem committed to making him their feature back. Especially as reports surfaced during the draft that the team was trying to move one of their backs, namely Dwyer.
Bell ran very well behind a poor offensive line at Michigan State, and if the Steelers line does anything well, it's run-block. He should be able to find success on the ground this season, even if it's not as much as Bettis had in his first year.
These two seasons may not turn out to compare exactly in numbers. But it's the previous seasons that draw these two together. Bell may not have the same career numbers as Bettis, but he could certainly have a similar impact, just with a different looking offense.
2013 Projection: 13 games started, 220 carries, 1,100 rushing yards, 12 touchdowns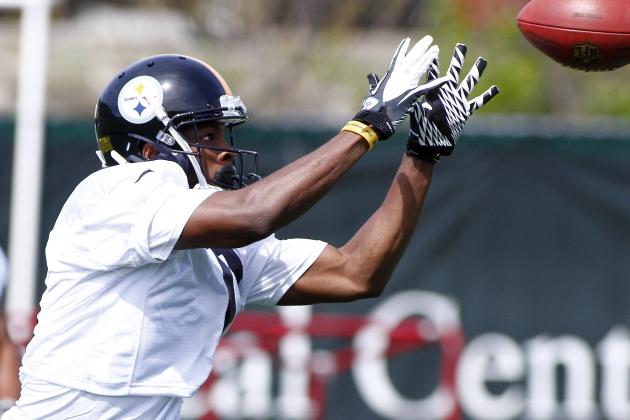 Justin K. Aller/Getty Images

Season Comparison: Charles Johnson's 1994 Rookie Season
Johnson's Stat Line: 9 games started, 38 receptions, 577 yards, 15.2 YPC, 3 touchdowns
Due to their similar size and stature, most people want to compare Markus Wheaton to the recently departed Mike Wallace. They both stand about the same height and have similar speed.
But in the Todd Haley offense the Steelers currently employ, it's hard to imagine Wheaton reaching the astounding 19.4 yards per catch Wallace accomplished in his rookie campaign in 2009.
But that doesn't mean Wheaton's speed won't be a threat for the Steelers.
In Wallace's final year with the Steelers, he averaged a career-worst 13.1 yards per catch. Being one of the fastest players in the league, Wallace's lack of downfield plays had to come from the offense he was playing in.
Pittsburgh's offense suffered from its inability to get the ball down the field last season, and Haley will have to change that up. But to think he's going to completely turn around his offense seems a bit over-the-top.
Wheaton will most likely enter the season battling Plaxico Burress for the third receiver spot. That's a spot he could take as he becomes more familiar with the offense.
Charles Johnson, who spent five seasons in Pittsburgh, has a very comparable rookie season to that which Wheaton could produce. The reception total is certainly achievable, but the biggest part is the yards per catch.
Haley will most likely use Wheaton similarly to the way he used Wallace in 2012, but has to try and work him down the field in some way. He's still got a ways to go before he's ready to become an every-down receiver, but he'll still contribute in 2013.
2013 Projection: 2 games started, 35 receptions, 525 receiving yards, 15.0 YPC, 4 touchdowns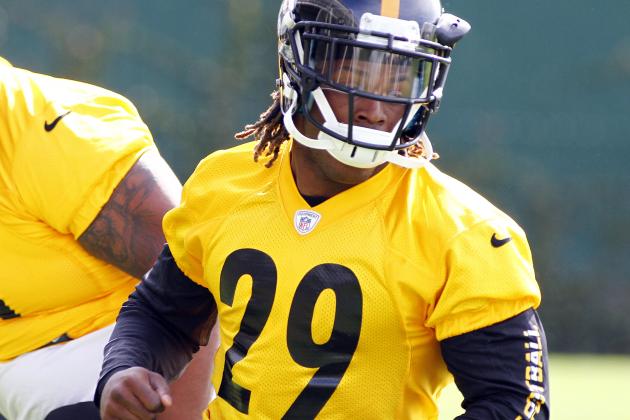 Justin K. Aller/Getty Images

Season Comparison: Troy Polamalu's 2003 Rookie Season
Polamalu's Stat Line: 16 games played, 0 games started, 38 tackles, 2 sacks, 1 forced fumble
Like most of the rookies before him, Polamalu wasn't an immediate starter in Pittsburgh, despite the team trading up to grab him in the 2003 draft. But he still made his impact felt as a rookie.
With Mike Logan and Brent Alexander entrenched as the starters, Polamalu played only sparingly and began the season doing what he did best—playing in the box.
Shamarko Thomas will come in playing behind both Polamalu and Ryan Clark, but should have an opportunity to see significant time in 2013. Polamalu has missed 22 games over the last four seasons due to various injury, including nine last year.
Thomas plays a very similar game to that of Polamalu in that he's terrific in the box and plays best behind the line of scrimmage. He could easily put up similar numbers to what Polamalu did in 2003, although he better be ready to get back and cover.
2013 Projection: 16 games played, 4 games started, 42 tackles, 1 sack, 1 interception, 1 forced fumble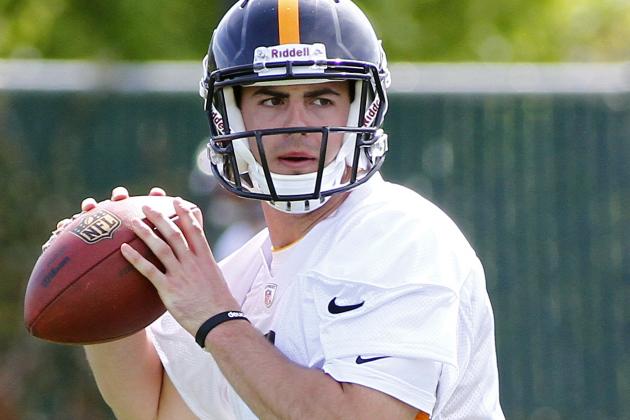 Justin K. Aller/Getty Images

Season Comparison: Mark Malone's 1981 Season (2nd w/ Steelers)
Malone's Stat Line: 2 games started, 45/88 (51.1%), 553 yards, 3 touchdowns, 5 interceptions
When the Steelers took Mark Malone from Arizona State in the first round of the 1980 NFL draft, it raised a few eyebrows.
The team already had an established, four-time Super Bowl champion quarterback in Terry Bradshaw who was only 32 years old and seemed to still be playing at a high level. Either way, Pittsburgh felt it necessary to plan for the future with Malone, who didn't appear in a game his rookie season.
In 1981, however, Bradshaw went down and Malone got his chance. He appeared in eight games, starting two without winning either.
It just so happens that in 2013, the Steelers have another Super Bowl champion quarterback who is now 31 years old in Ben Roethlisberger. And like the Malone pick, taking Oklahoma's Landry Jones in the fourth round raised a few eyebrows.
But Roethlisberger has missed at least one game a year since 2008, and in 2012 it crippled the Steelers. Neither Charlie Batch nor Byron Leftwich could get the job done, prompting the Steelers to pull the trigger on the young Jones.
It's almost a guarantee that Big Ben will go down at some point in 2013. It's just a matter of who will replace him.
Jones will have to beat out Bruce Gradkowski for the backup job, but if he does, he should be able to make his way onto the field. If he does, like Malone, he'll have to fill the shoes of a Pittsburgh legend.
2013 Projection: 1 game started, 175 passing yards, 1 touchdown, 2 interceptions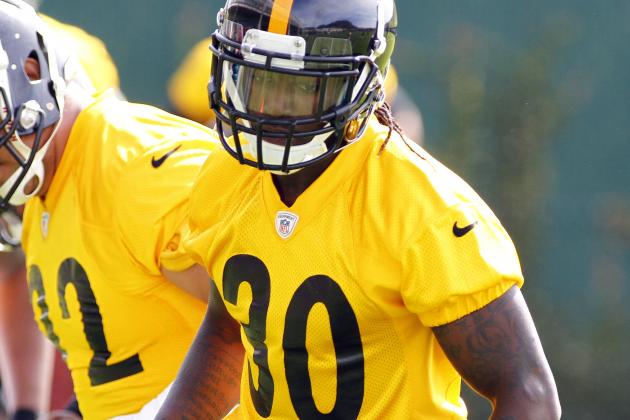 Justin K. Aller/Getty Images

Season Comparison: Cortez Allen's 2011 Rookie Season
Allen's Stat Line: 15 games played, 0 games started, 8 tackles
When Cortez Allen came to the Steelers as a fourth-round pick in 2011, he had an uphill battle to compete for playing time. Now, he's a starting corner on one of the best pass-defending teams in the league.
Terry Hawthorne, a 2013 fifth-round pick, faces a similar situation in his inaugural season with the Steelers.
There are currently eight potential cornerbacks, including Hawthorne, on the Steelers roster. Three of these players will most likely get cut, but being fifth on the depth chart isn't very attractive either.
Hawthorne, at one point, was considered a future first-round prospect and can play the game. He just needs to stay healthy and hone his zone-coverage skills.
He'll most likely have to make his initial impact on special teams, but given the Steelers' history of injured secondaries, he could find his way into a role on the defensive unit.
2013 Projection: 13 games played, 0 games started, 7 tackles, 1 pass defended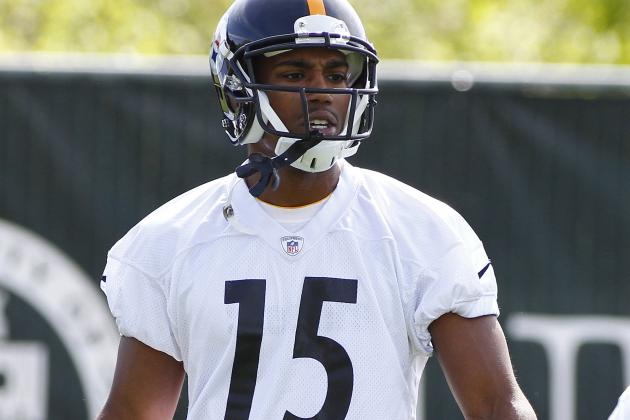 Justin K. Aller/Getty Images

Season Comparison: Limas Sweed's 2008 Rookie Season
Sweed's Stat Line: 11 games played, 6 receptions, 64 receiving yards, 0 touchdowns
If there's one Steeler you probably don't ever want to be compared to, it's Limas Sweed.
Sweed came to the Steelers as a second-round pick in 2008 with high hopes of being the team's best big receiver since Plaxico Burress left for the Giants. Two years and just seven receptions later, Sweed's career was over.
Justin Brown has an uphill battle to even make the Steelers roster. With Burress, Antonio Brown, Emmanuel Sanders and Markus Wheaton all but inked into the roster, it leaves probably just one spot for Brown, Jerricho Cotchery, J.D. Woods, Derek Moye, Kashif Moore, David Gilreath and Reggie Dunn.
Brown does have the upper hand in that a) the Steelers burned a draft choice on him and b) his contract would be less than what they're paying Cotchery. But those are far from guarantees to making the team.
It's quite possible that Brown starts the season on the team's practice squad, but if he makes the team, he's got a good chance to see some time. Brown and Sanders both have a history of injuries, and Brown is the team's only big receiver besides Burress.
Like Sweed, Brown is a project, and if he makes the team, he'll probably be buried on the depth chart. Brown probably won't make too big of an impact on Pittsburgh's 2013 campaign.
2013 Projection: 6 games played, 4 receptions, 50 receiving yards, 0 touchdowns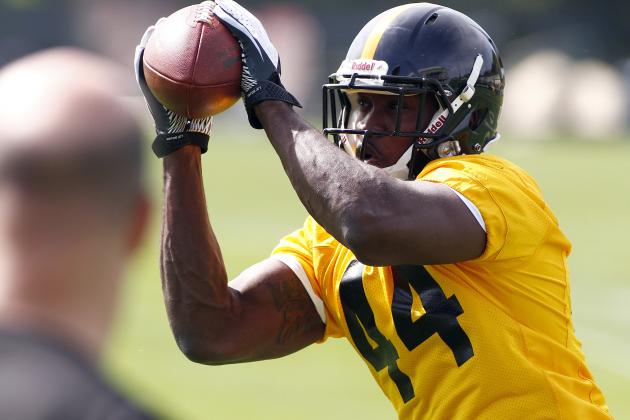 Justin K. Aller/Getty Images

Season Comparison: Larry Foote's 2003 Season (2nd w/ Steelers)
Foote's Stat Line: 16 games played, 6 tackles, 1 fumble recovered
Because of injuries, Larry Foote ended up starting two games for the Steelers in 2002. That wasn't the plan. Kendrell Bell and James Farrior were the guys inside at linebacker, and Foote was thought of as a solid backup and a developmental project.
His 2003 season more accurately depicts what the Steelers wanted to do with him during his rookie campaign.
This is sort of what sixth-rounder Vince Williams could expect in 2013.
Discounting Sean Spence, who may never play again because of injury, there are five other players currently on the Steelers roster who will compete for two backup positions behind Foote and Lawrence Timmons. Those aren't great odds.
Williams could be looking at starting his career on the team's practice squad and trying to work his way onto the roster from there. But he could up his ante by showing his skill on special teams. Either way, Williams won't be a big name for Pittsburgh this season.
2013 Projection: 3 games played, 2 tackles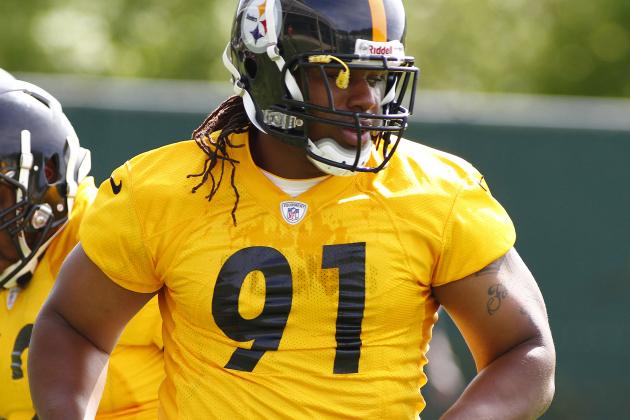 Justin K. Aller/Getty Images

Season Comparison: Aaron Smith's 1999 Rookie Season
Smith's Stat Line: 6 games played, 2 tackles
Aaron Smith is one of the best 3-4 defensive ends to ever play the game. In his prime, he was an unstoppable force. But he came from very humble beginnings.
Smith barely saw the field in his first season with the Steelers, despite coming in as a fourth-round pick.
Samford's Nick Williams could be en route for a similar humble start to his career.
Williams is very raw but a very talented player. The Steelers haven't gotten much out of their defensive ends over the last two or three seasons, which could force Williams onto the field.
Al Woods is currently the backup for Ziggy Hood, and Williams is a more talented athlete than Woods. He just needs to refine his football skills before he can get himself onto the field.
At the end of the day, I see Williams getting some time at the end of the season. He could even take Woods' backup role, depending on how quickly he picks up the defense. Nick Williams is a name to watch for in the future.
2013 Projection: 4 games played, 6 tackles, 1 tackle for loss