Where Would Each Ailing NBA Playoff Team Be If at Full Strength?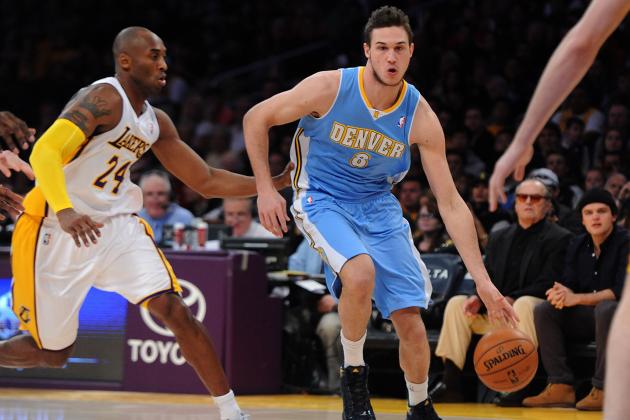 Jayne Kamin-Oncea-USA TODAY Sports
How different could the playoffs be if both Kobe Bryant and Danilo Gallinari were healthy?
Injuries are an unfortunate inevitability in professional basketball, drastically affecting the chances of NBA playoff teams seeking the coveted Larry O'Brien Trophy.
How would things be different if they didn't exist? The NBA doesn't work the same way as 2K13, where you can just go to a menu and turn injuries off. They're bound to happen.
But, what if they didn't?
A few teams that have already been eliminated might still be alive. Certain pretenders would suddenly morph into contenders.
We'd get to watch more Kobe Bryant, Derrick Rose, Russell Westbrook and Danilo Gallinari.
Let's take a look.
Begin Slideshow

»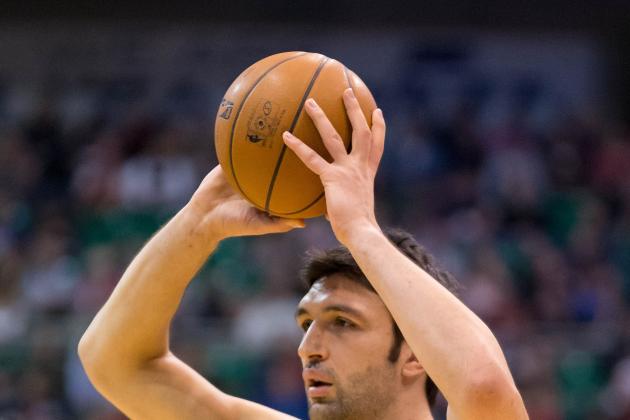 Russ Isabella-USA TODAY Sports

Even if the Atlanta Hawks were at full strength, they wouldn't have been able to get by the Indiana Pacers. The disparity between the two teams was just too large, especially when the squads battled it out in Bankers Life Fieldhouse.
Zaza Pachulia would've provided a big option, one capable of manning up against Roy Hibbert when Al Horford needed a breather, and Lou Williams' scoring off the bench certainly could have been beneficial.
That's still not enough to overcome the gap.
Ultimately, Danny Ferry set this team of expiring contracts up for failure during the 2012-13 season, but only so that it could attempt to take a massive step forward in free agency.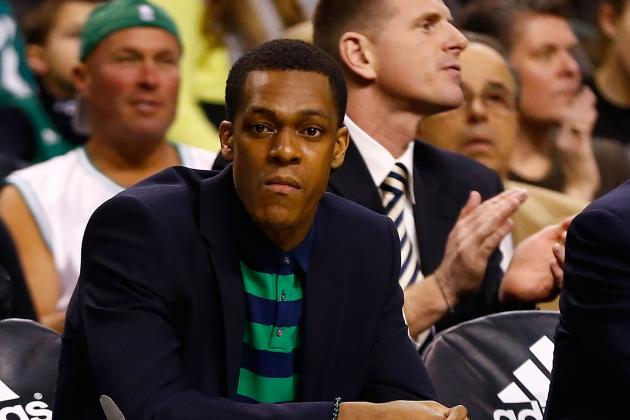 Jared Wickerham/Getty Images

The Boston Celtics pushed the New York Knicks to six games with Avery Bradley as a starting point guard. Remember, this is the guy who, as one commenter on a recent article put it, dribbles about as well as an elephant walks a tightrope.
Rajon Rondo could have made a big difference in this series if he'd been in possession of two healthy ACLs. The dynamic floor general, after all, is the best player on the team.
Even though Rondo isn't much of a scoring threat, he makes the offense go. And the C's offense struggled, to put it nicely. His passing certainly would have made the scoreboard operators work a little bit harder.
Having Jared Sullinger would have been nice as well. Boston didn't have much frontcourt depth, and Kevin Garnett tired at the end of games. He's enough of a warrior that he effectively fought through the fatigue, but a few more minutes of rest would have done wonders.
Sully and Rondo wouldn't have been enough to make the Celtics true contenders, but they would have navigated their way through the first round of the Eastern Conference playoffs.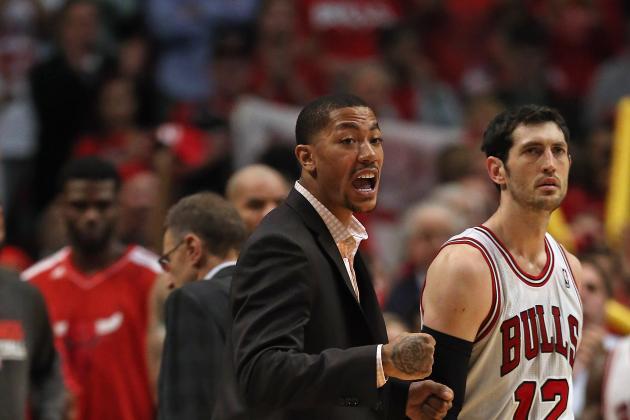 Jonathan Daniel/Getty Images

The Chicago Bulls are scary enough right now, seeing as they ended the Miami Heat's dream of an undefeated playoff run on their first try, but they'd be absolutely terrifying if fully healthy.
Think about what the Bulls are dealing with.
Derrick Rose has yet to suit up this season. Joakim Noah is playing through the pain of plantar fasciitis, and that's a tough injury to consistently fight through. Luol Deng is hospitalized due to complications from a spinal tap. Kirk Hinrich and Nate Robinson have suffered various injuries of their own.
And yet, Chicago stole a 1-1 split with the Heat in Miami.
It's tough to predict exactly how good the Bulls would be with a healthy Rose in particular, but last year's squad finished with the top seed in the Eastern Conference. At the very least, they'd be co-favorites in the East.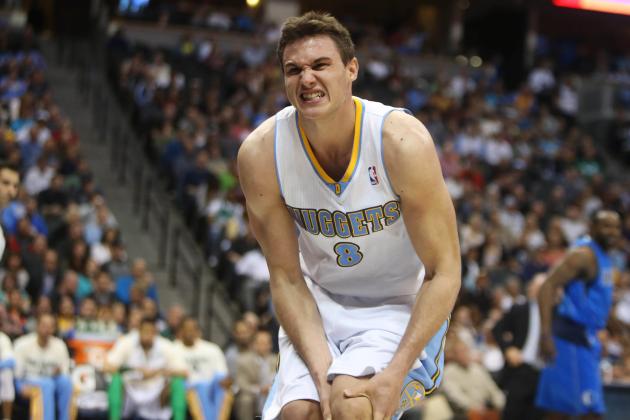 Chris Humphreys-USA TODAY Sports

I absolutely love Stephen Curry's game, so I'm not exactly complaining about getting to see him for another series. But the sweet-shooting point guard wouldn't be playing against the San Antonio Spurs if Danilo Gallinari's ACLs were both intact.
Gallo was quickly developing into one of the top small forwards in the NBA, making an incredible two-way impact. On offense, he thrived shooting triples and attacking the rim. On defense, he was asserting himself as a shutdown perimeter defender more and more each day.
Then, one play ended his season prematurely.
With Gallinari, the Denver Nuggets were true contenders to come out of the Western Conference, despite the stacked nature of the conference. Without him, they're sitting on their couches and watching how the playoff picture unravels from home.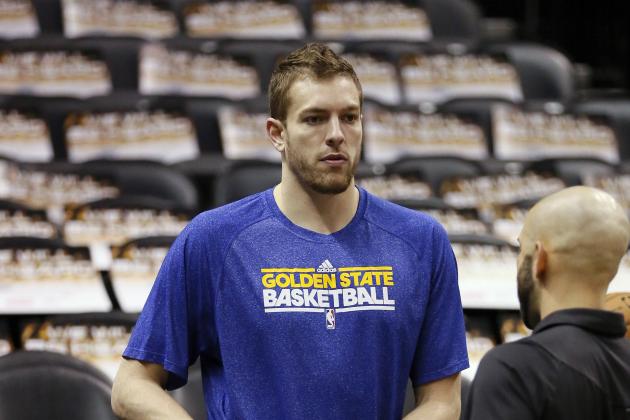 Soobum Im-USA TODAY Sports

Something tells me that the Golden State Warriors wouldn't change anything about how their season has gone.
David Lee went down with a torn hip flexor early in the first-round series against the Denver Nuggets, but the team was still able to come together and advance to the next battle. You can thank Stephen Curry for that.
Lee attempted to play through the pain, but he was just a shadow of his old self. His offense is sorely missed, but his defense really isn't.
Another big injury, one that seems to be nearly wiped away from everyone's memory, was the torn ACL suffered by Brandon Rush in the second game of the season. Forget about it no longer, as Rush would help out with backcourt depth tremendously.
With or without Lee and Rush though, it's hard to see the Dubs getting by the San Antonio Spurs.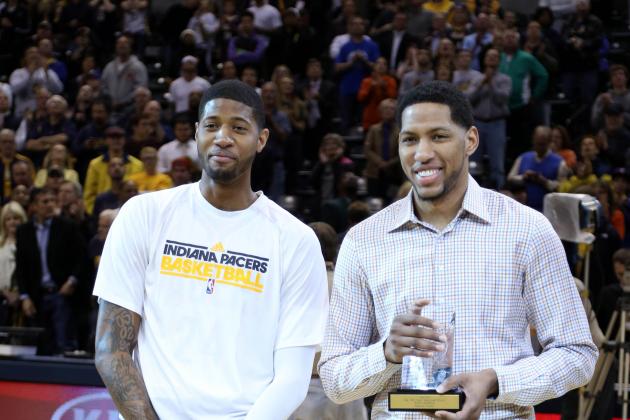 Brian Spurlock-USA TODAY Sports

Danny Granger would be one heck of a sixth man.
There's no way he's taking over for Paul George in the starting lineup, and Granger is too big to line up at shooting guard (though Granger used to play the three while George was the two). So a healthy Granger would come off the bench and fill it up whenever he stepped onto the court.
Even with the small forward, the Indiana Pacers aren't improving their winning potential all that much. They're a superior team to the New York Knicks even without him, and they're an inferior one to the Miami Heat even with him.
Indiana is just about locked in, regardless of Granger's status.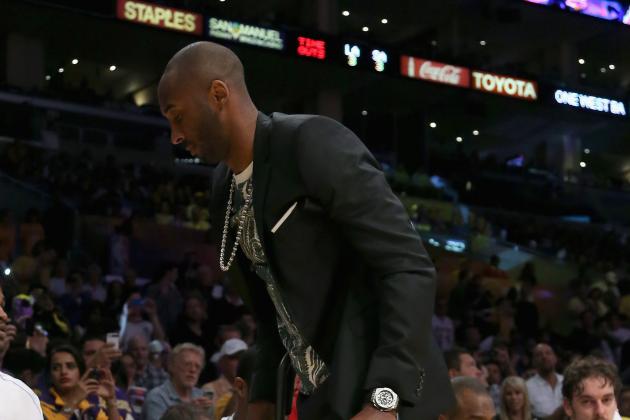 Jeff Gross/Getty Images

We never really got a chance to see what the healthy Los Angeles Lakers could do. They were plagued by one injury after another throughout the 2012-13 campaign.
Steve Nash, Pau Gasol and Jordan Hill all missed extended portions of the regular season. Dwight Howard played through a back injury all year. Kobe Bryant's Achilles tendon betrayed him right before the playoffs.
If they were all fully healthy, they could have given the San Antonio Spurs some trouble during their first-round matchup.
Could they win, though?
That's a more interesting question, and it's one that's nearly unanswerable because there were so many injuries so often during the season. I'm going to roll with a hesitant no.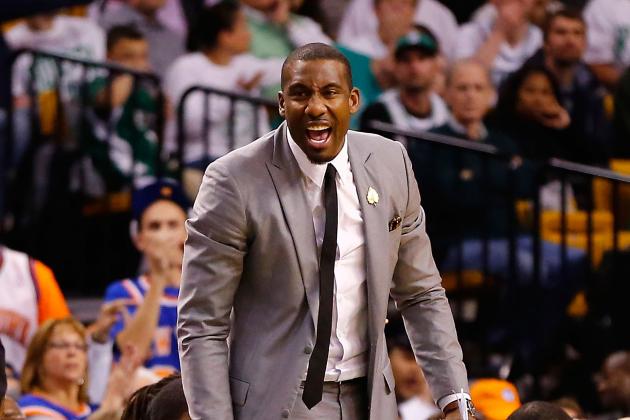 Jared Wickerham/Getty Images

The New York Knicks are severely lacking frontcourt depth, and they have injuries to thank for that.
Amar'e Stoudemire's knees have kept him out for much of the year, although there's a chance he could return during the series against the Indiana Pacers, and Marcus Camby has been attempting to fight through plantar fasciitis.
Kurt Thomas and Rasheed Wallace also never offered much due to injuries and age.
Even with two more healthy big men, the Knicks would be knocked out of the postseason by the Indiana Pacers. They're a jump-shooting team, one prone to cold nights, especially when matched up against a suffocating defense.
STAT would provide a nice scoring punch off the bench, but that's not enough to make up the difference.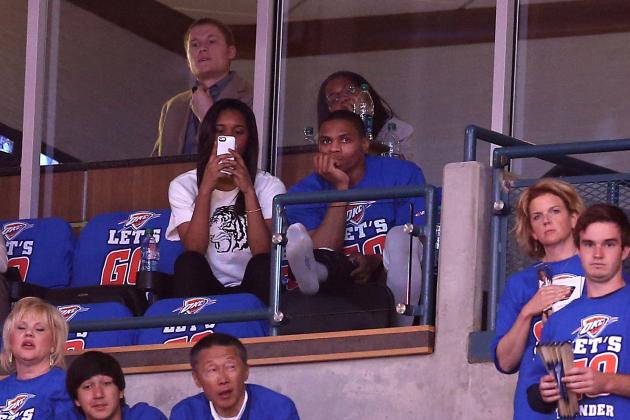 Christian Petersen/Getty Images

It's tough to imagine a player looking more depressed than Russell Westbrook does in this picture. The dynamic point guard had never missed a game during his NBA career, so it was incredibly unfortunate timing when his meniscus knocked him out of the postseason.
With Westbrook in the lineup, the Oklahoma City Thunder appeared poised to make another run at the NBA Finals. The San Antonio Spurs were sure to be a challenge, but Kevin Durant and Co. had the firepower necessary to meet that.
Now that Westbrook is out, though, OKC will be lucky to make it past the Memphis Grizzlies. They needed a game-winner from Durant to steal Game 1, then dropped a close Game 2 at home. Frankly, they had enough trouble with the Houston Rockets in their first-round matchup.
This injury has the biggest potential to severely cripple a team.