Barclays Premier League: Relegation Battle Primer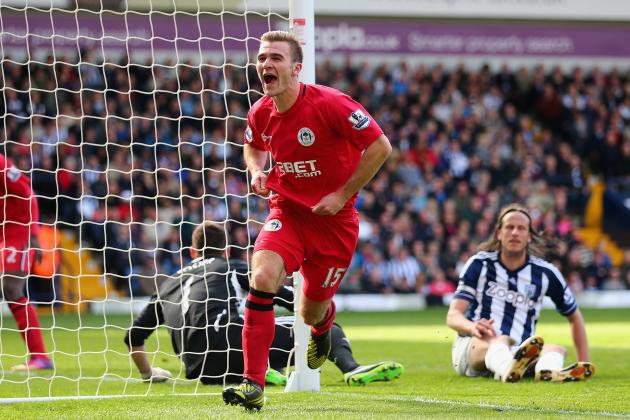 Clive Mason/Getty Images

With the 2012-13 Premier League season two weeks away from wrapping up, the top spots in the league are almost all but certain. Meanwhile, amongst the bottom of the table, a vicious and nail-biting relegation battle is about to get a lot more intense.
With two teams—QPR and Reading—already assured relegation, the final spot has still yet to be decided. With two weeks left, eight teams could still realistically find themselves in the final relegation spot and in the npower Championship next season.
With several teams playing each other in the final weeks, anything is possible. If you're asking yourself who is playing who or what game is a must-win, look no further. We've got you covered with your Premier League relegation battle primer.
Begin Slideshow

»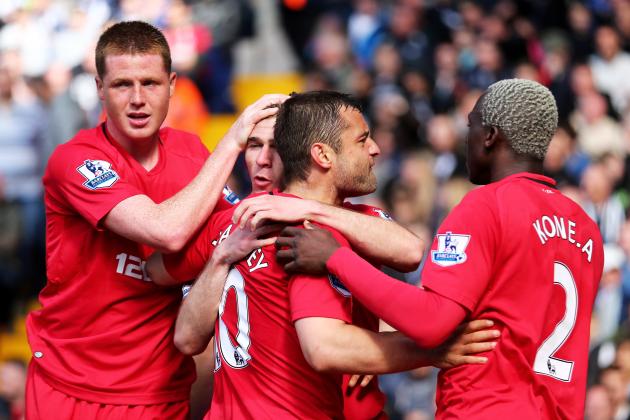 Clive Mason/Getty Images

Fixtures
May 7: vs. Swansea City
May 14: at Arsenal
May 19: vs. Aston Villa
Players to Watch
Arouna Koné: Easily the Lactics' most potent offensive option. He's tied for 10th this year in goals and has five goals in his last nine matches.
Shaun Maloney: The Scot has been on fire lately in distributing the ball from the wing and has three assists in his last two matches. Both matches were key, and Maloney has been clutch.
Jean Beausejour: The defender has been a bright spot for Wigan this season but he picked up a hamstring injury on the weekend and will likely be out for the midweek clash with Swansea City.
Breakdown
Wigan are in for a tough battle, but they have the virtue of having a game in hand on everyone else in the relegation fight. They are going to face a Michu-less Swansea City squad at home on Tuesday and if they can snag three points they will jump up to 16th.
Realistically Wigan need to get at least a win and a draw in their final three matches to have a good chance at staying up. The key game will be the final day of the season where the Latics will face off against Aston Villa at home.
After a season of struggles, if Villa are safely in the 2013-14 Premier League picture by the last day, they might take their foot off the pedal and relax just enough for a desperate Wigan to avoid relegation for a second straight year. Despite struggling, Wigan still have a similar goal differential to both Norwich City and Newcastle, which could come into play in the event of a tie.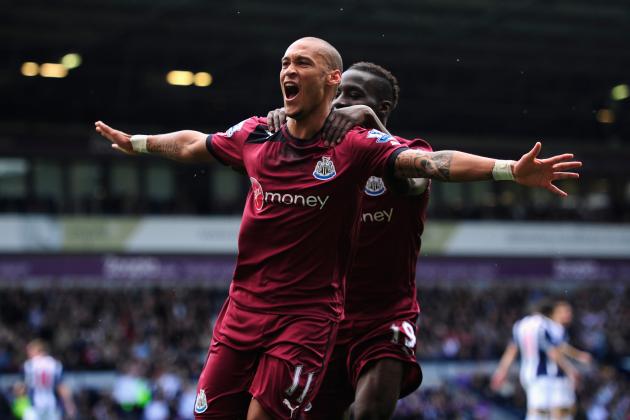 Stu Forster/Getty Images

Fixtures
May 12: at Queens Park Rangers
May 19: vs. Arsenal
Key Players
Yohan Cabaye: The mastermind in the middle of the field for the Magpies has had an up-and-down season but he is still a central figure in their attack. The Newcastle offense normally goes the way of the Frenchman.
Fabricio Coloccini: Last weekend everyone saw what a big difference the Newcastle skipper makes defensively. After a run that saw the team give up 10 goals in three matches, Coloccini stepped back in after being sidelined by injury and helped the team lock down a key point on the road against West Ham.
Hatem Ben Arfa: A bit of a wild card, Ben Arfa has had a difficult year staying healthy. He's been used sparingly since being cleared to play but he still has the capability to completely take over a game and score some stunners.
Breakdown
Newcastle have had a season mired in injuries, fatigue and poor performances. That can all be put in the past though if the team can remain above the drop zone.
Queens Park Rangers on the road is the obvious key matchup as QPR have already been relegated. However, the Toon have been dreadful on the road, picking up just one victory at Aston Villa in January, so no road game is an assurance with this squad.
With Arsenal being the final game of the year it would definitely be a good time for the team to overcome its poor road form and put one in the win column. No points against QPR could spell disaster for the team and send it to the npower Championship for the second time in five years.
If the team does get a key win at QPR it wouldn't hurt to run the score up either as Newcastle currently have the worst goal differential of the bottom teams.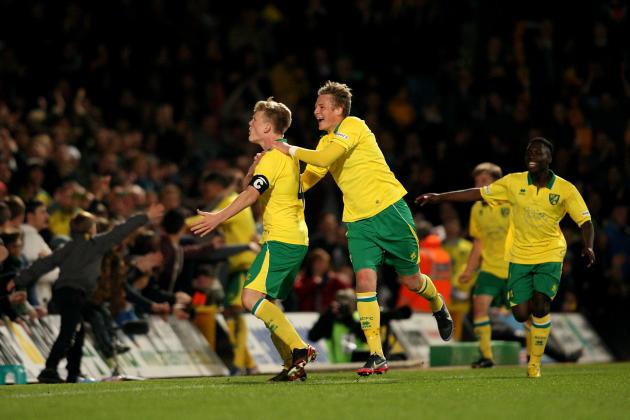 Stephen Pond/Getty Images

Fixtures
May 12: vs. West Bromwich Albion
May 19: at Manchester City
Key Players
Robert Snodgrass: Picked up from Leeds United this last offseason, Snodgrass has been arguably the Canaries' best player in 2012-13. With a variety of goals and assists on the season, the 25-year-old has been a pillar in the Norwich midfield with solid ball distribution and some marvelous set pieces.
John Ruddy: One of the biggest losses on the season for Norwich was when goalkeeper John Ruddy went down with a thigh injury in November that required surgery. Ruddy stood on his head in many early games and was a huge reason why the squad saw victories against teams like Manchester United and Arsenal. The 26-year-old is rumored to be ready, according to ITV, and not a moment too soon for manager Chris Hughton.
Anthony Pilkington: The midfielder has been fighting off injuries since the beginning of February but last week he played his first full 90 minutes in several weeks. Before his injuries Pilkington and Snodgrass were giving Norwich a considerable one-two punch in the middle.
Breakdown
About a month or two ago no one was really talking about Norwich possibly getting relegated, but a bad stretch of form has seen them win only two of their last 10 matches and fall into a dangerous spot. Injuries to key players like Pilkington, Michael Turner and Alexander Tettey have only added to the woes of the Canaries, who now find themselves on the brink.
West Brom is the key match as Norwich lost a tight one at the Hawthornes, 2-1, earlier in the season and need to turn the tables this time around for a big three points.
Manchester City away is also a match where Norwich could possibly steal a point, as City will be playing their third match in eight days and could be resting some players as their position in the table will be all but secured. The West Brom clash will certainly be the defining match though.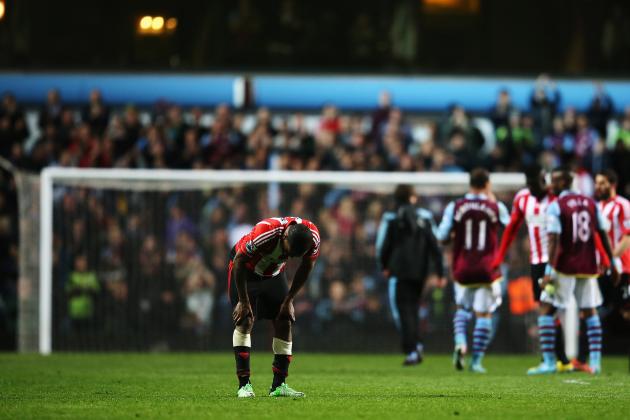 Richard Heathcote/Getty Images

Fixtures
May 12: vs. Southampton
May 19: at Tottenham
Key Players
Danny Graham: With the absence of Steven Fletcher to injury and now Stephane Sessegnon to suspension for the rest of the season, the offense has been placed on the feet of former Swansea man Danny Graham. He's yet to score a goal in the red and white but Black Cat fans everywhere will be hoping that changes soon.
Adam Johnson: Overall Johnson has been a big disappointment for Sunderland as the attacking mid came from Manchester City with considerable hype. There is still time however for him to right the ship this season. He will likely be the club's best attacking option with other notable names sidelined. If he can't perform better in the final two games Sunderland is looking at very little offensive potency.
John O'Shea: The 32-year-old vice captain brings a lot of experience to the table from various sources like Champions League play and international matches. If there was ever a point in time when manager Paolo Di Canio needed a calm veteran voice in the locker room and on the pitch, it's right now.
Breakdown
Sunderland arguably have the toughest set of fixtures and circumstances to close out the season among the bottom teams. While Southampton at the Stadium of Light may look like an easy opportunity to score three points, it won't be.
Southampton have been an enigmatic team that have put in performances that have rivaled the best teams in the league but have also played very poor matches against bottom teams. Regardless, Sunderland are going to be playing the final two matches without Sessegnon, who picked up a red card against Aston Villa, and Craig Gardner, who was ejected during the Stoke City match.
Injuries and suspensions have come at a troubling time for Sunderland, who might now have to lean even more heavily on goalkeeper Simon Mignolet and attackers Danny Graham and Sebastien Larsson to keep this heavily crippled squad up.
It's not time to panic just yet, but if Sunderland can't escape on the 12th with at least a point, the overall outcome could be very grim as the final match is against Tottenham Hotspur and the hottest player on the planet, Gareth Bale.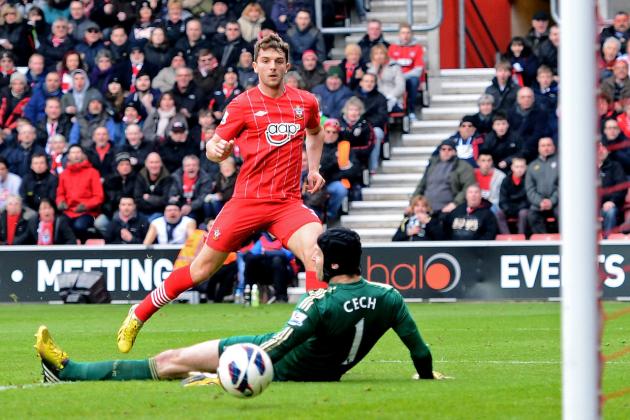 Mike Hewitt/Getty Images

Fixtures
May 12: at Sunderland
May 19: vs. Stoke City
Key Players
Rickie Lambert: A tremendous season from big Rickie Lambert has landed him seventh in goals for the season, and he's proved to be a handful even for the top teams with goals coming against Chelsea, Manchester United, Manchester City and Liverpool. Lambert has easily been one of the best strikers in the Premier League this season.
Jay Rodriguez: Combining with the size and strength of Rickie Lambert has been the speedy and crafty Jay Rodriguez, who has played his way from sub to starter over the course of the season. Between he, Lambert, Jason Puncheon and Morgan Schneiderlin, the Southampton offense has been very fun to watch and equally as effective.
Maya Yoshida: What started out as a shaky and questionable beginning to his Premier League career, Japanese defender Maya Yoshida has settled into an every match stalwart at the back. While the team is brash, young and not always defensively sound, Yoshida is a calm no-nonsense defender whom the Saints will need to be on top of his game to survive a scramble at the bottom.
Breakdown
The enigmatic giant killers of the season, Southampton were looking at relative safety until a late equalizer by Tottenham over the weekend got them in a bit of hot water. Now they are not entirely safe, but they do have probably the easiest of matches of the bottom teams.
However, no match is safe with this squad as dominant victories over Chelsea and Man City are met with equally bazaar head-scratching losses to QPR, Sunderland and Wigan all at home in St. Mary's.
It's really a mixed bag with Southampton who play a free-flowing offensively overloaded style, but they shouldn't have a problem holding off the lackluster offenses of Stoke City and Sunderland to stay up in the Premiership for another year. It's worth noting Southampton have not beat either of these teams this season, drawing Stoke 3-3 at the Britannica and losing to Sunderland 1-0 at home in December.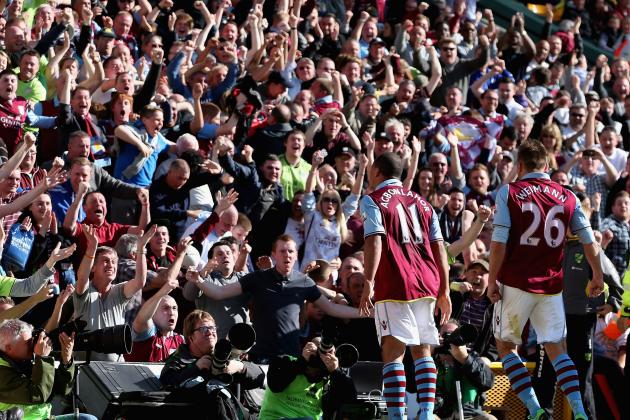 Mark Thompson/Getty Images

Fixtures
May 11: vs. Chelsea
May 19: at Wigan Athletic
Key Players
Christian Benteke: Outside of Gareth Bale, Benteke might be the hottest player in the Premier League this year. Even when Villa was struggling for life Benteke was still scoring; he has scored 10 goals in his last 12 matches. Look for the Belgian to finish the year strong.
Brad Guzan: The U.S. goalkeeper is certainly riding the wave of confidence right now. After consecutive crucial international starts and some key points for his club down the stretch, Guzan has guarded the Villa net to relative safety.
Andreas Weimann: The young Austrian has had a fantastic coming-out season in the Premiership this year. While all the light will be shined on Benteke, Weimann has had a respectable seven goals on the season and has been a constant threat to teams down the wing with his pace. At 21 years old he has emerged this year as one of the bright young talents of the league.
Breakdown
A late victory last week against Norwich didn't assure Aston Villa safety but it took one massive stride toward it. The rise and fight of Villa has been admirable as the team was in the headlines for conceding a staggering 15 goals in three matches midseason and being near the bottom of the table almost all year.
However, the team fought on behind some gutsy performances and now find themselves nearly safe. If they want to control their own fate, they need at least a point from one of the final two matches.
Be wary though: Villa still have a pretty bad goal differential, and if they somehow lose both matches to Wigan and Chelsea they could be in hot water. The Wigan match on the final day of the season could end up being a decisive fight for either team's survival if things play out in favor of Wigan in the leadup.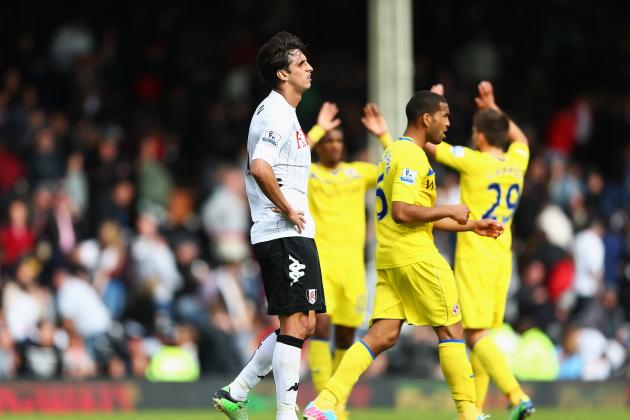 Paul Gilham/Getty Images

Fixtures
May 12: vs. Liverpool
May 19: at Swansea
Key Players
Dimitar Berbatov: After having five goals in four games, Berbatov went ice cold and was goalless in his next six matches. No surprise over that stretch the Cottagers went 0-5-1 and fell into the relegation battle. He is the main attacking threat for Fulham, and if he is scoring, it goes a long way to the success of Fulham.
Damien Duff: Recently sidelined with a thigh injury, Duff is hoped to be 100 percent for the final two matches of the year. His role in the midfield is key to taking the pressure off Berbatov, who without Duff being a threat was smothered by defenses and provided with very little service into the area.
Mark Schwarzer: With the team needing likely just a point to survive, Mark Schwarzer will be asked to come up big and hold teams at bay. Fulham does have quite a number of goals this season but most come in bunches. While they are 10th overall in goals they have the most games of any team in the league, where they have scored just one lone goal. Pressure will be on the Aussie.
Breakdown
Fulham need likely a point to survive, but looking ahead at Liverpool and Swansea that could be a tough ask. Liverpool still packs quite a punch even without Luis Suarez, and Swansea has been rather stingy at home this year and could get back the services of talented Spaniard Miguel Michu.
Berbatov and Duff are obviously the key, as if the two can get linked up for a goal or two Fulham are capable of shutting it down defensively and riding their way to safety. Looking at the table Fulham are deceptively safe with a massive lead in goal differential, but with two tough opponents ahead they will most likely need some outside help in actually achieving true safety.
Whether it comes in the form of a Wigan, Sunderland or Newcastle loss, Fulham will not care as long as it happens.