Most Overrated Player from Every Second-Round NBA Playoff Team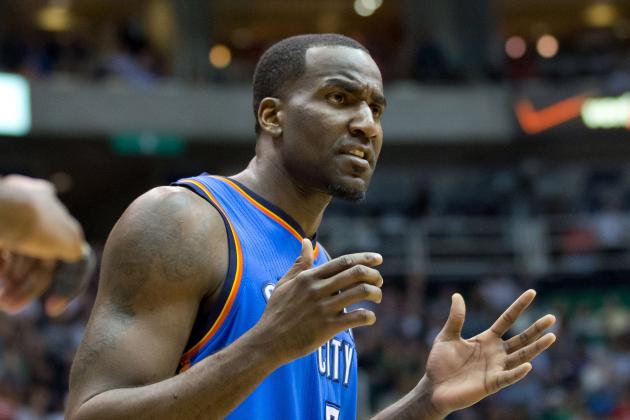 Russ Isabella-USA TODAY Sports
Oklahoma City Thunder's Kendrick Perkins
The list of each second-round team's most overrated player includes names who were once recognized as All-Stars.
It also includes others who have been considered up-and-coming players in this league for some time despite a lack of overall consistency.
In selecting the most overrated player from each team, star power and name recognition as compared to actual production was a primary factor.
In other instances, postseason performance in comparison to the regular season was overwhelmingly highlighted.
Begin Slideshow

»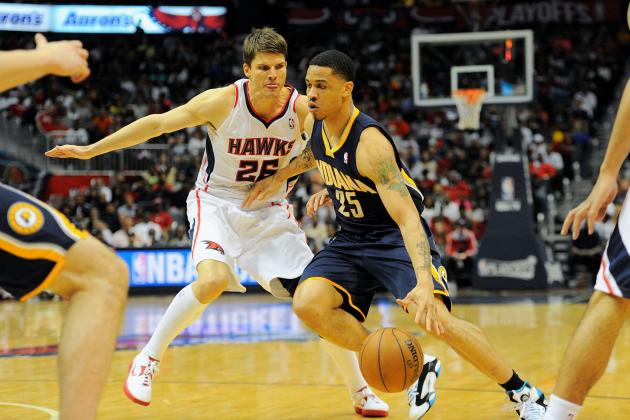 Dale Zanine-USA TODAY Sports
Indiana Pacers' Gerald Green
Gerald Green has made some explosive plays in this league.
But despite the athleticism he has consistently demonstrated from an offensive standpoint, Green was unable to keep up with Kyle Korver defensively during the Indiana Pacers' series with the Atlanta Hawks.
This eventually earned Green a spot back on the Pacers' bench, after working his way into the rotation during the regular season.
In 60 games, Green had averaged seven points on 36.6 percent shooting.
His numbers improved slightly during the postseason—to 7.8 and 41.2, respectively—but Green has only played 11 minutes since Game 3 against Atlanta because of his inefficiencies on defense.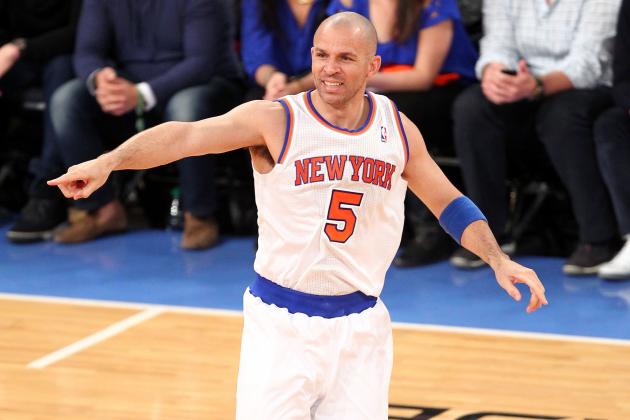 USA TODAY Sports
New York Knicks' Jason Kidd
I am among those who have described the veteran presence that Jason Kidd provides the New York Knicks as a stabilizing force throughout the 2012-13 campaign.
As the Knicks currently trail the Indiana Pacers 1-0 in the second round, I suppose he could still be specifically that.
On the court, however, his production has been barely noticeable during the postseason.
After averaging 26.9 minutes throughout the regular season, Kidd's statistics were respectable enough for a role player at six points, 4.3 rebounds and 3.3 assists.
During the playoffs, however, he is playing 25 minutes and scoring just 1.6 points on 16.7 percent shooting from the field in seven games.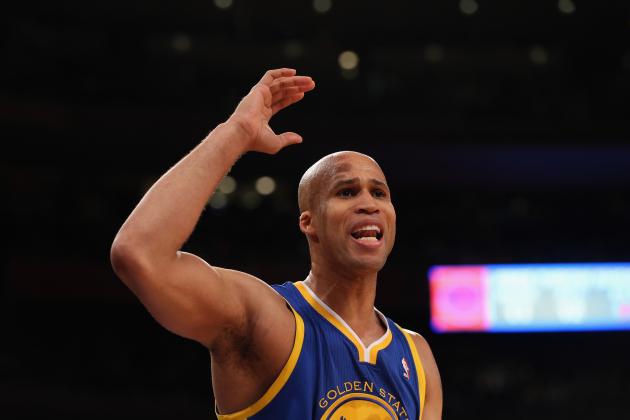 Bruce Bennett/Getty Images
Golden State Warriors' Richard Jefferson
I do understand that those basketball fans who are actually paying attention don't necessarily hold Richard Jefferson in the highest regard on the basketball court these days.
The truth is, though, that casual NBA fans still hear his name and think, "that guy's pretty good."
During the 2012-13 campaign, however, Jefferson has been a complete non-factor despite being the Golden State Warriors' third-highest paid player at $10.2 million.
He made 56 regular-season appearances while averaging only 3.1 points in 10.1 minutes per contest.
In the postseason, Jefferson has become even more irrelevant, playing in five of his team's seven games while averaging 1.2 points in 5.6 minutes.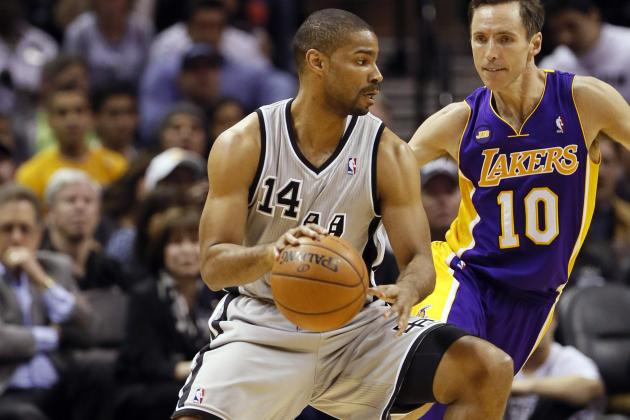 Soobum Im-USA TODAY Sports
San Antonio Spurs' Gary Neal
Gary Neal has earned high praise for his work in relief of Tony Parker this season in the San Antonio Spurs' backcourt.
To some extent, while averaging 9.5 points on 41.2 percent shooting, Neal has earned that recognition.
As a point guard, however, he only dished out 1.9 assists in 21.8 minutes of work while shooting 35.5 percent from three-point range.
During the postseason, while totaling 20.8 minutes in each of the Spurs' five games, Neal's numbers have dipped to 8.2 points and 0.8 assists on 35 percent from the field and 28.6 percent from three.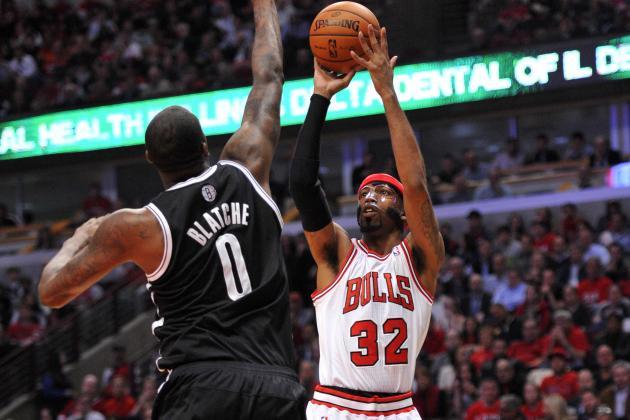 Rob Grabowski-USA TODAY Sports
Chicago Bulls' Richard Hamilton
Richard Hamilton scored 21.5 points per game during the postseason in 2004 on his way to leading the Detroit Pistons to an NBA championship.
These days, as a 35-year-old member of the Chicago Bulls, he's barely a shell of his former self.
Even with superstar guard Derrick Rose injured for the entire season, Hamilton was unable to sustain a backcourt role for the Bulls heading into the playoffs.
While missing 19 games with a back injury, Hamilton made 50 appearances averaging 9.8 points during the regular season. He shot 42.9 percent form the field along with 30.8 percent from three.
During the postseason, however, he has gone completely scoreless while missing four shots in the two games he's played.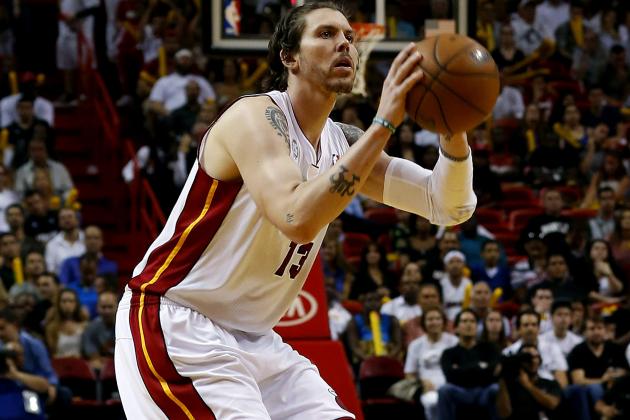 Robert Mayer-USA TODAY Sports
Miami Heat's Mike Miller
After the Big Three of LeBron James, Dwyane Wade and Chris Bosh, Mike Miller is the next highest-paid member of the Miami Heat at $5.8 million in 2012-13.
He's known as being a critical piece of the Heat's supporting cast—and while he may emerge as such at some point in the postseason—Miller hasn't necessarily been that guy consistently throughout the year.
During the regular season, he appeared in 59 games, averaging 4.8 points on 43.3 percent shooting from the floor and 41.7 percent from three-point range.
He's played in three of the Heat's five postseason games thus far, averaging 3.3 points on 26.7 percent shooting from the field and 18.2 percent from three over 12.5 minutes of action.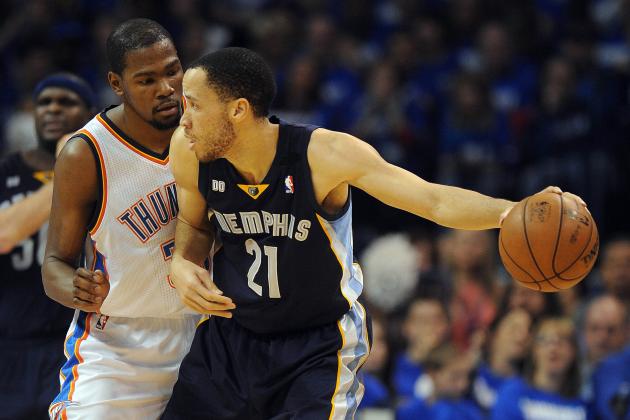 Mark D. Smith-USA TODAY Sports
Memphis Grizzlies' Tayshaun Prince
Tayshaun Prince has filled in for Rudy Gay better than most people expected he would since arriving from the Detroit Pistons in exchange for Gay earlier this season.
But Prince is still a long way from the type of starting small forward who should be averaging 30-plus minutes on a team contending for a Western Conference championship.
In 37 regular-season games with the Memphis Grizzlies, Prince averaged 8.8 points on 42.9 percent shooting from the field and 36.6 percent from three during 31.7 minutes of work on a nightly basis.
Prince's minutes have increased during the postseason to 35.4 per night, but his numbers have slipped to 8.6 points, 40.3 percent shooting and 30.8 percent from three.
He also spent the majority of time defending Kevin Durant during Game 1 of the second round. That didn't go so well as KD threw in 35 points while collecting 15 rebounds.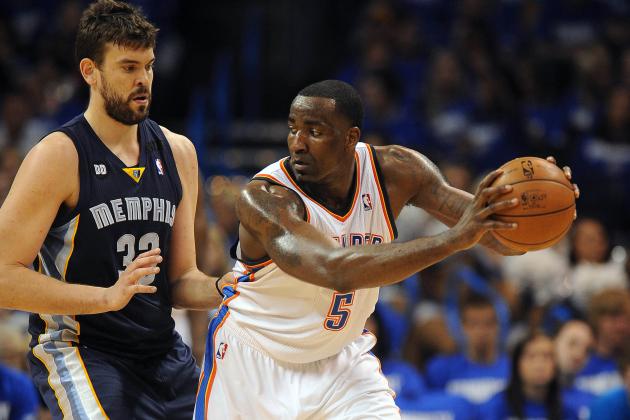 Mark D. Smith-USA TODAY Sports
Oklahoma City Thunder's Kendrick Perkins
Kendrick Perkins is known as an enforcer who provides toughness and intensity for the Oklahoma City Thunder.
To some extent, the big man earning $7.8 million in 2012-13 certainly is that. After averaging 2.9 fouls per game during the regular season, Perkins is currently using 3.6 to bang on opposing bigs during the playoffs.
But while he's not known as a scorer, his actual production hardly warrants the hushed tones associated with the "nuances" of his game.
Perkins averaged only 4.2 points and six rebounds during the regular season on 45.7 percent shooting while playing 25.1 minutes per night.
In seven postseason games, those numbers have dipped across the board to two points and 3.9 rebounds on 35 percent shooting. Since Russell Westbrook was sidelined following Game 2, Perkins has also only scored a total of six points in five games.