NFL Teams Under the Most Pressure to Win in 2013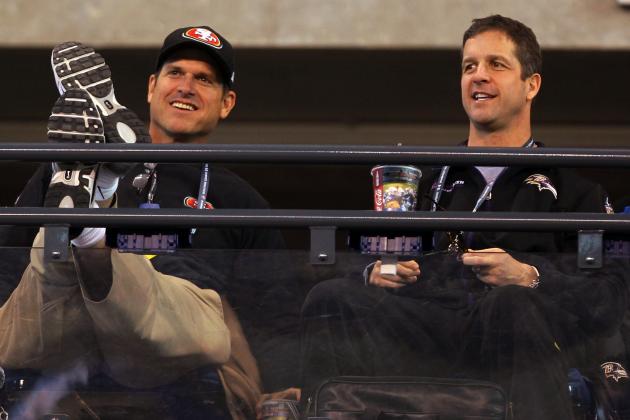 Brian Spurlock-USA TODAY Sports

The NFL offseason has now run its course. The draft concluded 10 days ago, while free-agent signings have slowed down considerably with offseason workouts right around the corner. That can only mean one thing—followers of the NFL now look to the season that lies ahead.
Every year, each NFL team has certain expectations attached to its organization.
In 2012, most expected the New York Giants to challenge for another Lombardi Trophy after winning the Super Bowl in 2011. Others predicted the Carolina Panthers to turn into instant playoff contenders because of Cam Newton's impressive rookie season the year before.
However, the NFL rarely follows through on the public's expectations because of parity. There are always new contenders from one season to the next, making the 32-team league one of the hardest to predict on an annual basis.
Let's examine the eight NFL teams under the most pressure to win in 2013.
Begin Slideshow

»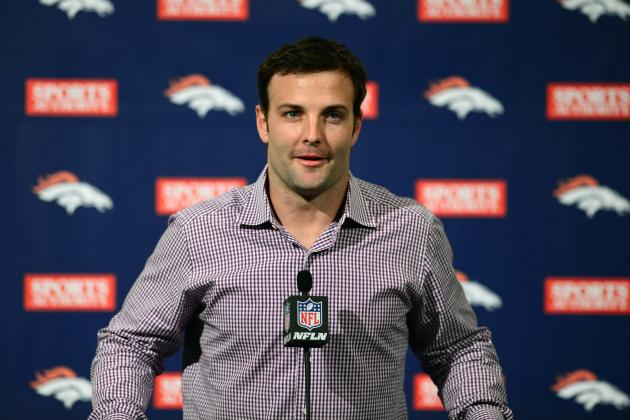 Ron Chenoy-USA TODAY Sports

Time is running out on Peyton Manning's career.
At the beginning of the 2013 NFL season, Manning will be 37 years old. Based on his injury history and age, it's likely No. 18 only has one or two more productive seasons left before he retires.
That is exactly why the Broncos are under pressure to win right now. Aside from Manning's career winding down, Denver went all in during the offseason by signing free agents like Wes Welker and Dominique Rodgers-Cromartie.
Welker takes over in the slot for Brandon Stokley, and Rodgers-Cromartie solidifies Jack Del Rio's secondary. The former-first round pick will give the Broncos' defensive backfield three quality cornerbacks and some much-needed flexibility.
According to Pro Football Focus (subscription required), Champ Bailey, Chris Harris and Rodgers-Cromartie combined for a PFF grade of plus-19.5. Moreover, Denver added even more pass-rushing talent to its roster on day one of the draft.
First-round pick Sylvester Williams will give the Broncos something they lacked in 2012—an effective interior pass-rusher. Scouts see Williams as a fast defensive lineman who often takes over games in the trenches.
John Fox's club will look to make its first Super Bowl appearance since the 1998 season.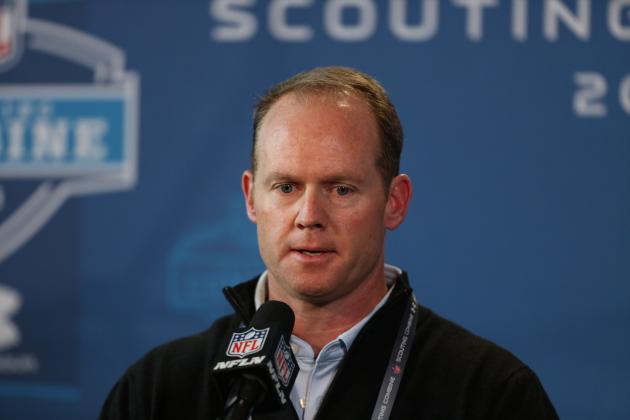 Brian Spurlock-USA TODAY Sports

Building a team through free agency rarely works. Just ask the Philadelphia Eagles. They tried to do it in 2011 when they signed multiple big-name free agents to lucrative contracts during the offseason.
However, that failed attempt didn't stop the Miami Dolphins from following suit in 2013.
With 2013 being the make-or-break year for general manager Jeff Ireland, he went out and spent $175 million on new player contracts before the draft.
Miami added wide receiver Mike Wallace to help Ryan Tannehill put stress on opposing defenses, while Dannell Ellerbe gives Miami the best starting middle linebacker they have had since Zach Thomas. In addition, Brent Grimes takes over at left cornerback for the departed Sean Smith.
Couple all of those additions with the Dolphins' strong incoming draft class, and South Florida now has an instant contender in the AFC East. However, an increase in talent means heightened expectations for a team that is now under pressure to make the playoffs in 2013.
To become playoff favorites, the Dolphins will have to learn how to win on the road. Last season, they only won two games away from home. The Fins will also need to win more divisional games. Like their wins on the road, they notched two measly wins inside the division in 2012.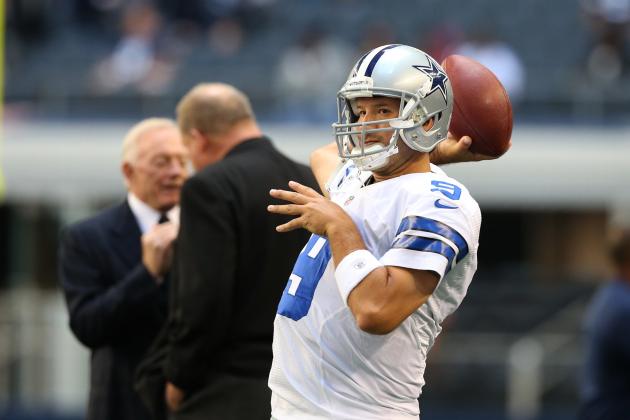 Matthew Emmons-USA TODAY Sports

Every year, the Dallas Cowboys have one of the best teams on paper going into the season, but that doesn't seem to be the case this year.
Owner Jerry Jones was limited in free agency because of tight salary-cap restrictions, and his draft class turned heads for all the wrong reasons.
Selections like Travis Frederick, J.J. Wilcox and B.W. Webb raised eyebrows. Frederick, Wilcox and Webb are players who possess NFL-quality traits, but they were all seemingly drafted one to two rounds too early. That led many analysts to give the Cowboys a failing draft grade.
Yet the poor draft wasn't even Dallas' biggest blunder during the offseason. The biggest blunder had to be the contract extension it gave to starting quarterback Tony Romo.
Over the course of his 10-year career, Romo has accumulated as many playoff wins as Tim Tebow. The fact that he has exactly one playoff win at age 33 makes you wonder why Jones gave Romo a contract extension that guarantees him $55 million.
Even though Jones continues to be the Cowboys' biggest crutch, the team still has high expectations in 2013. Dallas has been dubbed as "America's team," so it is one of the few teams in the NFL that is under pressure to win on a yearly basis.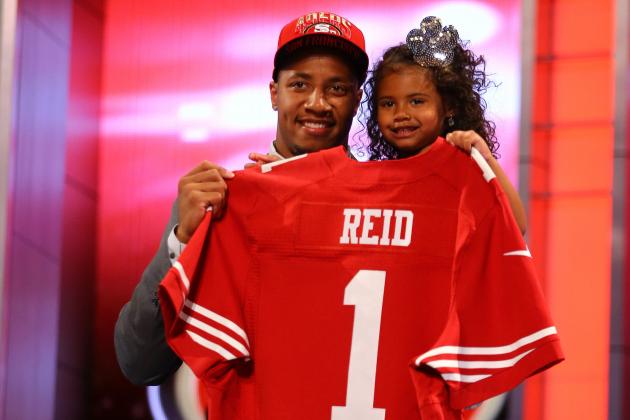 Al Bello/Getty Images

What a whirlwind season for Jim Harbaugh and the San Francisco 49ers in 2012.
Prior to last season, who would have thought second-year quarterback Colin Kaepernick would lead the Niners to the Super Bowl?
Based on the Niners' 2011 season, fans and media members alike would have pegged Alex Smith as San Francisco's signal-caller for at least one more year. Through nine games in 2011, that was indeed the case, but then came the concussion that ended Smith's reign as the starter on Nov. 11, 2012.
The following week against the Bears, Kaepernick took over and never looked back. He went on to lead the Niners to their first Super Bowl appearance since the 1994 season. Despite coming up short in the biggest game of their careers, the 49ers picked up the pieces and put together an incredibly impressive offseason.
They traded for wide receiver Anquan Boldin, added key depth in free agency and cleaned up on all three days of the draft. First-round pick Eric Reid will step in and start at safety, while Vance McDonald, Tank Carradine, Corey Lemonier and Quinton Patton all proved to be great value selections.
A rock-solid 2012 season and a home-run offseason only mean heightened expectations for Harbaugh and Co. in 2013.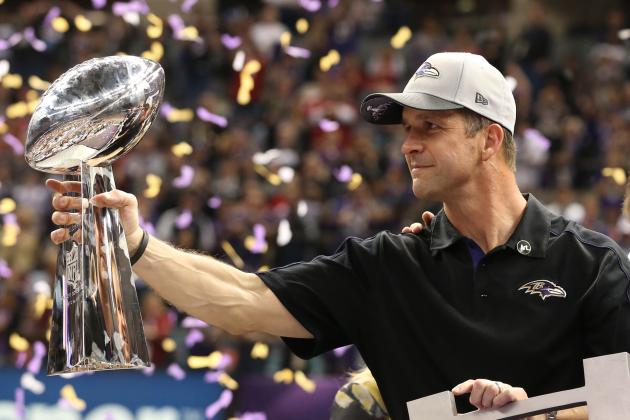 Matthew Emmons-USA TODAY Sports

From one Super Bowl team to the next—the Baltimore Ravens are seemingly under more pressure in 2013 than the San Francisco 49ers.
Sure, the 49ers have heightened expectations to take the next step and win it all in 2013, but they don't have the same daunting task of repeating as Super Bowl champs.
Winning the big game in back-to-back NFL seasons has to be one of the biggest hurdles in all of professional sports. The task has been successfully completed just eight times in 47 years. The Ravens will give it their best shot this coming season with a largely remade roster on the defensive side of the ball.
Ray Lewis, Ed Reed, Bernard Pollard, Dannell Ellerbe and Cary Williams will not be easy to replace. However, if there is one person who has the ability to do it, it's GM Ozzie Newsome.
After a slow start to the offseason, Newsome picked up the pace toward the end of free agency. He replaced Kruger with Elvis Dumervil and Reed with Michael Huff. He also added Chris Canty at left defensive end and Marcus Spears at right defensive tackle. When the draft rolled around, he replaced Reed with Matt Elam and Lewis with Arthur Brown.
Slowly but surely, Baltimore's roster has started to take shape. Will John Harbaugh become the seventh coach in NFL history to hoist the Lombardi Trophy in back-to-back years, or will the Ravens come up short in 2013?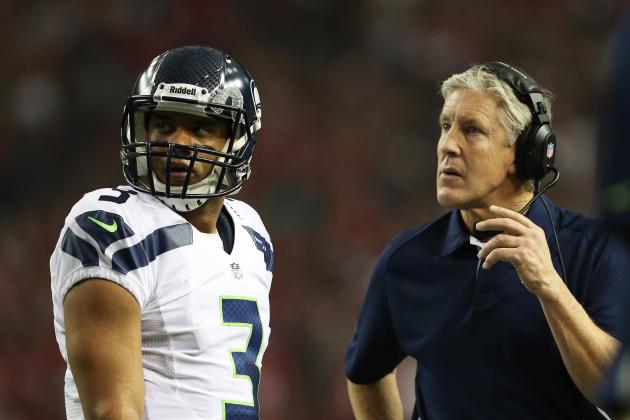 Streeter Lecka/Getty Images

After two playoff appearances in three years, head coach Pete Carroll and general manager John Schneider have plenty of job security heading into 2013. However, expectations in Seattle are running at an all-time high.
Prior to the 2012 season, the 49ers were seen as the class of the division by a wide margin, and rightfully so. They had just made it to the NFC Championship Game in 2011. No one expected Russell Wilson and the Seahawks to challenge San Francisco for the division.
Media members and fans alike assumed the Niners would run away with the division. Obviously, they made the Super Bowl, but they didn't exactly run away with the division, finishing just half a game ahead of Seattle. That means an ultra-talented Seahawks roster should feel the pressure to overtake San Francisco as NFC West champs.
To turn this expectation into a reality, Wilson will need to to avoid the dreaded sophomore slump in 2013, and his wide receiving corps will need to progress. The addition of Percy Harvin should help the wideouts as a whole, but Sidney Rice and Golden Tate need to improve upon their sub-1,000-yard seasons.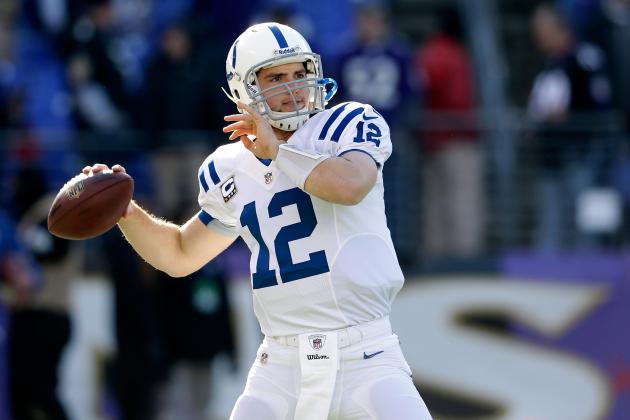 Rob Carr/Getty Images

In 2012, the Indianapolis Colts surprised anyone and everyone.
Leading up to the season, it was a well-known expectation that Andrew Luck would be a well-prepared signal-caller as a rookie, but who would have thought he would help transform the Colts into a playoff-bound team after a two-win season in 2011?
If Indianapolis had finished the 2012 season with six or seven wins, it would have been considered a success. Much like Russell Wilson and the Seattle Seahawks, the Colts will be under pressure to push for a divisional crown in 2013.
For that to happen, however, they will need to overthrow the Houston Texans.
The Colts solidified themselves as AFC South contenders late in the season when they bounced back from a Week 15 loss in Houston. Following that loss, the Colts won their final two games of the season.
In Week 16, they beat the Kansas City Chiefs by seven points on the road. Then, in Week 17, the Colts downed Houston by 12 points at home. This momentum helped propel them into the Wild Card Round of the playoffs. Unfortunately for them, they drew John Harbaugh's Baltimore Ravens, who then embarked on a Super Bowl run.
General manager Ryan Grigson didn't let one playoff loss keep his club down. He knows the best is yet to come, so he continued to make underrated moves during the offseason. Grigson upgraded the offensive line, the wide receiving corps and the defensive front seven through free agency and the draft.
These moves were all necessary, as the pressure will continue to mount from here on out.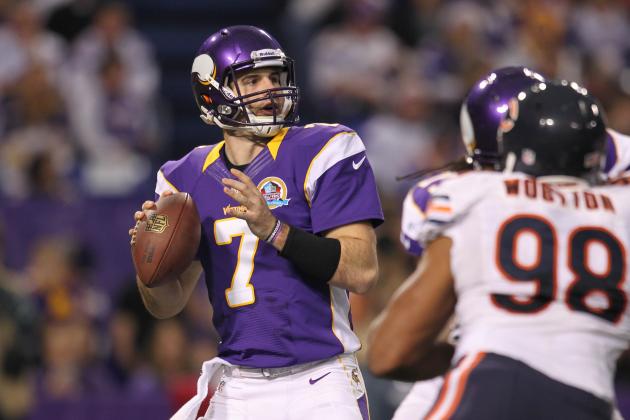 Brace Hemmelgarn-USA TODAY Sports

Even though the Minnesota Vikings rode Adrian Peterson all the way to the playoffs in 2012, general manager Rick Spielman knows he can't rely on one offensive player for all 16 games.
What if Peterson blows his knee out again or succumbs to another type of season-ending injury?
Football is the ultimate team sport, which is exactly why Spielman surrendered four draft picks to move back into Round 1 to select wideout Cordarrelle Patterson. Two first-round picks weren't enough; he wanted to make sure Christian Ponder had a viable playmaker on the outside at wide receiver.
Minnesota lacked a true No. 1 wideout outside of Percy Harvin last year, so snagging Patterson out of Tennessee proved the wide receiver position was no longer an afterthought. He will immediately be inserted into the starting lineup as the team's right wide receiver.
Along with Patterson, the Vikings drafted Sharrif Floyd and Xavier Rhodes on Day 1. Then on Day 3, they drafted the draft's best punter, interior offensive line help and defensive front-seven help. The organization feels the pressure of returning to the playoffs in 2013 after the Packers, Bears and Lions all turned in solid offseason performances.
The NFC North is one of the most competitive divisions in football. The North sported two 10-win teams and an 11-win team in 2012. This could easily be the case again in 2013.
The Vikings will look to outdo the Packers and win the division for the first time since 2009.