Atlanta Braves vs Cincinnati Reds: Monday Night Baseball Live Score, Analysis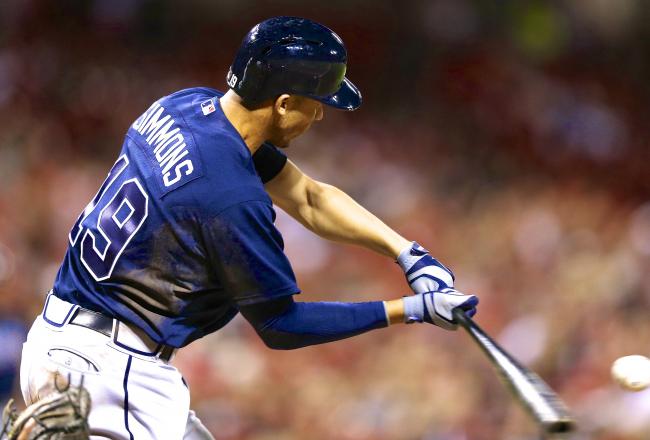 SCORE UPDATE:
FINAL: Reds 4-7 Braves
W: Maholm (4-3)
L: Arroyo (2-4)
S: Kimbrel (10)
HR: ATL- Simmons 2 (3, 4), Schafer (1)
Kimbrel gets Votto swinging to end the game!
Andrelton Simmons the hero tonight with two big home runs. Braves hold on, 7-4.
Cozart pops up to Freeman on an infield fly rule pop-up.
Votto up, two out and he is the tying run.
Lutz grounds a single between first and second.
By the way, Kimbrel as blow two out of his last three save chances.
One on for Choo as the top of the lineup resets.
Choo follows that up with a single past short. Tying run at the plate.
Paul hits a looper that Schafer snares off the grass in left for an out.
Replay looked to show the ball was trapped, but it was called an out and no one argued from the Reds.
One out for Lutz.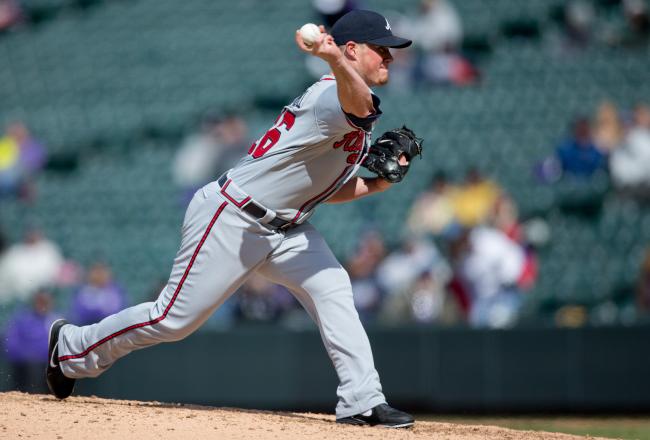 Xavier Paul is pinch hitting in the pitcher's spot to start the inning.
Kimbrel is indeed in to close this one out.
McCann pops out to left to end the inning.
Hoover settled right down after the walk and keeps the Reds within a shout in their half of the ninth.
Big second out as Hoover gets Pena swinging.
Atlanta hitters have struck out 15 times tonight.
Craig Kimbrel will pitch the bottom of the ninth when the time comes.
J.J. Hoover is in to pitch for the Reds and walks Justin Upton. Freeman then lines out to right.
Ramiro Pena is pinch hitting in Gattis' spot.
Mesoraco hits a broken-bat grounder to third to end the inning.
Reds cut the lead to three, but O'Flaherty slams the door.
After Bruce flies out to left, Frazier grounds out third, scoring Votto.
Phillips is on second and the 300th pitch of this game is delivered.
Phillips flares a single to right.
Votto holds at third and that will do it for Walden.
Eric O'Flaherty comes in to pitch as Jay Bruce bats.
Walden faced three batters and retired none.
Nobody out with runners on the corners.
Votto lines one down the line in left that Schafer just misses. That is a double and a run scored.
He has now hit in nine straight games.
Phillips up with nobody out and Votto on second.
Schafer stays in the game in left, replacing Gattis, and Jordan Walden comes in to pitch.
Cozart doubles off the bag at third to start the inning.
Votto at the plate.
Johnson grounds out to short to end the inning, but not before the Braves blow this one open.
Going downhill quickly for Ondrusek and the Reds as B.J. Upton reaches on a walk.
Still two out in the top of the eighth.
Jordan Schafer, pinch-hitting for Avilan, crushes one to right for a home run.
That ball is halfway up the bleachers and it is 8-2.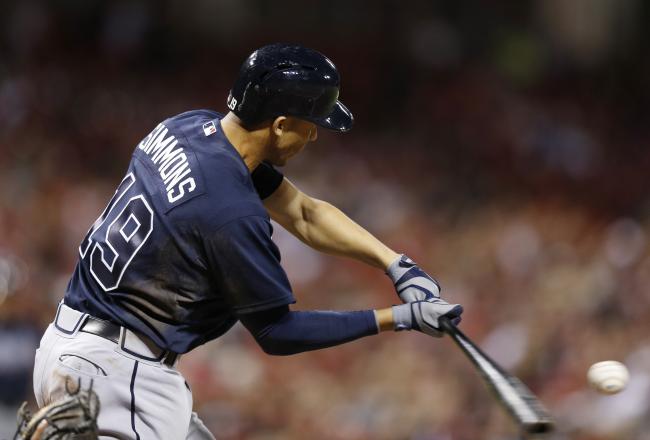 Gattis starts the inning by popping out to short.
McCann looks a little slow on the bat as he strikes out.
Uggla singles up the middle and scores as Andrelton Simmons homers deep to left in the seats.
His second home run of the night and his fourth of the year.
What a night for Simmons!
Couple changes for the Reds.
Lutz stays in the game in left. Logan Ondrusek is pitching and moves the pitches spot to eighth in the lineup.
Choo tries to steal second, but he stumbles a bit taking off.
Avilan threw to first and Choo was thrown out on the relay to second to nd the inning.
A big blunder as we head to the eighth.
Avilan gets Lutz swinging and that is the 21st strikeout combined on the night by both teams.
Choo, however, draws a walk.
Two out for Cozart.
Pinch-hitting for Robinson, Cesar Izturis grounds out to second to start the seventh.
Gearrin was pitching but, with Donald Lutz pinch hitting for Simon, Luis Avilan comes in to pitch.
Simon has struck out all 6 batters faced. His 6 K are a career high in relief (had 9 strikeouts in a start).

— Reds (@Reds) May 7, 2013
Simon now has struck out five straight as Justin Upton goes down swinging.
Freddie Freeman goes down by way of the K and Simon strikes out the side again!
Six batters faced, six punchouts.
Simon stays in to start the seventh and gets Johnson swinging.
That is the 11th strikeout tonight for Atlanta and a local pizza place in Cincinnati will be giving away free pizza's on that 11 number.
Line on Maholm: 5 2/3 IP, four hits, two earned runs, two BB, one HB, six strikeouts. 105 pitches (64 strikes)

— David O'Brien (@ajcbraves) May 7, 2013
This article is
What is the duplicate article?
Why is this article offensive?
Where is this article plagiarized from?
Why is this article poorly edited?