Ranking the 10 Most Potent Offensive Prospects in 2013 NHL Draft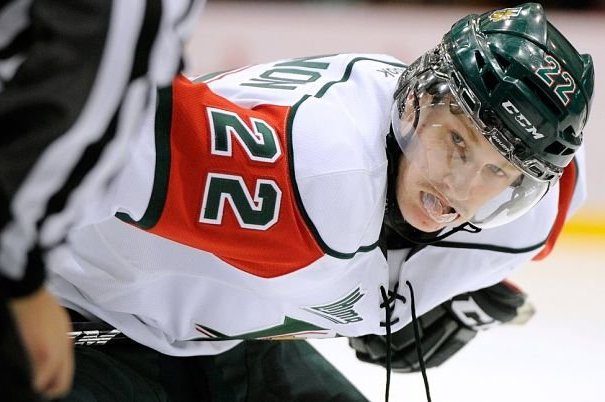 Getty Images
The 2013 NHL draft is going to feature many top prospects like Nathan MacKinnon and Jonathan Drouin of the Halifax Mooseheads, Valeri Nichushkin from Russia and Aleksander Barkov from Finland, but which one is the most potent offensively?
Each player has a unique skill set and different talents, and there are a number of players who could be drafted No. 1 overall in June. With the draft order set for the top 14 draft picks, here are the 10 2013 NHL draft prospects with the most potent offensive skills.
*Skater rankings are courtesy of NHL Central Scouting.
Begin Slideshow

»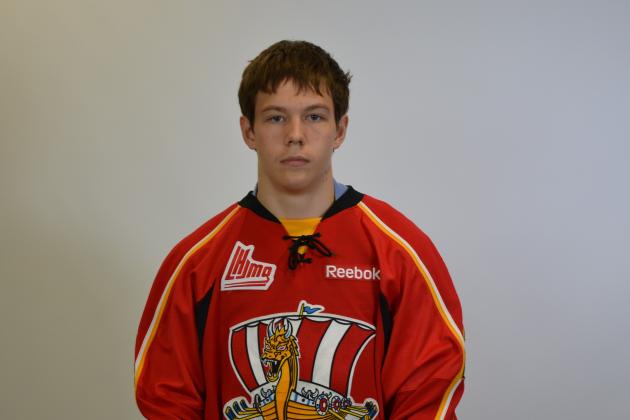 Credit: McKeen's Hockey
Valentin Zykov is a Russian right winger who stands 6'1" and weighs 215 pounds. The 17-year-old forward is an offensive threat who skates with speed, and in 67 games he scored 40 goals and added 35 assists for 75 points.
Zykov is a player who could rise on draft day because of his strong season, and he is a player with good upside.
He was the No. 7-ranked North American skater by NHL Central Scouting, and he is a player who should be a solid mid-round draft pick.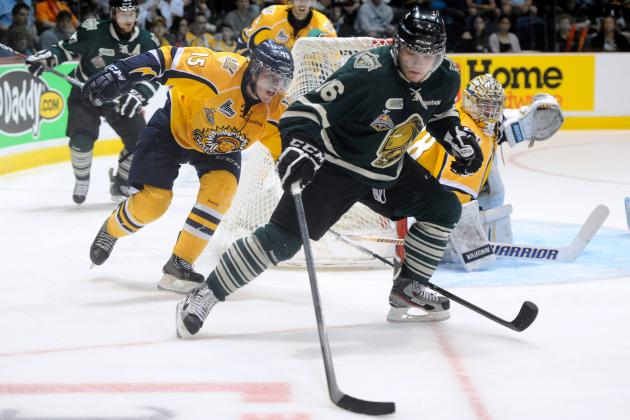 Richard Wolowicz/Getty Images
Domi (in green) is an offensive forward who should go in the top 15.
Max Domi is a 18-year-old forward who plays left wing and center for the London Knights of the OHL; he stands 5'9" and weighs 193 pounds. Domi plays with the same energy and tenacity that his father Tie did, but he has a more versatile and offensive skill set.
Domi is a two-way threat, and in 2012-13 he tallied 39 goals and 48 assists for 87 points in 64 games. In this draft Domi should go in the first round, but it remains to be seen if he will be a top-10 pick.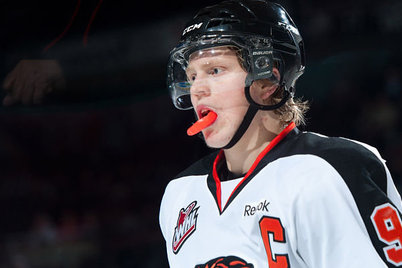 Hunter Shinkaruk is a forward who can play center and right wing, and with the Medicine Hat Tigers he scored 37 goals and added 49 assists for 86 points in 64 games.
Despite his size of 5'11" and 174 pounds, Shinkaruk is strong on the puck and likes to drive to the net. He is a tenacious player who is still growing, and he should develop into a nice scoring forward.
Shinkaruk was the No. 6-ranked North American skater by NHL's Central Scouting, and he is a player who should be drafted in the top 10.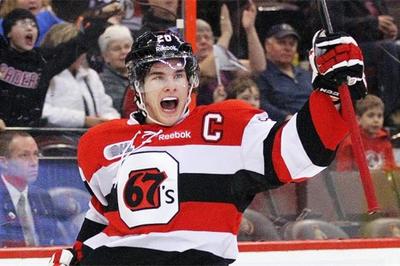 Photo Credit Ottawa Citizen
Sean Monahan was the star of an Ottawa 67's team that struggled mightily during the 2012-13 OHL season. The 6'2", 186-pound center led his team in scoring with 31 goals and 47 assists for 78 points in 58 games.
Monahan carried the 67's so much that the No. 2 scorer on the team had 51 points, 27 fewer than Monahan. In this draft, Monahan should be drafted between No. 5 and No. 10, and whatever team drafts him will be getting a top-notch prospect.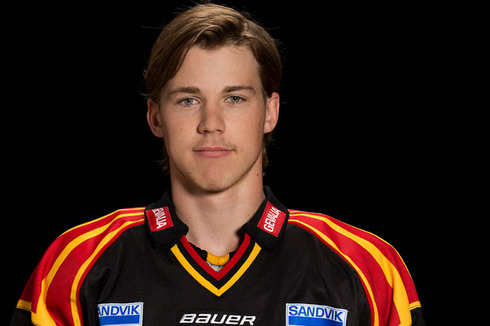 Photo Credit: Dobber Hockey
Elias Lindholm is a small center at 5'11" and 181 pounds, but he is a skilled player who has a lot of offensive upside. Lindholm was a key part of Team Sweden at the World Junior Championships this year, and he took home a silver medal for his efforts.
In the SEL with Brynäs IF, Lindholm had 30 points in 48 games, and it was a great developmental year for him. Lindholm previously had no points in 12 games with the club in 2011-12.
As the No. 3-ranked European skater by NHL Central Scouting, Lindholm should be drafted early in the first round.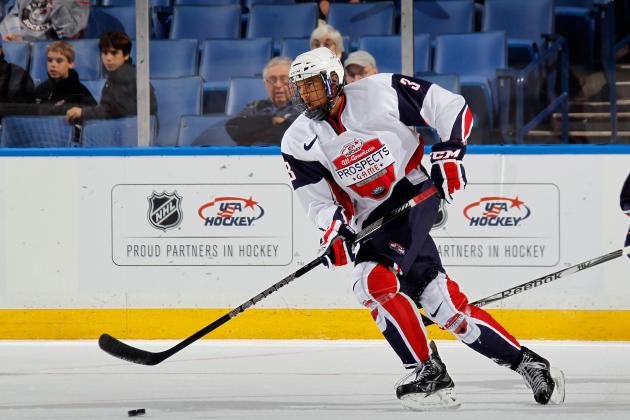 Bruce Bennett/Getty Images
Jones should go No. 1 at the draft.
Seth Jones is the top defenseman entering the 2013 NHL draft, but he is also a top offensive prospect. Jones is 6'3" and 208 pounds, and he tallied 56 points in 61 games with the Portland Winterhawks in 2012-13.
He was the youngest player on Team USA's roster at the World Junior Championship this year and is a mature player with a ton of skill. Jones' size and skating ability make him a good asset on the power play. He has the potential to be a legitimate star at the NHL level.
Jones is expected to be the No. 1 pick at the draft; it would be surprising if the Colorado Avalanche decide to pass on him.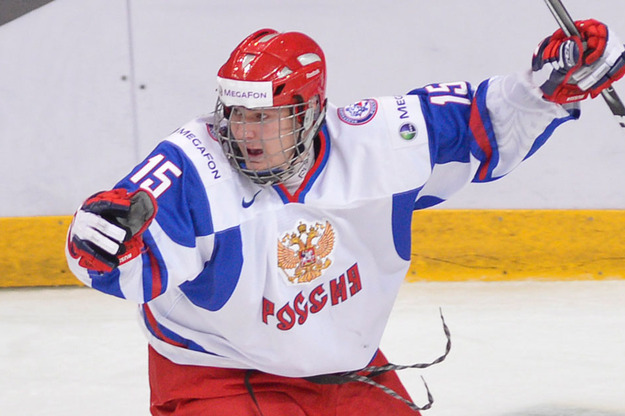 Photo Credit: The Windsor Star
Valeri Nichushkin is a member of Traktor Chelyabinsk of the KHL, and he was No. 2 ranked European skater by NHL Central Scouting. Nichushkin is an ideal sized winger at 6'4" and 196 pounds, and he has solid offensive instincts.
He still has room to grow, and for that reason he is a player who should go between No. 3 and No. 6 in June. His size allows him to protect the puck as he drives to the net, and he put up 23 points in 41 games in the KHL this season.
Nichushkin has a contract in the KHL so he may not come over immediately being drafted, but he could be the steal of the draft if he slides because of "the Russian factor."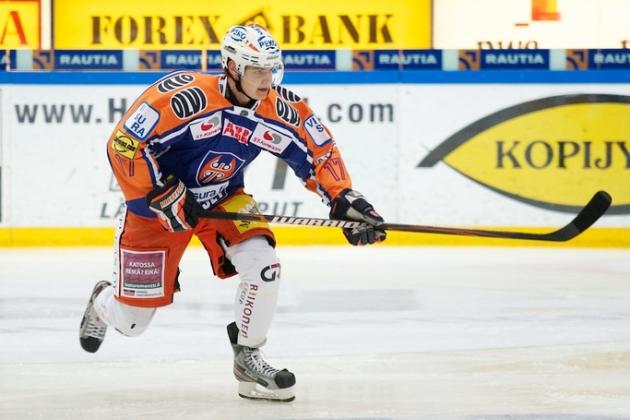 Photo Credit: Tappara Team Website
Aleksander Barkov is the top European skater in the 2013 NHL draft, according to NHL Central Scouting, and he had an amazing year in the SM-liiga with Tappara. The 6'3", 205-pound center scored 21 goals and added 27 assists for 48 points in 53 games and posted a plus-18 rating.
Barkov has tremendous offensive upside, and he is a skilled passer and puck-handler. His ability to use his size and his offensive abilities should be enough to convince teams like the Florida Panthers and Tampa Bay Lightning to use the No. 2 or No. 3 pick on him, but he will probably be selected No. 4 overall by the Nashville Predators.
Barkov is the type of player the Predators could use, and he would join a prospect pool currently highlighted by Filip Forsberg.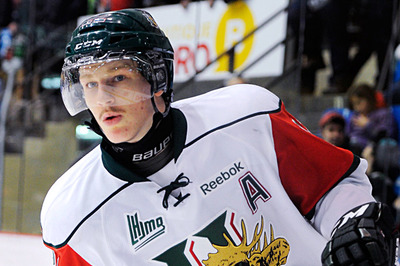 Richard Wolowicz/Getty Images
Nathan MacKinnon is the top center entering the 2013 NHL draft, and he is being heralded as a potential franchise center. MacKinnon will turn 18 in September and as a 17-year-old he posted solid numbers in the QMJHL. MacKinnon scored 32 goals and assisted on 43 others for 75 points in 44 games.
MacKinnon has been compared to Sidney Crosby because both are from Cole Harbour, Nova Scotia and because both played at Shattuck St. Mary's, but he isn't as dynamic as Crosby is. Nonetheless, MacKinnon has tremendous offensive skills and upside, and he will be drafted No. 2 or No. 3 in June.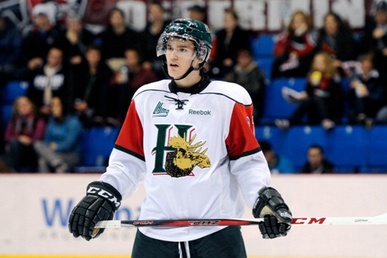 Photo Credit: Hockey's Future
Jonathan Drouin is the top offensive player entering the 2013 NHL draft, and if the Colorado Avalanche weren't in desperate need of a franchise defenseman he would probably be selected No. 1 overall. Drouin is a dynamic left winger at 5'11" and 185 pounds, and his offensive skills are outstanding.
He is a speedy skater, he has great hands as a passer and he has an NHL shot. Drouin scored 41 goals and tallied 64 assists for 105 points in 49 games, and he finished the season with an average of 2.14 points per game.
Drouin should be the No. 2 pick as the future winger of Florida Panthers center Nick Bjugstad, but if Drouin falls to No. 3, Tampa Bay Lighting GM Steve Yzerman will be happy to draft him to become Steven Stamkos' future winger.
Drouin's hockey IQ and set of skills make him one of the top players in the draft, and he has a very bright future.