Early Projections for Packers' Final 53-Man Roster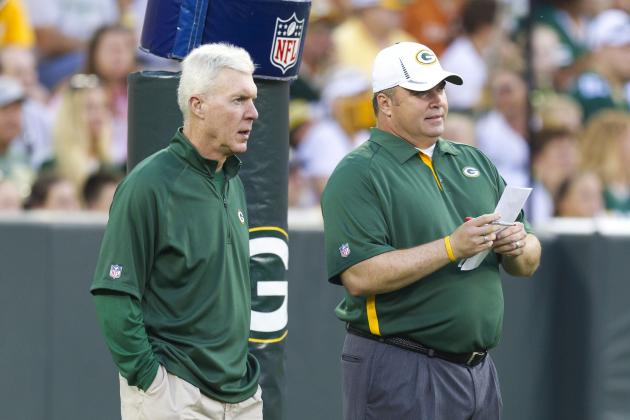 Jeff Hanisch-USA TODAY Sports

I know. Trying to predict a final roster before Organized Team Activities (OTAs), mini-camps and training camp is usually fruitless. Count me as one of the observers who enjoys training camp and the preseason.
I like to see players who were not even drafted make the team. It seems to happen every year under coach Mike McCarthy and his staff.
Examples include cornerback Sam Shields and punter Tim Masthay in 2010, safety M.D. Jennings in 2011 and offensive lineman Don Barclay, wide receiver Jarrett Boykin and outside linebacker Dezman Moses last year.
Another thing that usually occurs under coach McCarthy and his coaching staff is the growth players in their second and third year start to have on the football field. Those players are stronger, more assignment-sure and used to the daily regimen of life in the NFL.
All that being said, I'm going to try to project the Packers' final 53-man roster this summer as the team breaks training camp and heads into the 2013 regular season.
There will be a number of very difficult cuts, but that is because Ted Thompson has put together a very deep roster, especially in certain position-areas.
I'll give an explanation for each position.
Begin Slideshow

»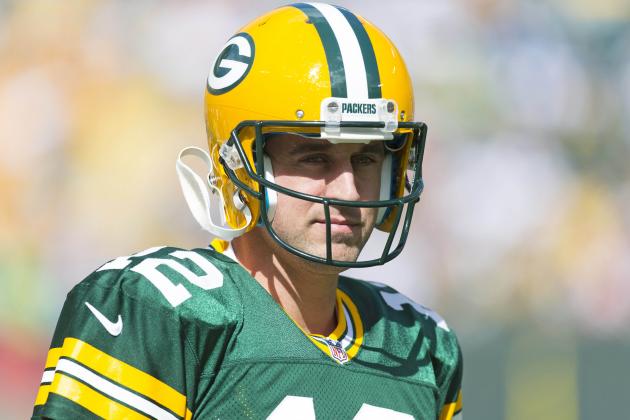 Jeff Hanisch-USA TODAY Sports

Graham Harrell
Like last season, I see the Packers keeping only two quarterbacks on the final roster. A third will be assigned to the practice squad. Obviously, Aaron Rodgers is a given.
Even with his very inconsistent and non-productive start in the preseason of 2012, Mike McCarthy has never wavered in his support of Graham Harrell. Tyler Dunne of the Milwaukee Journal Sentinel wrote about that situation a couple of days ago.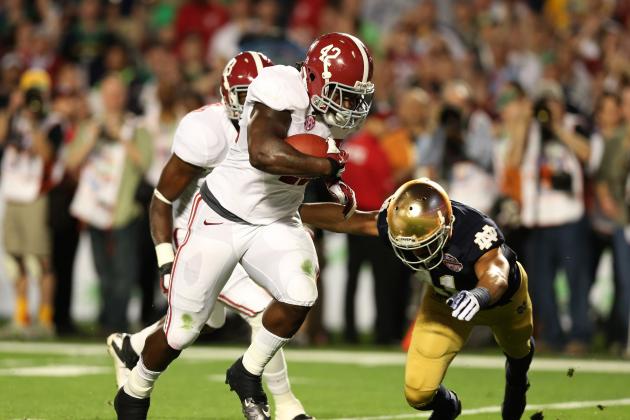 Matthew Emmons-USA TODAY Sports

Eddie Lacy
Johnathan Franklin
DuJuan Harris
Alex Green
With the drafting of both Eddie Lacy and Johnathan Franklin in this year's NFL draft, that means at least one of the current running backs on the team most likely has to go. To me, the choices are either James Starks or Alex Green, as I see the Packers definitely keeping DuJuan Harris.
This decision could go either way. The Packers saw what Starks could do in the 2010 postseason when he led all NFL running backs with 315 yards rushing. The problem with Starks has been that he always seems to get hurt, plus has been known to blow some assignments.
The coaches also saw Green come back from an ACL tear in 2011. He led the Packers in rushing last season (464 yards) before he wore down due to scarring from his ACL the year before.
I see Ted Thompson trading either Starks or Green for a mid-to-late draft choice. Right now, I'm leaning that he trades Starks. But that's only a hunch.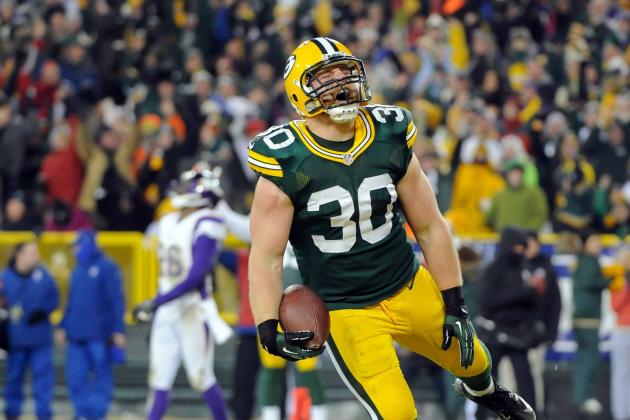 USA TODAY Sports

John Kuhn
The situation at fullback seems like it will stay the same. Or will it? Folk hero John Kuhn will probably return as the main fullback, but the Packers do have some options.
Tight end Ryan Taylor also played fullback in college at North Carolina, so that is a possibility. Plus, the Packers did bring in free agent fullback Peyton Hillis for a visit, although the team has not signed him up to this point.
Kuhn does enough on the field to probably warrant another year with the Pack. He is a core special teams player and a safety valve option for Aaron Rodgers in the passing game. The short yardage rushing attempts by Kuhn will be passed on for the most part to Eddie Lacy.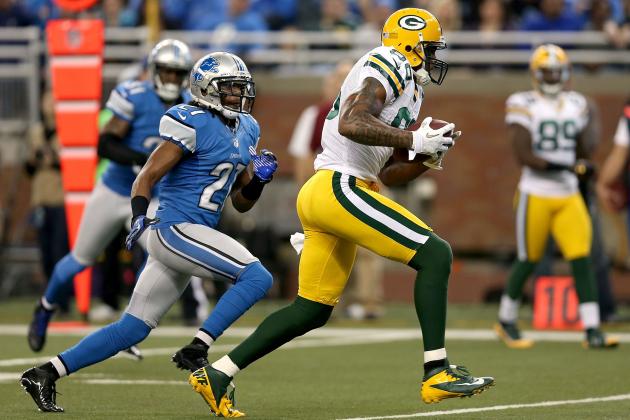 Matthew Stockman/Getty Images

Jermichael Finley
D.J. Williams
Ryan Taylor
Andrew Quarless
Mike McCarthy loves having tight ends on his team, having played the position himself in college. I see the Packers keeping four tight ends on the roster in 2013, with perhaps undrafted rookie Jake Stoneburner on the practice squad.
I see Jermichael Finley, D.J. Williams and Ryan Taylor on the squad. The signing of free agent Matthew Mulligan, was just in case Andrew Quarless has not recovered sufficiently from his ACL tear in 2011.
If he has, I see Quarless getting the nod, as he is the best blocking tight end on the team now, plus can be a threat down field at times as a receiver. Based on the reports I've heard, Quarless makes the roster.
This season will also be a big one for Finley. If he expects to stay in Green Bay after the 2013 season, Finley needs to show the consistency he showed in the latter-half of the 2012 season. If that happens, I see the Packers signing him to an extension at some point.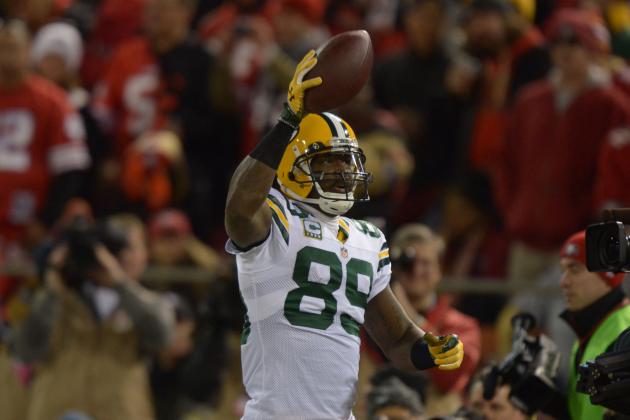 Kirby Lee-USA TODAY Sports

James Jones
Jordy Nelson
Randall Cobb
Jarrett Boykin
Jeremy Ross
Charles Johnson
Even with the losses of Donald Driver (retirement) and Greg Jennings (free agency), the Packers will still have one of the most talented wide receiving groups in the NFL. That is led by the big three of James Jones, Jordy Nelson and Randall Cobb.
I see the Packers keeping both Jarrett Boykin and Jeremy Ross on the team as well. I also see Ross becoming the main returning threat for the Packers, as Cobb will focus solely on his duties as wide receiver and as a slot-running back at times.
Seventh-round draft pick Charles Johnson has an excellent shot to open some eyes with his size and speed, as the Packers will open the season with six wide receivers.
The 2013 season will be a big one for Jones, who led the NFL in touchdown receptions (14) in 2012. Jones will be an unrestricted free agent after the season, so he looks to have a big year to add to his value.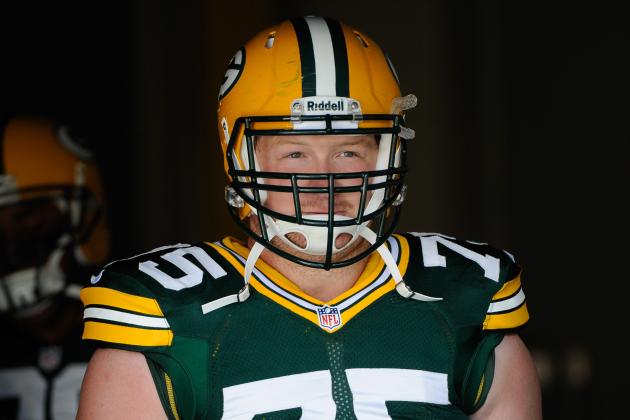 Benny Sieu-USA TODAY Sports

Bryan Bulaga
Josh Sitton
Evan Dietrich-Smith
T.J. Lang
Derek Sherrod
Don Barclay
David Bakhtiari
J.C. Tretter
Andrew Datko
The offensive line situation is probably the most compelling story on the roster. The big news is that the team has decided to move both Bryan Bulaga and Josh Sitton to the left side of the line to help protect Aaron Rodgers on his blind side.
I think Bulaga, Sitton, Dietrich-Smith and Lang are pretty much locks to make the team. The Packers liked what they saw of Don Barclay last season, plus he can play both inside and outside, so he too is a good possibility to make the team.
The Packers invested two fourth-round picks on David Bakhtiari and J.C. Tretter, so unless something drastic happens to them in camp, they are also good possibilities to make the squad. I see Bakhtiari as a possible starter at right tackle, while Tretter will most likely move inside to play guard/center.
That leaves three guys fighting for two jobs in my opinion. The three players are Derek Sherrod, Marshall Newhouse and Andrew Datko. If Sherrod is finally healthy after his horrific leg break from late in the 2011 season, I see him not only making the team, but also the possible starter at right tackle.
Then it would come down to either Newhouse or Datko. Newhouse has started the past two seasons at left tackle, but he has not distinguished himself, as he has allowed 24.5 sacks in those two years. Datko was on the practice squad last season, but if he is healthy (like he was for most of his career at Florida State), the former Seminole has real upside.
Call it a gut feeling, but I think the short end of the stick will probably go to Newhouse.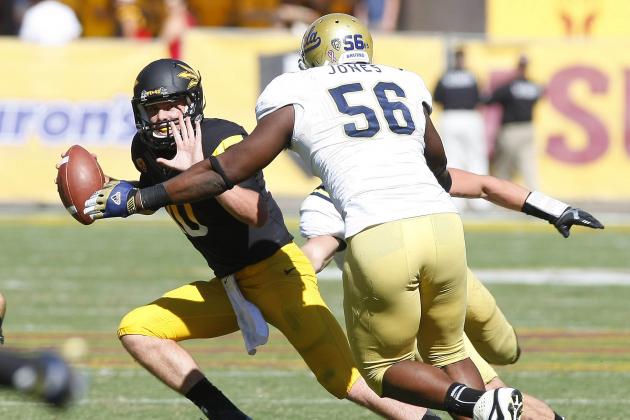 Rick Scuteri-USA TODAY Sports

Datone Jones
B.J. Raji
Ryan Pickett
Mike Neal
Josh Boyd
Mike Daniels
With the drafting of Datone Jones in the first round of this year's NFL draft, the Packers hope to have a dynamic playmaker on their defensive line, to go along with the likes of Clay Matthews at outside linebacker.
I think Jones, B.J. Raji, Ryan Pickett and Mike Neal are virtually locks to make the team.
I don't see Jerel Worthy as being a factor in 2013, after having an ACL injury late in the 2012 season. Worthy will probably be placed on injured reserve.
I see the Packers keeping six defensive linemen on the roster, which means the the final two spots will come down to C.J. Wilson, Mike Daniels, Johnny Jolly and rookie Josh Boyd.
Wilson is pretty good against the run on early downs, while Daniels can get after the passer on passing downs. Boyd looks to be a lot like Wilson, except he is a bit bigger. Jolly hasn't played in the NFL since the 2009 season, and the odds are long that he will be as good as he was four years ago after spending some time in prison.
Bottom line, I see both Daniels and Boyd winning the final two spots on the defensive line.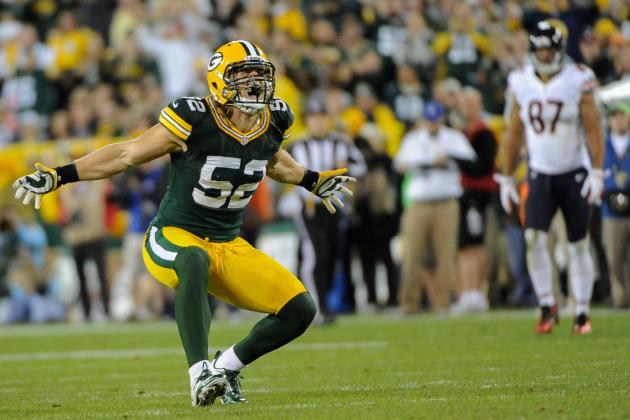 Benny Sieu-USA TODAY Sports

Clay Matthews
Nick Perry
Dezman Moses
Nate Palmer
Clay Matthews continues to be one of the very best outside linebackers in the NFL. Matthews had 13 sacks in just 12 games last year, as he was named to his fourth straight Pro Bowl.
The Packers need Nick Perry to become the player they expected him to be after selecting him in the first round of the 2012 draft. Perry showed flashes last year before his season ended after six games (wrist injury), but the team needs better consistency and big plays from him.
The main backup is Dezman Moses (four sacks), who was an undrafted rookie in 2012. Moses looks to be joined by Nate Palmer, who was a defensive end in college, before the Packers drafted him in the sixth round. Palmer had 17 sacks his last two seasons at Illinois State.
The Packers also can have both Brad Jones and Terrell Manning play outside linebacker if the need warrants it.
Jeff Hanisch-USA TODAY Sports

Desmond Bishop
A.J. Hawk
Brad Jones
Terrell Manning
Robert Francois
The Packers were dealt a huge loss last season, when Desmond Bishop was lost for the entire regular season after a hamstring injury in the very first preseason game. The loss of Bishop was key, as he is one of the more physical players on the defense.
The Packers restructured the contract of A.J. Hawk, plus gave Brad Jones a new deal, after he flirted with free agency. It will be interesting to see who gets the majority of the playing time between Bishop, Hawk and Jones.
The team also expects big things from Terrell Manning, who suffered from a lingering illness in the training camp which affected his entire rookie season.
Robert Francois is assignment-sure when given the opportunity to play, plus is one of the biggest contributors on special teams.
Jeff Hanisch-USA TODAY Sports

Morgan Burnett
Jerron McMillian
M.D. Jennings
Micah Hyde
The safety position will be one of the key areas to look at this season, to see how successful the Green Bay defense will be. Right now, it looks like Morgan Burnett will man one safety job, after leading the team in tackles (123) in 2012, along with two interceptions and two sacks.
The other safety job will belong to either Jerron McMillian or M.D. Jennings, who both saw significant playing time in 2012, especially after veteran Charles Woodson suffered another broken collarbone. Both McMillian and Jennings are still developing, so whoever can show more growth at the position, will probably win the job.
There is also the possibility that the Packers might re-sign a player like Woodson, but at this point it doesn't appear likely.
Fifth-round draft pick Micah Hyde played cornerback at Iowa, but has the size and ability to play safety as well.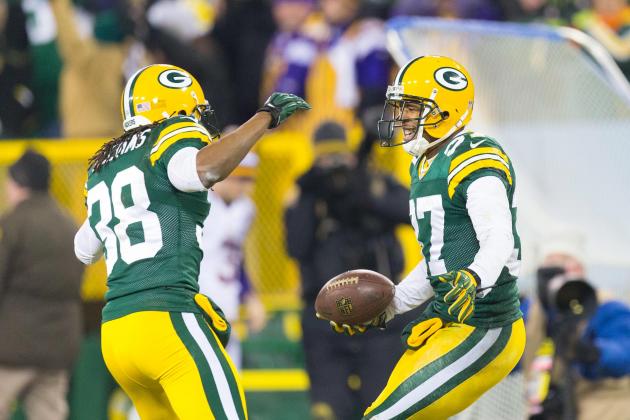 USA TODAY Sports

Sam Shields
Tramon Williams
Casey Hayward
Davon House
Jarrett Bush
The Packers have a lot of talent at the cornerback position. Without a doubt, the player that turned the most heads last season was rookie Casey Hayward, who mostly played the slot-corner position. Hayward had six interceptions, plus had a whopping 27 passes defended.
Sam Shields looked a lot last year like he did in 2010, when he played very solidly as an undrafted rookie. Shields had three picks and had 13 passes defended.
Tramon Williams had some issues at times last season, but he was still trying to come back from a lingering shoulder injury from the 2011 season. Still, Williams had two interceptions and had 18 passes defended.
Davon House looked very good in training camp until he hurt his shoulder in the preseason, but he still played pretty good with a brace on in the regular season.
Jarrett Bush's main responsibility is on special teams, where he is one of the core players there.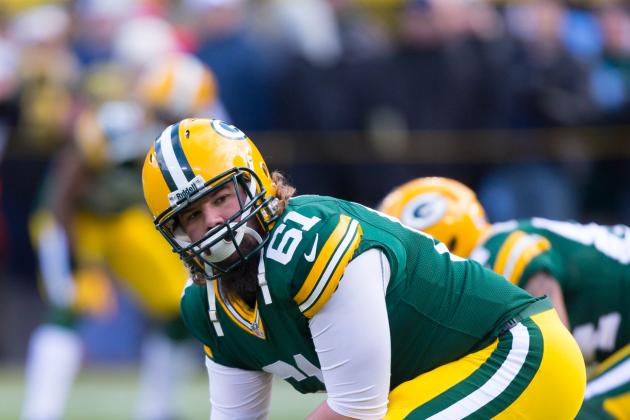 Jeff Hanisch-USA TODAY Sports

Brett Goode
As far as long snappers go in the NFL, Brett Goode is one of the very best. I can't recall a bad snap on a field goal or punt since Goode took over the long snapping duties in 2008.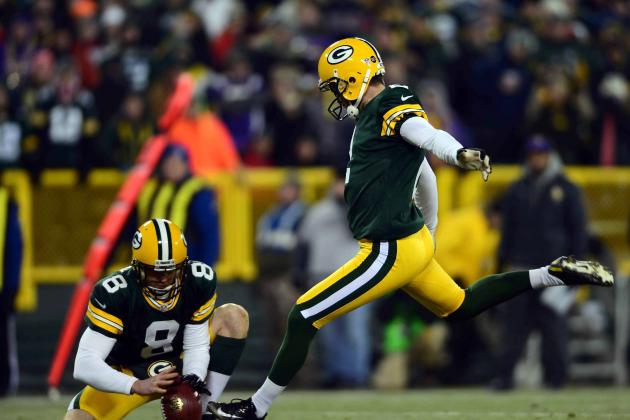 USA TODAY Sports

Mason Crosby
Because of the difficulties Mason Crosby had during the 2012 season, when he was just 21-of-33 in field goals, the Packers have brought in a kicker to challenge Crosby in training camp. That would be left-footed kicker Giorgio Tavecchio, who tried out for the 49ers last year.
I think the competition will be good for Crosby, but much like the belief Mike McCarthy has in backup quarterback Graham Harrell, the same holds true for Crosby with McCarthy and special teams coordinator Shawn Slocum.
Bottom line, I think Crosby will get his act together and will keep his job as kicker for the Pack.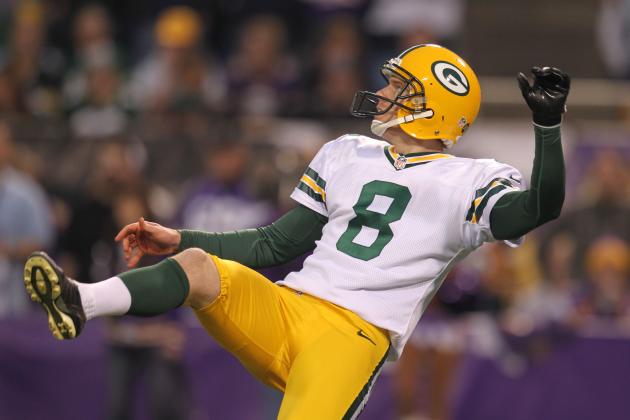 Brace Hemmelgarn-USA TODAY Sport

Tim Masthay
The Packers have seen the punting game get better every year Tim Masthay has become their regular punter. Masthay has never had a punting average below 43.5 yards in three seasons, plus was able to place 30 punts inside the opponent's 20-yard line last season.