Grading Every Boston Celtics Starter in 2012-13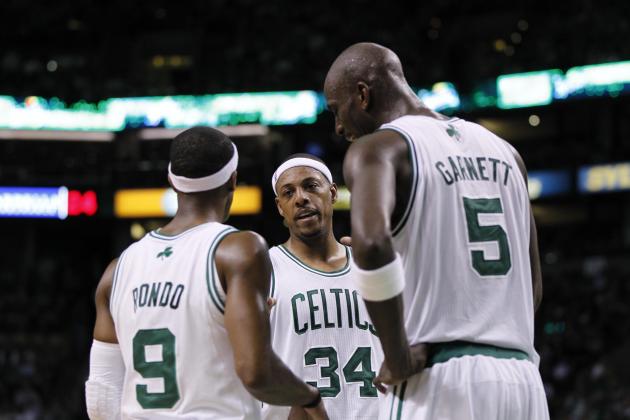 Greg M. Cooper-USA TODAY Sports

Did we just witness the end of the Kevin Garnett-Paul Pierce era in Boston?
That's the question on everyone's mind after watching the Boston Celtics fall in six games to the New York Knicks in the opening round of the 2013 playoffs.
When Rajon Rondo tore his ACL in January, the Celtics were largely presumed to be toast. They'd be lucky to make the playoffs, the theory went, even if the Eastern Conference lacked more than a handful of truly competitive teams.
Instead, the proud-but-old Celtics finished with the No. 7 seed in the East and put a legitimate scare into the Knicks before bowing out in the opening round of the playoffs.
With Boston's season officially over, let's take a look back at how each Celtics starter did in the 2012-13 regular season and postseason.
Note: Only players who started at least 15 games for the Celtics are featured here, organized in order of how many regular-season games they started (least to most). All advanced statistics come from either Basketball-Reference or NBA.com/stats, except where otherwise noted.
Begin Slideshow

»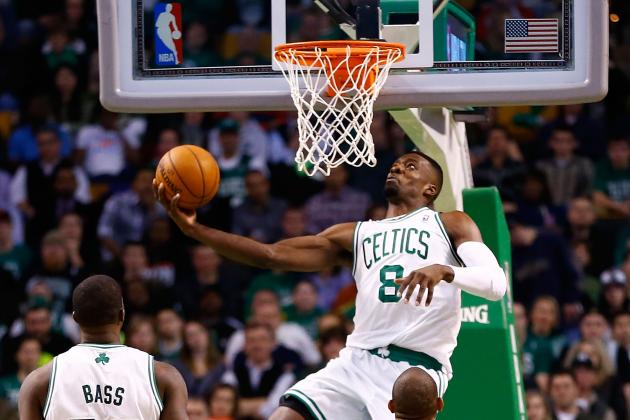 Jared Wickerham/Getty Images

As a Georgetown graduate, I'm always going to have a soft spot in my heart for Jeff Green.
In 2012-13, Boston Celtics fans got their first real chance to fall for Uncle Jeff like the mid-2000s Hoyas fanbase did.
After missing the full 2011-12 season due to heart surgery, Green struggled to find his footing in the first half of 2012-13. He only averaged 10.3 points on 44.3 percent shooting and 3.3 rebounds per game before the All-Star break, looking largely like a $36 million mistake.
He turned on the jets after the break, though, jumping to 17.3 points on 49.3 percent shooting and 5.0 rebounds per game. Doc Rivers inserted Green into the starting lineup late in the season mostly out of necessity, and he rewarded Doc by taking off running with that role.
After drawing the fury of Celtics fans for the first half of the season, TD Garden started raining with "Jeff Green" chants by March and April. He also began showing some long-clamored-for flash in his game, breaking out at least one or two SportsCenter Top 10 dunks most nights.
Based on his pre-February performance, it's tough to give Green too high of a grade for 2012-13. We can't be spoiling the curve here, after all. Given his final two months of the season, however, Green looks more like a cornerstone in the Celtics' rebuilding process rather than a $9 million-per-year mistake.
2012-13 Season Grade: B+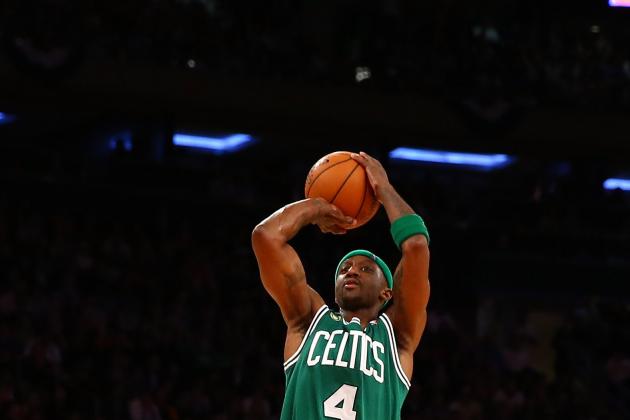 Al Bello/Getty Images

Jason "JET" Terry hardly managed to make it off the runway in his first season with the Boston Celtics.
Coming into the 2012-13 season, Terry was seen as a glass-half-full replacement for Ray Allen, who spurned the Celtics in free agency in favor of the Miami Heat. Allen may be the all-time NBA leader in made three-point field goals, but Terry trails only slightly behind, ranking fourth all-time.
Throw in Terry's ability to create his own shot off the dribble, which wasn't one of Allen's strengths in Boston, and JET looked like the quintessential microwave scorer off the bench who'd go off for 15-20 points per night easily.
Instead, Terry never managed to get into an offensive rhythm during his first year in Boston. After knocking down just over 52 percent of his field-goal attempts in November, he shot 41.6 percent through the rest of the regular season.
To JET's credit, he did drain 37.2 percent of his three-point attempts during the 2012-13 regular season, only a shade off his career average (37.9 percent). In the first-round playoff series against the New York Knicks, Terry converted 44.1 percent of his 5.7 three-point shots per game, helping the Celtics rally from a 3-0 series deficit.
Had the Celtics beaten the Knicks in that series, J.R. Smith's elbow to Terry's face would be seen as the catalyst that sparked the greatest playoff rally in NBA history. Instead, Terry's first season in Boston ended up being largely a bust, albeit with a few highlights strewn in along the way.
2012-13 Season Grade: C-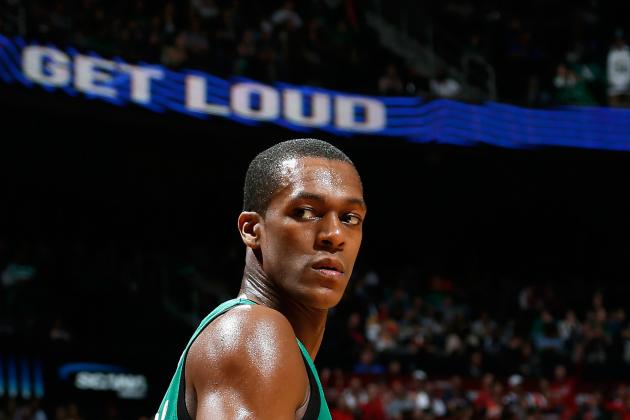 Kevin C. Cox/Getty Images

Rajon Rondo started off the 2012-13 season by tying the second-longest streak with 10 or more assists per game in NBA history.
He ended the season three months prematurely, thanks to a torn ACL in his right knee.
The Boston Celtics' mercurial point guard entered 2012-13 having dished at least 10 assists in each of his final 24 games during the 2011-12 season. He started right back where he left off, notching 10 or more dimes in each of his first 13 games this season.
His assists streak finally came to an end on Nov. 28 against the Brooklyn Nets, as Rondo was ejected after only 18 minutes of play for shoving Nets forward Kris Humphries into a row of courtside seats. The 37-game streak tied John Stockton for the second-longest in NBA history, trailing only Magic Johnson's 46-game streak from the mid-1980s.
Two months later, after a double-overtime loss to the Atlanta Hawks on Jan. 25, Rondo's season came crashing to a halt. Despite finishing with a triple-double (16 points, 11 assists and 10 rebounds), Rondo also tore the ACL in his right knee late in the game, something he didn't realize until two days later.
Before the injury, Rondo led the league in assists per game (11.1), posted a career-high 5.6 rebounds per game and tied his career high with 13.7 points per game. Instead of punishing him for getting injured, I'm recognizing Rondo's pre-injury contributions and also rewarding him for just how disjointed the Celtics' offense often became in his absence.
2012-13 Season Grade: A-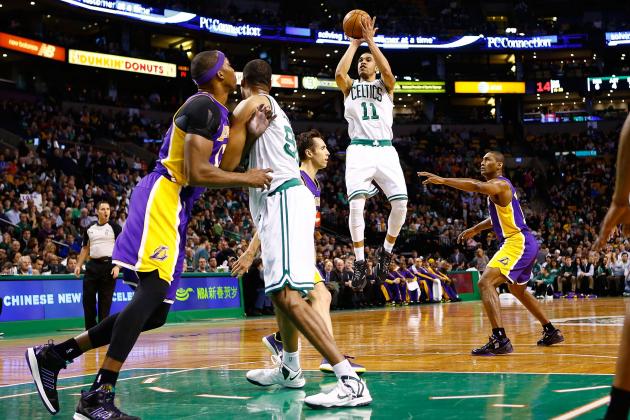 Jared Wickerham/Getty Images

The Boston Celtics sign-and-traded for Courtney Lee in the summer of 2012 to help fill the void left by Ray Allen in his departure to the Miami Heat.
Instead, Lee turned in an up-and-down performance during the first of his four-year deal with Boston.
The Celtics brought Lee in to space the floor with his outside shooting, except he converted only four of his 22 three-point attempts throughout all of November. He began the season as Boston's starting shooting guard, but quickly lost his starting spot to Jason Terry.
Lee grew progressively more comfortable on offense as the 2012-13 season progressed, even reclaiming his starting role when Rajon Rondo went down with a season-ending ACL tear. After suffering an ankle sprain on March 22, though, Lee fell out of the Celtics' rotation and never quite could regain his place.
During the first round of the playoffs, Lee played 20 minutes in Game 1 against the New York Knicks, then combined for a total of 19 minutes in the other five games. He earned two DNPs from Doc Rivers in the final three games of that series, and played only four minutes in the deciding Game 6.
Lee will have to improve defensively in 2013-14 if he hopes to play more regular minutes, as he ranked 191st in the league in points per possession allowed (0.87), according to Synergy Sports (subscription required). While all hope is not yet lost with Lee, he'll have to demonstrate the ability to contribute consistently next season to prove his signing wasn't a total bust.
2012-13 Season Grade: C-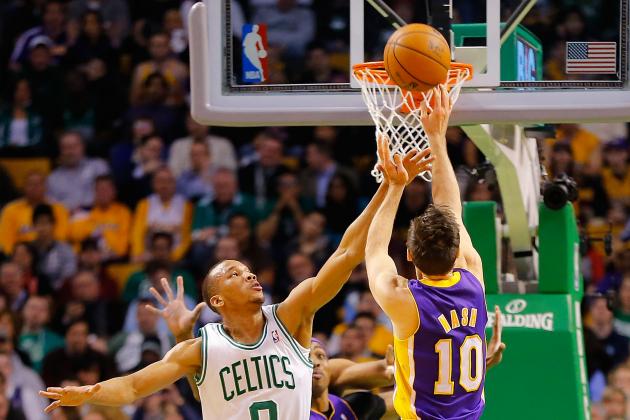 Jared Wickerham/Getty Images

Avery Bradley missed the first two months of the 2012-13 season to recover from shoulder surgery, then returned to wreak defensive havoc in the backcourt.
Bradley ranked 16th in the league in terms of overall points per possession allowed (0.73) during the regular season, according to Synergy Sports (subscription required). Opponents only shot 32.3 percent overall and 29.3 percent from three-point range when matched up against him.
He ranked within the top 50 players in the league in overall defense, isolation defense, defending the ball-handler in pick-and-roll, defending post-ups, defending spot-up shooters and defending hand-offs, according to Synergy. In short, the third-year player has already asserted himself as one of the premier wing defenders in the league.
If Bradley hopes to retain his starting spot once Rajon Rondo returns from ACL surgery, though, he still has plenty of work to do on the offensive end. After knocking down roughly 50 percent of his shot attempts and more than 40 percent of his three-point tries in 2011-12, Bradley barely cracked 40 percent shooting from the field in 2012-13 and drilled only 31.7 percent of his long-range attempts.
Granted, Rondo's injury played a huge part in Bradley's middling shooting percentages, as the Celtics had to rely on him as their de facto point guard in Rondo's absence. It's a role for which Bradley isn't necessarily well suited, as evidenced by how the New York Knicks picked him apart in the playoffs.
He'll need to improve his ball-handling ability and his long-range shooting to become a true threat next to Rondo in the starting lineup; otherwise, opponents will be able to pack the paint defensively and force the Celtics' backcourt to beat them from long-range. If Bradley rediscovers a functional three-point shot this summer, he'll be a player to watch in 2013-14.
2012-13 Season Grade: B
Jared Wickerham/Getty Images

It's difficult to find too many faults with a 36-year-old who's still capable of anchoring one of the NBA's more fearsome defenses.
Kevin Garnett ranked 29th in the league in terms of points per possession allowed in the 2012-13 regular season (0.76), according to Synergy Sports (subscription required). In the 108 times he directly defended a post-up attempt, opponents only scored 0.64 points per post-up (17th in the league).
Garnett also gobbled 25.8 percent of the total defensive rebounds available to him throughout the regular season. Once Jared Sullinger went down with season-ending back surgery at the beginning of February, Garnett started grabbing 28.8 percent of all defensive rebounds while on the court.
He's been the captain of the Boston Celtics' defense since joining the team in the summer of 2007, and old age hasn't dramatically slowed down that part of his game yet. He's still the same barking, snarling, rabid canine of a defender that he always has been.
Offensively, on the other hand, his game declined somewhat in 2012-13. He failed to shoot 50 percent from the field for the first time since joining the Celtics, most of which can likely be associated to problems with his ankles and Rajon Rondo missing the second half of the season.
If there's any question about whether K.G. can still produce as he approaches his late-30s, there shouldn't be. Garnett ranked second on the team (behind only Paul Pierce) with a season-long plus/minus rating of plus-112, and averaged nearly 14 rebounds per game against the New York Knicks in the C's first-round playoff series.
Ultimately, Garnett's future in Boston appears tied to Pierce at this point. If the Celtics buy Pierce out for $5 million this summer or opt to trade him, Garnett could decide to hang up his basketball shoes for good.
If the 2012-13 season was the end for Garnett, he went out just as he should: as a proud, old champion.
2012-13 Season Grade: A-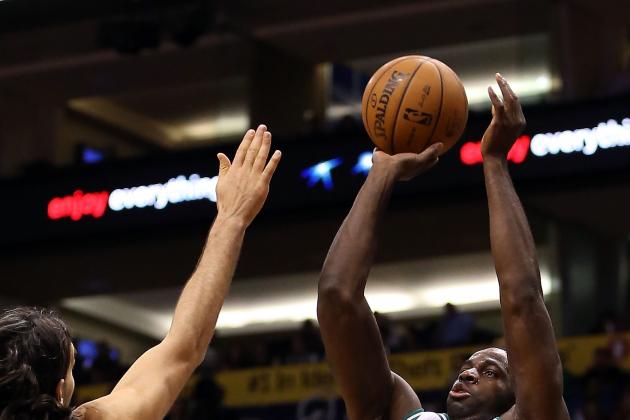 Christian Petersen/Getty Images

Remember when Brandon Bass was a valuable contributor in the Boston Celtics' 2012 playoff run?
It seems as though Bass never quite got the memo that he needed to carry those performances over to the 2012-13 season, especially after signing a three-year, $20 million deal in the summer of 2012.
He began the season as the Celtics' starting power forward, but temporarily lost his spot to Jason Collins in mid-December. After being plugged back into the starting lineup in early January, Bass again got replaced at the end of the month by Jared Sullinger, who only lasted two games before a back injury sidelined him for the rest of the season.
Throughout his shuffling in and out of the starting lineup, Bass struggled to develop a rhythm on either end of the court. He shot under 47 percent from the field in each of the first four months of the season and converted only 43.5 percent of his 239 mid-range jump shot attempts through February 28.
Bass finally got it going in the waning months of the season, averaging 9.3 points on 55 percent shooting in March and 13.9 points on 57.3 percent shooting in April. He was largely a non-factor in the playoffs, though, besides a 17-point explosion in Game 5 against the New York Knicks.
With Kevin Garnett's future in Boston a gigantic question mark, Bass will need to step his game up considerably in 2013-14 for the Celtics to stay relevant. Boston fans can only hope that the 2012-13 season goes down as a lost year for Bass instead of foreshadowing a precipitous decline.
2012-13 Season Grade: D+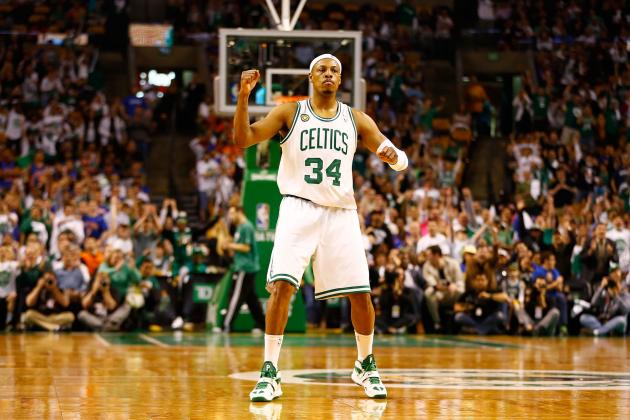 Jared Wickerham/Getty Images

Despite struggling with his shot at times, no Boston Celtic had as impressive a season as Paul Pierce did in 2012-13.
When Rajon Rondo went down for the season with his torn ACL at the end of January, Avery Bradley became the Celtics' de facto point guard. Except Pierce, not Bradley, was the one who ended up shouldering most of the playmaking load.
To wit: Pierce averaged 17.8 points, 7.6 rebounds and a LeBron James-esque 6.8 assists per game in February, then followed up with 19.9 points, 7.3 rebounds and 5.9 assists per game during March.
The Truth led the Celtics with a plus/minus rating of plus-123 even while shooting 43.6 percent overall throughout the regular season, his worst mark in nearly a decade. His season-long average of 4.8 assists per game was the highest it's been since the 2003-04 season, long before the Kevin Garnett era began in Boston.
Pierce's shooting woes did carry over in the Celtics' first-round playoff series against the New York Knicks, as he finished the series shooting only 36.8 percent overall and 26.8 percent from three-point range. He especially struggled from mid-range against the Knicks, converting only eight of his 30 attempts throughout the series.
Without Rondo, it's no surprise that Pierce struggled to get his shot off at times throughout the regular season and postseason. Considering the way The Truth stepped up when Rondo tore his ACL, his middling shooting efficiency doesn't detract from his overall excellence in 2012-13.
2012-13 Season Grade: A