2013 Stanley Cup Playoffs: 1 Adjustment Every Team Needs to Make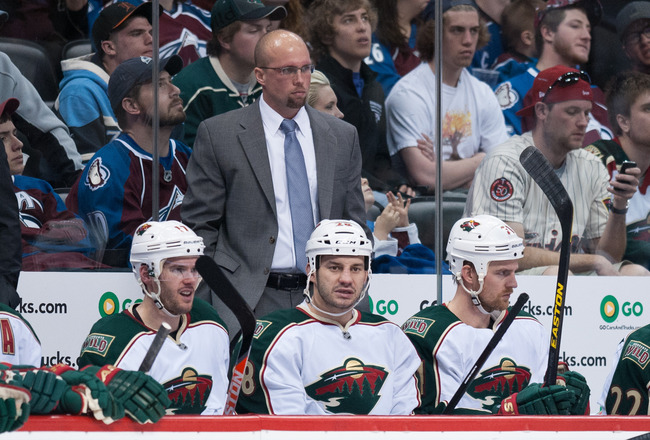 Mike Yeo can make some changes for the Wild.
Dustin Bradford/Getty Images
The first round of the 2013 Stanley Cup playoffs are underway, and the Boston Bruins fixing their penalty kill and the Minnesota Wild balancing their defensive pairings are among the many adjustments each team needs to make going forward
Here is one adjustment that every NHL team should make as the playoffs continue.
Anaheim Ducks: Faceoffs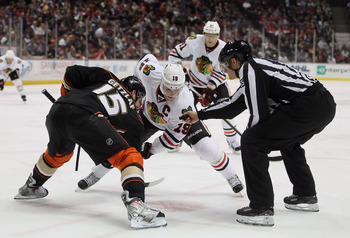 Faceoffs are very important in the playoffs.
Jeff Gross/Getty Images
The Anaheim Ducks have played very well thus far against the Detroit Red Wings, but the one adjustment they can make going forward is in the faceoff circle. The Ducks have only won a lackluster 45 percent of their draws through three games.
Faceoffs are an important element during the playoffs. A win in the offensive zone can help the power play, and a win in the defensive zone can help kill off a penalty. The Ducks will be looking to improve their penalty kill by improving their faceoff percentage,
Boston Bruins: Penalty Killing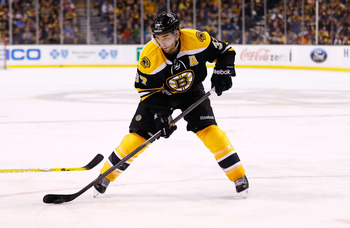 Bergeron is one of the Bruins' top penalty killers.
Jared Wickerham/Getty Images
The Boston Bruins have the fourth worst penalty-kill rating through two playoff games. They have a roster that is full of talented two-way forwards like Patrice Bergeron, so there is no reason why this area should be a weakness.
If the Bruins improve this area going forward, they will be hard to beat as they've provided Tuukka Rask with steady goal support in the playoffs.
Chicago Blackhawks: Power-Play Efficiency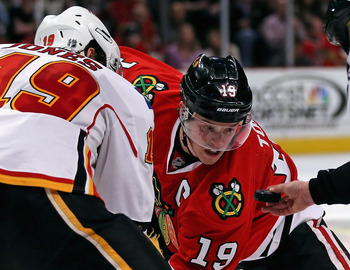 Jonathan Toews needs to step up his game.
Jonathan Daniel/Getty Images
The Chicago Blackhawks have a 2-1 series lead over the Minnesota Wild, but they haven't dominated offensively on special teams.
The Blackhawks' power play should be the best in the league with players like Jonathan Toews, Patrick Kane, Marian Hossa, Patrick Sharp, Brandon Saad, Duncan Keith and Brent Seabrook, but they have only converted on 11.1 percent of their chances.
If the Blackhawks' power play can get going, they will be unbeatable in the playoffs.
Detroit Red Wings: Get Offensive Game Going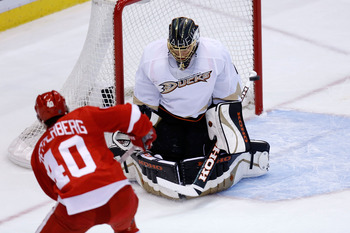 Henrik Zetterberg needs to step up offensively.
Kirk Irwin/Getty Images
The Detroit Red Wings have given up 3.67 goals a game through three games against the Anaheim Ducks, and have only averaged 2.00 goals a game. The Wings are not going to be able to beat the Ducks at this rate, and it will be important for them to score more goals going forward.
If the Red Wings can give Jimmy Howard some goal support, he'll face less pressure going up against the dangerous Ducks offense.
Los Angeles Kings: Change Lines and Get Top Stars Going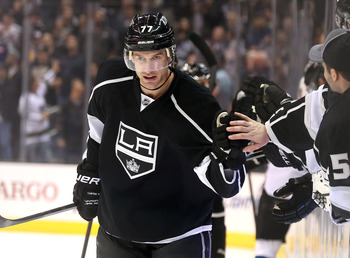 Carter has zero points against the Blues.
Stephen Dunn/Getty Images
The Los Angeles Kings are also a team that needs to get their offense going. The Kings have averaged a paltry 1.00 goal a game thus far, and they need their top stars to elevate their play. If Darryl Sutter adjusts his lines, maybe the Kings can jump-start their offense.
When Jeff Carter and Anze Kopitar are at the top of their game, the Kings are hard to beat. They need to score more goals as the playoffs continue.
Minnesota Wild: Balance Ice Time of Defensemen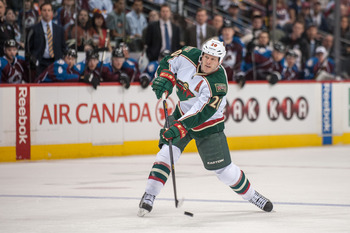 Suter could use a bit of a breather more often.
Dustin Bradford/Getty Images
The Minnesota Wild were able to get a win against the Chicago Blackhawks on Sunday, but the lack of balance amongst their defense pairings has hurt the team thus far. Here is a breakdown of ice time for the Wild defense:
| | | | | | | |
| --- | --- | --- | --- | --- | --- | --- |
| Player | Game 1 Ice Time | Game 1 Shifts | Game 2 Ice Time | Game 2 Shifts | Game3 Ice Time | Game 3 Shifts |
| Ryan Suter | 41:08 | 41 | 24:36 | 32 | 32:23 | 32 |
| Jonas Brodin | 34:20 | 41 | 23:57 | 33 | 28:26 | 31 |
| Jared Spurgeon | 26:15 | 33 | 21:56 | 27 | 20:56 | 27 |
| Marco Scandella | 22:37 | 31 | 17:58 | 25 | 17:46 | 26 |
Suter is the team's top defenseman, but Mike Yeo needs to trust some of his other D-men. If Suter and Brodin are taking the majority of shifts, they are going to get burned out early and won't be as effective as the series continues.
Montreal Canadiens: Play with Discipline

Things got ugly in Ottawa.

The Montreal Canadiens kept their cool when the Senators played physical early on in Game 3, but they lost their heads as the game progressed.
The Canadiens took multiple penalties, they started playing into the Senators' game plan and they hurt themselves by getting dirty at the end of the game. It is understandable that there was some frustration for the Canadiens, but there is no reason to take dumb penalties that can only hurt your team.
If the Canadiens can refocus and play more disciplined in Game 4, they will have a chance to regain home-ice advantage in the series.
New York Islanders: Penalty Kill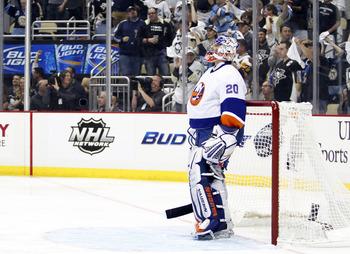 Nabokov has made some big saves for the Islanders.
Justin K. Aller/Getty Images
The New York Islanders' penalty kill has been decimated by a lethal Pittsburgh Penguins power play.
The Penguins have multiple weapons, but if the Islanders review the game tape, they will see that the Penguins are using quick touch-passes to burn the Islanders' defense. If the Islanders can keep the Penguins to the outside and limit their chances in close, Evgeni Nabokov will see and stop more shots.
New York Rangers: Score Goals, Work on Power Play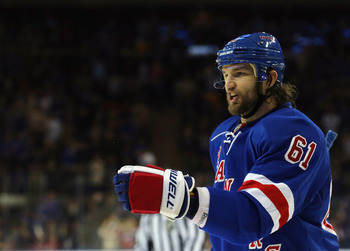 Rick Nash needs to step up.
Bruce Bennett/Getty Images
The New York Rangers would be winning this series if they were able to capitalize on the man advantage. In both games against the Washington Capitals, the Rangers failed to capitalize on the power play and the lack of scoring put them in a 2-0 hole.
The Rangers have been inches away from scoring multiple times, and they will need to improve their output in Games 3 and 4 if they want to get back into the series.
Ottawa Senators: Faceoffs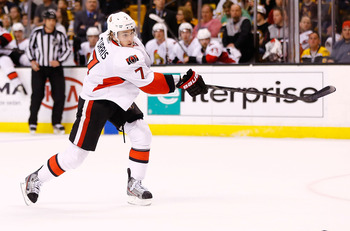 Kyle Turris is the Senators' top center.
Jared Wickerham/Getty Images
The Ottawa Senators have a 2-1 lead against the Montreal Canadiens, but the one adjustment they could make as a team involves faceoffs. The Senators are only winning 40.6 percent of their faceoffs, and that could come back to bite them in the later rounds.
The Senators have all the momentum in their favor as they head into Game 4, but winning draws will be important as the playoffs continue.
Pittsburgh Penguins: Play Better Defense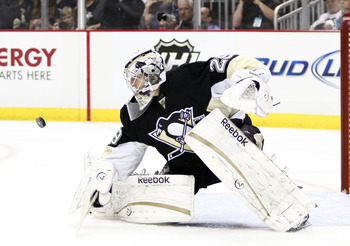 Fleury hasn't been on his game thus far.
Justin K. Aller/Getty Images
The Pittsburgh Penguins are leading their series against the New York Islanders, but they have not played well defensively thus far. In Game 3 they were able to get back into the game early, but defensive miscues and missed coverages allowed the Islanders to strike back.
The Penguins are a strong offensive team, but if they want to be successful going forward, they are going to need their defense and goaltending to step up.
San Jose Sharks: Faceoffs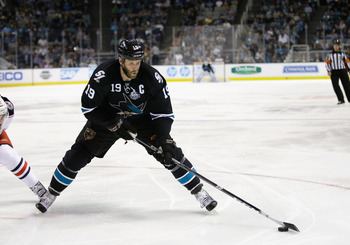 Marleau is one of the Sharks' top power-play players.
Ezra Shaw/Getty Images
Before Game 3's outburst, the San Jose Sharks' power play needed a major improvement, but the biggest adjustment the Sharks could make now is on faceoffs. San Jose has only won 52.2 percent of their draws through three games.
The Sharks have been playing amazing hockey, and it appears that this could be their year to make a major run.
St. Louis Blues: Score More Goals on the Power Play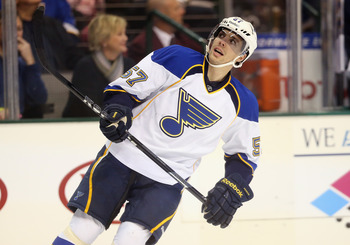 David Perron needs to step up.
Ronald Martinez/Getty Images
The St. Louis Blues have a 2-1 lead over the Los Angeles Kings, but they need to score more goals going forward, and improving their power play will go a long way towards doing that.
The Blues have executed on only 7.7 percent of their power plays, and that is one of the reasons why they've averaged a paltry 1.33 goals a game in the playoffs. St. Louis has exceptional goaltending and stingy defense, but they won't have success in later rounds if their offense doesn't score more goals.
Toronto Maple Leafs: Turnovers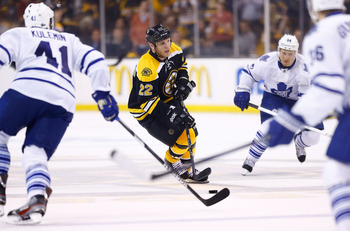 Turnovers have been a problem for Toronto thus far.
Jared Wickerham/Getty Images
The Toronto Maple Leafs are tied in their series with the Boston Bruins, but an area they could improve upon is turnovers. The Leafs have 20 turnovers compared to just seven takeaways in the playoffs.
If the Leafs can keep hold of the puck more they will be able to create more offensive chances, and they'll be able to limit the Bruins' scoring opportunities if they can create more takeaways.
Vancouver Canucks: Score Goals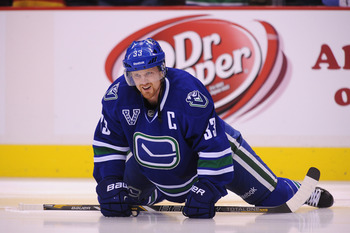 Henrik Sedin needs to step up.
Derek Leung/Getty Images
Simply put, the Vancouver Canucks need to score goals.
The Canucks' top players have not come through offensively, and it is one of the reasons why their offense has been stagnant against the Sharks. If Vancouver's offense doesn't step up, they will become the victim of another first-round upset.
Washington Capitals: Taking More Shots, Less Passing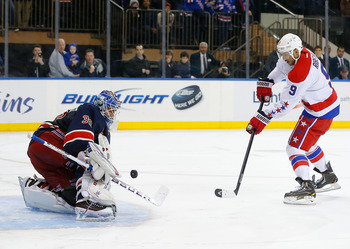 Ribeiro is a player who can shoot more.
Paul Bereswill/Getty Images
The Washington Capitals have a 2-0 lead against the New York Rangers, but they need to take more shots and pass the puck less. This is an area that the media has pointed out, and Adam Oates addressed it.
#caps top line just passing, thinking too much. Another odd-man rush with Backstrom, Johansson. No shot.

— Stephen Whyno (@SWhyno) May 4, 2013
Oates: "There are times where guys can shoot but that's hard for me as a coach to tell guys to shoot the puck when I never did."

— Dan Rosen (@drosennhl) May 4, 2013
If the Capitals take more shots they will score more goals, and that will make it easier for them to close out their series against the Rangers.
Keep Reading