Seattle Mariners Prospects Who Have the Highest Ceiling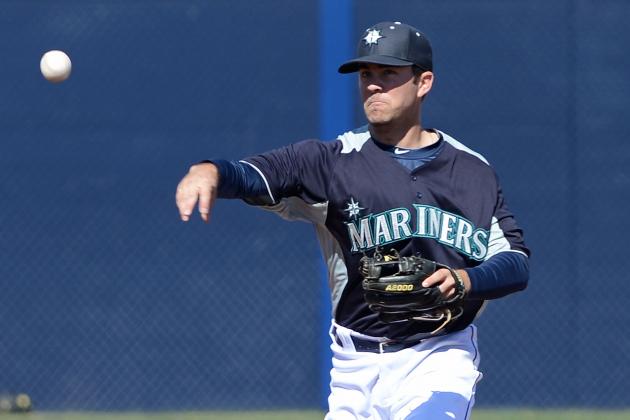 Jennifer Stewart/Getty Images

The Seattle Mariners have some talent in the farm system. At least, that is the assumption of people who know about these things.
Who does know about these things?
Certainly there are seasoned professionals who evaluate baseball talent for a living. However, there is the cold, hard reality that sports can be unforgiving when it comes to projecting potential.
The trouble with predicting the future is that sometimes we get it dead wrong. Still, we continue to try, in the hopes that some of our prognostications will actually come true.
Perhaps more than any other professional sport, baseball gets excited about youngsters who represent future possibilities. To win, a team has to have current stars, but there is always a buzz about that potential superstar who could soon be coming out of the minor leagues.
With that in mind, here are the Seattle Mariners prospects with the highest ceiling.
Begin Slideshow

»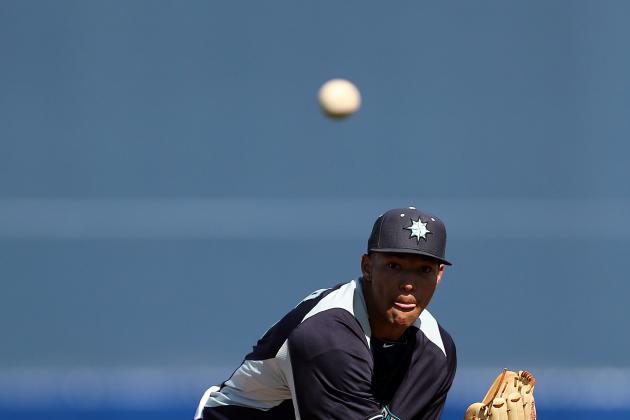 Christian Petersen/Getty Images

There are a lot of reasons to be excited about Taijuan Walker. He has, for lack of a more empirical description, "great stuff."
Baseball fans understand that vernacular, as it basically refers to a pitcher who has a rare combination of velocity, control, the potential for multiple effective pitches and an overall display of poise. These are the types of athletes that could eventually lead a staff and dominate on the mound.
Of course, questions remain. Walker is only 20 years old. He could get hurt, have trouble adjusting to Major League pitching and fail to develop additional pitches. We have seen this movie before when it comes to can't-miss prospect pitchers, and it doesn't always end well.
So far in 2013, Walker is 3-2 with a 1.54 ERA at Double-A Jackson through May 1. He has 39 strikeouts and 20 walks in 35 innings. Could he make the big club in 2013? Perhaps. More likely, he might get promoted to Triple-A and compete for a rotation spot in 2014.
Potential ceiling: Ace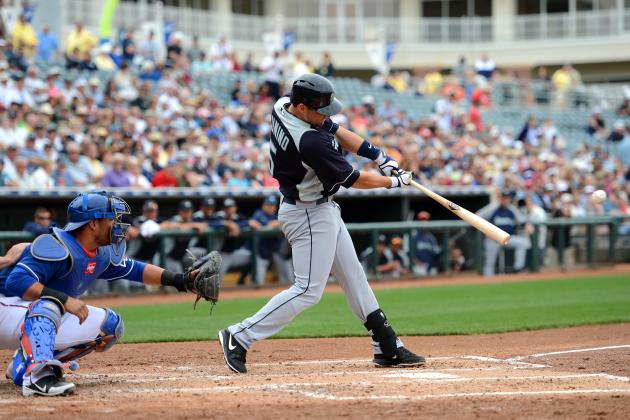 Jake Roth-USA TODAY Sports

Anyone that is selected No.3 in the draft is going to come with some expectations. So far, Mike Zunino appears on pace to meet or exceed those expectations.
General manager Jack Zduriencik, quoted by ESPN at spring training, said:
"He has all the intangibles," he said. "Leadership. He shows poise. He's just a guy who exudes confidence. Pitchers will be very comfortable pitching to him."
Zunino is regarded as not only a gifted backstop, but also a talented hitter. This will provide the age-old dilemma about catchers if Zunino proves to be a good hitter at the Major League level. Do you keep a good bat behind the plate in order to prolong his career?
Regardless, Zunino is hitting .202 (through May 5) at Triple-A Tacoma after hitting .360 in 2012 between Single-A and Double-A. Therefore, it may be a little while before he comes up and unseats Jesus Montero. Still, Zunino potentially has a very high ceiling.
Potential ceiling: All-Star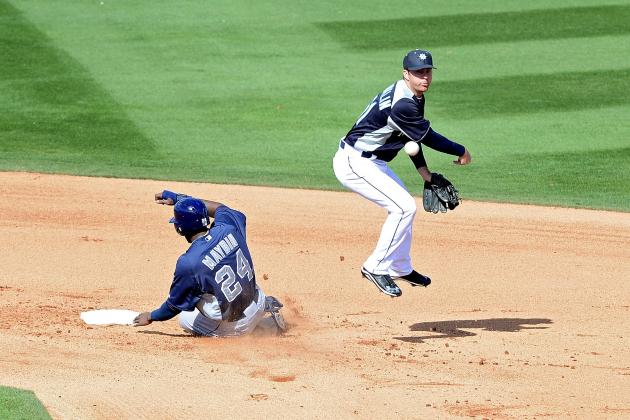 Jennifer Stewart/Getty Images

The Mariners have developed some solid infielders in the past few seasons. Kyle Seager is turning into a consistent offensive threat for the Mariners. Dustin Ackley started very slowly but is beginning to look like the talented batter that came on the scene in 2011.
Is Nick Franklin the next big thing to hit Safeco Field?

There is much to like about Franklin, particularly from an offensive standpoint. The talented prospect is hitting .325 at Triple-A Tacoma through May 5. He has three home runs and 14 RBI in 80 at-bats.
One dilemma with Franklin is his position. He has split between second base and shortstop over the past couple of years. Therefore, does he displace Dustin Ackley, even though Ackley is supposed to be the long-term solution at second base? Or, does Franklin displace Brendan Ryan, who does not hit well but is a great fielder?
Regardless of where Franklin plays, it seems reasonable that Seattle would like to see what he can do. He may have a chance before the season is done.
Potential ceiling: All-Star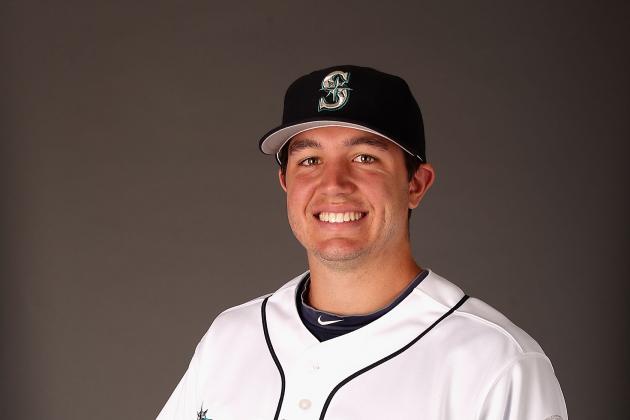 Christian Petersen/Getty Images

Hultzen is another player who has the "stuff" to be an ace and could be a mainstay in the Seattle rotation for years to come. At this point in his career, it is just about time for Hultzen to start chasing that potential.
Like Taijuan Walker, Hultzen has a great fastball and multiple pitches to keep batters on their toes. Hultzen is also regarded as a pitcher that has poise and a strong work ethic.
In four starts at Triple-A Tacoma, Hultzen is 3-1 with a 2.78 ERA for the year. He has struck out 25 batters in 22.2 innings, and only walked six.
Unfortunately for Hultzen, he has been slowed by a rotator cuff strain (via Mariners.com). The Mariners are hoping that this is a short-term injury and does not slow Hultzen's progress toward an effective Major League career.
Potential ceiling: No. 2 pitcher
Christian Petersen/Getty Images

It is hard to ignore a good bat. Stefen Romero has risen quickly through the Seattle farm system and is now hitting .294 at Triple-A Tacoma.
At 6'2" and 200 pounds, Romero is a big body that has displayed some solid power during his minor league career. He also has solid plate discipline and has maintained a .346 on-base percentage during his ascension.
Earlier in his career, Romero played mostly at second base. Given the logjam of infield prospects, the Mariners have been playing him more in the outfield at Tacoma.
It will be interesting to see if Romero's bat will earn him a call-up in the near future.
Potential ceiling: All-Star