Breaking Down How David Lee Is Playing Through Torn Hip Flexor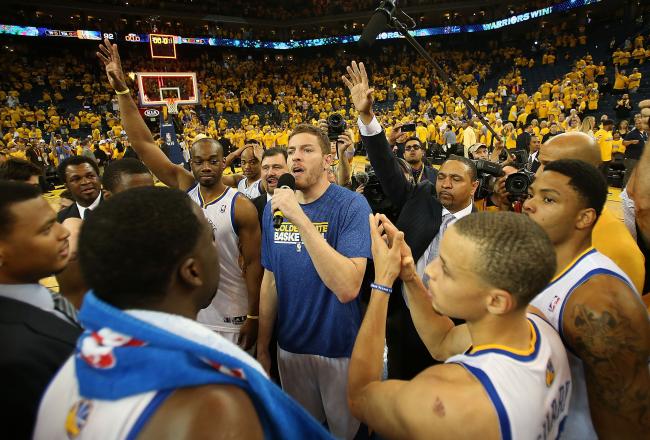 Jed Jacobsohn/Getty Images
Sometimes, things can't get any worse. That's the theory behind David Lee playing through a torn hip flexor. Lee's injury is severe enough that playing through it won't do significantly more damage or add time to the rehab he'll have following inevitable surgery to fix the condition. Whether he can be effective or just a decoy as he was in the Golden State Warriors' Game 6 victory over Denver remains to be seen, but let's take a look at how this is even possible.
What Is a Hip Flexor?
There is no single muscle that is the hip flexor. It is a complex of muscles that performs a function—the flexion (bending) of the hip joint. The three muscles that make up the complex share the function and are in some ways redundant. The largest muscle, the psoas major, is likely the one injured on Lee.
Lee isn't a speedy player or a high flier, but the hip flexor is needed for something as simple as sitting down on the bench.
How Severe Is Lee's Strain?
A strain is a tearing of muscle fibers, causing the structure to lose function. Lee's injury is believed to be a severe strain or Grade III. This normally indicates a rupture (full tearing of fibers) or near-rupture where the full tearing is inevitable.
At this stage, the muscle may still have limited function on its own. It may also be assisted by the redundant or overlapping muscle. In turn, those muscles will be asked to do more in both action and stabilization, which means that they are at higher risk of being strained themselves.
Moreover, any change in the function may lead to other risks. A small change in gait could tax the knee or ankle, or even the hip flexor on the unaffected side. This kind of cascade injury is common and one of the toughest things to protect since the athlete does them unconsciously. Often hip flexor strains are caused by calf weakness.
What Will He Be Limited in Doing?
The flexion of the hip is a very complex function since the hip does more than simply bend. The ball and socket type joint moves in several planes, rather than the simple hinge action of the elbow. Because of this, there is no one action that is prevented by the injury.
Ezra Shaw/Getty Images
The strain is likely keeping Lee from lifting the leg cleanly off the ground, one of the simplest functions of the muscles. He will have trouble with striding, landing from a jump, jump stops and many other functions that involve the hip. While the jumping motion is more extension than
flexion
, those muscles still are involved in the process. Essentially, almost any athletic movement on a basketball floor is going to involve the hip
flexors
at some point in the process.
Why Let Him Play?
Lee told the media that doctors explained he couldn't do more extensive damage to the hip by playing. While this is an oversimplification, let's accept the premise that he can't make it worse. Any function he has may help the team in some small way.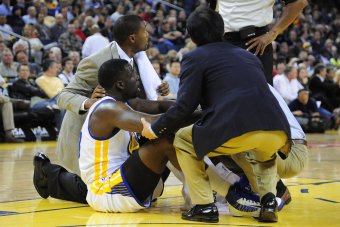 Kyle Terada-USA TODAY Sports
The Warriors' medical staff is also going to have more complete information on the function of the leg. If Lee is compensating for the injury and has a high percentage of functional strength and stability, he could perform on a limited basis at a near-normal level. Understanding what he can and can't do is the difficult task that must be balanced between Lee, the medical staff and the coaches.
Is There a Downside?
Assuming there is no more significant damage to do, the biggest downside for Lee is pain if there's a further breakdown or painful episode with the leg. If there is some sort of problem, Lee would be pulled from the series, leaving the team scrambling to fill the roster slot.
Aside from the comfort, there doesn't appear to be any real downside. If nothing else, he provides a decent bench option and forces the opposing team to account for him in game plans and rotations.
What Do You Expect from Lee in This Series?
Honestly, not much. I do expect more than just over a minute per game, but there's no evidence that Lee can do much besides take up space. He didn't show any quickness, any lateral movement, any jumping, let alone the quick plyometric jumps needed for NBA rebounding or an ability to shoot. That's not to say he can't do anything, just that he has not shown it.
Lee's contribution could end up being the rough equivalent of a 10th or 11th man. While that sounds like an easy line to cross, remember that him moving back in the rotation cycles someone else up. Lee's presence also is motivating to his teammates, something others around the league haven't learned.
This article is
What is the duplicate article?
Why is this article offensive?
Where is this article plagiarized from?
Why is this article poorly edited?

Golden State Warriors: Like this team?