Indiana Pacers vs. New York Knicks: Game 1 Postgame Grades and Analysis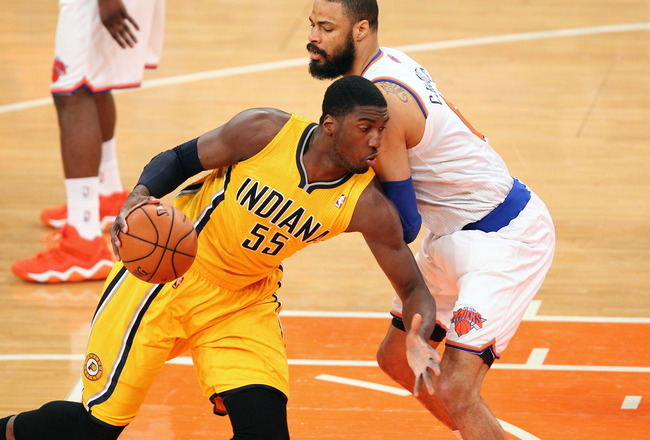 USA TODAY Sports
It's not easy winning a playoff game on the road, never mind walking into Madison Square Garden and stealing the first game of a second-round playoff series. That's exactly what the Indiana Pacers did, though. They dominated the New York Knicks, 102-95, and grabbed a 1-0 series lead.
The Pacers led with strong defense and tenacity on the glass, as evidenced by their plus-14 rebound advantage, including five more offensive rebounds than the Knicks.
Roy Hibbert was the Pacers' foundation in Game 1 with 14 points, eight rebounds, five blocks and four assists. His defense in the paint was also a major factor in the upset win.
Carmelo Anthony and J.R. Smith combined for 44 points, but they shot a combined 14-of-43 from the floor, which equates to an awful 32.6 percent shooting performance.
If the Knicks want to rebound in Game 2 and even their series with the Pacers, they absolutely must protect the paint and dominate the glass, which are two things they didn't do in Game 1.
It was a solid performance by the Pacers, and a rather disappointing one for the Knicks.
Point Guards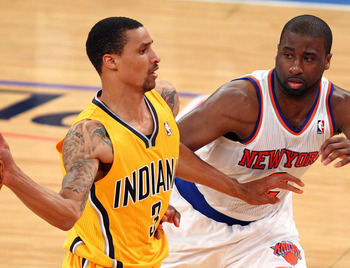 USA TODAY Sports
George Hill, Pacers
He may not have had the most efficient game, but George Hill hit a huge three-pointer with 3:38 remaining in the fourth quarter to extend the Pacers' lead to 13.
Hill ended the night with a well-balanced performance of 14 points, seven rebounds and six assists. The only piece of his game that wasn't solid in Game 1 was his shooting percentage, which was just 29.7 percent on 17 field-goal attempts.
Hill certainly made up for that with a strong performance on the defensive side of the ball and an ability to keep his teammates involved in the game.
Overall Grade: B
Raymond Felton, Knicks
Raymond Felton started the first quarter off with a bang, with 12 points on 5-of-6 shooting.
Unfortunately, in the final three quarters Felton scored just six points on 3-of-6 shooting.
The Knicks needed Felton to be more aggressive, especially with Carmelo Anthony struggling to find his stroke.
Felton also failed to really keep his teammates involved in the game, finishing with three assists.
What Felton needs to focus on moving forward is either being a top scoring option for the Knicks or having a well-balanced game with as many assists as he has points.
Overall Grade: B-
Shooting Guards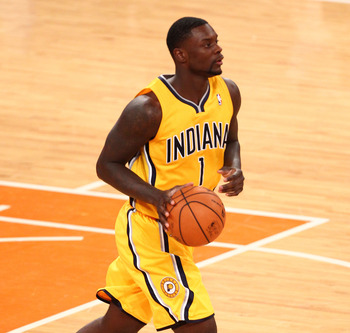 USA TODAY Sports
Lance Stephenson, Pacers
Where was this Lance Stephenson all year?
He was efficient, shooting 5-of-9. He also grabbed an impressive 13 rebounds (two offensive), which gave him a double double with his 11 points.
Stephenson's tenacity on the glass coming off the perimeter was a big difference-maker, especially in the first half.
If he can keep this up, the Pacers have a solid shot at making it to the Eastern Conference finals, because when Stephenson is productive, opposing defenses have a much harder time doubling down in the paint.
Overall Grade: B+
Pablo Prigioni, Knicks
Say what you will about Pablo Prigioni's six assists, but the rest of his game was absolutely underwhelming.
He took just one shot and didn't record a single point.
That's not the kind of game the Knicks need from him, especially when he's playing 20-plus minutes. Prigioni either has to step his game up, or Mike Woodson will create a new rotation that keeps him on the bench.
Overall Grade: D+
Small Forwards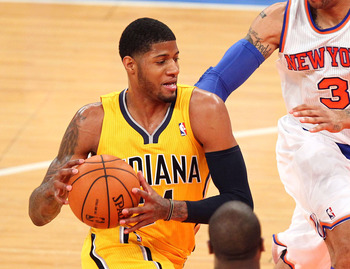 USA TODAY Sports
Paul George, Pacers
Carmelo Anthony's inefficiency rubbed off on Paul George, as George shot just 5-of-14 from the field.
In spite of his poor shooting, he managed to end the afternoon with 19 points, five rebounds and four assists.
More important than his offensive production was his tenacious and annoying defense on 'Melo all game long. While 'Melo continually complained about the lack of calls, his frustration was due more to George's intense defense and his ability to contest every single one of 'Melo's shots.
George is continuing to develop into a legitimate star in the NBA, and defensive games like the one he had in Game 1 are an integral part of that process.
Overall Grade: B-
Iman Shumpert, Knicks
Iman Shumpert followed up his stellar Game 6 performance against the Boston Celtics with a rather average game against the Pacers.
He ended the game with 11 points on 4-of-11 shooting from the field and 1-of-4 shooting from beyond the arc.
Defensively speaking, he wasn't able to slow down and frustrate the Pacers' perimeter offense like he could against the Celtics.
If Shumpert had backed up his inefficient production with assists or rebounds it would've been bearable, but he had just four rebounds and one assist throughout Game 1.
The Knicks can't beat the Pacers if Shumpert doesn't continue to take his game to the next level, which includes bringing production to the floor in an efficient manner.
Overall Grade: C
Power Forwards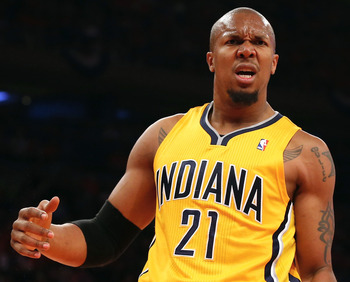 Elsa/Getty Images
David West, Pacers
The New York Knicks really didn't have an answer for David West's interior production all afternoon, as he ended Game 1 with a team-high 20 points.
Unlike Carmelo Anthony, West shot above 50 percent from the field, and although he grabbed just four rebounds, his impact was felt on the defensive side of the ball.
The Knicks couldn't keep West from getting looks in the paint, and when he did he either hit mid-range jumpers or got to the line on strong looks around the basket.
West's continual aggressive play and defensive pressure will be a difference-maker in this series.
Overall Grade: A-
Carmelo Anthony, Knicks
It looks like Carmelo Anthony isn't returning to his efficient ways of playing anytime soon.
Not only did he hurt the Knicks in the second half when he picked up his fourth personal foul with 7:48 left in the third, but he also shot an atrocious 35.7 percent from the floor.
I'm not against 'Melo taking 28 shots, but he can't put up that many shots and hit just 10 of them.
While 'Melo ended with 27 points and 11 rebounds, his production was heavily minimized by his lack of efficiency.
He also seemed to be more focused on complaining about the lack of calls the refs were giving him than he was on taking over Game 1, and that cost the Knicks throughout the afternoon.
Overall Grade: C
Centers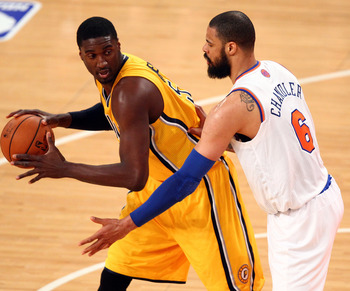 USA TODAY Sports
Roy Hibbert, Pacers
One of the best parts of Roy Hibbert's Game 1 performance was his tenacity in the paint against Carmelo Anthony.
Hibbert made 'Melo's life miserable in the paint, contesting every shot and drawing 'Melo's fifth personal foul with 9:55 remaining in the fourth quarter—which made 'Melo much more timid on the defensive side of the ball.
Throughout the afternoon, Hibbert's presence was felt on both sides of the ball, with 14 points, eight rebounds (three offensive), four assists and five blocks.
The Pacers desperately need this aggressive version of Hibbert throughout their series with the Knicks. The more physically and aggressively he plays, the better chances are that the Pacers will face the Miami Heat in the Eastern Conference finals.
Overall Grade: A
Tyson Chandler, Knicks
Roy HIbbert owned Tyson Chandler all game long.
Chandler's impact on the glass was minimized by Hibbert's size and presence in the paint and his physicality on the defensive side of the ball.
He ended the night with more personal fouls than points and rebounds—with six personal fouls, four points and just three rebounds.
Chandler needs to just forget about Game 1 and move on in the series, because this is the kind of weak performance that could haunt him for the rest of the series.
Overall Grade: F
Sixth Men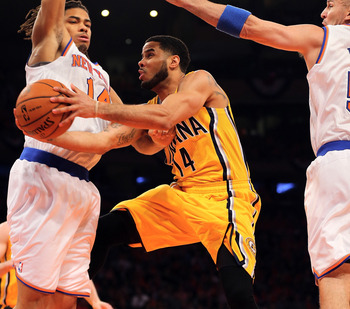 Elsa/Getty Images
D.J. Augustin, PG Pacers
If this was the first NBA game you've ever watched, you'll think that D.J. Augustin is the best sixth man in the entire league.
Augustin had 16 points on 5-of-6 shooting from the field and 4-of-5 shooting from beyond the arc in just 13 minutes of action.
It's somewhat shocking that Frank Vogel didn't go with Augustin more, with George Hill struggling to find his range throughout the game.
Either way, Augustin had the explosively productive kind of game the Pacers were looking for from someone off their bench.
Overall Grade: A
J.R. Smith, SG Knicks
It's like once J.R. Smith won the Sixth Man of the Year award, he decided to just pack it up for the year.
Since his Game 4 suspension against the Boston Celtics, Smith has been horrendously inefficient, and it looks like he's planning on carrying that atrocious efficiency into this series with the Pacers.
While he scored 17 points, it took him 15 shots—four of which he made—to get there, and his defense was nonexistent throughout the afternoon.
With Carmelo Anthony struggling to find his groove, the Knicks need Smith to come off the bench and play intelligently, which means waiting for open shots instead of forcing offense on his own.
All in all, Smith wasn't as bad as he had been in his previous two games, thanks to his five rebounds and two assists. But he wasn't that great, either.
Overall Grade: C
Benches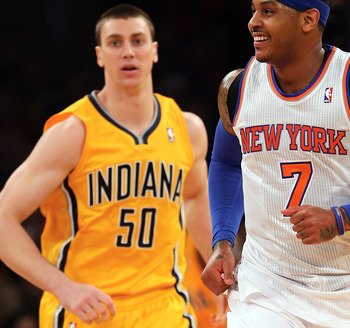 Elsa/Getty Images
Pacers Bench
The Indiana Pacers only clocked 39 total minutes of bench action. But in those minutes, their bench produced 24 points, seven rebounds and two assists.
Tyler Hansbrough wasn't extremely effective in his few minutes guarding Carmelo Anthony, but his aggressive play on the glass netted him three offensive boards, which was a difference-maker in the second half.
Thanks to D.J. Augustin's explosive production, the lack of anything from Sam Young and Ian Mahinmi wasn't anything the Pacers needed to be concerned about.
Overall Grade: B+
Knicks Bench
The New York Knicks, on the other hand, clocked 84 total bench minutes and accounted for 35 points, 10 rebounds and four assists.
Kenyon Martin was productive in his 25 minutes, with 12 points, three offensive rebounds, two blocks and a steal. His aggressive play on the glass kept the Knicks competitive through the second half.
Chris Copeland was productive as well, with six points in eight minutes, and it's odd that Mike Woodson didn't go to him more, with Tyson Chandler struggling to make an impact.
The Knicks' bench wasn't bad, but because of J.R. Smith's ineffective production, their second unit didn't bring what they needed to to the floor.
Overall Grade: C+
Keep Reading