Early Prediction for the New York Jets' Final 53-Man Roster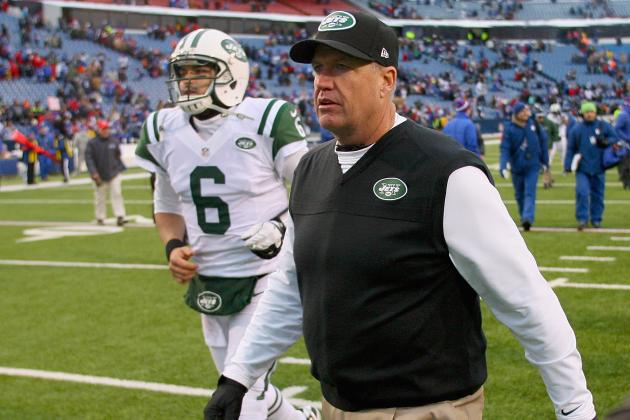 Rick Stewart/Getty Images

While the New York Jets enter the latter half of the 2013 offseason with many uncertainties, one thing can be assured: The roster will look drastically different than it did a season ago.
Gang Green has lost over a dozen starters from last season, including All-Pro cornerback Darrelle Revis, former Pro Bowlers Bart Scott and Brandon Moore and starting safeties LaRon Landry and Yeremiah Bell.
The team's roster will be as young and inexperienced as it has been in years, and with so many youngsters vying for a roster spot, it will be difficult to project the team's final depth chart.
Nevertheless, here is an early prediction for New York's final 53-man roster.
Begin Slideshow

»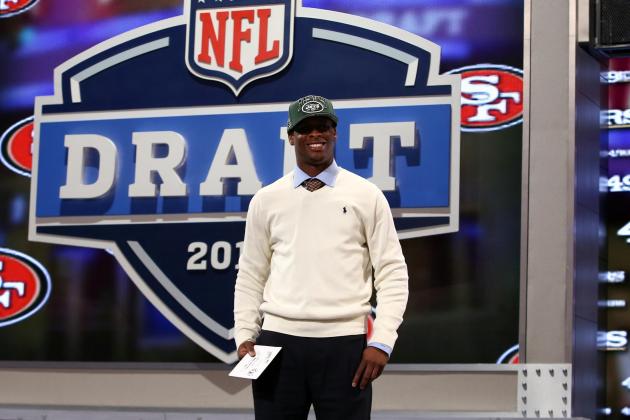 USA TODAY Sports

Quarterback (3): Geno Smith, David Garrard and Mark Sanchez
After the release of Tim Tebow, the Jets now have five quarterbacks on their roster: Mark Sanchez, David Garrard, Geno Smith, Greg McElroy and Matt Simms.
At the end of the offseason, though, New York will most likely have to cut down its quarterback count to just three.
With second-round pick Geno Smith and former starter Mark Sanchez being locks to make the final roster, the last spot will be a dogfight between Garrard, McElroy and Simms.
Simms is a near impossibility to make the roster, and Garrard should beat out McElroy due to his experience and his ability to mentor Smith.
Expect Smith, Sanchez and Garrard to be competing for the starting job in training camp.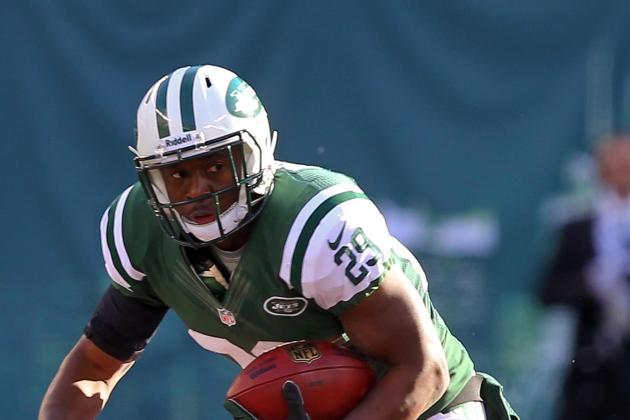 Ed Mulholland-USA TODAY Sports

Running Backs (5): Chris Ivory, Mike Goodson, Bilal Powell, Joe McKnight and Tommy Bohanon
The Jets running back situation is pretty clear.
Chris Ivory, Mike Goodson, Bilal Powell and Joe McKnight are practically locks to make the final roster.
Ivory and Goodson are expected to split duties on early downs, while Powell should be the man on third downs and goal-line situations.
McKnight, on the other hand, is an elite return man who will serve as the team's primary kickoff returner this season.
Rookie Tommy Bohanon should make the final roster, as the Jets expect him to be the team's starting fullback.
After John Conner crashed and burned at the position, there will be a lot of pressure on Bohanon to step in and be a difference maker in the backfield immediately.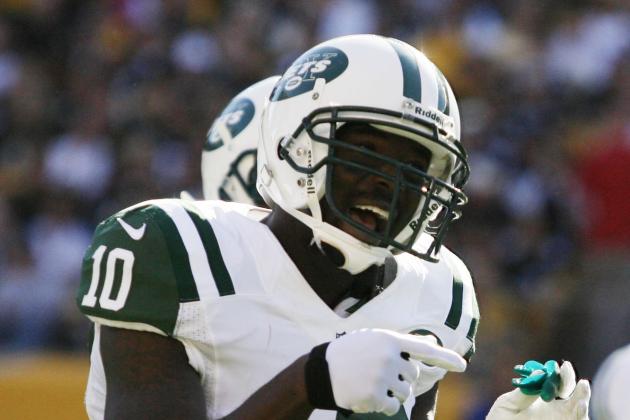 Charles LeClaire-USA TODAY Sports

Wide Receivers (6): Santonio Holmes, Jeremy Kerley, Stephen Hill, Clyde Gates, Jordan White and Zach Rogers
Along with safety, wide receiver is the team's weakest positional unit.
Outside of Santonio Holmes and maybe Jeremy Kerley, the Jets don't have a single receiver who would be capable of competing for a starting job on another roster.
Holmes, Kerley and Hill are locks to make the roster as the team's top three wideouts. Clyde Gates, who has been a solid No. 4 receiving option in recent years, should also find himself on the team in early September.
The other two roster spots are up in the air, but expect sophomore Jordan White and rookie Zach Rogers to swoop in and grab them.
White impressed coaches on the practice squad last season with his route-running and effort. Rogers possesses solid speed and route-running ability, and he would provide solid depth at the needy position.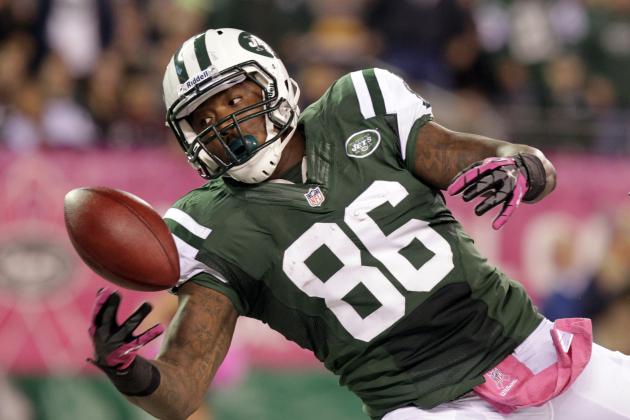 The Star-Ledger-USA TODAY Sports

Tight End (3): Jeff Cumberland, Konrad Reuland and Hayden Smith
With the loss of Dustin Keller to Miami, the Jets are relying on several unproven guys to step up at tight end.
Jeff Cumberland was productive when Keller was injured last season, so he is projected to be the team's No. 1 tight end.
Reuland is a solid blocker on both passing and running downs, as well as a solid goal-line target, and Smith, a former rugby player, has the tools to be a decent backup.
Tight end won't be a flashy position for New York, but the team has three big guys with solid potential.
Debby Wong-USA TODAY Sports

Centers (2): Nick Mangold, Caleb Schlauderaff
Guards (4): Willie Colon, Stephen Peterman, Brian Winters, Vladimir Ducasse
Tackles (3): D'Brickashaw Ferguson, Austin Howard, Oday Aboushi
Offensive line shouldn't have any surprises in terms of who is making the final 53-man roster.
Mangold, Colon, Ferguson, Peterman and Howard are expected to be the opening day starters, and rookies Winters and Aboushi have the potential to make an impact immediately.
Schlauderaff has been a longtime backup for Mangold, and he's been productive when on the field. Ducasse, despite never living up to his second-round draft status, has improved over the course of his career and provides solid depth and versatility up front.
While the line isn't going to revert back to its elite days of 2009 and 2010, it should be a decent unit next season.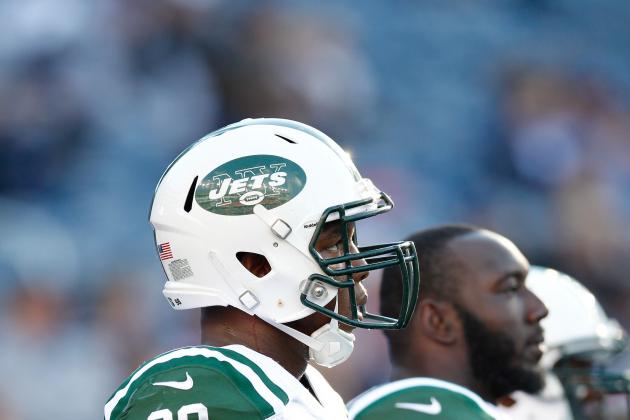 Greg M. Cooper-USA TODAY Sports

Defensive End (2): Muhammad Wilkerson and Sheldon Richardson
Defensive Tackle (3): Kenrick Ellis, Antonio Garay and Damon Harrison
The defensive line is the Jets' strongest positional unit, and it's not very close.
The team has spent first-round picks on the defensive line the last three years, selecting Muhammad Wilkerson, Quinton Coples and Sheldon Richardson, respectively.
Wilkerson has developed into a Pro Bowl-caliber player, and Coples seems well on his way to doing the same, but he has been moved to outside linebacker in 2013 to clear room for Richardson. Richardson possesses loads of potential and only adds to the solid unit.
Kenrick Ellis made strides throughout last season, and Antonio Garay is a veteran who has enjoyed a lot of success throughout his career.
Damon Harrison is a wildcard. He is a mammoth of a man who was excellent during his limited time on the field last season.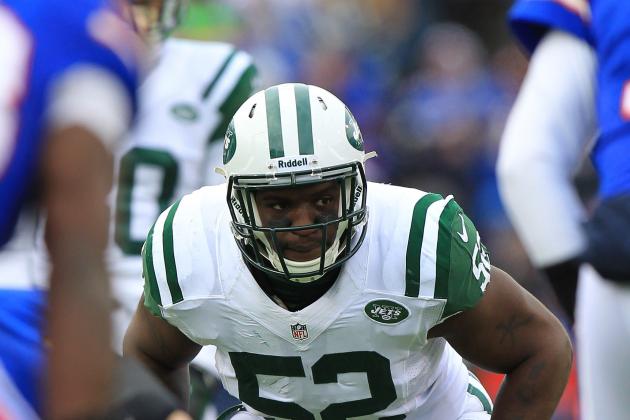 USA TODAY Sports

Inside Linebacker (4): David Harris, Demario Davis, Josh Mauga, Nick Bellore
Outside Linebacker (5): Quinton Coples, Antwan Barnes, Garrett McIntyre, Calvin Pace, Ricky Sapp
Linebacker used to be one of New York's strongest units, but that has changed drastically in recent years.
David Harris, despite a subpar 2012, will lead a strong inside linebacker crew.
Sophomores Demario Davis and Nick Bellore and veteran Josh Mauga are expected to compete for the second starting job at inside linebacker.
New York has many more questions at outside linebacker.
Quinton Coples has made the move from defensive end to outside linebacker in 2013 to help reinvigorate the beleaguered unit.
Still without an experienced pass-rushing threat, the Jets expect to line up Antwan Barnes and Garrett McIntyre off the edge, with veteran Calvin Pace and youngster Ricky Sapp providing depth.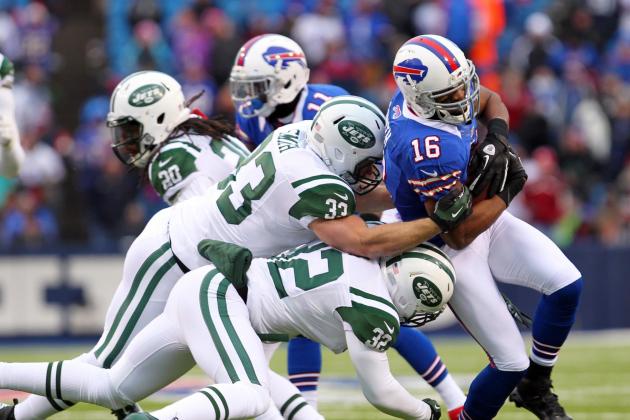 USA TODAY Sports

Safeties (4): Dawan Landry, Josh Bush, Antonio Allen, Rontez Miles
Despite holes throughout the roster, safety is Gang Green's weakest positional unit.
The team lost both of its starting safeties from last year in free agency and have done little to replace them.
Dawan Landry, brother of LaRon, struggled last season with Jacksonville. However, he will provide a veteran presence in an extremely inexperienced secondary next season.
Josh Bush and Antonio Allen, late-round draft picks from a year ago, are expected to compete for the second starting job at safety, despite being confined to the bench most of their rookie seasons.
Rontez Miles is my surprise pick to make the final roster.
Miles, an undrafted free agent out of California (PA), possesses nice skills in coverage and decent-enough speed to provide solid depth in his rookie season.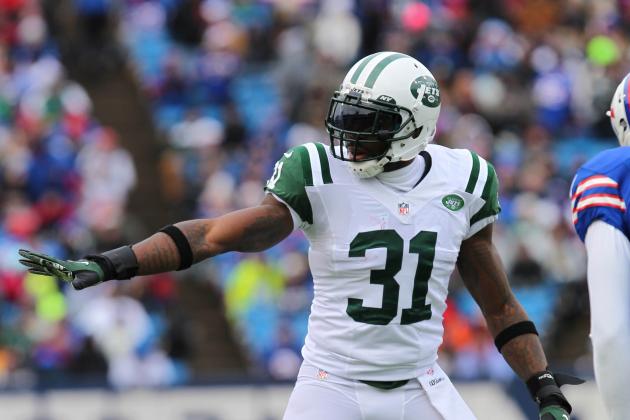 USA TODAY Sports

Cornerbacks (6): Antonio Cromartie, Dee Milliner, Ellis Lankster, Kyle Wilson, Isaiah Trufant and Mike Edwards
The Jets outlook at cornerback took a major blow with the loss of Darrelle Revis, but the team is still strong at the position.
Cromartie was nothing short of elite in the absence of Revis last season, and Milliner was a projected top-five pick who many scouts believe is capable of being a Pro Bowl-caliber player in his rookie season.
Lankster and Trufant are solid nickel corners who provide nice depth, and Kyle Wilson, despite struggling in the starting role, is a sound backup.
The surprise addition to the unit will be undrafted free agent Mike Edwards. The Hawaii product is physical and aggressive in coverage, and he can also be a viable contributor on special teams.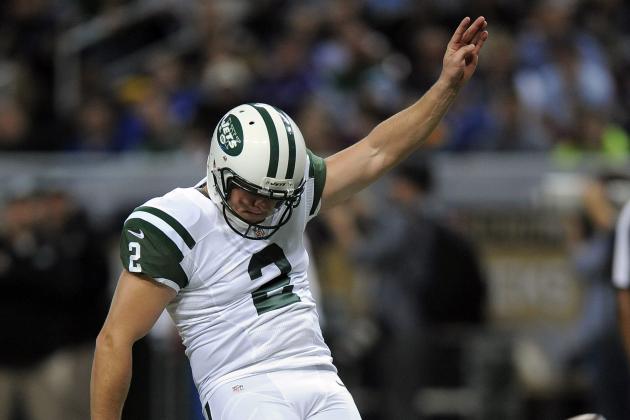 Jeff Curry-USA TODAY Sports

Kicker (1): Nick Folk
Punter (1): Robert Malone
Long Snapper (1): Tanner Purdum
The Jets' special teams will most likely look identical to last season.
Despite a handful of blocked kicks and ill-timed fumbles by return men, the unit was extremely solid.
Nick Folk had the best season of his career, and Robert Malone was an above-average punter for the majority of the season.
Additionally, Purdum has been a solid long snapper for New York for several years now.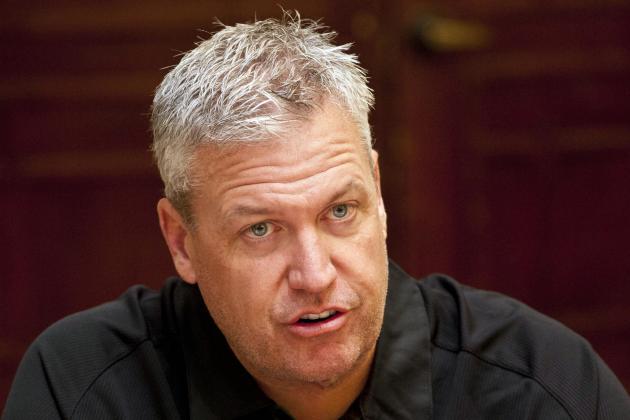 Casey Sapio-USA TODAY Sports

Quarterback (3): Geno Smith, David Garrard and Mark Sanchez
Running Back (5): Chris Ivory, Mike Goodson, Bilal Powell, Joe McKnight and Tommy Bohanon
Wide Receiver (6): Santonio Holmes, Jeremy Kerley, Stephen Hill, Clyde Gates, Jordan White and Zach Rogers
Tight End (3): Jeff Cumberland, Konrad Reuland and Hayden Smith
Offensive Line (9): Nick Mangold, Caleb Schlauderaff, Willie Colon, Stephen Peterman, Brian Winters, Vladimir Ducasse, D'Brickashaw Ferguson, Austin Howard and Oday Aboushi
Defensive Line (5): Muhammad Wilkerson, Sheldon Richardson, Antonio Garay, Kenrick Ellis and Damon Harrison
Linebacker (9): David Harris, Demario Davis, Josh Mauga, Nick Bellore, Quinton Coples, Antwan Barnes, Calvin Pace, Ricky Sapp and Garrett McIntyre
Safety (4): Dawan Landry, Josh Bush, Antonio Allen and Rontez Miles
Cornerback (6): Antonio Cromartie, Dee Milliner, Kyle Wilson, Isaiah Trufant, Ellis Lankster and Mike Edwards
Special Teams (3): Nick Folk, Robert Malone and Tanner Purdum