How Would Jon Jones Fare Against the Top 5 UFC Heavyweights?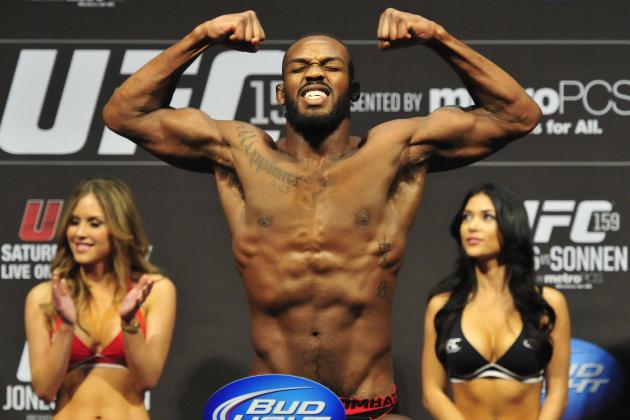 Joe Camporeale-USA TODAY Sports

Jon Jones is already one of the most dominant light heavyweight champions in UFC history.
With five straight title defenses at 25 years old, Jones' move to the heavyweight division at some point is almost a given. Despite the increase in size of opponents, the expectations would remain high for Jones, who has a chance of going down as the greatest fighter to ever enter the Octagon.
A Jones move in weight would also bolster a shallow heavyweight division. Despite the UFC's recent addition of former Strikeforce heavyweights, Cain Velasquez and Junior dos Santos still seem to be far ahead of the rest of the weight class.
It's likely Jones would be immediately thrust into competition with elite heavyweights once he does make the switch.
So, let's take a look at how he matches up with the Top Five UFC heavyweights from the promotion's official rankings.
Begin Slideshow

»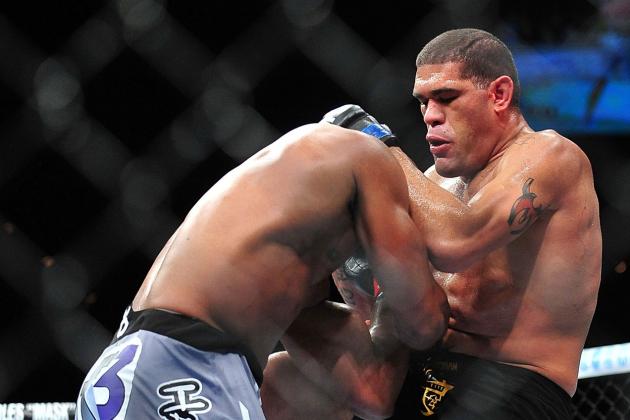 Gary A. Vasquez-USA TODAY Sports

A fight with Antonio Silva would introduce Jon Jones to the size difference between his previous 205-pound opponents and the mammoths in the heavyweight division.
While "Bigfoot" tips the scales at the heavyweight limit of 265 pounds, he's not overwhelming against elite competition in the clinch, where Jones likes to work for his takedowns.
Cain Velasquez and Alistair Overeem both took Silva down and faced little threat of submission from the top position. Though Silva is a jiu-jitsu black belt, he's much more of a positional grappler than submission specialist, especially when fighting from the bottom.
Jones would have his usual reach advantage in the stand-up department, but he'd be wise to avoid Silva's knockout power, which has earned Bigfoot two straight knockout victories and a title shot.
If Jones could take Silva to the ground, he'd likely be able to finish the Brazilian with ground-and-pound, much like Velasquez did.
Prediction
Jones defeats Silva by (T)KO in the first round.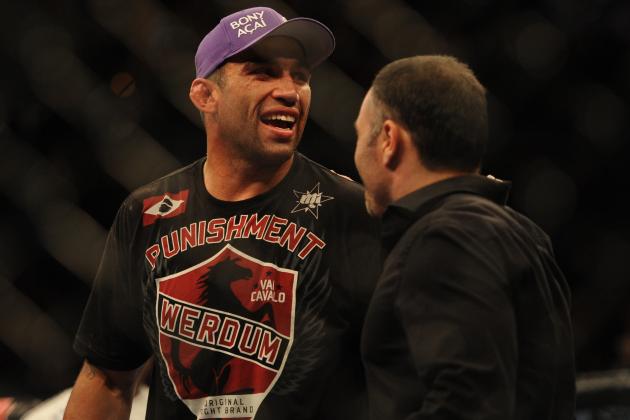 Kelvin Kuo-USA TODAY Sports

Fabricio Werdum is one of the top grapplers in the heavyweight division, so there's a good chance Jon Jones would avoid going to the ground with him.
Although Werdum has also showed improved stand-up in his recent bouts with Roy Nelson and Mike Russow, a bout with Jones would test his striking ability.
The last time Werdum faced a dynamic striker like Jones, he was flopping to his back and hoping for Alistair Overeem to jump into his guard.
It's been a while since Werdum has suffered a knockout loss, but this matchup could give Jones the opportunity to score a standing finish with strikes for the first time since he became champion by stopping Mauricio Rua.
Jones, being the much better wrestler, would be able to control Werdum against the fence.
From there, dirty boxing and a few short elbows could soften the Brazilian up and help set up a finishing blow.
Prediction
Jones defeats Werdum by (T)KO in the third round.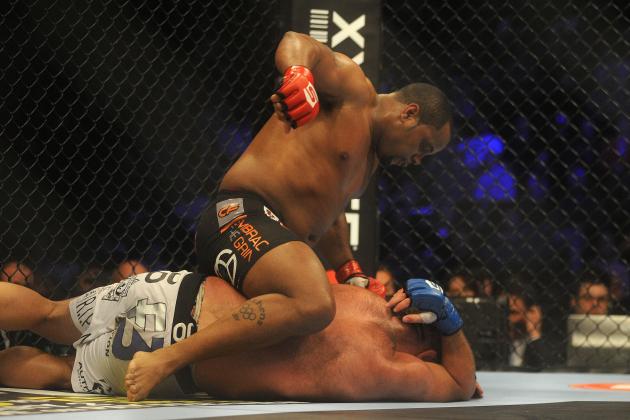 USA TODAY Sports

Daniel Cormier brings better wrestling than Rashad Evans or Chael Sonnen, two light heavyweight title challengers who had the best chance of forcing Jon Jones to fight from the bottom position.
Still, Jones has never been taken down and wouldn't go down easy even against a former Olympic wrestler like Cormier.
Much like Evans, Cormier would have to overcome Jones' reach before even having a chance to take the champion to the canvas.
While Cormier might find a way to drag Jones to the ground a few times, he's going to have to pay a price by getting hit on the way in. Unless he can score quick takedowns and maintain top position in every round—something that's never been done against Jones—the damage that Cormier would take while working inside won't outweigh positioning on the ground.
Prediction
Jones defeats Cormier by decision.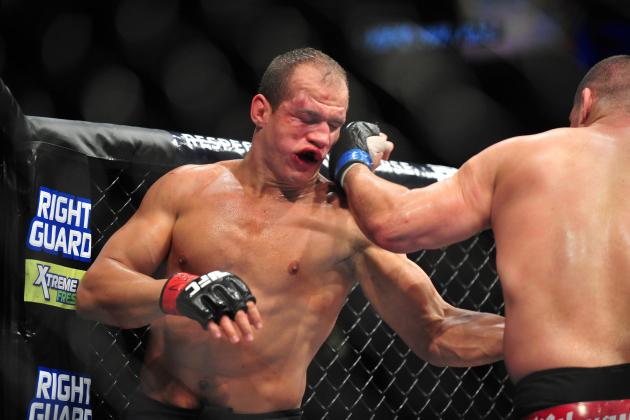 Gary A. Vasquez-USA TODAY Sports

With some of the best boxing in MMA, Junior dos Santos might be more capable than anyone of figuring out how to deal with Jon Jones' reach.
At the same time, dos Santos was rocked by Cain Velasquez in his last outing and has been slow to expand his striking past punching.
Kicks, knees and elbows are rarely attempted by the former heavyweight champion.
Being the student of the sport that he is, Jones and his team would likely be able to put together a game plan that would neutralize dos Santos' boxing even if it doesn't mean taking the fight to the ground.
Although, after seeing Velasquez take down dos Santos 11 times in one fight, Jones would probably feel his wrestling could lead him to victory.
Prediction
Jones defeats dos Santos by decision.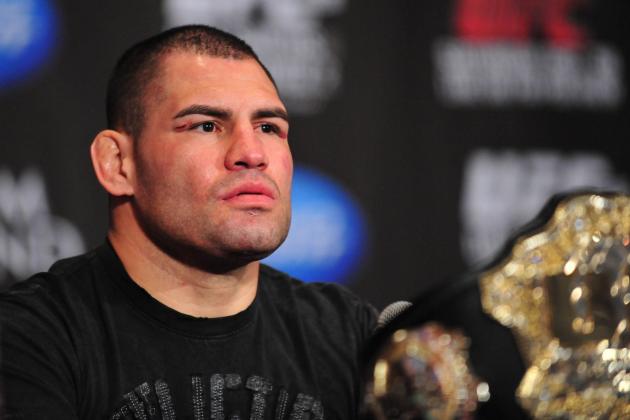 Gary A. Vasquez-USA TODAY Sports

With a mix of high-level wrestling and striking good enough to put Junior dos Santos on roller skates, heavyweight champion Cain Velasquez would obviously be the toughest all-around opponent for Jon Jones.
Having never been outwrestled in his UFC career, Velasquez should be able to shut down Jones' clinch game.
Becoming the first fighter to take Jones down inside the Octagon will be difficult, though.
While Velasquez may be a more powerful puncher than Jones, even the heavyweight champion will have to deal with the same reach disadvantage that light heavyweight title challengers have been trying to figure out over the past couple of years.
It's the superfight nobody is talking about, but it might just be the one most likely to happen.
Jones' takedown defense and reach would carry him to a heavyweight title, should he meet Velasquez in the near future.
Prediction
Jones defeats Velasquez by decision.