Updated Report Card Grades for Every NBA Superstar Still Playing in 2013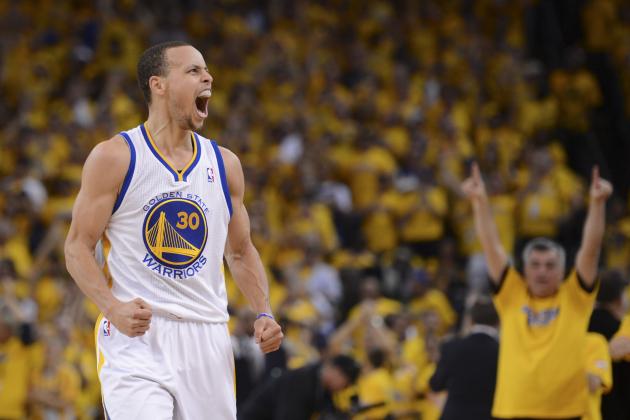 Kyle Terada-USA TODAY Sports

The field of superstar talent is dwindling with one round of the NBA playoffs complete.
For the most part, the teams left are still in the race thanks to their franchise centerpieces. Some of these guys have been doing this for years. Others are doing it for the first time.
We've graded each of the remaining superstars left in Round 2 based on their performance in Round 1. The regular season is unrelated to these grades, which reflect the player's individual performance and impact in the series.
Begin Slideshow

»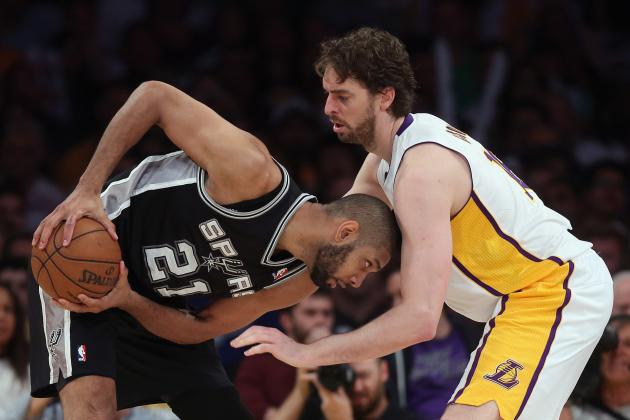 Jeff Gross/Getty Images

Points: 17.5
Rebounds: 7.5
Assists: 1.5
Steals: 1.5
Blocks: 1.0
Field-Goal Percentage: .517
Free-Throw Percentage: .833
Tim Duncan did his thing in Round 1 against the Lakers. Nothing too flashy, but he completed the job in a timely and efficient manner.
He had some big boys to deal with in Pau Gasol and Dwight Howard, but Duncan never really let either of them gain control on one side of the ball or the other.
Duncan looks as reliable as ever and could be in line for a big series with David Lee's role uncertain moving forward.
First-Round Grade: A-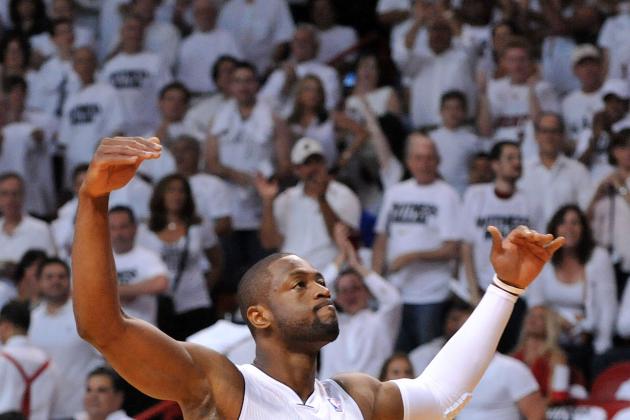 Steve Mitchell-USA TODAY Sports

Points: 13.7
Rebounds: 7.0
Assists: 6.3
Steals: 3.0
Blocks: 1.0
Field-Goal Percentage: .368
Free-Throw Percentage: .722
Dwyane Wade's knee has been an issue, and with a three-games-to-none cushion, he ended up sitting out Game 4.
Wade couldn't find the range in Game 3, finishing just 1-of-12 from the floor, but still played a big role in the win with 11 dimes and nine boards.
He played well in Game 2, going for 21 points on an efficient 8-of-14 from the floor, doing his thing as an attacker and mid-range assassin.
As Miami gets deeper into this thing, it will need Wade to give them that second scoring punch on a routine basis. But we haven't really seen Wade ever fail to rise to the occasion. Hopefully after some rest, Wade will be fresher for the second round.
First-Round Grade: B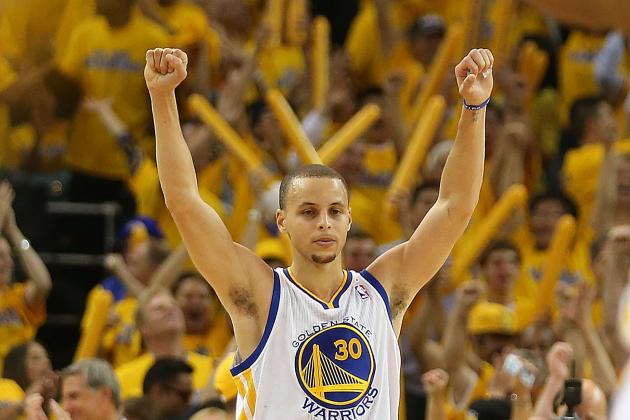 Jed Jacobsohn/Getty Images

Points: 24.3
Rebounds: 4.3
Assists: 9.3
Steals: 2.2
Field-Goal Percentage: .468
Three-Point Percentage: .442
Free-Throw Percentage: 1.000
Though we saw it coming, Stephen Curry's emergence to superstardom came during his first-ever playoff series.
He was spectacular in every way, taking over as a scorer without forgetting his responsibilities as a point guard and floor general.
In Games 2, 3 and 4, Curry went for 30, 29 and 31, respectively, shooting a combined 31-of-56 (55.3 percent). During that three-game stretch, he dished out 31 dimes to only six turnovers. When you combine his efficiency and production as a scorer and facilitator, you're left with a win on the road and two at home.
He's just been a nightmare off the dribble, showing the ability to pull up from anywhere out to 28 feet from the hoop. But with his slick handle and craftiness as a finisher, Curry can also create his own shot and finish around traffic.
Golden State lacks defensive stoppers and veteran experience, but Curry's offensive prowess allowed him to take a series into his own hands. Whether the Warriors go down to the Spurs or not, we can officially induct Stephen Curry into the NBA superstar club.
First Round Grade: A+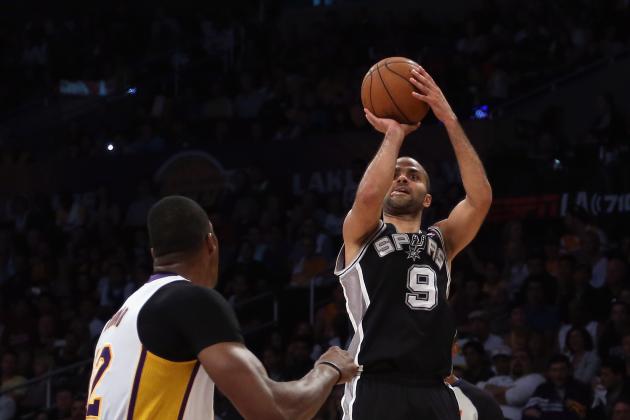 Jeff Gross/Getty Images

Points: 22.3
Rebounds: 3.3
Assists: 6.5
Steals: 1.5
Blocks: .30
Field-Goal Percentage: .494
Free-Throw Percentage: .818
You never really have to wonder how Tony Parker is going to perform. He's got to be one of the most reliable and productive guards over the past 10 years with as much playoff experience as anyone.
Parker made the Lakers look silly, torching their slow backcourt with his deadly mid-range pull-up and sneakiness in the lane. He protected the rock all series, handed out a fair share of helpers and scored with volume and ease.
He'll get Stephen Curry in Round 2, which should be one of the featured head-to-head playoff matchups. Though Curry has become America's new favorite player, there's no guard I trust more at this time of year than Tony Parker.
First-Round Grade: A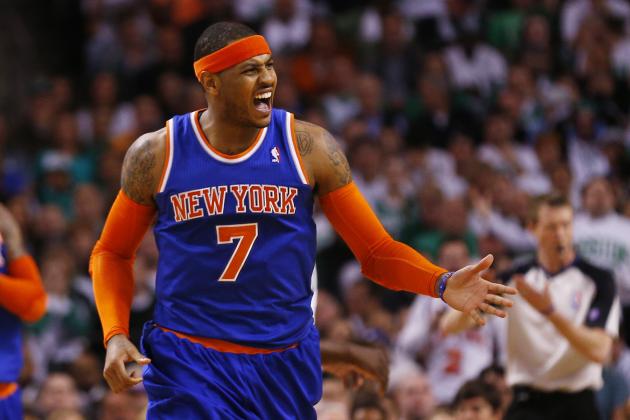 Jim Rogash/Getty Images

Points: 29.2
Rebounds: 5.3
Assists: 1.8
Steals: 1.3
Blocks: 1.0
Field-Goal Percentage: .381
Free-Throw Percentage: .898
It wasn't the most glamorous 29 points per game, but he did get the job done in Games 1 and 2, going for 36 and 34 respectively on a combined 6-of-10 shooting from downtown.
He faded down the stretch of the series, particularly in Game 4, when he missed a ghastly 25 shots with J.R. Smith suspended.
Melo continued to struggle shooting the ball in Games 5 and 6, as shot selection once again became an issue. Over New York's final three games against Boston, Melo let it fly 82 times, only making 25 of them (30.4 percent).
This is where I get on him for his inability to make in-game adjustments. Melo can shoot his team out of a game or series taking that many shots with so few makes in a short period of time. He should try to take some notes from Kevin Durant, who averaged six assists in the first round.
Still, Anthony has been putting points on the board for a team missing reliable scoring options. Melo's goal for Round 2 will be to put up similar scoring numbers at a much more efficient rate.
First-Round Grade: B-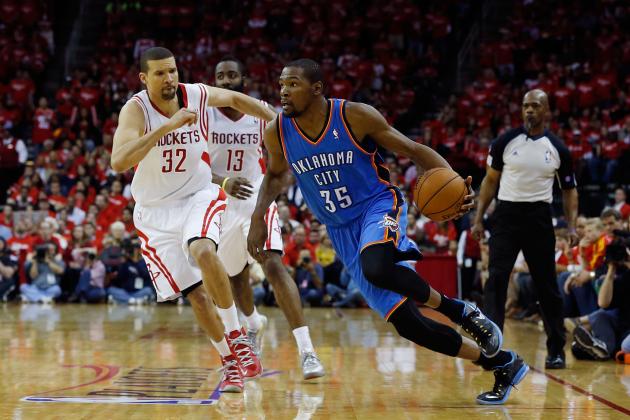 Scott Halleran/Getty Images

Points: 32.5
Rebounds: 7.8
Assists: 6.0
Steals: 1.3
Blocks: 1.0
Field-Goal Percentage: .485
Free-Throw Percentage: .873
Kevin Durant might as well be playing with his backpack on. The weight on his shoulders has doubled with Russell Westbrook out for the playoffs, and hero mode might be the only way out.
In Oklahoma City's two losses, Durant shot 23-of-39 (58.9 percent) for 74 points, and it just wasn't enough.
In terms of his development as a superstar, it's a good sign that he's still managing to drop 32 a game when his three-ball isn't falling. Durant is getting more buckets going north and south instead of east and west on the perimeter.
The fact that he only shot 28 percent from three during the first round just shows how high his ceiling is and how much he's capable of. If those three-balls start falling in Round 2 against Memphis, we could be looking at a legendary statistical series from an individual standpoint.
First-Round Grade: A+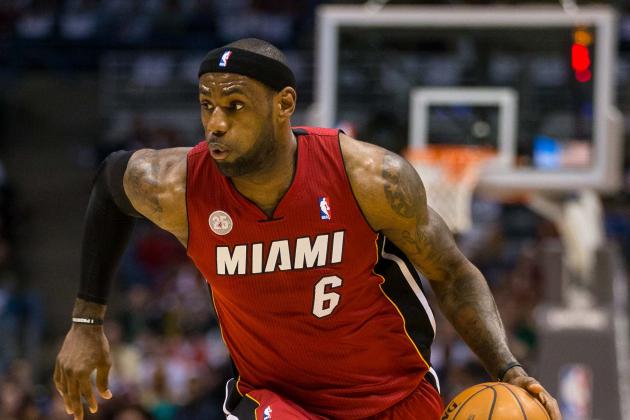 Jeff Hanisch-USA TODAY Sports

Points: 24.5
Rebounds: 7.8
Assists: 6.8
Steals: 1.0
Blocks: .30
Field-Goal Percentage: .627
Three-Point Percentage: .273
You look at LeBron James' numbers from Round 1, and knowing what we know, you'd say he could have been better—which is scary.
James did what he wanted, when he wanted and how he wanted to against Milwaukee. He did get a little sloppy at times with the 4.8 turnovers per game, but it's nothing that will move the needle.
No player dictates the flow and pace of a game better than James. He's a scorer, facilitator, creator and finisher—whichever is called for on that particular possession.
He shot over 64 percent in three out of Miami's four first-round contests, making the game look effortless and his opponents seem far more inferior.
James will have a tougher time against Chicago's relentless defensive approach, but there's really just no stopping this guy. He just picked up his fourth MVP trophy and still has an excess of gas left in the tank.
First-Round Grade: A+