Floyd "Money" Mayweather has sustained an injury to his right hand in his defeat of Robert "The Ghost" Guerrero at the MGM Grand on Saturday night.
UPDATE: Monday, May 6, at 7:15 a.m. ET by Brandon Galvin
Floyd Mayweather's hand injury isn't expected to be serious or prevent him from fighting in September, according to ESPN's Dan Rafael.
Mayweather (44-0, 26 KOs) said at the post-fight news conference that he planned to still fight on Sept. 14 and his visit to the doctor after that seemed to match his optimism about keeping the date.

'He went to hospital [Saturday] night and everything is fine,' Kelly Swanson, Mayweather's longtime publicist, told ESPN.com on Sunday. 'He just experienced some soreness.'
---End of update---
UPDATE: Sunday, May 5, at 11:09 p.m. ET by Eric Ball
I'm at the hospital getting X-rays on my right hand. I hurt it during the fight. [pic] — rock.li/p/111332

— Floyd Mayweather (@FloydMayweather) May 6, 2013
---End of Update---
After successfully defending his WBC Welterweight Title via a unanimous decision, the boxing superstar said that he injured his hand in the fight (according to Sports Illustrated's Chris Mannix):
Correction: Mayweather says he hurt his right hand. Deflects a question about Canelo.

— Chris Mannix (@ChrisMannixSI) May 5, 2013
No news is yet known on what round the injury occurred, but according to Sports Illustrated's Bryan A. Graham, Mayweather says it happened during the fight.
Mayweather says he hurt his right hand midway through the fight which prevented him from delivering a knockout.

— Bryan Armen Graham (@BryanAGraham) May 5, 2013
The 36-year-old also took off his glove after the fight to show the injury.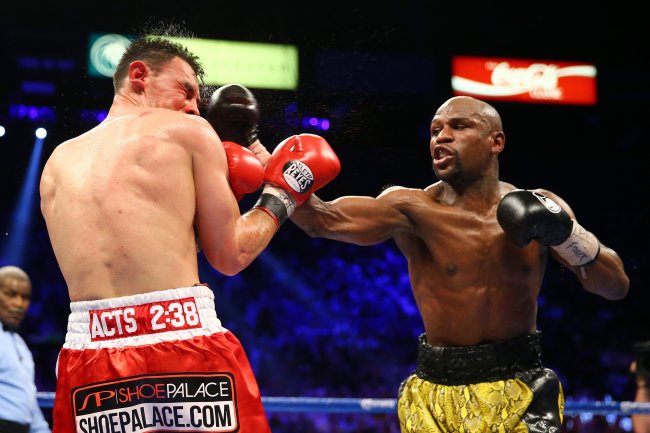 According to his contract with Showtime Networks Inc., Mayweather was scheduled to have up to six fights in the next 30 months—the first of which being this fight against Guerrero. What impact the injury will have on those plans still remains to be seen, with no news yet known on the details or severity of the injury.
However, as Steve Kim at Max Boxing suggests, it could well postpone his next fight scheduled for September against an undetermined opponent. Mannix already pointed out above that the star avoided questions about potentially fighting Canelo Alvarez, whom many would love to see square off against Money May, and that this injury may end derail any chances of that fight coming together.
uhhh, yeah, Mayweather won... Don't know what to say. Except he says he hurt his hand.So he wont be fighting in Sept #boxing #MayDay

— Steve Kim (@stevemaxboxing) May 5, 2013
Mayweather's right hand was simply dominant against Guerrero throughout the fight—opening up his opponent with several great jabs during the middle rounds.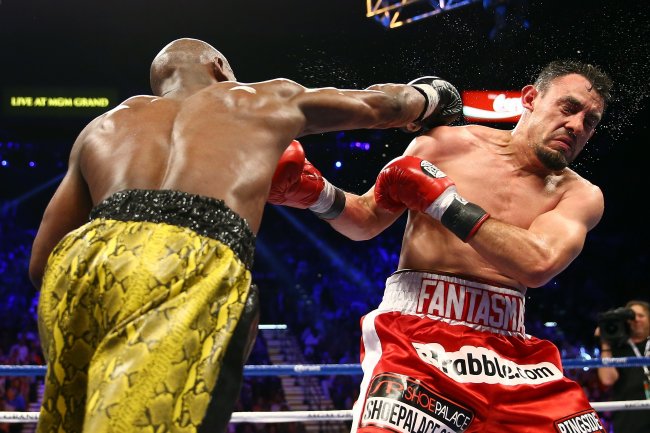 According to ESPN Stats and Info, the 36-year-old landed 60 percent of his power punches throughout the fight as he chalked up a 117-111 unanimous-decision victory, with all three judges giving the same score.
It is not yet known in what round Mayweather sustained the injury, but there's little doubt he fought for a significant portion of the fight with the injury—and likely still landed several huge blows in the process.
The victory extended Mayweather's unbeaten streak to 44-0.
Hit me up on Twitter for more sports goodness: