When Jon Jones defeated Chael Sonnen at UFC 159, he did so in a style that we were not accustomed to seeing. In the past, Jones had used his reach and length to keep opponents at bay. Against Sonnen, the champ fought in the clinch and used his wrestling and top game to earn the victory. It was exactly the style that everyone thought Sonnen would use to attempt to defeat Jones, and that is why it was so beautiful.
After the victory, and yes, after he discovered that his big left toe was looking to get out of Jersey on its own, Jones spoke to UFC commentator Joe Rogan in the Octagon. Jones, sitting on a stool, his UFC title belt wrapped around his waist, said:
I really wanted to Chael Sonnen Chael Sonnen, and I think I did a good job of that. My coach teaches me to have a "screw that" attitude, so if people are saying I'm going to get out-wrestled, you gotta say screw that I'm going to out-wrestle him. Don't accept being lesser than other people. You owe it to yourself to believe and defy all odds.
Let's be honest, that's the type of thing we want to hear from not just UFC fighters, but from UFC champions.
In a world where an athlete is only as good as his last fight, the "play it safe" attitude has become the norm in mixed martial arts. A perfect example would be UFC welterweight champion Georges St-Pierre. St-Pierre is a fighter who painstakingly game-plans to find his opponent's biggest weaknesses and then exposes those weaknesses.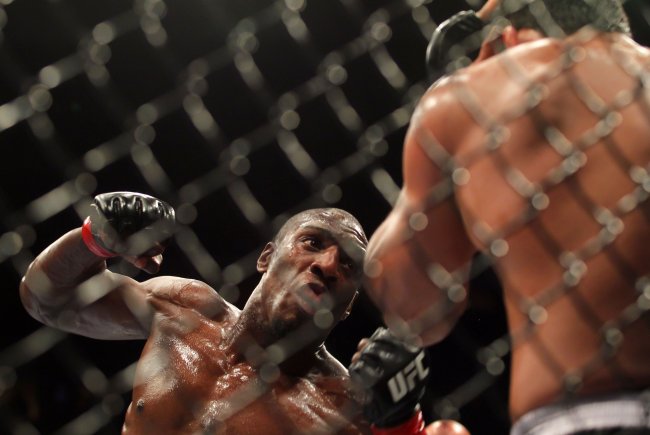 A more recent example took place at UFC 159. Many expected Phil Davis, a NCAA champion wrestler at Penn State, to fight his opponent, Vinny Magalhaes, a world champion in Brazilian jiu-jitsu, on the ground in a battle of wrestling versus BJJ.
That didn't happen; instead, Davis used a crisp striking game to win the fight. Following his win, Davis spoke to MMAJunkie Radio about the fight: "I don't need to prove how big of a man I am and fight with some huge ego and try to submit you where you're strongest just to prove I'm this or that. That's not the way I do things."
Is there anything wrong with the style that St-Pierre or Davis employs? Absolutely not. Safe wins keep the belt strapped around St-Pierre's waist and allow a fighter like Davis to keep climbing the UFC rankings. However, sometimes it's nice to see confidence, perhaps even overconfidence in a fighter. It's takes a certain amount of chutzpah for a champion to do what Jones did against Sonnen.
Was Jones' game plan a little reckless? Sure. Could it have backfired and cost him his title? Hell yes it could have. Was it awesome and do we hope Jones continues to employ his "screw it" style no matter whom he faces. No doubt, and you have to know that the UFC shares in that thinking.