Fantasy Baseball 2013 Waiver Wire: Top 10 Pickups for Week 6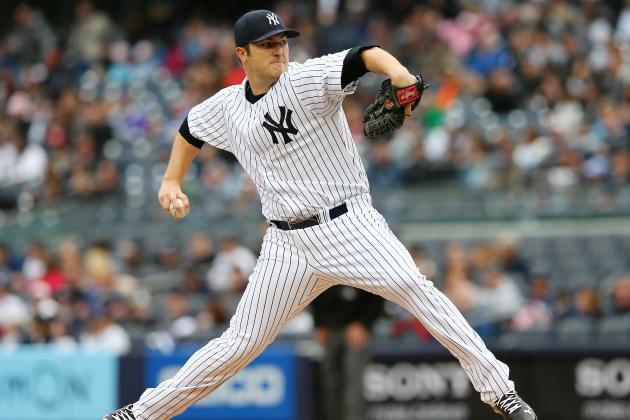 Elsa/Getty Images
Owners who wrote off Phil Hughes after a pair of stinkers to open the season may not have realized the Yankees right-hander had pitched brilliantly over his past four starts.
A new week, another batch of waiver-wire adds, just the way you like 'em—hot and fresh out of the oven.
Some players mentioned last time, including Brian McCann, Nate McLouth, Nolan Arenado and Kevin Gregg, are already owned in most leagues by now but remain quality pickups if still available. In the interest of keeping the names new, though, let's avoid any repeats.
All ownership percentages come from ESPN fantasy baseball. Players owned in more than 51 percent of leagues were not considered.
Begin Slideshow

»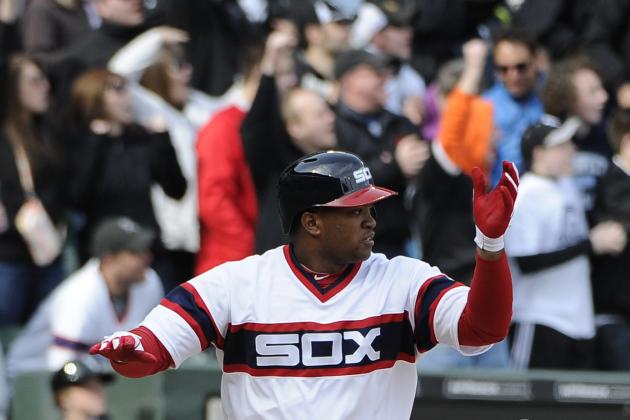 David Banks/Getty Images

Kevin Slowey, RHP, Marlins (15.9 Percent Owned): More of an NL-only or deep-mixed option, but it may be time to start taking Slowey seriously after the righty tossed his fourth straight quality start, over which he's allowed 15 hits and five earned runs while posting a 25-3 K-BB ratio in 27 innings.
Dayan Viciedo, OF, White Sox (21.0 Percent Owned): The Tank has been sidelined by an oblique injury for a couple weeks, but Viciedo (pictured) should be back soon and could be an under-the-radar 25-homer bat.
Marcell Ozuna, OF, Marlins (0.8 Percent Owned): Going 11 for your first 23 with a homer, four RBI and four runs will get you noticed, and that's just what this power-hitting rookie did in his first week in the bigs.
Kelly Johnson, 2B/OF, Rays (13.7 Percent Owned): It's not often pretty with Johnson, but the veteran is a useful piece in deep leagues for his multi-position eligibility and a pop-speed combo that usually results in a 15-15 campaign. Plus, he's hot of late, with a homer, two steals and 10 RBI in his past seven games.
Chris Tillman, RHP, Orioles (2.6 Percent Owned): A preseason candidate for a breakout year, Tillman's first turn immediately turned many owners off, but he's been strong since, with a 2.61 ERA, 1.19 WHIP and 7.0 K/9.
James Loney, 1B, Rays (8.3 Percent Owned): After another three-hit game Sunday—he has seven of those since April 17—Loney is worth the add if you need batting average help. Just don't expect much else.
Jedd Gyorko, 2B/3B, Padres (23.4 Percent Owned): It's taken this rookie a while to show he can be the hit machine he was in the minors (.319 average), but he's managed at least one base knock in 11 of his past 13 and homered Sunday for the second time in five games.
Domonic Brown, OF, Phillies (29.3 Percent Owned): Brown may never turn into the 20-20 type many thought he was destined to be as a top prospect, but he's finally playing every day and going well of late with 13 hits, three homers and eight RBI in his last 11 games.
Juan Pierre, OF, Marlins (22.4 Percent Owned): Since bottoming out with a .174 average on April 14, the still-speedy veteran has hit a more respectable .277 (18-for-65), scored 12 runs and swiped 10 of his 11 bases.
Dee Gordon, SS, Dodgers (7.4 Percent Owned): Given another shot in the wake of Hanley Ramirez going back on the DL (this time with a hamstring strain), Gordon's wheels have already picked up three steals in his first two games. A short-term add for owners desperate for SBs.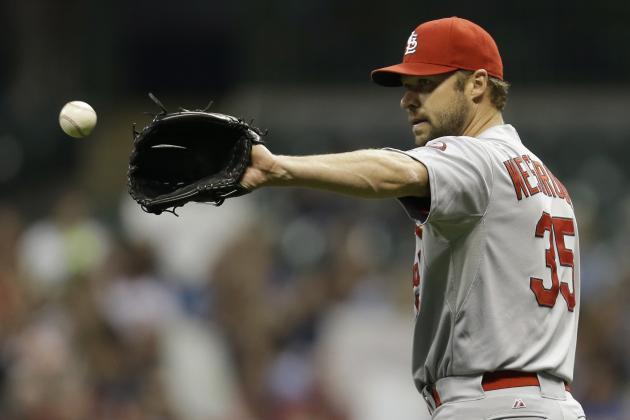 Mike McGinnis/Getty Images

In some ways, the fact that the National League's ERA leader is not more widely owned is proof that the fantasy community has become collectively savvier in recent years.
Jake Westbrook is what he is—a quality back-of-the-rotation arm, no more, no less—but it's hard to resist anyone who's atop his league with a 1.07 ERA a month into the season.
Still, the veteran righty is allowing plenty of baserunners—it's not often we see a pitcher's WHIP (1.40) higher than his ERA—and striking out only 4.8 per nine. Plus, Westbrook has yet to allow a homer, which is rather fortunate, even for a ground-baller like him.
Clearly, this isn't going to last, but if you're the kind of owner who doesn't mind snatching up the hot hand, Westbrook has gone 5-for-5 on quality starts and is backed by a strong offense, so he's at least worth taking a look at in deep mixed leagues on a spot-start basis.
And if you're the smart owner who doesn't bite, then you can say "I told you so" when the reckoning comes.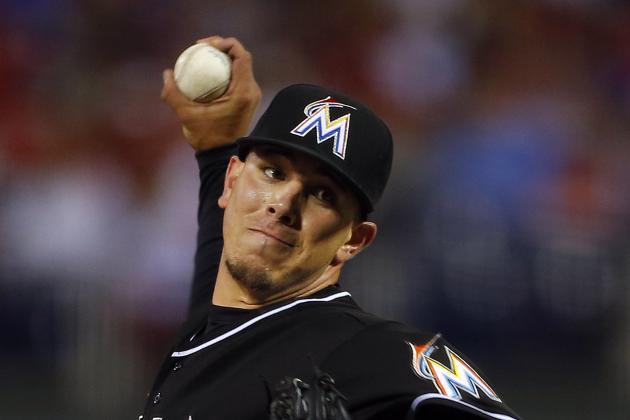 Rich Schultz/Getty Images

This phenom was on the inaugural Top 10 Pickups, and while he's been up-and-down since, Jose Fernandez was filthy in his most recent start.
On Saturday against the Phillies on the road, the 20-year-old rookie righty twirled seven shutout innings, while allowing just one hit and one walk against nine whiffs to earn his first big league win.
The "Ws" may be few and far between, since he pitches for the Marlins and will be capped at five or six frames most of the time, but that's the sort of performance Fernandez is capable of, which makes him worth picking up and hanging on to even when he has the occasional "adjustment outing."
Really, what's not to like about a 1.06 WHIP and 32 strikeouts in 31 innings?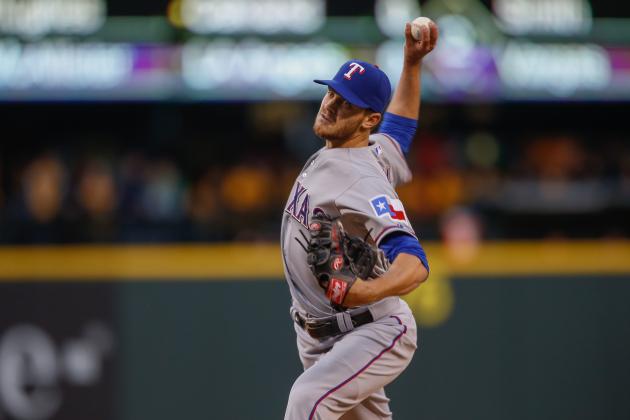 Otto Greule Jr/Getty Images

Recently named the American League Rookie of the Month for April, Justin Grimm is pitching more like a veteran.
That's exactly the kind of lift the Rangers need, especially with news that 2012 All-Star Matt Harrison—their Opening Day starter, no less—will miss most of the season due to back surgeries (yes, plural).
But Grimm has provided a lift for fantasy owners, too, thanks to his 2.28 ERA, 1.27 ERA and 9.1 K/9.
The big righty was one of Texas' top prospects heading into the season but lost out on the club's fifth starter job, only to get another shot once Harrison went down. Grimm's making it count, and this is the kind of arm with upside that owners should jump on now to see what happens.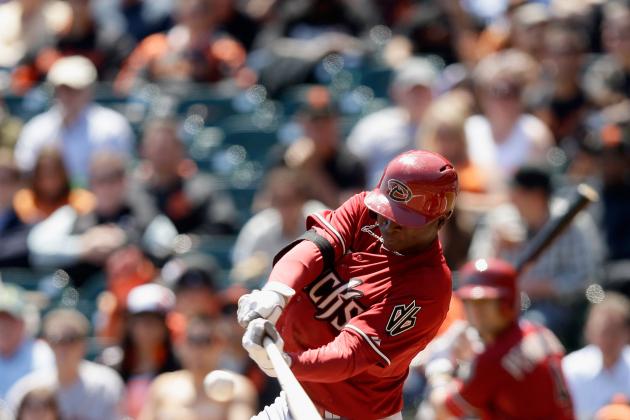 Ezra Shaw/Getty Images

Maybe the Diamondbacks saw this coming?
Acquired as part of the three-way trade in which Arizona jettisoned top pitching prospect Trevor Bauer to the Indians, Didi Gregorius seemed like the typical better-in-real-life-than-in-fantasy player, mainly because of his strong defense and big arm at the shortstop position.
And yet, the 23-year-old, who missed a little more than a week due to a concussion after being hit in the head by a pitch, returned Sunday and did something he's now done three times in his first 30 at-bats of the year—hit a home run.
Gregorius, a lefty hitter, has never shown much power or speed in the minors—his career-high in homers is seven and his best steals total is 20—but he's now 13-for-30 (.433) with four doubles. Oh, and those three four-baggers.
If you need help at your middle infield spot, add while hot.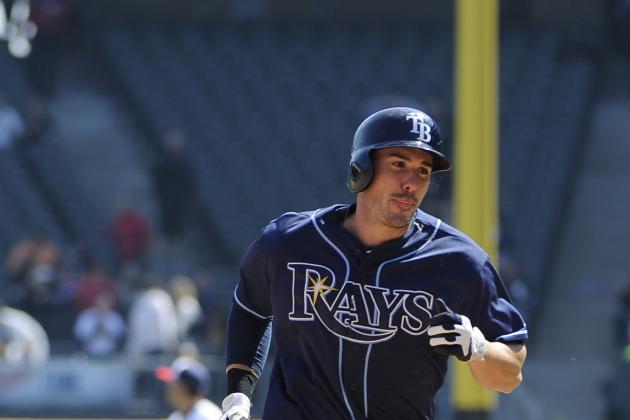 David Banks/Getty Images

Matt Joyce isn't the kind of hitter who's going to win your fantasy league for you, but he can definitely help while he's going well.
Since his average dipped to a season-worst .133 on April 14, Joyce has hit much better. Arbitrary starting point aside, here are his numbers: .255 average, five homers, eight RBI and 14 runs in 13 starts.
Joyce also spends most of his time hitting either second or fifth, meaning he's in a spot that will boost his opportunities for either runs or RBI on any given night.
The 28-year-old left-handed hitter excels against righties with a career .264 average and .851 OPS, not to mention, 61 of his 67 homers. If you can deploy him in a league that uses daily lineup moves, put him in one of your outfield spots whenever the Rays face a righty.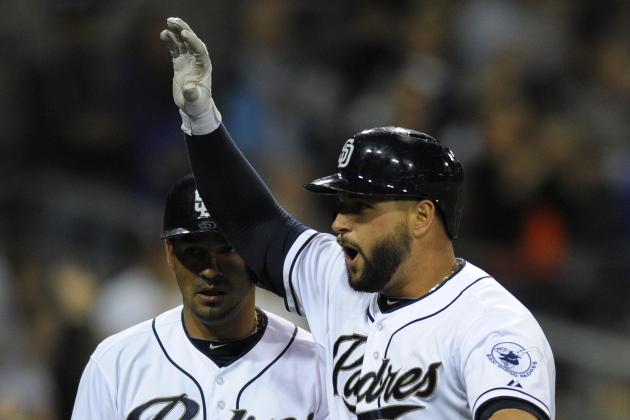 Denis Poroy/Getty Images

"I don't always hit homers and drive in runs, but when I do, I do very little of both."
That might have been something Yonder Alonso, Least Interesting First Baseman in the World, would have said if he made a commercial about his life last year, when he totaled just nine homers and 62 RBI over 155 games.
This year? Well, the 26-year-old former first-round pick is hitting .279 with four home runs and 20 RBI, which puts him on pace for 21 and 105.
Overlooked heading into the year, Alonso is starting to (bad joke alert) hit some balls over Yonder, meaning he could be coming into his own.
And making himself much more interesting.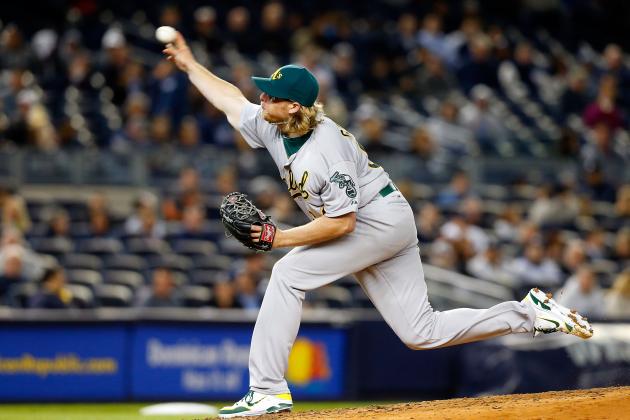 Jim McIsaac/Getty Images

We discussed A.J. Griffin as a pickup in Week 4, only to watch him immediately give up eight hits and seven runs over four innings that same day at Fenway Park. Woops.
Well, we're going to try this again, because Griffin should be owned in way more leagues than he is.
Since that turn against the Red Sox—his only bad outing of the season, by the way—Griffin has thrown well (four runs, 11 hits and 11 Ks in 14 innings) against the Orioles and Yankees, and his ERA and WHIP stand at 3.79 and 1.21, respectively.
The strikeouts will always be a little less than what you want (6.4 K/9 this year), but that's also a big reason why he's still available in the majority of leagues.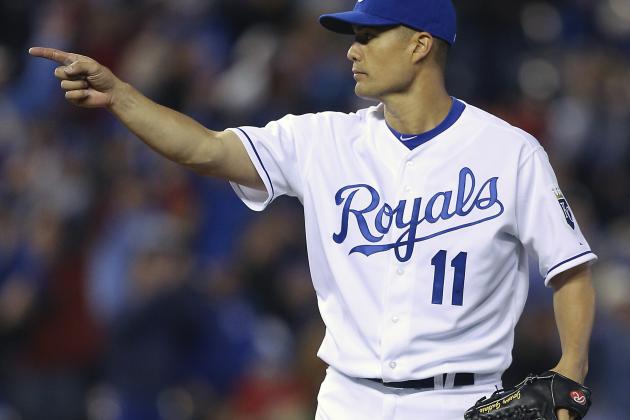 Ed Zurga/Getty Images

Hey, remember when Jeremy Guthrie was terrible?
Yeah, well, the guy who had a-shield-your-eyes bad 6.35 ERA and 1.69 WHIP with the Rockies in the first half of 2012 just tossed a CG SHO (that's complete game shutout) on the White Sox over the weekend for win No. 4.
His ERA and WHIP to start 2013? Try 2.40 and 1.11.
The right-hander was also really solid for the Royals at the end of last year, too, with a 3.16 ERA and 1.13 WHIP.
The 5.9 K/9 won't help, but everything else actually will.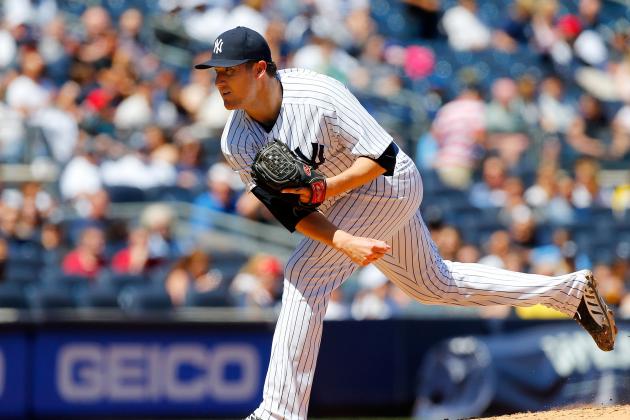 Jim McIsaac/Getty Images

Phil Hughes was understandably ignored by owners early this year, especially after he entered the season dealing with a back injury then went out and got shellacked in his first two turns.
If you're one of those owners who hasn't given him a second thought since, though, consider this just that.
In his past four starts, the righty is 3-1 with 23 hits and five walks over 28 innings. Easy math: That's a WHIP of 1.00.
Hughes also has allowed just six runs with 30 strikeouts. Less easy math: That's a 1.93 ERA and a 9.6 K/9.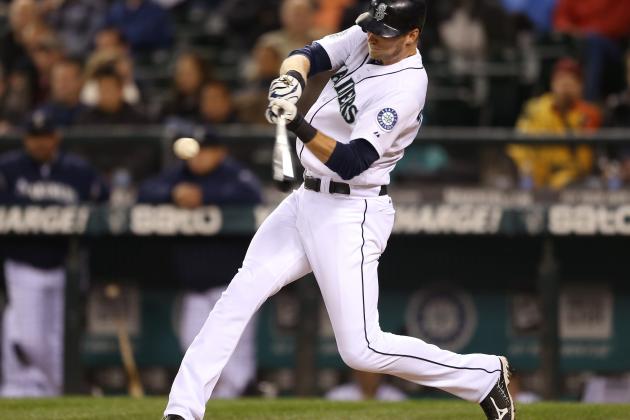 Otto Greule Jr/Getty Images

While he was out for 17 games due to a shoulder injury after crashing into the wall on April 10, Michael Saunders might have been cut in your league.
If so, you should be the owner to pick him up.
The athletic 26-year-old lefty hitter has four apiece in the home run and stolen base categories, which comes on the heels of a semi-breakout 2012 when he reached 19 homers and 21 steals in what was his first legitimately full season.
Saunders is a batting-average risk—he hit just .247 a year ago and owns a .223 career average—but he's definitely making adjustments and improvements, so a career-high mark is certainly possible.
And even if not, a 20-20 season still makes Saunders starter-worthy in most formats.