Mayweather vs. Guerrero Undercard: Live Results and Highlights for Every Fight
The Mayweather-Guerrero undercard is underway on Showtime PPV! Follow along here with live updates and analysis.
In the opening bout middleweight prospect J'Leon Love (16-0, 8 KO) remained undefeated with a highly unpopular split decision win over the rugged Gabriel Rosado (21-7, 13 KO).
Scores were 97-92 and 95-94 for Love and 95-94 for Rosado who appeared to be the winner in the eyes of the crowd.
Next up former bantamweight champion Leo Santa Cruz (24-0-1, 14 KO) battered and absolutely beatdown former super flyweight champion Alexander Munoz.
It was an extremely impressive performance and a woeful beating of a game but totally overmatched opponent.
In the final co-featured bout Abner Mares successfully jumped up to featherweight and scored an impressive ninth round TKO victory over former WBC champion Daniel Ponce de Leon.
Mares was the faster of the two fighters and dropped Ponce de Leon twice before prompting referee Jay Nady to halt the contest.
With the victory Mares captures the WBC featherweight championship.
That'll do it for us tonight fight fans. We hope you enjoyed our live coverage of the Mayweather vs. Guerrero undercard!
Stay tuned to us here at Bleacher Report for live coverage of the main event. May Day: Mayweather vs. Guerrero!
Ponce tells Jim Gray the fight should not have been stopped

— Michael Woods (@Woodsy1069) May 5, 2013
Fight was very close on cards at time of stoppage. 77-74, 76-75, 76-75 Mares. Would've been some finish.
Watching Mares, who has a very good blend of power, speed and accuracy, makes it more disappointing we didn't see Mares-Donaire

— Chris Mannix (@ChrisMannixSI) May 5, 2013
Absolutely. Mares showed a lot tonight. Much more than Donaire did against Rigo.
#DeLeonMares DeLeon Ref stops the fight... while DeLeon was fighting back.. He was hurt. Good fight!

— FightNights.com™ (@boxing) May 5, 2013
All credit to both guys. Two warriors who put on a great show. Premature stoppage or not Mares deserved the win.
Mares deserves a ton of credit for winning this fight.
But Jay Nady gave a quick hook there. Ponce de Leon was throwing back, had his hands up and was definitely still in the fight.
Either way though it's Mares by 9th round TKO as he captures the WBC featherweight title.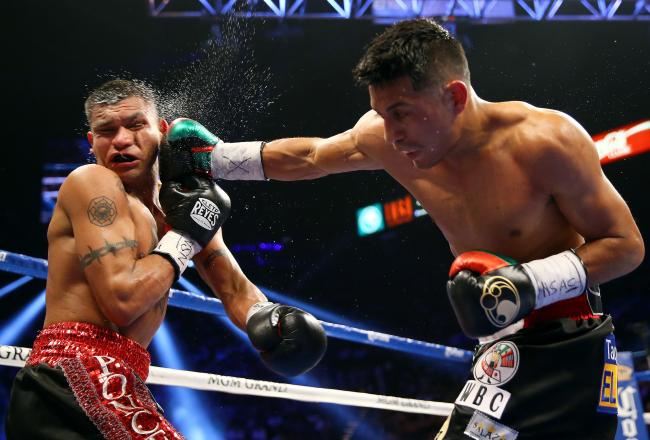 PDL was hurt, but had his hands up and was focused on his opponent.
That HAS to be allowed to continue!! Granted the referee has to make a quick call but that was the definition of an early hook.
PDL deserved a chance to fight he was back.
Wow. Jay Nady steps in and stops the fight in the ninth!!
That's an absolutely atrocious stoppage!
And absolutely out of NOWHERE Mares drops PDL again in the ninth with a HUGE shot. PDL in trouble now and on the verge of being stopped!!!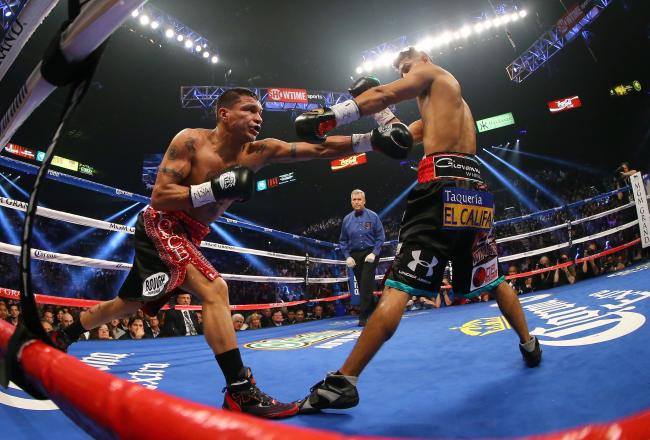 This fight has drastically changed in favor of PDL. Mares is clearly slowing down, as the affects of the bigger man's punches are starting to show.
Round 8 was another good round for Ponce de Leon #boxing #MayDay @shosports

— Douglass Fischer (@dougiefischer) May 5, 2013
Yep. Gave him that round to even it 4-4 on the cards. Mares still leads because of the knockdown though. 76-75.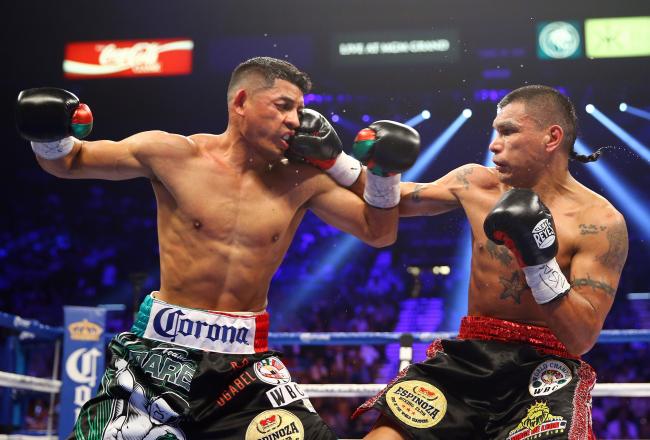 Extra weight could be affecting Mares as PDL has landed more as Abner has slowed a bit. Subtle but a change.
Going to eighth, Mares needed a break for low blow and rallied to land some good rights.

— Lance Pugmire (@latimespugmire) May 5, 2013
Gave Mares that round but PDL has narrowed the distance and appears to be hurting Mares now with some consistency.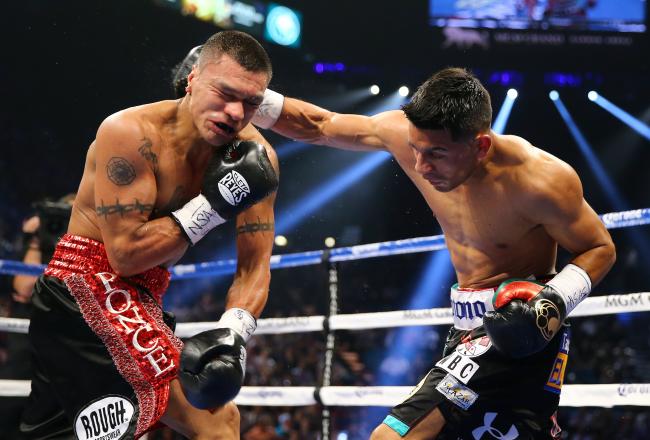 PDL getting much more aggressive. Starting to land his left hand more and Mares has appeared to slow a tad.
PDL lands a low blow, how ironic, and Mares goes down. Jay Nady tells Mares to suck it up because he was holding.
I thought Ponce de Leon had a good sixth round. He might be coming on. #boxing #MayDay @shosports

— Douglass Fischer (@dougiefischer) May 5, 2013
Agree have it much closer than most. Got it 3-3 in rounds but Mares up still because of the knockdown.
Lem: Good left-right by Mares. Ponce covers. Mares circling. Not necessarily effective. Mares with series of good one-twos. #boxing

— Michael, Doug or Lem (@ringmagazine) May 5, 2013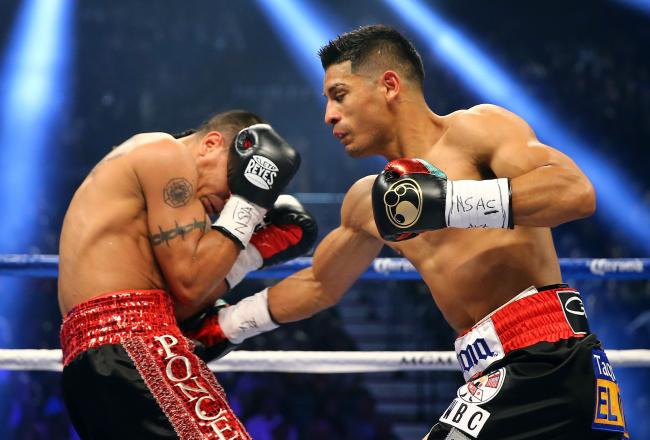 Favored the aggression of Ponce de Leon there in round five. Gave it to him to narrow the fight to 3-2 in rounds for Abner Mares.
With the knockdown though he leads 48-46
PDL winging those huge lefts at Mares all night. He's landed a few and Mares has taken them well thus far. Round up for grabs here in the fifth.
Mares has built an early lead but Ponce is still very dangerous. this fight is just getting started #boxing #mayday

— Steve Kim (@stevemaxboxing) May 5, 2013
PDL has the power to change the fight with one punch.
Loving the work Mares is doing here in the first third of the fight. He's quicker, more precise and his punches are landing on target with force.
Got him up 3-1 in rounds 39-36 on the cards.
Will get interesting though if PDL lands something big.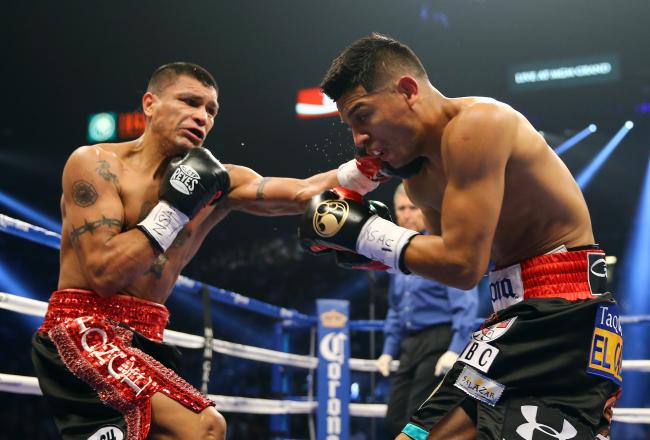 PDL had Mares cornered there and didn't do enough...
Lem: Mares is so creative, but still has to watch the left. Got him up 3-0, or, 30-26 #boxing

— Michael, Doug or Lem (@ringmagazine) May 5, 2013
Gave PDL round one but all Mares since then.
Ponce DL is still dangerous, lands some left hands to remind Mares of this in round 3 #boxing #MayDay @shosports

— Douglass Fischer (@dougiefischer) May 5, 2013
Mares has been more precise. And that's the difference thus far.
PDL again stunned by a huge Mares right hand near the end of the round. The two men trade huge shots along the ropes to punctuate the third round.
Tough to score but I favored Mares who now leads 2-1 in rounds 29-27.
This article is
What is the duplicate article?
Why is this article offensive?
Where is this article plagiarized from?
Why is this article poorly edited?