Early Projections for the Minnesota Vikings' Final 53-Man Roster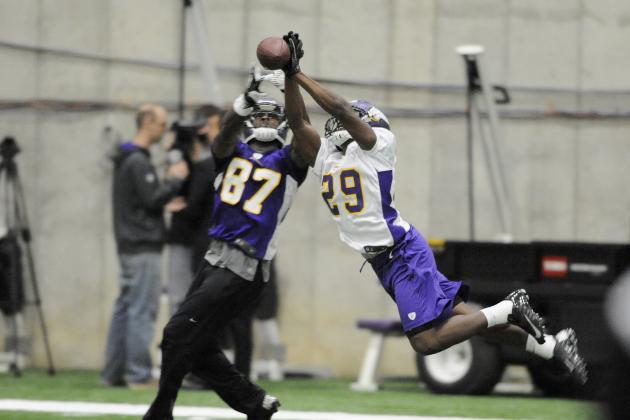 Hannah Foslien/Getty Images
First-Round draft pick Xavier Rhodes (29) is a lock to make the roster, while rookie free agent, LaMark Brown (87) is a long shot.
Only a little more than a week removed from the NFL draft, here's a far too early projection of the Minnesota Vikings' roster. There are currently 90 players vying for 53 slots, and while most of the positions are set, there will be some battles to be waged during the OTAs, minicamps, training camp and the preseason.
There's sure to be some surprises as the Vikings continue their youth movement. With nine draft picks and 16 rookie free agents, the team most certainly will get younger. The release of 35-year-old cornerback Antoine Winfield did a lot to make the club younger already.
Here's a position-by-position projection of the Vikings 53-man roster.
Begin Slideshow

»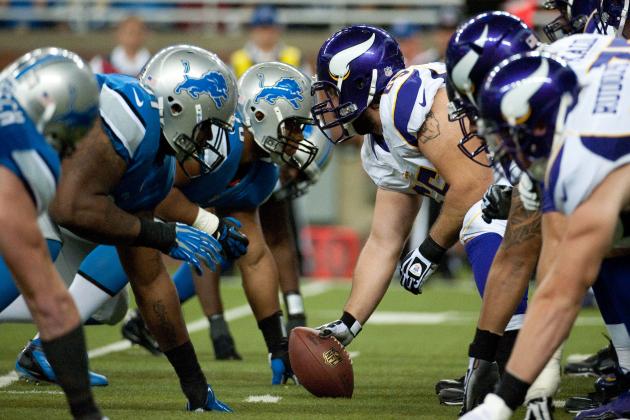 Tim Fuller-USA TODAY Sports

Starters (experience heading into the 2013 season)
LT: Matt Kalil (1)
LG: Charlie Johnson (7)
C: John Sullivan (5)
RG: Brandon Fusco (2)
RT: Phil Loadholt (4)
Reserves
Joe Berger (7)
DeMarcus Love (1)
Jeff Baca (R)
Last year the Vikings' offensive line was dramatically improved with the addition of Matt Kalil, the fourth overall pick in the 2012 NFL draft. Kalil took over at left tackle, pushing Charlie Johnson over to guard, a position he started all 16 games for the Colts in 2008.
In a battle for right guard, it was no contest last year. A sports hernia slowed down Geoff Schwartz, and Brandon Fusco took advantage of the situation and kept Schwartz on the bench.
At left tackle, the Vikings re-signed Phil Loadholt to a four-year, $25 million contract. Since being drafted in the second round of the 2009 draft, he has started every game but one.
This line was very successful run-blocking for Adrian Peterson who finished with 2,097 yards. They only gave up 32 sacks last season—an improvement over the 49 yielded in 2011.
Veteran Joe Berger returns as the only backup from last season. A versatile player, Berger can fill in anywhere along the line.
Gone is Schwartz who played one year with the Vikings, signing as a free agent with the Kansas City Chiefs. In his place will be sixth-round draft pick Jeff Baca from UCLA. At 6'3" and 302 pounds, Baca isn't as big as Schwartz (6'6", 331 lbs.), but there's time for him to add some bulk before the season.
DeMarcus Love, taken in the same round as Fusco in 2011, finally shakes the injury bug that has prevented him from making any contributions.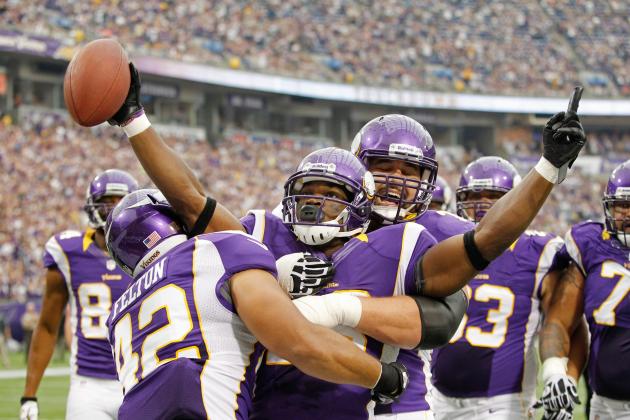 Bruce Kluckhohn-USA TODAY Sports

Starter: Adrian Peterson (6)
Backups: Toby Gerhart (3) and Matt Asiata (1)
Fullback: Jerome Felton (5)
Just like on the offensive line, there's no need to make any changes from last season.
At this time last year, the running back position was full of questions. Adrian Peterson was less than six months from having major knee surgery, and backup Lorenzo Booker was released. That left Toby Gerhart in position to carry the load for the Vikings. A remarkable recovery by Peterson, and an even more remarkable performance during the season, prevented that from happening.
Before the 2013 NFL draft, Toby Gerhart was thought to be on the trading block. Since the Vikings didn't select any running backs in the draft, the likelihood of that happening is much reduced. That and the fact Gerhart's numbers for 2012 were the worst in his three years. His average per carry dropped from 4.9 yards in 2011 to 3.4, rushing for only 169 yards.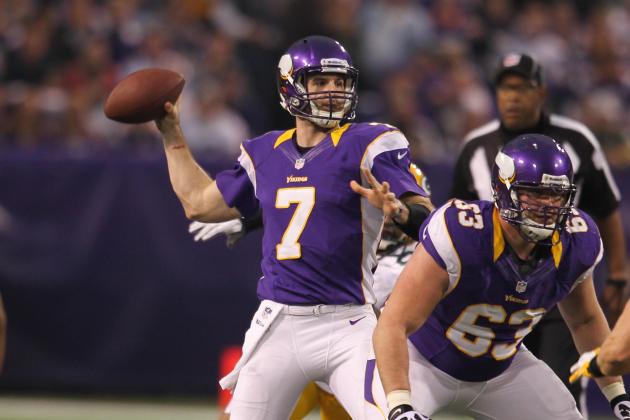 Brace Hemmelgarn-USA TODAY Sports

Starter: Christian Ponder (2)
Backup: Matt Cassel (8)
Clipboard holder: McLeod Bethel-Thompson (1)
It's obvious after last season that Joe Webb's abilities don't match the type of offense the Minnesota Vikings run. He's a dangerous athlete with the ball in his hand as a running quarterback, but his inability to accurately pass the ball is what ends his run with the Vikings.
At times last season when Christian Ponder struggled, head coach Leslie Frazier was not confident enough in Webb to replace Ponder in a game. It wasn't until the playoff game in Green Bay, when Ponder was unable to throw the ball, did Webb attempt his first pass.
When the Vikings signed Matt Cassel, and repeatedly reiterated that Ponder was the team's starter, it became apparent that Webb's days as a quarterback are coming to an end. Even Webb recognizes the situation. In a report from Tom Pelissero on 1500ESPN, Webb has taken it upon himself to working out at wide receiver.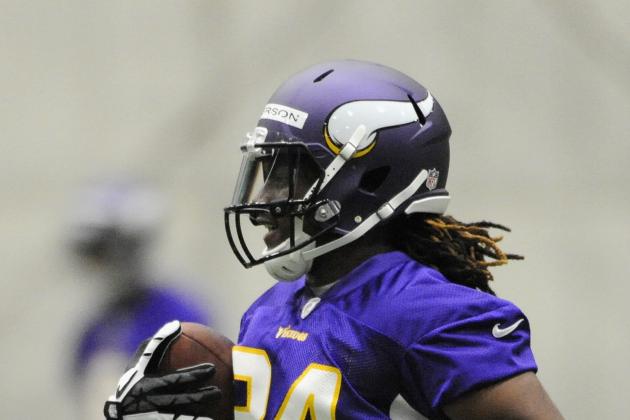 Hannah Foslien/Getty Images
Here's hoping there's no curse in the no. 84 jersey assigned to first-round pick Cordarrelle Patterson.
Starters
Greg Jennings (7)
Cordarrelle Patterson (R)
The rest of the gang:
Jerome Simpson (5)
Jarius Wright (1)
Joe Webb (3)
We finally come to a position that will see some major changes from last season.
The Minnesota Vikings currently have 11 wide receivers on their roster. The problem is only five of them have caught a pass in the NFL—that includes Joe Webb who has one career reception for nine yards.
Greg Jennings leads the group with 425 receptions in seven years playing in Green Bay. The combined total for the other 10 is 127 receptions.
By virtue of the lack of talent on the roster, first-round draft pick Cordarrelle Patterson becomes the other starter.
In order for this group to be better than last year, Jerome Simpson will need to have a year like he did in Cincinnati in 2011 when he was an effective third receiver, catching 50 passes for 725 yards.
Jarius Wright made the most of his opportunity with the Vikings after being activated following Percy Harvin's injury in Week 9 last season. In seven games he caught 22 passes for 310 yards and two touchdowns—that was more receiving yards than Simpson and as many touchdowns as Michael Jenkins.
Already gone is Devin Aromashodu, who caught only 37 passes in two seasons with the Vikings.
Unlikely to make the team this year are Stephen Burton, a seventh-round draft pick of the Vikings in 2011 and Greg Childs whose history of knee problems will end his career before it gets started. A lot will depend on the number of defensive linemen the Vikings keep on the roster.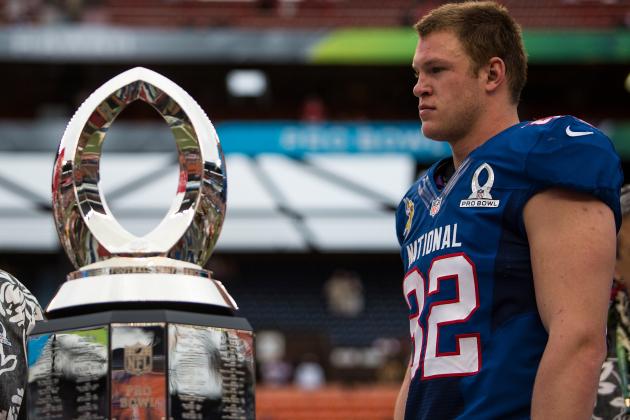 Kent Nishimura/Getty Images
Can tight end Kyle Rudolph use the Pro Bowl MVP award as a springboard to continued success in 2013?
Starter: Kyle Rudolph (2)
Backup: John Carlson (4)
Third: Rhett Ellison (1)
Kyle Rudolph is developing into an impact player. Last season he finished second on the Vikings with 53 receptions for 493 yards and led the team with nine touchdowns. It earned him a role in the Pro Bowl after being added to NFC roster to replace Tony Gonzalez.
He was named the game's MVP after finishing with five catches for 122 yards and a touchdown. Granted it came in an exhibition game, but it proves that Rudolph has the potential to be a game-changing tight end.
The Vikings signed John Carlson to a 5-year, $25 million contract before the start of last season. What they got for their money was eight catches for 43 yards. Working against Carlson was the fact he missed the entire 2011 season with a shoulder injury and then suffered a sprained MCL that caused him to miss the entire preseason.
Agreeing to a re-structured contract that reduces the Vikings' cap hit will keep the five-year veteran on the roster. While healthy in Seattle, Carlson averaged 46 receptions for 506 yards and four touchdowns. If he can return to that level of performance, the Vikings would have a formidable tight end duo on offense.
Rhett Ellison, a surprising fourth-round selection for the Vikings last season, not only made the team, but was active for 15 games and finished with seven receptions for 65 yards. The Vikings like his ability and see him as a capable replacement for Jim Kleinsasser who retired following the 2011 season.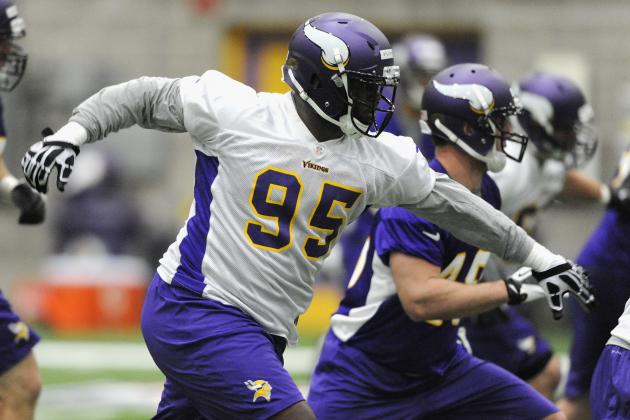 Hannah Foslien/Getty Images
First-round draft pick Sharrif Floyd is the new big man in the middle.
Starters
DE: Jared Allen (9)
DT: Kevin Williams (10)
DT: Sharrif Floyd (R)
DE: Everson Griffen (3)
Backups
Brian Robison (6)
Letroy Guion (5)
Christian Ballard (2)
George Johnson (2)
Everett Dawkins (R)
The release of cornerback Antoine Winfield makes the defensive line the most experienced position on the roster. Turning 33 in August, Kevin Williams is now the Minnesota Vikings' oldest player. The Vikings used their first pick in the draft to select Sharrif Floyd.
Another move that makes the line younger would be to release backup defensive tackle Fred Evans who has played six of his seven seasons with the Vikings and will be 30 this season. Over those six seasons, he has only three starts.
It will be difficult to keep Everson Griffen from starting this season. Making only one start last season, Griffen finished with eight sacks, only one-half sack less than Brian Robison. Robison and Letroy Guion, both starters from last season, will see plenty of action as the top-two backups to the line.
The Vikings carried nine defensive linemen last season. It's possible that they could go with eight this season and add another wide receiver.
That leaves 10 players currently on the Vikings' roster to compete for only three spots. Who fills those spots will depend on the Vikings' youth movement and the hopes of finding a future starting defensive end. Allen, Griffen and Robison will all become free agents at the end of the season.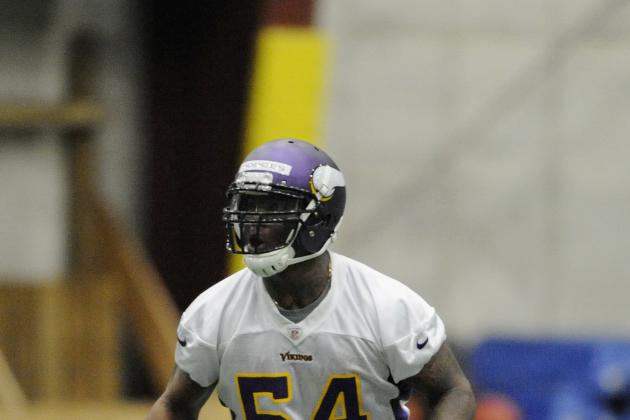 Hannah Foslien/Getty Images
Fourth-round draft pick Gerald Hodges takes over Jasper Brinkley's jersey number. Does he take over his starting spot in the lineup as well?
Starters
SLB: Chad Greenway (6)
MLB: Erin Henderson (5)
WLB: Gerald Hodges (R)
Backups
Larry Dean (2)
Audie Cole (1)
Marvin Mitchell (6)
Tyrone McKenzie (3)
There's some shuffling of the players at linebacker. After losing starting middle linebacker Jasper Brinkley in free agency to Arizona, they addressed the position by drafting a couple former Penn State players.
According to a tweet from Tom Pelissero, Erin Henderson expects to make the move to middle linebacker. That opens up the weak-side linebacker position for fourth-round pick Gerald Hodges. Hodges led the Nittany Lions in tackles the last two seasons with over 100 tackles as a junior and senior.
The one constant for the Vikings at linebacker has been Chad Greenway. After missing his rookie season with a knee injury in 2006, he has played every game since 2007. The two-time Pro Bowler has started 95 of 96 games and has been the Vikings leading tackler the past five seasons.
Larry Dean, Tyrone McKenzie and Marvin Mitchell will return as key members of the Vikings' special teams. That leaves seventh-round draft pick Michael Mauti from Penn State and undrafted rookie Nathan Williams from Ohio State off the final 53-man roster.
Mauti will be this year's version of Greg Childs who comes to the team with a history of knee problems.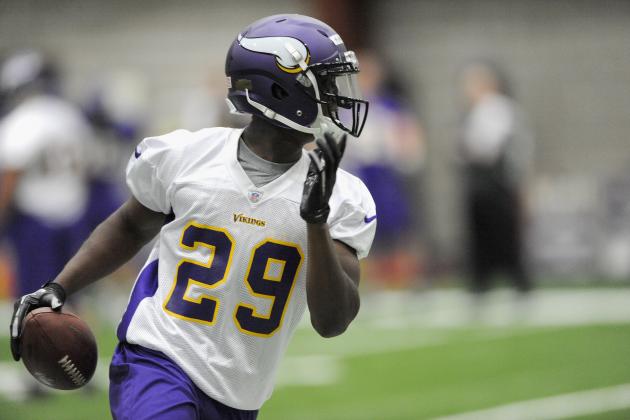 Hannah Foslien/Getty Images
The Vikings made a trade for a third first-round pick in order to draft Xavier Rhodes.
Starters
Chris Cook (3)
Josh Robinson (1)
Backups
Jacob Lacey (4)
Xavier Rhodes (R)
A.J. Jefferson (3)
Marcus Sherels (3)
This position got a whole lot younger—and a lot less experienced—with the departure of Antoine Winfield. Gone are 173 career starts for the 35-year-old veteran. Combined, the six cornerbacks listed above have a total of only 77 starts led by 36 for newcomer Jacob Lacey who played last season with the Lions.
Over his four-year career, three with the Colts and last season with the Lions, Lacey has made at least eight starts every year. His best season came in 2009 as a member of the AFC Champion Indianapolis Colts. He started nine games, intercepted three passes and finished with 79 tackles.
Interestingly enough this position has three former undrafted rookies—Lacey, A.J. Jefferson and Marcus Sherels. Sherels' ability to return punts keeps him on the roster, making Stephen Burton expendable.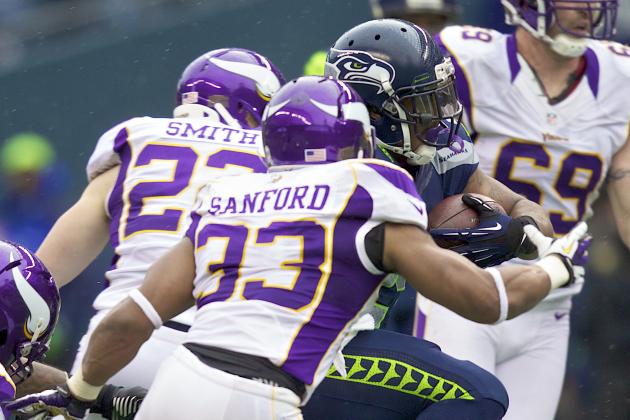 Stephen Brashear/Getty Images
Harrison Smith (22) and Jamarca Sanford (33) provided improved play at safety last season.
Starters
Harrison Smith (1)
Mistral Raymond (2)
Backups
Jamarca Sanford (4)
Andrew Sendejo (2)
Robert Blanton (1)
With only seven safeties currently on the roster, the only question with this position is who starts next to Harrison Smith?
After starting 15 games in 2011, Jamarca Sanford opened the 2012 season as Mistral Raymond's backup. An ankle injury early in the season gave Sanford an opportunity to start, and he did just that, starting 13 games.
Raymond will work his way back to the top of the depth chart for 2013.
Sanford sticks with the team because of his experience and his effectiveness on special teams. That leaves a couple of rookie free agents as training camp fodder.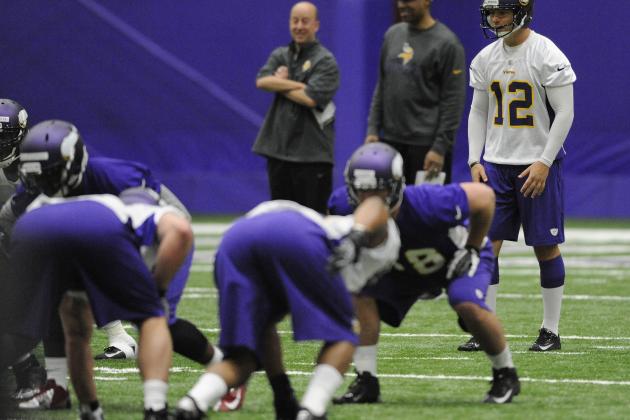 Hannah Foslien/Getty Images
It didn't take long for the Vikings to re-issue No. 12.
Punter: Jeff Locke
Placekicker: Blair Walsh
Long Snapper: Cullen Loeffler
Just like last year, the Minnesota Vikings made a surprising draft choice. Last year it was the selection of kicker Blair Walsh in the sixth round. This year it was the selection of punter Jeff Locke in the fifth round.
Last year Walsh set the NFL record by making 10 field goals from greater than 50 yards. He was an incredible 10-for-10 on these long-distance attempts and finished with 141 points—the second highest single-season total in franchise history.
Locke, the left-footed punter and kickoff specialists from UCLA, is the highest drafted punter in Vikings' history. In 2003 the Vikings used a sixth-round pick on Eddie Johnson from Idaho State. His NFL career lasted one season. This almost certainly means Chris Kluwe will be released.
Locke finished his four-year career at UCLA with a 44.2-yard average. Kluwe, an undrafted free agent from UCLA, was also a four-year punter and finished with a 43.0-yard average.
The downside for Kluwe was that he finished 31st in the league with only 18 punts inside the 20-yard line. Of course this is a statistic that means little since it is dependent on field position. On a positive side, Kluwe only had two touchbacks on 72 punts.
Still, Kluwe's activism is wearing thin with Vikings' special team coordinator Mike Priefer. After Kluwe was fined by the NFL for wearing a "Vote Ray Guy" sign on his uniform, Priefer was quoted in an NBC Sports article by Mike Florio:
Those distractions are getting old for me, to be quite honest with you.
Tom Pelissero from 1500ESPN doesn't think Kluwe will make it to training camp.