The New York Knicks faced the Boston Celtics for Game 6 at TD Garden trying to avoid a high-pressure Game 7. New York led the entire game, but they barely held off a furious fourth-quarter run from the Celtics, surviving, 88-80.
New York had a 14-point lead after one quarter, thanks in part to a trio of three-pointers, plus five rebounds and two assists from Pablo Prigioni. J.R. Smith struggled to open the game, but got on the board with a slick three-point play late in the first frame; those were his only points of the half.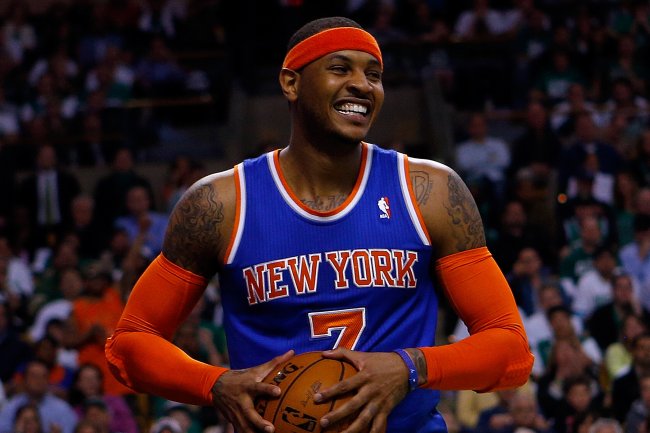 Jim Rogash/Getty Images
The Knicks defense swarmed in the early going, holding Boston to 23.5 percent shooting and setting a franchise record for the fewest points allowed in the first half of a playoff game (27, per MSG telecast). The Celtics would really have been in dire straits had New York not sent them to the line 13 times in the first half, but they still trailed by a dozen at halftime.
Carmelo Anthony was the man with all the pressure on his shoulders. He looked out-of-sync early, but still scored a game-high 14 points in the first half, with five boards, two dimes and two steals.
Carmelo clutching his left shoulder again. He and Kevin Garnett were fighting for position. This time KG gets called for offensive foul.

— Frank Isola (@FisolaNYDN) May 4, 2013
Frank Isola of the New York Daily News noted on Twitter that Anthony was still bothered by the shoulder he tweaked (or rather, that Kevin Garnett tweaked) in Game 5. Melo sat out to start the fourth quarter after failing to score in the third, but he saved the best for last.
Raymond Felton continued his strong defense on Paul Pierce, limiting "The Truth" to 1-of-10 shooting and two first-half points. Iman Shumpert and Tyson Chandler posted excellent games on both ends of the floor, driving the Knicks past the shooting woes of Anthony and Smith.
The Knicks led by 20 after three quarters and could smell their first playoffs series win in 13 years. At that point in the game, 37-year-old Kevin Garnett had 15 points on 7-of-10 from the field, while the rest of the team was shooting 8-of-37.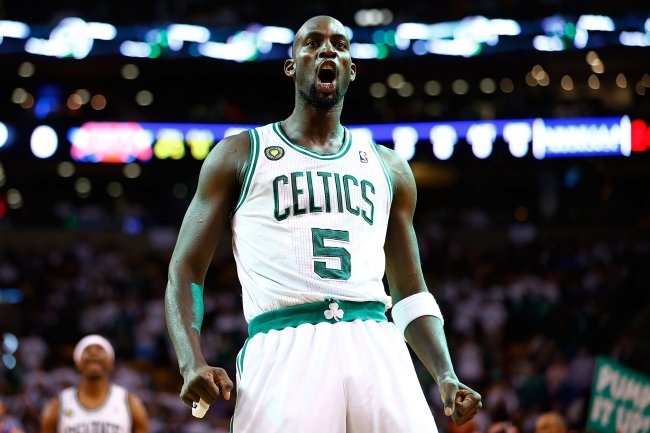 Jared Wickerham/Getty Images
But after extending the lead to 26 points, the Knicks tightened up. And that's putting it mildly. They committed multiple turnovers and stopped moving the ball on offense. Their tentative play allowed a furious run by the Celtics, who incredibly reeled off 20 straight points.
Anthony finally broke his scoring drought late in the fourth as New York clung to a narrow lead. He canned seven points in the final four minutes, including a crucial three-pointer that extended the lead to nine.
Melo followed that up by blocking Pierce's shot, which led to an and-one from Smith on the other end. That was the definition of timely hooping, as the Knicks survived their nightmare fourth quarter and limped into the second round.
The player of the game honor goes to Iman Shumpert. After missing almost all of the playoffs last season with a knee injury, the second-year player entered Knicks lore with a stellar effort to close out the Celtics. His steal with five minutes remaining broke Boston's 20-0 run, giving New York an eight-point edge and, more importantly, some momentum.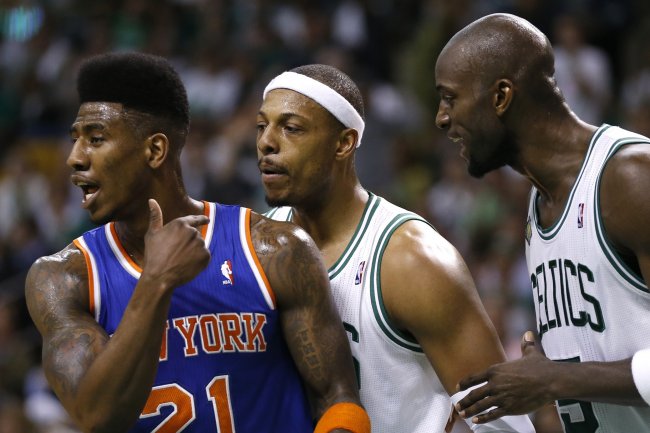 David Butler II-USA TODAY Sports
Shumpert scored 17 points on 6-of-9 shooting, plus three offensive rebounds, two steals and a block. He shot confidently and drove to the hoop with gusto. Shumpert also helped set the tone for the Knicks' stifling defense by playing with boundless enthusiasm and energy.
Melo finished with a game-high 21 points. He and JR Smith combined to shoot 12-of-36.
Jeff Green led the Celtics with 21 points. Garnett added 15 and 10 boards and Paul Pierce finished with 14 points, seven boards and five assists.
Game 6 was a cardiac win for the Knicks, but they will take their first playoff series victory since 2000 any way that it comes.
Twitter Reaction
J.R. Smith made only one play in the first half, but what a play it was. Writer Jared Dubin captured the thought it evoked in every Knicks fan's mind:
That was a horrible possessiOHHH GREAT MOVE JR

— Jared Dubin (@JADubin5) May 3, 2013
Knicks bloggers were encouraged by his aggressive mentality, and tried to will Smith to continue attacking the bucket, was the recipe for his success over the final five weeks of the regular season.
There you go, JR. Go to the rim.

— Tony (@TweetKnick) May 3, 2013
The Knicks started strong on the offensive boards, but Boston neutralized that advantage somewhat after the first quarter.
Knicks have rebounded 33% of their misses so far. Huge, huge number. No Boston *way can win like that.

— Chris Herring (@HerringWSJ) May 4, 2013
Though Jeff Green hit just one shot in the first half, it was a big three-pointer which he launched only because he realized the shot clock was about to expire. Still, Green forced the issue on offense and got to the foul line eight times, giving him a team-high nine first-half points.
He also goaded the Knicks by using their "three-to-the-head" sign invented by Rasheed Wallace.
Jeff Green just did the double "three to the head."

— Jared Dubin (@JADubin5) May 4, 2013
Directly following Green's trey, Jason Terry drained his own three-pointer to pull Boston within 10. TD Garden erupted for the first time since tip-off.
Back to back 3-pointers (after Celts missed their first nine), and this place is ear-splittingly loud again.

— Howard Beck (@HowardBeckNYT) May 4, 2013
Writer Harvey Araton, who has covered the Knicks for decades, wondered if the erratic version of Carmelo from Game 5 (8-of-24 shooting) had returned for Game 6.
Is that Game 5 Melo out there?

— Harvey Araton (@HarveyAraton) May 4, 2013
And while Melo still poured in his points, he continued his bizarre futility from behind the arc. After hitting 38 percent of his threes in the regular season, Anthony has been ice cold from long range in the closeout games.
Anthony has missed 17 straight 3-pointers in this series. 0 for 2 tonight.

— Marc Berman (@NYPost_Berman) May 4, 2013
Unsurprisingly, New York's best three defenders kept them afloat while Anthony and Smith struggled from the field.
Tyson Chandler, Iman Shumpert and Raymond Felton are the reasons the Knicks are still up double digits.

— Robin Lundberg (@robinlundberg) May 4, 2013
The Celtics put up some truly ugly stats through three quarters, but that was a meaningless prologue to the zany fourth quarter.
Celtics have more turnovers (16) than made shots (15) through 3 quarters vs Knicks.

— ESPN Stats & Info (@ESPNStatsInfo) May 4, 2013
The Knicks allowing Boston to go on a 20-0 run was not completely surprising, as they are a team typified by inconsistent play. That can be lethal in the postseason.
The Knicks need somehow learn how to play hard for the whole game.

— netw3rk (@netw3rk) May 4, 2013
Many Knicks fans expressed elation on Twitter, but MSG's Alan Hahn captured the mood more accurately.
Finally...finally....its over. Join me @wallyball @altrautwig and @earlthepearl_15 for #Knicks Postgame next on @msgnetworks.

— Alan Hahn (@alanhahn) May 4, 2013
And overall, the Twitterverse registered its displeasure at the defensive battles and offensive woes on display in both Eastern Conference Game 6s.
On Deck
The Indiana Pacers picked an excellent time to snag the first road win of their series with the Atlanta Hawks, as they advanced with an 81-73 victory in Game 6.
The Knicks split their season series with Indy and it projects to be a very close matchup. The Pacers have good size in the frontcourt, so New York will need Chandler, Kenyon Martin and even Marcus Camby to be at their best.
Both teams play tough, physical defense, but Indy has the edge in that category. The Knicks have more offensive weapons, but Anthony and Smith will need to find their groove to get past the stout Pacers.
At least for one night, the Knicks can bask in a thrilling win over their bitter rivals. After that, they should go to the film of their fourth quarter on Friday night to figure out what almost went very, very wrong.