The 20 Most Dominant Southpaws in MLB History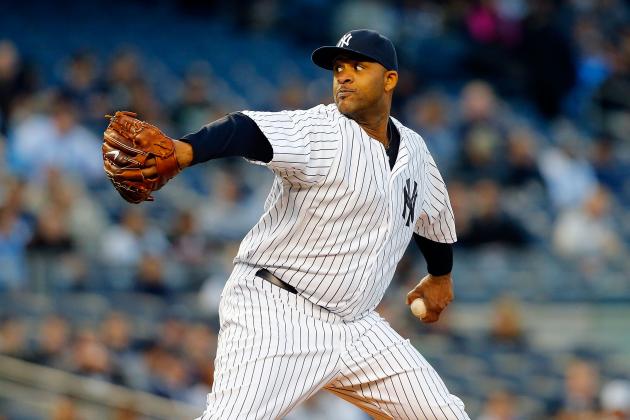 Jim McIsaac/Getty Images
CC Sabathia of the New York Yankees, 32, already belongs in discussions with history's best southpaws.
Though southpaws have always been a minority in Major League Baseball, many of history's most dominant pitchers have thrown left-handed. We cannot deny that Sandy Koufax, Randy Johnson and Tom Glavine made mincemeat of top offenses.
In evaluating the careers of the following past and present superstars, we've taken four factors into consideration: peak (how effective they were in their primes), consistency (how their quality and workload varied through the years), longevity (overall career length, as well as years spent in a prominent role) and postseason performance. The pitchers received grades on an A-F scale.
A handful of active individuals—including cover boy CC Sabathia—squeezed into the top 20. But the influence of longevity made it difficult for any of them to rise toward the top.
You will surely identify several familiar names, plus several little-known old-timers.
Begin Slideshow

»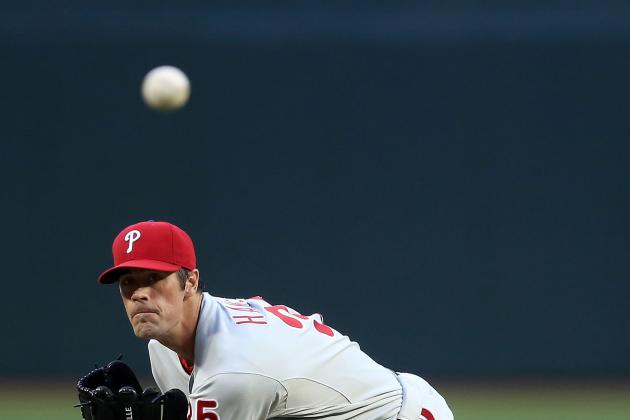 Christian Petersen/Getty Images
Cole Hamels of the Philadelphia Phillies.
Cole Hamels and Jon Lester, both 29, aren't far off the Hall of Fame track. The former has been a World Series MVP, while Lester threw a no-hitter in 2008 and has since spent several seasons as a rotation leader. However, their major league service time pales in comparison to most members on this list, and neither is even the best pitcher on his own team so far in 2013.
Madison Bumgarner, Aroldis Chapman and Chris Sale are all coming off terrific years. They're all 25 years or younger, so it's far too soon to include them on these sort of lists. Their sample sizes are too small.
Though John Franco has the most saves of any left-hander in MLB history, he enjoyed few "dominant" campaigns. His improved strikeout rate with the New York Mets is misleading. From 1991 through his retirement in 2005, Franco had light workloads. He only pitched more than 60 innings once in that span.
Journeyman David Wells maintained an impeccable walk rate and totaled nearly 3,500 innings in his career. He completed a perfect game and excelled in October. But one season above 5.0 WAR and distant third-place finishes in 1998 and 2000 AL Cy Young Award voting doesn't cut it.
Vida Blue and Ron Guidry actually won Cy Youngs in 1971 and 1978, respectively. Unfortunately, neither guy had a particularly long career. Because Frank Tanana thrived during his time with the California Angels and continued working through his 40th birthday, he would have been No. 21 on an expanded list of left-handers.
And going back even farther, there was Babe Ruth. We often remember his offensive dominance with the New York Yankees while overlooking his combined 15.2 WAR as a pitcher on the 1916-1917 Boston Red Sox. He also led the Sox to the 1918 championship (2-0, 1.06 ERA, 1 SHO in World Series).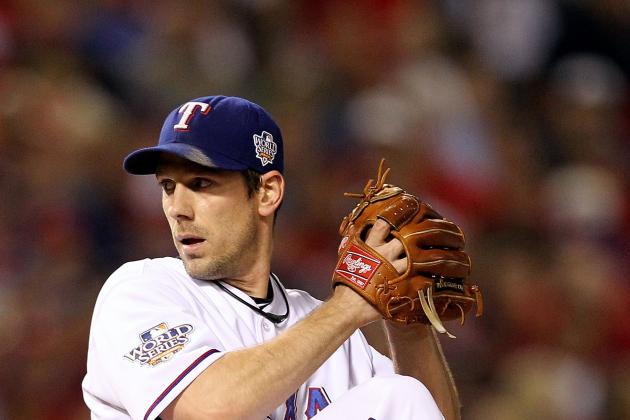 Ronald Martinez/Getty Images
Cliff Lee with the Texas Rangers.
Peak: B+
Cliff Lee averaged precisely 7.20 innings per start from 2008-2011 with an unfathomable 5.65 strikeout-to-walk ratio. He effortlessly painted his fastball on the corners of the plate.
Though Lee was never the consensus No. 1 southpaw in baseball during those years, he was always in the conversation.
Consistency: B+
The 2007 Cleveland Indians went on a deep playoff run in spite of Lee. He performed far below replacement level with a career-worst 6.29 ERA and 1.52 WHIP.
Otherwise, he has always been a 200-inning workhorse with fantastic control.
Longevity: C
Lee broke into the big leagues as a September call-up in 2002, so 2013 is his 11th semi-full season. That's nothing compared to the all-time greats.
Postseason: A-
In five of his 11 postseason outings, he has recorded double-digit strikeouts. Lee also has three complete games under the brightest lights, which we seldom see in the 21st century.
Aside from his mediocrity in the 2011 Fall Classic, there's really nothing to critique.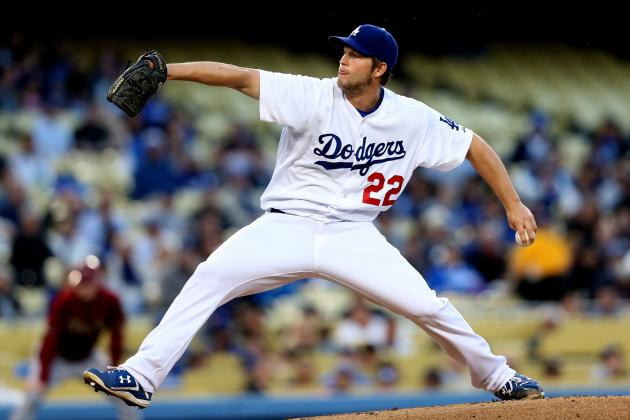 Stephen Dunn/Getty Images
Clayton Kershaw of the Los Angeles Dodgers.
Peak: B+
You could make an argument that Clayton Kershaw was the best pitcher in the National League each of the past two summers. He totaled more than four times as many strikeouts as walks and allowed only 344 hits in 461 total innings.
Since May 2011, Kershaw has given the Los Angeles Dodgers five-plus innings in all but one start. The only exception was Opening Day 2012, when his bid for a shutout ended after three frames due to a stomach flu.
Consistency: A
Including 2013, Kershaw is stringing together five straight seasons with a sub-3.00 ERA and 9.0 SO/9. Such a streak would be unprecedented in the 21st century (Randy Johnson and Pedro Martinez did it in four out of five seasons from 2000-2004.).
Longevity: F
The 2013 season is only his sixth in the majors. He hasn't even reached 1,000 career innings yet.
Postseason: D
Kershaw made his postseason debut at age 20. He appeared twice out of the bullpen for the Dodgers and started twice for them the following year.
Nothing praiseworthy about his 5.87 ERA and 1.57 WHIP.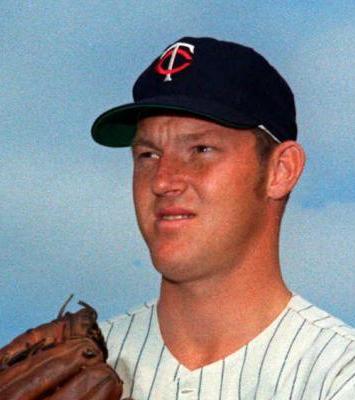 Kaat from 1970. It was his 10th season with the Minnesota Twins. AP Photo.
Peak: B
Jim Kaat helped himself on balls in play with quick reflexes. The American League perennially acknowledged his abilities with Gold Gloves.
In 1966, he overwhelmed the American League through other means, like innings pitched (304.2), complete games (19) and strikeout-to-walk ratio (3.73). That resulted in a fifth-place finish in MVP voting.
Consistency: B+
Between 1962 and 1976, Kitty reeled off 15 consecutive campaigns of double-digit wins. He averaged more than 34 starts per year over that period.
Of course, there were a few injured-shortened seasons in that span.
Longevity: A+
No other player whose career began before the Divisional Era lasted until the 1981 work stoppage. Kaat stuck around long enough to get a World Series ring a few weeks prior to his 44th birthday.
Postseason: C
Kaat did about as much harm as good as a reliever in the 1982 World Series.
He started postseason games earlier in his career, but struggled to escape the first few innings. His 4.01 ERA could've been much worse.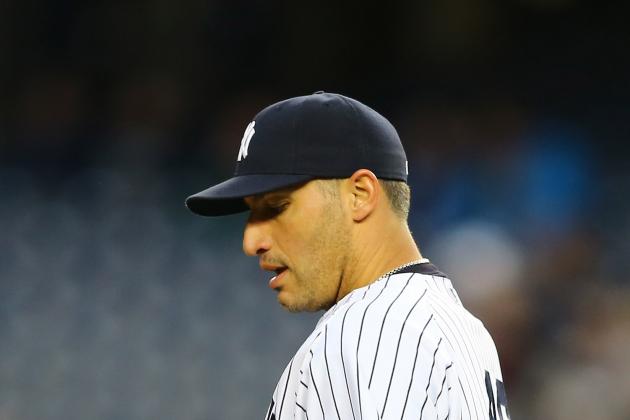 Al Bello/Getty Images
Andy Pettitte of the New York Yankees.
Peak: B-
Andy Pettitte adjusted to major league competition very quickly.
He served as the undisputed ace of the New York Yankees during his sophomore season of 1996, totaling 221 innings. The following year, he finished third in the American League in that department (8.4 WAR).
Pettitte never posted a sexy strikeout rate or limited hits from the opposition. The value was in his extraordinary number of "quality starts."
Consistency: B
On the mound, there's a strong resemblance between 40-year-old Pettitte and the turn-of-the-millennium version.
However, durability has been a concern. He missed significant portions of 2002, 2004 and 2010 due to injuries. Pettitte then retired, but he returned to the Bronx last summer. However, he managed only 12 regular-season appearances because of ankle issues.
Longevity: A-
Continuing in the big leagues after all these years is impressive on its own. Moreover, Pettitte still has huge responsibility as a No. 3 starter.
Postseason: B+
Fans tend to get carried away with his 19 playoff victories because it's baseball's all-time record. Specifically, late in his career, Pettitte has overachieved in October, but his history certainly isn't spotless.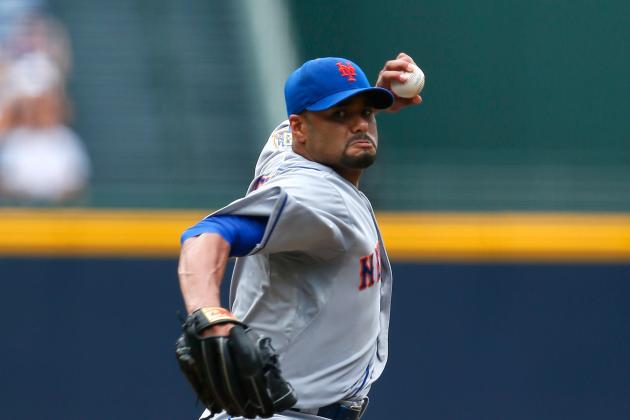 Kevin C. Cox/Getty Images
Johan Santana of the New York Mets.
Peak: A
The Minnesota Twins can certainly appreciate Johan Santana's strikeout skills now that their rotation lacks power arm.
The Venezuelan led the American League in whiffs for three straight seasons, as the baseball world flailed at his changeup. He finished first in AL pitcher WAR in 2004, 2005 and 2006.
Santana went 2-for-3 in Cy Young voting during those years, losing only in 2005 when the writers were blinded by Bartolo Colon's win total.
Consistency: B+
Santana's final summer with the Twins and first one with the New York Mets were also outstanding, though not trophy worthy. His performance was also elite when healthy in 2009 and 2010 (stints on the disabled list both years).
The only hiccups in his consistency have been recent, mainly related to his busted shoulder.
Longevity: C+
Slightly more career length than Cliff Lee. We're not counting 2013 because Santana underwent a season-ending procedure this spring.
Postseason: C+
The majority of his playoff appearances came in 2002, when he was utilized as a reliever.
Santana did everything in his power to propel the Twins through the 2004 and 2006 ALDS, surrendering only three runs in as many starts (1.35 ERA).
Photo credit: Baseball Hall of Fame
Peak: A
Lefty Gomez recorded more than a dozen double-digit strikeout games during the 1930s, when such a feat was practically unheard of. A vast majority of his starts were complete games—in 1934 and 1937, especially.
Before the advent of the Cy Young Award, Gomez contended for AL MVP several times.
Consistency: C+
His greatest campaigns were separated by two not-so-dominant ones. He failed to reach the 200-inning mark during any of his final five seasons.
Longevity: C
Gomez's career technically spanned from 1930-1943, but all of his meaningful pitching came between 1931 and 1941.
Postseason: A
The Yankees were winners in all seven of his World Series starts. Four of those were nine-inning efforts.
He tallied more than twice as many strikeouts as walks, which was otherworldly for that era.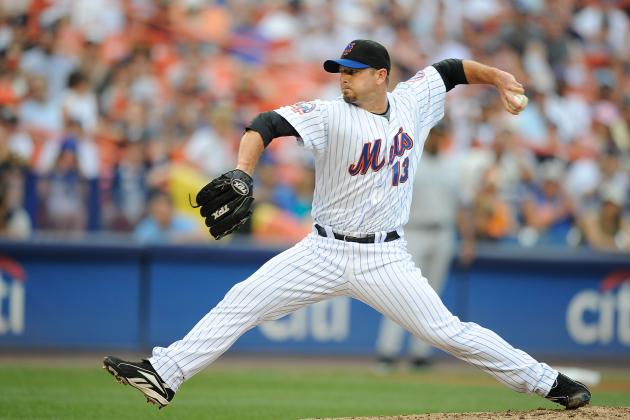 Jeff Zelevansky/Getty Images
Billy Wagner.
Peak: B+
Billy Wagner's MLB career had the misfortune of coinciding with Mariano Rivera's. However, he was arguably as effective from 2002-2005.
The flamethrower sacrificed a few strikeouts for superior control. He posted a sub-1.00 WHIP in each of those seasons.
In 2003 and 2005, Wagner paced the National League in games finished.
Consistency: A-
He took on substantial workloads in 14 of his 16 seasons. Only one of those—the 2000 season (2-4, 6.18 ERA, 5.9 BB/9)—was uncharacteristically poor.
Wagner otherwise established himself as one of the best in the closing business.
Longevity: B
While pitching exclusively out of the bullpen, Wagner notched 100-plus-strikeout seasons in three different decades.
The knock against he is that he didn't stick around into his 40s like many excellent relievers do.
Postseason: F
His October awfulness was absolutely inexplicable. How could a future Hall of Famer with a regular-season .187 batting average against cough up 21 hits (including three home runs) in less than 12 innings?
Wagner is largely responsible for preventing the New York Mets from advancing to the Fall Classic in 2006.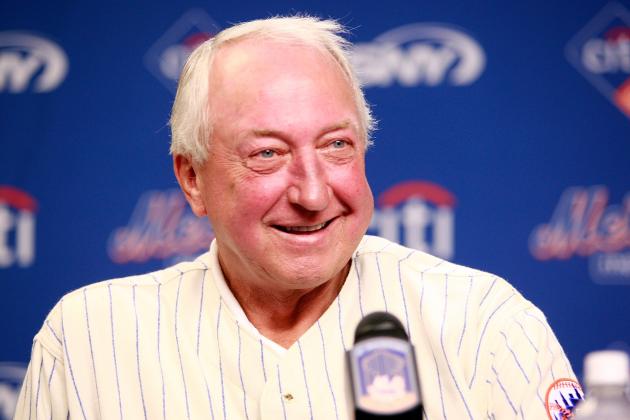 Jared Wickerham/Getty Images
Jerry Koosman.
Peak: B-
Jerry Koosman debuted in the big leagues one day after Tom Seaver. He spent pretty much his entire New York Mets tenure (1967-1978) in the right-hander's shadow.
At first glance, his 1968-1969 numbers were unbelievable: 36-21, 2.18 ERA, 1.08 WHIP, 2.61 SO/BB. But keep in mind that this was amid the pitchers' golden age.
Consistency: A
He tossed at least 160 innings for 17 consecutive seasons, never performing below replacement level in that span.
Enough said.
Longevity: B+
Perhaps if Koosman went into professional baseball immediately after high school, he would've beat Seaver to the majors, established himself first and earned a plaque in Cooperstown.
In reality, the Minnesota native didn't pitch a full season until age 25.
Postseason: B
Like Lefty Gomez, Koosman's team went undefeated in his postseason starts. He did, however, have a few forgettable outings.
If not for outstanding relief efforts, the Mets could have lost Game 2 of the 1969 NLCS and Game 2 of the 1973 World Series.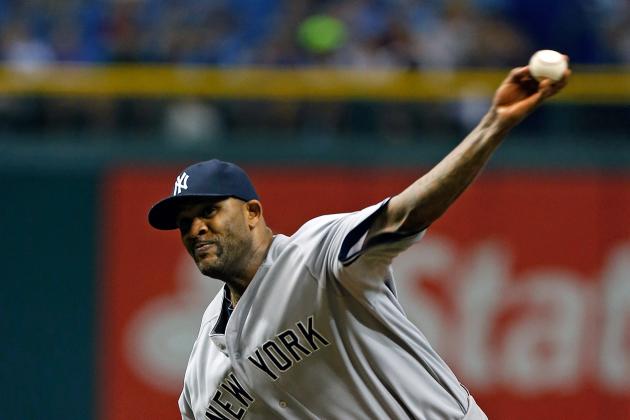 J. Meric/Getty Images
CC Sabathia of the New York Yankees.
Peak: B+
CC Sabathia switched leagues during the 2008 season, which is the only reason why he didn't receive a second straight Cy Young Award. Following the All-Star break, he literally dragged the Milwaukee Brewers to a wild-card berth.
His prime lasted from 2007-2011. He averaged 240 innings pitched.
Consistency: A
This mountain-sized man has never been worth less than 1.8 WAR. He has finished below 3.0 WAR only twice.
For the 13th year in a row, Sabathia is on pace for 28-plus starts. We have seldom witnessed such consistency since MLB popularized the five-man rotation.
Longevity: C+
He's third among active southpaws in career innings, but not even in the same ballpark as most of the history's top 10.
Postseason: C+
Very mixed results for Sabathia. Though he excelled throughout the 2009 World Series run, he has a tendency to implode during the ALCS.
This past October, for example, the ace allowed 11 hits with the New York Yankees clinging to life in an elimination game. The final result was a blowout.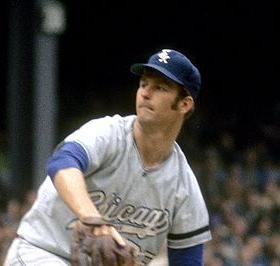 John pitched for the Chicago White Sox before his famous surgery.
Peak: C+
The public didn't fully appreciate Tommy John until after he returned to the mound as the poster child for an unprecedented surgical procedure.
Prior to that, he was starting for the Chicago White Sox and allowing very few baserunners.
John pitched the most shutouts in baseball between 1966 and 1967. But his overall workload often paled in comparison to legitimate American League Cy Young Award candidates.
Consistency: B+
Missing the entire 1975 season disrupted the flow of his career. It was a necessary absence, of course, and enabled him to remain a valuable contributor for many more years.
Until John turned 40, he never had an earned run average higher than 4.00.
Longevity: A+
Prior to retiring as a 46-year-old, he was still taking the ball every fifth day. Humans aren't supposed to do stuff like that!
Postseason: B+
John legitimately dominated only one of his five career World Series starts. With that said, he often shined brightly in the previous round (3 CG in ALCS/NLCS).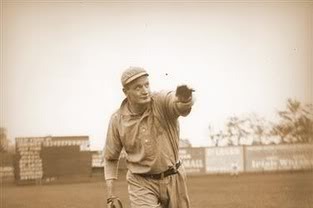 Lefty Rube Waddell posing in a Philadelphia Athletics uniform. Photo credit: phillysportshistory.com
Peak: A+
Rube Waddell averaged 9.55 WAR from 1902-1905. He struck out 349 batters in 1904, which stood as a modern day record until Sandy Koufax came along generations later.
Consistency: A
Sandwiched between two underwhelming partial seasons, he enjoyed a Hall of Fame-caliber decade. Waddell threw at least 16 complete games every year for 10 straight years.
Longevity: C-
By all accounts, Waddell had more eccentricity and personality quirks than talent, which is saying a lot.
He was released by the St. Louis Browns at age 33. His next three-and-a-half seasons were spent in the minor leagues, as the MLB franchises believed him to be too big a risk.
Postseason: N/A
The 1905 Oakland Athletics reached the World Series, but Waddell didn't participate.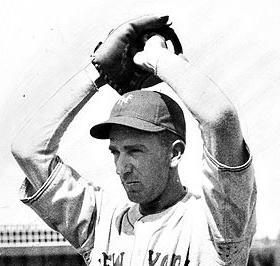 Getty Images
Peak: A
Carl Hubbell is the only member on this list to peak during an exhibition. He mowed through five future Hall of Famers in succession at the 1934 All-Star Game, retiring them all via strikeout.
In every season from 1933-1936, Hubbell topped 300 innings. He also won two MVP awards.
Consistency: A-
A streak of 2.0 WAR seasons spanned from 1928 to 1941. High home run totals weakened a couple of his stat lines, but there wasn't a bad year in that whole bunch.
Longevity: B-
Hubbell competed until he was 40 and clearly declining, so you can't accuse him of walking away too soon. The problem was that he debuted in the majors shortly after his 25th birthday.
Postseason: A-
Near-perfect pitching during the 1933 World Series made all the difference for the New York Giants. Overall, he provided length (50.1 IP in 6 GS) and quality (fewer than four earned runs in every game) across three playoff runs.
Plank dominated early in the 20th century, winning 326 games. Society for American Baseball Research.
Peak: A-
Eddie Plank's greatest performances were overshadowed by aforementioned teammate Rube Waddell. He wasn't as flashy in terms of strikeout rate or Wins Above Replacement.
However, Plank totaled more innings in four of the six summers that these future Hall of Famers spent together.
Consistency: A-
He threw at least one complete-game shutout in each of his 17 major league seasons. The only evidence of aging was his reduced workload toward the end.
Longevity: B
Breaking through at age 25 was very Carl Hubbell-esque. But Plank had more responsibility from the get-go and an extra full season to pad his career numbers.
Postseason: A
The Philadelphia Phillies scored a total of six runs in Plank's six postseason starts. In all instances, he stayed on the mound for the game's entirety.
His only less-than-glorious appearance came in relief during the 1911 World Series. The New York Giants completed their Game 5 comeback with a walk-off sacrifice fly in the 10th inning.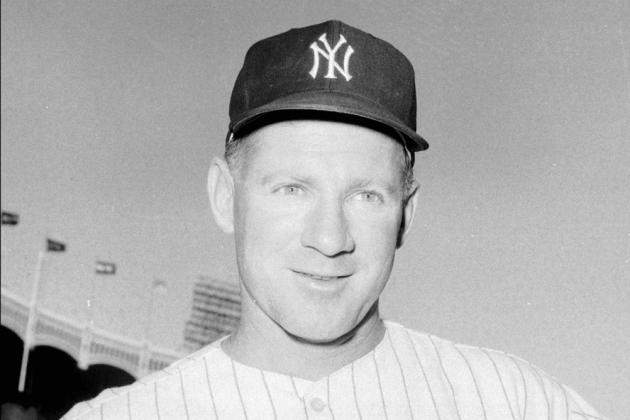 AP Photo
Peak: B
Because of Whitey Ford's gaudy winning percentage, we naturally overrate him a bit.
He eventually discovered very good control for his elite stuff, and he was wholly deserving of the 1961 Cy Young Award. Unlike the younger Ford, the veteran version was valued for routinely eating innings rather than trying for a complete game every time on the mound.
Consistency: A
Aside from 1957 and 1960, "The Chairman of the Board" was ridiculously dependable in terms of strikeout rate and tonnage. Even during those exceptions years, Ford was a big asset to the New York Yankees.
Longevity: B
The gap between 1950 and 1953 represents the time Ford spent in military service overseas. He was also used in a reduced role during his final two seasons.
Postseason: A
Ten World Series victories, including four consecutive scoreless performances in 1960 and 1961 (0 R in 32.0 IP). Very, very clutch.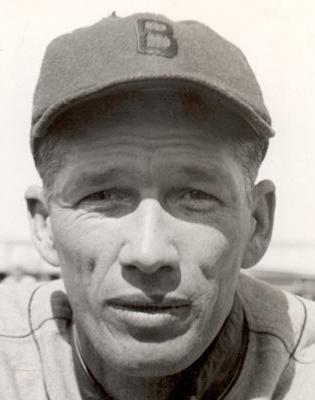 AP Photo
Peak: A+
Even on several not-so-competitive Boston Red Sox teams, Lefty Grove drew plenty of attention. He ranked first in the American League in both ERA and WHIP in 1935 and 1936. In earlier years as a member of the Philadelphia Athletics, he set the record books ablaze with oodles of strikeouts.
Consistency: B+
His transition from one organization to the other was brutal. Lifetime worsts in every conceivable category during the 1934 season certainly dampen his legacy.
Longevity: B
Another late bloomer, Grove waited five full years in the minors (throwing 1,243 innings) before he got his chance with the Philadelphia A's. Who knows where his career totals would have ended up if given an earlier promotion.
Postseason: A-
Grove starred in three straight Fall Classics and gradually earned more and more responsibility. He owns a 6.0 SO/BB in October.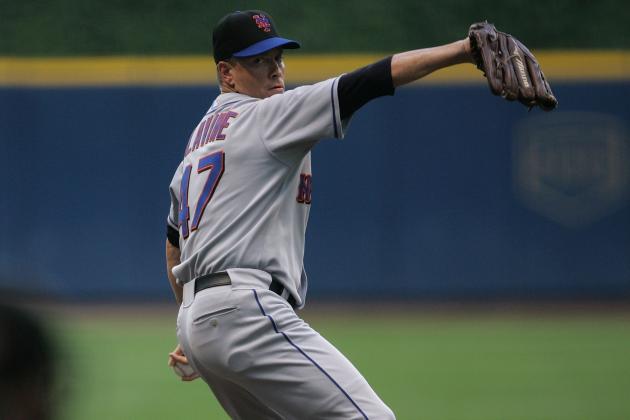 Jonathan Daniel/Getty Images
Tom Glavine with the New York Mets.
Peak: B+
Tom Glavine emerged as a superstar in 1991 en route to the NL Cy Young Award. Though he would never best his 246.2 IP or 192 SO in future seasons, the next few would be nearly as successful.
Consistency: A+
Quite simply, he was great and healthy each summer until the final act of his career.
Longevity: A-
Glavine made 682 major league appearances (all of them starts). He pitched 22 consecutive years with minimal interruption.
Postseason: B+
Because the Atlanta Braves were always in contention, Glavine had an extra season's worth of MLB experience in the playoffs. Here's how he did (with shaky run support): 14-16, 3.30 ERA, 1.27 WHIP, 143 SO in 218.1 IP.
Keep in mind, however, that Glavine improved as the Braves got closer to the championship (2.16 ERA, 3 CG in 8 GS in World Series).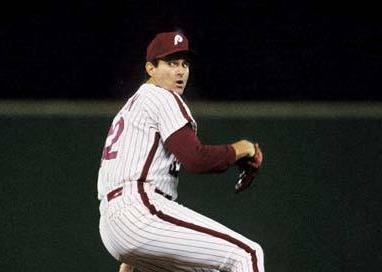 Ronald C. Modra/Getty Images
Peak: A+
No disrespect to Dick Allen, Joe Morgan and the other outstanding position players in the National League during the 1972 season, but Steve Carlton should have won MVP.
Posting a sub-2.00 ERA after Major League Baseball lowered the pitcher's mound was miraculous; maintaining that over 41 starts (346.1 IP) was just mind-boggling. His 12.5 WAR from that campaign says it all.
Consistency: B+
Carlton hardly ever suffered from injury. He is docked some consistency points, however, because his performance deteriorated quickly around 1985.
Longevity: A
He began very young and finished with gray hairs, amassing more than 5,200 innings during the journey.
Postseason: B
Carlton's best postseasons were his final few. He faced the Los Angeles Dodgers in three separate playoff series and had mixed results.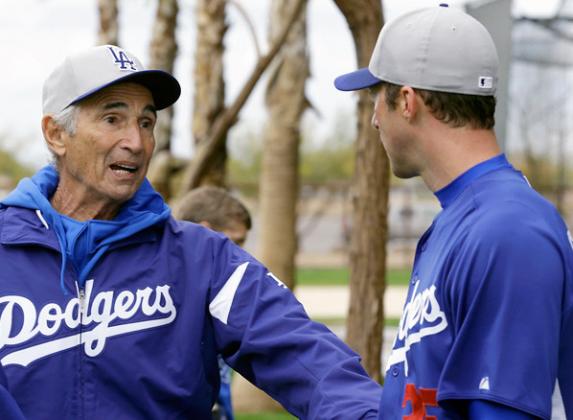 Pitchers looking to emulate Koufax's success still seek his advise. Paul Sancya/AP
Peak: A+
From 1963-1966, Sandy Koufax had the highest cumulative total of shutouts and strikeouts. His earned run average and batting average against were also (by far) the best in the sport.
A rule change outlawing his curveball may have made matchups somewhat competitive.
Consistency: B
There's no denying that Koufax was wild through the early 1960s. But once everything clicked, he began the aforementioned multi-year rampage through the National League.
Longevity: C
Koufax's arm wouldn't cooperate once the Los Angeles Dodgers added to his workload. He had to call it quits after his age-30 season.
Postseason: A+
He obliterated the New York Yankees and Minnesota Twins in 1963 and 1965, respectively. Mariano Rivera is the only one in MLB history to pitch more postseason innings with a superior ERA.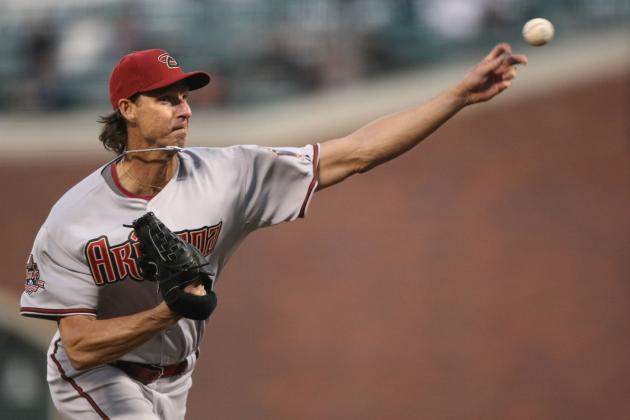 Jed Jacobsohn/Getty Images
Randy Johnson.
Peak: A+
In the heart of the Steroid Era, Randy Johnson carved up everybody. It took a significant injury in 2003 to interrupt his streak of consecutive NL Cy Young Awards. The majors haven't seen a 300-strikeout season since then. There has never been and might never be a greater challenge for left-handed batters than the Big Unit.
Consistency: B+
Much like Sandy Koufax, the lanky left-hander struggled to throw strikes for several years. Johnson receives a higher consistency grade because he had a much longer run of excellence to compensate for his gradual development.
Longevity: A-
Johnson was mainly treated as a rotation leader during his 22 years. His only extended stretches as a reliever were following long stints on the disabled list.
Postseason: B
Though his final trips to the playoffs weren't very memorable, Johnson was nothing short of heroic during Arizona's 2001 World Series run.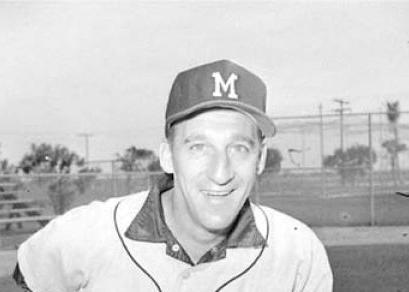 AP photo
Peak: A
If the Cy Young Award came into existence before Warren Spahn's career, he might have collected four or five of them (rather than just one).
His finest summer was probably 1953, his first in Milwaukee. Look beyond the career-high 23 wins. Spahn was particularly unhittable, which contributed to the lowest ERA and WHIP of his life. The World War II veteran earned complete games in three-quarters of his starts.
Consistency: A+
Spahn was always awesome, from the mid-1940s through league expansion in the early 1960s.
Longevity: B+
If not for the three-year hiatus, he would have had a Jim Kaat-like tenure. It's still pretty impressive to see that Spahn was the 10th-youngest NL player when debuting and the oldest upon retiring.
Postseason: B+
Of his 56 postseason innings, 44 came against the New York Yankees. They were the sport's juggernaut at the time. Spahn not only shut out their lineup in Game 4 of the 1958 World Series, but he pitched into extra innings on three other occasions under the heaviest pressure possible.