Ranking the 15 Least Athletic Players in Baseball
Jason Giambi of the Cleveland Indians isn't athletic enough to field, yet at age 42, he still has a job in the majors. Jason Miller/Getty Images

Unathletic players are prevalent across Major League Baseball. Bartolo Colon, Prince Fielder and Jason Giambi serves as examples of slow, overweight individuals on the field in 2013.
Though speed and leaping ability largely determine a person's athleticism, strength, flexibility, durability and hand-eye coordination must not be ignored. In baseball, these factors manifest themselves as fielding range, defensive versatility, contact ability, baserunning and pitch velocity. Using statistics and simple video evidence, we've filtered the least athletic players from the well-conditioned population.
Eligibility was limited to those with who have appeared in the majors this season. It would be unfair to critique veterans on the disabled list, and impossible to monitor all those working through the minor leagues.
Two decades ago, John Kruk told a fan, "Lady, I'm not an athlete, I'm a baseball player." Those terms were distinguishable back then, and they certainly are in now.
The following not-so-graceful guys can attest to that.
*Nicknames relating to a player's size have been included in slide titles.
Honorable Mentions
Joba Chamberlain.
J. Meric/Getty Images
Pitchers
Josh Beckett (Los Angeles Dodgers), Heath Bell (Arizona Diamondbacks), Joe Blanton (Los Angeles Angels), Jonathan Broxton (Cincinnati Reds), Joba Chamberlain (New York Yankees), Shaun Marcum (New York Mets) and Jose Valverde (Detroit Tigers).
Position players
Alex Avila and Miguel Cabrera (Detroit Tigers), Adrian Gonzalez (Los Angeles Dodgers), Travis Hafner (New York Yankees), Delmon Young (Philadelphia Phillies), Raul Ibanez (Seattle Mariners) and Pablo Sandoval (San Francisco Giants).
15. Jose Contreras (Pittsburgh Pirates)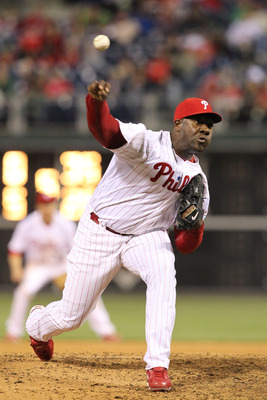 Jose Contreras.
Hunter Martin/Getty Images
Height/weight: 6'4"/255.
Date of birth: December 6, 1971.
Coming off Tommy John surgery, Jose Contreras made his 2013 debut with the Pittsburgh Pirates on Sunday (via Bill Brink, Pittsburgh Post-Gazette). He showed no rust, striking out two with fastball velocity that peaked at 94 mph.
That said, the Cuban defector is comically ineffective at the plate (0-for-29 with 18 SO). Less than half of his 33 major league plate appearances have resulted in balls put in play, so he doesn't often practice running down the first-base line.
MLB.com takes us back to 2009 when Contreras actually made contact. Sniffing a base hit, he suffered a quad strain and has been relegated to the bullpen ever since.
14. Jesus Montero (Seattle Mariners)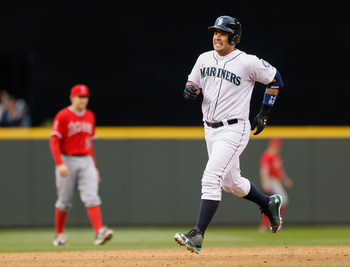 Jesus Montero.
Otto Greule Jr/Getty Images
Height/weight: 6'3"/230.
Date of birth: November 28, 1989.
Top prospect Jesus Montero received an opportunity to start regularly when the New York Yankees dealt him to the Seattle Mariners prior to the 2012 season.
It was disappointing, to say the least. He barely performed at replacement level as a 22-year-old, demonstrating ordinary power and limited defensive skills.
This FanGraphs link—the first of many—shows that Montero is in undesirable company with a -6.0 Ultimate Base Running (UBR) value since joining Seattle. Moreover, Jeff Sullivan of U.S.S. Mariner writes that "he might be the least athletic player on the team." Keep in mind, that's a roster with guys like Raul Ibanez and Kendrys Morales.
Sullivan posts a couple bang-bang plays (separate links) that show the kind of miracles it takes for Montero to leg out infield singles.
Hours spent "learning how to run" this past winter spare him from cracking the top 10 (via Greg Johns, MLB.com).
*Not familiar with UBR? Here's everything you need to know.
13. Prince Fielder (Detroit Tigers)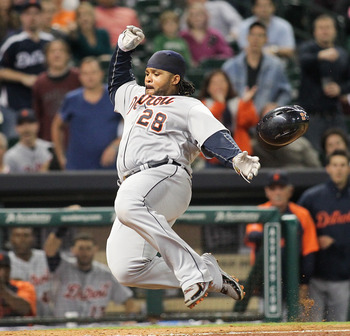 Victor Martinez.
Bob Levey/Getty Images
Height/weight: 5'11"/275.
Date of birth: May 9, 1984.
Perhaps you expected to see Prince Fielder higher up, but he deserves credit for being extremely durable. While most other established first basemen have landed on the disabled list at some point since 2009, Fielder has missed exactly one game (due to flu-like symptoms).
Of course, his narrow skill set leads to walks, extra-base hits and not much else.
The Detroit Tigers have their reasons for sticking him at first base—Fielder can't throw accurately. Here's a toss that was just a bit too high. He had the same problem while playing for the Milwaukee Brewers in 2011 (videos courtesy of MLB.com).
He'll occasionally surprise us with his hustle...only to embarrass himself with a lack of coordination.
Yes, Fielder is really, really fat, but realize that athleticism isn't solely influenced by physique.
12. Lance "Fat Elvis" Berkman (Texas Rangers)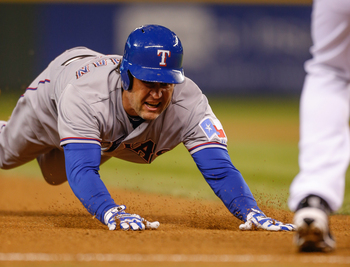 Lance Berkman.
Otto Greule Jr/Getty Images
Height/weight: 6'1"/220.
Date of birth: February 10, 1976.
Watching him today, it's hard to believe that Lance Berkman has spent more of his major league career in the outfield than at first base and designated hitter combined.
Todd Wills of ESPNDallas.com reports that he'll eventually put on a glove. So far in 2013, however, he hasn't played a single inning of defense.
Berkman earned the "Fat Elvis" nickname before he was ever obese, and he still isn't. Rather than weight gain, knee surgeries are to blame for his declining athleticism. He has undergone five separate procedures since 2005, include two operations on his right meniscus last summer.
The 37-year-old has recorded only two infield hits over the past two seasons.
11. Victor Martinez (Detroit Tigers)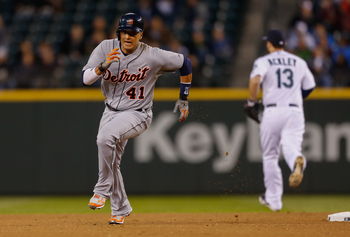 Victor Martinez.
Otto Greule Jr/Getty Images
Height/weight: 6'2"/210.
Date of birth: December 23, 1978.
A torn ACL caused Victor Martinez to miss all of 2012, so this is his first season teaming up with Miguel Cabrera and Prince Fielder. The fact he has made all but one of his starts at designated hitter says a lot about how little he provides defensively.
Martinez has grounded into a double play once every 31 plate appearances during his major league career. That's an average of about once per week.
10. Billy "Country Breakfast" Butler (Kansas City Royals)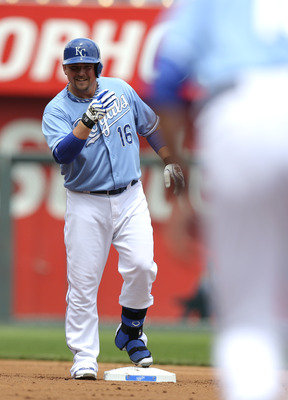 Billy Butler.
Ed Zurga/Getty Images
Height/weight: 6'1"/240.
Date of birth: April 18, 1986.
There has never been a major league player used quite like Billy Butler. In 2011, at 25 years old, the Kansas City Royals made Butler their regular designated hitter. And that's where he'll remain indefinitely (provided that Eric Hosmer gets his act together).
He has the pudgy body of someone a decade older. Just watch him hobble after a wild throw (via MLB.com).
Around the American League, only Miguel Cabrera has grounded into more double plays since 2010, according to FanGraphs.
9. Adam "Big Donkey" Dunn (Chicago White Sox)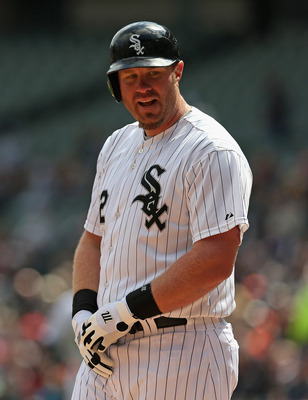 Adam Dunn.
Jonathan Daniel/Getty Images
Height/weight: 6'6"/285.
Date of birth: November 9, 1979.
The University of Texas recruited Adam Dunn as a quarterback out of high school, so there's no denying his arm strength. In hindsight, it makes sense that he once hoped to spend his career standing in the pocket.
Dunn is as slow as any reasonably-aged position player. Who else could be forced out from right field (via MLB.com)? Watching the 33-year-old in the field causes eye strain, but at least he's been trusted to do it, even in the American League.
His long, loopy swing culminates in a bloated swinging-strike percentage, which always ranks among baseball's ugliest.
8. Lucas Duda (New York Mets)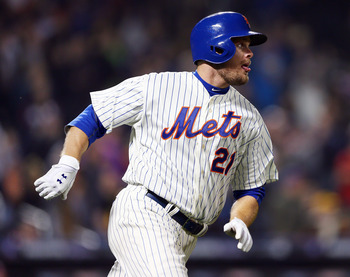 Lucas Duda.
Elsa/Getty Images
Height/weight: 6'4"/255.
Date of birth: February 3, 1986.
Lucas Duda has a lot in common with Adam Dunn in terms of size, handedness, power potential and defensive uselessness.
The latter made life difficult for the New York Mets this past Sunday. After taking an awkward route to a fly ball, Duda didn't have the closing speed to get under it (via MLB.com). The result was a two-run double.
The 27-year-old is in his physical prime, yet through 277 MLB games, he has only two stolen bases.
7. Jose Molina (Tampa Bay Rays)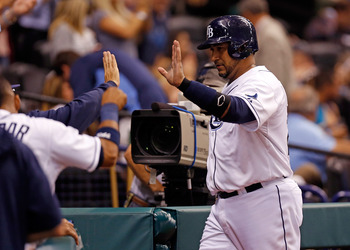 Jose Molina.
J. Meric/Getty Images
Height/weight: 6'2"/250.
Date of birth: June 3, 1975.
Jose Molina has none of the power you'd expect from a player of his size. The only active players with lower career slugging percentages are middle infielders and utility guys, according to FanGraphs (min. 2,000 PA).
The catcher's calling card is defense, specifically his sure-handedness and caught stealing percentage.
However, Molina has never been considered for full-time duty. His mediocre contact ability and glacial running speed largely negate all contributions behind the plate.
6. Ryan "Big Piece" Howard (Philadelphia Phillies)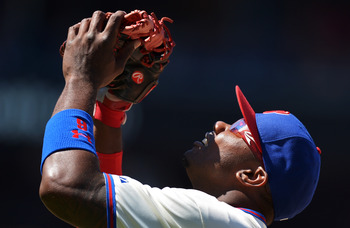 Ryan Howard.
Drew Hallowell/Getty Images
Height/weight: 6'4"/242.
Date of birth: November 19, 1979.
Ever since suffering that Achilles injury in October 2011, Ryan Howard "has not moved the same," writes Matt Gelb of The Philadelphia Inquirer. "Looks like he's running on pieces of glass," one scout told him this spring.
Manager Charlie Manuel has been forced to frequently replace the first baseman with pinch-runners. "The chances of scoring a guy become much better" when that guy isn't Howard, he explains.
Sabermetrics agree with these eyewitnesses that the overpaid slugger stinks at athletic activities. So far in the 2010s, he owns the worst UBR in the majors (per FanGraphs). His 14.9 swinging-strike percentage is fourth-highest among qualifiers in that same span.
5. Bartolo Colon (Oakland Athletics)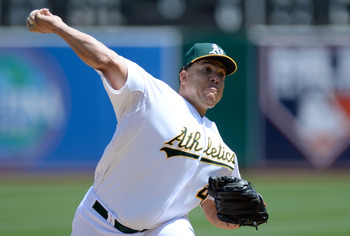 Bartolo Colon.
Thearon W. Henderson/Getty Images
Height/weight: 5'11"/265.
Date of birth: May 24, 1973.
The only active players of comparable chubbiness—Prince Fielder and Pablo Sandoval—can't relate to Bartolo Colon. They aren't worn down by Father Time and past injuries.
Colon has committed the third-most career errors among active pitchers, including four last season. Then again, he occasionally flashes surprising agility (via MLB.com).
This batting practice footage shows us why he doesn't belong in the outfield (or at any non-pitcher position).
The soon-to-be 40-year-old's pot belly undoubtedly shortens his stride when delivering toward home plate.
4. David "Big Papi" Ortiz (Boston Red Sox)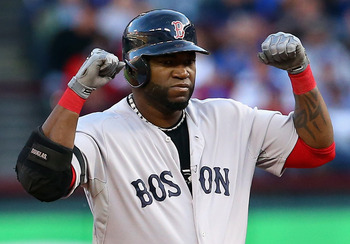 David Ortiz.
Ronald Martinez/Getty Images
Height/weight: 6'4"/250.
Date of birth: November 18, 1975.
It became apparent very early in David Ortiz's career that he was ill-suited to start regularly at first base, much less another defensive position.
Over the past half-dozen years, the Boston Red Sox have been particularly reluctant to move him from the designated hitter spot. They only use him in the field when absolutely necessary (e.g. National League ballparks).
We notice Big Papi's immobility following his home runs. It took him 28.44 seconds to round the bases after this solo shot on April 26, making it the slowest home run trot in the majors this season, according to Tater Trot Tracker. The site tweets that he makes a habit of jogging gingerly:
Big Papi's trot off of Yu Darvish clocked in at 27.33 seconds. Of his four trots this year, that is his *quickest*.

— Tater Trot Tracker (@TaterTrotTrkr) May 5, 2013
Ortiz has attempted six stolen bases since 2009, succeeding only once.
But wait, there's more evidence of his sluggishness. Baseball-Reference.com keeps track of extra bases taken percentage (XBT). It's defined as the "percentage of times the runner advanced more than one base on a single or more than two bases on a double, when possible." Ortiz owns a career 27 XBT% and 20 XBT% since turning 33.
3. Paul Konerko (Chicago White Sox)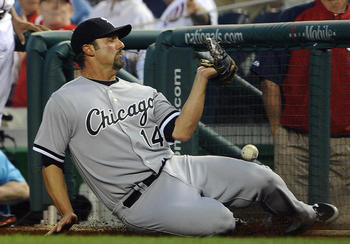 Konerko slides in foul territory, but can't come up with the catch. Brad Mills-USA TODAY Sports
Height/weight: 6'2"/220.
Date of birth: March 5, 1976.
Anyone who shares defensive responsibilities with Adam Dunn is probably in bad shape. That suspicion is confirmed when a Chicago White Sox beat reporter like Mark Gonzales of the Chicago Tribune insists that Dunn "possesses more range."
Yeah, it's been a while since Paul Konerko was the No. 1 catcher in the nation (via Northeastern Illinois University).
We mentioned Ryan Howard's unsightly UBR in this decade, but Konerko is right behind him at -20.7. And if we stretch the sample size back to 2005, the 37-year-old has baseball's lousiest mark (via FanGraphs).
Baseball-Reference.com doesn't think highly of his baserunning, either. Though actually several months younger than David Ortiz, Konerko has been even more reluctant to take the extra base (18 XBT% since 2009).
2. Tommy Hanson (Los Angeles Angels)
Tommy Hanson.
Layne Murdoch/Getty Images
Height/weight: 6'6"/220.
Date of birth: August 28, 1986.
In his fifth major league season, Tommy Hanson has already deteriorated from potential rotation leader to back-end finesse pitcher. According to FanGraphs, his average fastball velocity (88.2 mph) is down more than four miles per hour from his promising debut.
There's plenty more evidence of his limited athleticism.
Since 2010, Hanson ranks dead last among qualified starting pitchers in Defensive Runs Saved (-17). That has a lot to do with his 12 career errors. Watch him clumsily field a grounder and fire it down the right-field line (via MLB.com).
The right-hander must have been relieved when the Los Angeles Angels acquired him this past offseason. They took him from the National League and spared him the embarrassment of hitting.
His overall stats are brutal, even by pitchers' standards: .059/.083/.059 with 92 SO in 225 PA. Moreover, Hanson's current streak of 46 straight hitless at-bats is the longest of its kind (via Elias Sports Bureau).
1. Jason Giambi (Cleveland Indians)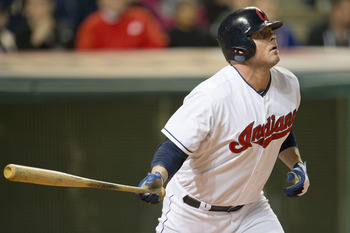 Jason Giambi.
Jason Miller/Getty Images
Height/weight: 6'3"/250.
Date of birth: January 8, 1971.
Jason Giambi epitomizes the word "unathletic."
He's more than a decade removed from seeing action at any defensive position other than first base. Even there, Giambi caused headaches with his erratic throws (via MLB.com). So far in 2013, he has been used exclusively as a designated hitter.
His swinging-strike percentage has ballooned far above the league average since leaving the New York Yankees. You would expect better from a bench player who gets preferential exposure to right-handed pitching.
Coors Field has enormous dimensions that are conducive to triples. Giambi failed to take advantage while playing home games there from 2009-2012. Furthermore, he has tripled only once since the 2002 All-Star break.
Last winter, Jason Giambi was serious about transitioning to a coaching career, writes Troy Renck of The Denver Post. His 42-year-old body is pleading with him to go through with it. Just look at his injury history (via Baseball Prospectus).
Keep Reading