UFC's Summer Schedule: Complete Predictions for 10 Marquee Fights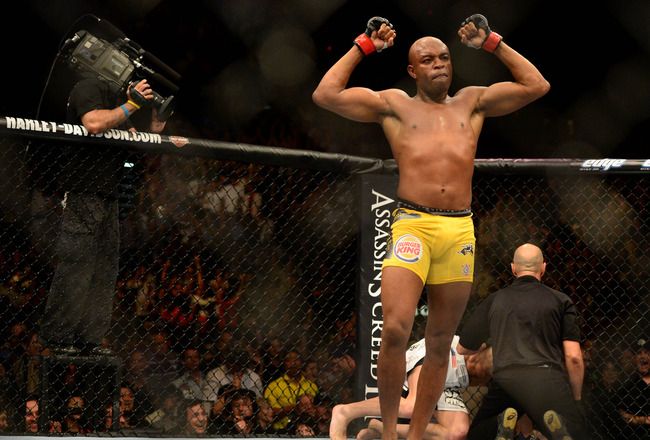 Mark J. Rebilas-USA TODAY Sports
The dog days of summer are upon us, or at least they're supposed to be. It was 45 degrees outside when I woke up this morning, and I live in Houston—a city not exactly known for its frigid nature.
But the heat is coming—and not just in temperature. The UFC has a loaded summer lineup, with plenty of interesting fights that will shake up almost every division in the UFC in some form or fashion. And I don't want to be the guy that jinxes a fight by talking about injuries, but if all of the following fights play out the way they're supposed to, well, we're in for a good summer.
In the following slides, I'm going to take you through 10 of the UFC's biggest planned fights for the summer. I'll give you my predictions, which will most likely turn out to be completely wrong, and then you can all laugh at me come September, because that's what usually happens.
After you've gone through my predictions, I'd like to hear your thoughts on each of these fights in the comments below. Who wins? And which fight are you most looking forward to? I want to hear from you, dear reader, because there's a strong possibility that you'll come a lot closer to predicting these than I will.
Let's go.
Vitor Belfort vs. Luke Rockhold (UFC on FX: Belfort vs. Rockhold)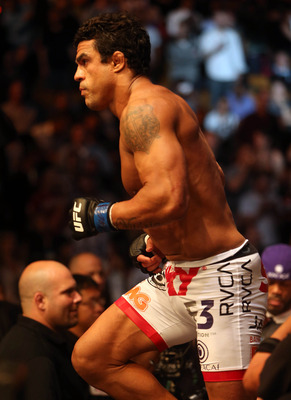 Tom Szczerbowski-USA TODAY Sports
I'm surprised that more people aren't talking about this fight, but I understand why it's flying under the radar. We just finished four consecutive weekends of UFC action; everyone needs a break every once in awhile.
But I expect excitement for this main event to ratchet up as we draw closer to the next installment of UFC on FX, scheduled for May 18 in Brazil. It's a headlining bout with plenty of weight; the winner could be in line to face the winner of Anderson Silva vs. Chris Weidman, which takes place at UFC 162 in July.
And even if a potential title shot weren't on the line, this is still a fascinating bout. Luke Rockhold is coming over from Strikeforce, where he was a middleweight champion. We don't know how he'll fare against top competition in the UFC, though recent performances from Strikeforce expats might lead us to believe that he'll be very successful.
And Vitor Belfort is no slouch; whether it's due to his regiment of testosterone replacement therapy or not, the Brazilian seems to have most of the speed and power of his youth.
I think Rockhold is going to prove that he's worthy of being called a top contender in the UFC, and I think he starts here. He'll stay away from Belfort's power until Belfort is tired, and from there he'll go on to outpoint the "young dinosaur" for a decision.
PREDICTION: Luke Rockhold
Cain Velasquez vs. Antonio Silva 2 (UFC 160)
Ron Chenoy-USA TODAY Sports
You see the photo I've included here?
That's what happened the last time Antonio Silva stepped in the cage with Cain Velasquez.
I'm not saying it's going to happen again. Silva has experienced an awesome career resurgence, and his win over Alistair Overeem certainly made him a deserving contender.
But it's only been one year since we saw Velasquez absolutely destroy Silva in the center of the Octagon. Nothing Silva has done in the interim leads me to believe that he'll actually beat Velasquez or that he even stands much of a chance.
I've been wrong on predictions plenty of times, but I won't be wrong on this one. Velasquez steamrolls Silva in the first round to retain his championship.
PREDICTION: Cain Velasquez
Junior dos Santos vs. Mark Hunt (UFC 160)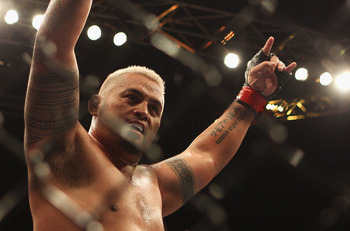 Mark Kolbe/Getty Images
I expect Junior dos Santos to win this fight handily, but crazier things have happened than Mark Hunt knocking out the former UFC heavyweight champion.
If dos Santos does what he's done in every other fight—and by that I mean standing and boxing for the entirety of the fight—there's a real possibility that Hunt will knock him out. I'm not saying it's likely, but Hunt is an excellent striker with a ton of punching power. It will only take one uppercut from the former K-1 star to put dos Santos on the canvas.
That being said, I don't think it's happening. Dos Santos will box with Hunt, but he'll do so carefully, keeping Hunt at bay and peppering him with strikes.
PREDICTION: Junior dos Santos
Antonio Rodrigo Nogueira vs. Fabricio Werdum (UFC on Fuel TV)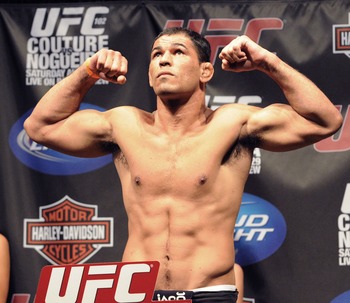 Jon Kopaloff/Getty Images
This battle of The Ultimate Fighter Brazil Season 2 coaches goes down June 8 in Brazil.
I'd be lying if I told you that I've seen a single solitary second of TUF Brazil. I barely watch the American version, and I'm not about to sit through a reality show where I have to read the subtitles. No thanks.
But that doesn't mean I'm not eagerly anticipating this fight. Fabricio Werdum has won both of his fights since returning to the UFC, and he's looked good in doing so.
He's developed a decent striking game to go along with his otherworldly submission game, and that makes him a threat to anyone in the division. He's on the verge of a title shot and might get it if he's able to take out Antonio Rodrigo Nogueira.
Nogueira has alternated wins and losses since 2008, but scored a submission win over Dave Herman last October. He's still Nogueira, which means he has the ability to surprise you when you least expect it, but I don't expect many surprises here. Werdum is only one year younger, but in terms of fight years and accumulated damage, Nogueira is far older.
Look for Werdum to keep the fight standing and outpoint Nogueira with his striking.
PREDICTION: Fabricio Werdum
Renan Barao vs. Eddie Wineland (UFC 161)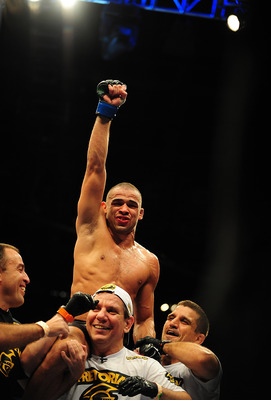 Anne-Marie Sorvin-USA TODAY Sports
This is the kind of matchup I'd expect to see on Fuel TV; instead, it's the main event of a pay-per-view. But the UFC seems fully aware that Renan Barao vs. Eddie Wineland isn't going to sell many pay-per-views, stacking the undercard with premium names.
Even though I don't like it as a selling point for a PPV, I like the fight. I don't give Wineland much of a chance to beat Barao; the Brazilian is slowly turning into a true phenom and will provide a tough test for Dominick Cruz if he ever returns from injury.
What I do like, however, is seeing fresh faces get title opportunities. Wineland has scored consecutive victories over Scott Jorgensen and Brad Pickett, so you can't say he doesn't deserve the chance to fight for a title, even if it's a temporary one.
He's outmatched here, though. Barao is the real deal, and he'll finish Wineland in the first two rounds.
PREDICTION: Renan Barao
Dan Henderson vs. Rashad Evans (UFC 161)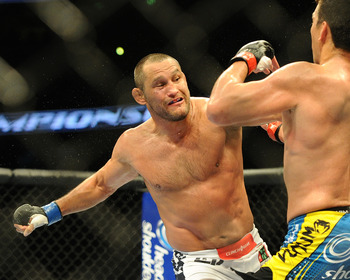 Jayne Kamin-Oncea-USA TODAY Sports
If you buy UFC 161 at home, it's probably because you want to see this fight.
Rashad Evans is coming off consecutive losses to Jon Jones and Antonio Rogerio Nogueira. His performance against Nogueira was particularly disappointing, and he looked nothing like the Evans we've seen during the rest of his UFC career.
He has a chance to rebound here against Dan Henderson, and a win would almost completely erase the failures of the last year.
The same goes for Henderson. Despite his loss to Lyoto Machida, he's still very much in the title picture, and a win over Evans would go a long way toward putting him back in contention for the Jones fight he missed out on when he was injured last September.
It's hard to pick a winner here, but I believe Evans will return to his old form and score a victory.
PREDICTION: Rashad Evans
Anderson Silva vs. Chris Weidman (UFC 162)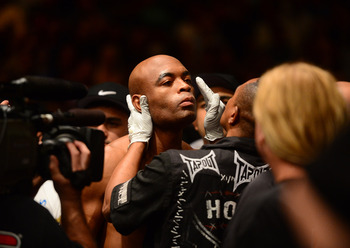 Mark J. Rebilas-USA TODAY Sports
This is the marquee fight of the UFC's summer lineup.
Silva will headline another International Fight Week in Las Vegas. It's the UFC's version of WrestleMania, and fans from around the world will travel to attend the Fan Expo and various events that happen around the fight.
I think they're going to have a very memorable week, too, because they're going to see Anderson Silva's first loss in the UFC.
I know what you're thinking: I'm crazy to pick against Silva. Perhaps I am crazy or stupid or a little bit of both. But I believe that Chris Weidman has the perfect set of tools to beat Silva and become the new middleweight champion.
Weidman saw the game plan executed by Chael Sonnen in his first fight with Silva, and I suspect he'll follow the same formula. The only difference, and this is an important one, is that Weidman has fantastic submission defense. Training with Matt Serra and Renzo Gracie can do that for you.
If Silva goes in the cage and utterly decimates Weidman in the first round, I won't be surprised. That's what Silva does. But I think this is Weidman's moment, and he's going to capitalize on it. The only disappointing thing is that it takes some of the edge off a potential Silva fight with Jon Jones, but that's the way the cookie crumbles.
PREDICTION: Chris Weidman
Demetrious Johnon vs. John Moraga (UFC on Fox)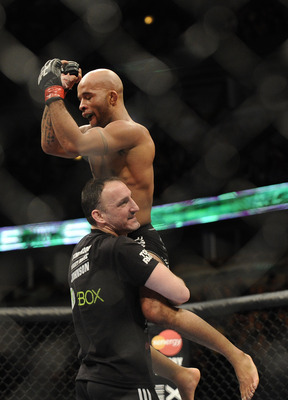 David Banks-USA TODAY Sports
Demetrious Johnson returns to Seattle to defend his championship for the second time in a row on Fox network television.
It's a smart move, putting the flyweight title on Fox. It lends the Fox show some prestige by having a title fight featured in the main event, and it exposes Johnson to a much larger audience than a pay-per-view would provide.
He's not going to draw on pay-per-view, anyway, especially when his opponent has just two fights in the UFC that were both aired on preliminary cards. It's safe to say that only hardcore fans know John Moraga's name.
Moraga is no slouch. He's an excellent wrestler and was actually college teammates with Cain Velasquez at Arizona State. He's the most deserving contender at the moment, because Joseph Benavidez wants to get a few fights in before his inevitable rematch with Johnson. He's got plenty of power to go along with excellent submission skills.
The problem for Moraga is that Johnson is simply too fast and too skilled. The flyweight champion will retain his title here, but I expect it to go to the judges.
PREDICTION: Demetrious Johnson
Jake Ellenberger vs. Rory MacDonald (UFC on Fox 8)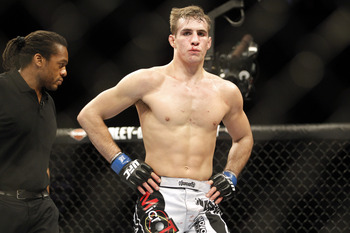 Joe Nicholson-USA TODAY Sports
Over the past year, Rory MacDonald has become one of the most fascinating fighters in the UFC. He's always been good in the cage, but now, MacDonald has a personality to go along with it.
So what if the "personality" is actually a "lack of personality to the point where it becomes creepy"? MacDonald may give off a Patrick Bateman vibe these days, but it's a lot of fun to watch.
This fight represents one of the toughest tests of MacDonald's young career. Jake Ellenberger is one of the most difficult outs in the welterweight division, and he's coming off wins over Jay Hieron and Nate Marquardt. He's got incredible punching power and a strong wrestling base.
Still, I think MacDonald takes this fight. He's on a four-fight winning streak, is building confidence with every win and has a more well-rounded skill set. It won't be easy, but MacDonald will edge Ellenberger on the feet and control him on the ground.
PREDICTION: Rory MacDonald
Jose Aldo vs. Anthony Pettis (UFC 163)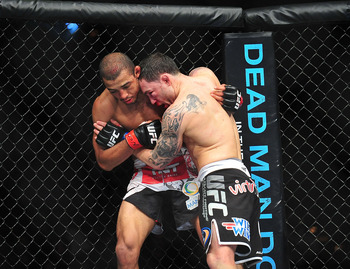 Gary A. Vasquez-USA TODAY Sports
Anderson Silva vs. Chris Weidman may be the UFC's marquee summer event, but this is the fight I'm most looking forward to. I suspect a lot of you will agree with me.
Jose Aldo is one of the very best pound-for-pound fighters in the sport. He'd seemingly run out of challengers after dispatching Frankie Edgar when Anthony Pettis called Dana White with a proposal: He wanted to drop from lightweight and challenge Aldo.
Pettis has scored emphatic wins since losing to Clay Guida in his UFC debut, but it feels like he's still underrated. I'm interested to see how his striking game matches up with Aldo's. I believe he presents a very stern test for the featherweight champion—perhaps even the toughest of Aldo's UFC or WEC career.
That said, I just can't bet against Aldo. He makes fighting look easy in the way that only Anderson Silva seems capable of doing, and I think he'll do enough here to score the decision win. Afterward, Pettis can move back to lightweight, win one or two fights and then finally give us that rematch with Benson Henderson we've been waiting ever so patiently for.
PREDICTION: Jose Aldo
Keep Reading