L.A. Clippers vs. Memphis Grizzlies: Postgame Grades and Analysis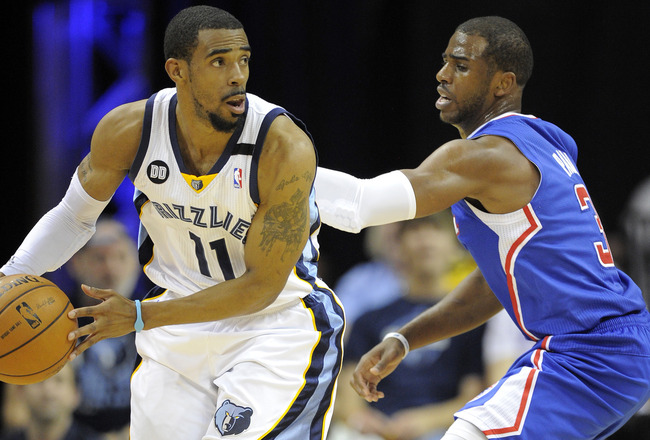 John David Mercer-USA TODAY Spor
Well it's official. The Memphis Grizzlies are moving on to face the Oklahoma City Thunder, and the Los Angeles Clippers will be watching that series at home.
The Grizzlies absolutely dominated the Clippers, 118-105, and they did so with efficient offense and aggressive defense.
Mike Conley and Zach Randolph led the Grizzlies with 23 points apiece on a combined 12-of-19 shooting from the field.
In the first half, as the Grizzlies were building their lead, Tony Allen ran the show with 16 points and intense defense on every possession.
Chris Paul did what he could with 28 points, eight assists and two technical fouls. While CP3 got ejected, he still gave his all out on the floor, but he just couldn't carry the Clippers himself.
Even with Matt Barnes' 30 points off the bench, the Clippers fell short because they couldn't stop the Grizzlies on offense.
Next up for the Grizzlies is a second-round series with Kevin Durant and Co. And next up for the Clippers is an offseason full of tough questions and even harder decisions.
Point Guards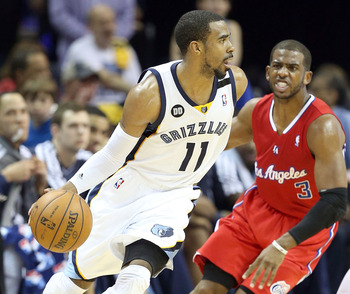 Andy Lyons/Getty Images
Chris Paul, PG, Clippers
Chris Paul watched the final three minutes of the game from the locker room thanks to his second technical foul of the night, but the game was out of hand by that point either way.
With 28 points, eight assists and four rebounds, on 11-of-16 shooting from the field, Paul did everything in his power to keep the Clippers in this one.
Defensively, though, CP3 didn't hold Mike Conley down like expected, giving up 23 points and seven assists to Conley throughout the night.
The speculation will begin regarding Paul's future with the Clippers, but one thing is for sure, and that is Paul gave his all for the Clippers in his final game of the season.
You can't argue with Paul's passion, as evidenced by his two technicals. He was the Clippers' leader, but he just couldn't get it done.
Overall Grade: B+
Mike Conley, PG, Grizzlies
It's rare that a player outplays Chris Paul, but that's exactly what Mike Conley did in Game 6.
He dropped 23 points on 4-of-7 shooting, dished out seven assists and he got to the line a ridiculous 17 times.
Conley was poised, confident and disciplined on both sides of the ball, and it showed every minute he was on the floor.
When the Clippers were making a late, fourth-quarter run, Conley knocked down two huge three-pointers to put the Grizzlies ahead for good. He's becoming a superstar, there's just no way around it.
The 2013 playoffs are his stage, and now we'll see what he can do against the OKC Thunder.
Overall Grade: A
Shooting Guards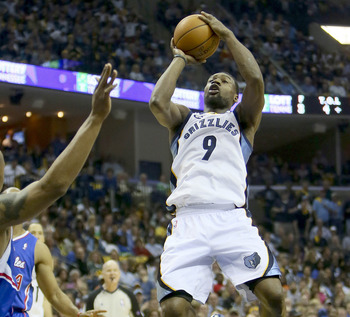 Spruce Derden-USA TODAY Sports
Chauncey Billups, SG, Clippers
With the Clippers surging, down just six points, Chauncey Billups drove to the corner and turned the ball over.
The next time down the court, Billups threw an errant pass into the paint that was picked off and led to an easy bucket for the Grizzlies on the other end.
Yea, it was that kind of night for Billups. He ended with just four points on 1-of-4 shooting, and those two turnovers proved extremely costly.
Someone forgot to remind him that it was the biggest game of the season for him, because he certainly wasn't ready to play on Friday night.
Overall Grade: F
Tony Allen, SG, Grizzlies
The first half of Game 6 was owned by Tony Allen.
He had 16 points on 5-of-8 shooting, with five rebounds, three assists and two steals. And his defense was tenacious throughout the entire first half.
Allen was crashing the boards on every play and locking down the Clippers on the other end.
He cooled off in the second half, scoring just three points in the final two quarters. But he continued to impact the defensive side of the ball for the Grizzlies, making it extremely hard for the Clippers to find open looks.
Allen is going to be a force to be reckoned with on Sunday when the Grizzlies face off against the Thunder, so they better be ready for him.
Overall Grade: A
Small Forwards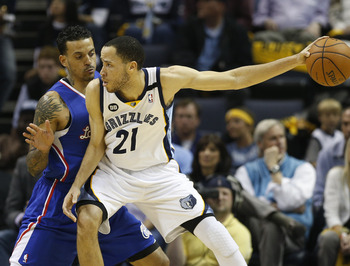 Joe Robbins/Getty Images
Caron Butler, SF, Clippers
Fourteen points isn't a bad performance from Caron Butler. It's just a shame that it took him 16 shots to get there.
Aside from that offensive production and three rebounds, Butler didn't do much for the Clippers.
His defense wasn't as strong as usual, as he got beat on the wing by Tayshaun Prince every play when Prince touched the ball.
It wasn't the best night for Butler, and his lack of efficient production was a major reason why Lob City's season is over.
Overall Grade: C-
Tayshaun Prince, SF, Grizzlies
It just wasn't a good night to be a starting small forward, in terms of offensive efficiency.
Tayshaun Prince shot 4-of-12 from the floor and 0-of-2 from beyond the arc—ending the night with 11 points, six rebounds, five assists, two blocks and one steal.
The reason why the Grizzlies won is depicted perfectly by how Prince played. Even though his offense wasn't pretty, he brought other aspects of his game to the floor, and most importantly, he was a force on defense.
Prince facilitated to his teammates in the second half extremely well, finding open teammates on the perimeter when the Grizzlies needed production.
Trading Rudy Gay was a tough decision for the Grizzlies, but Prince's veteran leadership is certainly invaluable right now.
Overall Grade: B-
Power Forwards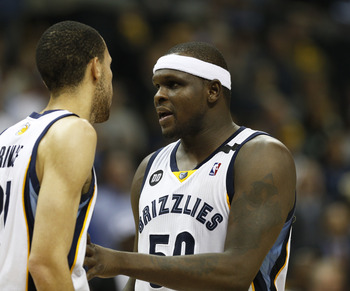 Joe Robbins/Getty Images
Lamar Odom, PF, Clippers
It shouldn't come as a surprise that Lamar Odom wasn't really a factor against the Grizzlies.
He tried to push Zach Randolph around on the block, but Randolph just abused him every time he got his hands on the ball.
Odom ended the night with seven points on 3-of-8 shooting, with only two rebounds and two assists. It's safe to say that Odom has been a disappointment this season, and Game 6 was a reminder of that.
Defensively speaking, Randolph continued to push him around in the post, allowing Z'Bo to score at will. It wasn't pretty for Odom, and that could have a significant impact on his future with the Clippers.
Overall Grade: D
Zach Randolph, PF, Grizzlies
Randolph has certainly matured into a solid and complete player.
Okay, maybe matured is a stretch, thanks to his headband toss after an ejection. But either way, he's been a difference-maker in this series.
He controlled the paint in the first half with 11 points, three rebounds and three assists, all while shooting 3-of-4 from the field.
That didn't stop in the second half as he ended the game with 23 points on 8-of-12 shooting. Oh, and he got under Blake Griffin's skin, which was exactly what the Grizzlies needed him to do.
Sure, Z'Bo got ejected and he missed some time thanks to five personal fouls, but he was a factor when he was on the floor. Against the Thunder, though, he'll need to stay on the floor longer than in this series, because his production will be invaluable to the Grizzlies' success.
Overall Grade: B+
Centers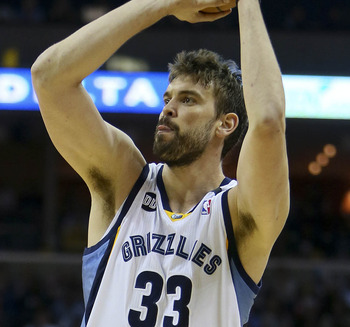 Spruce Derden-USA TODAY Sports
DeAndre Jordan, C, Clippers
It's amazing watching Marc Gasol, who's much less athletic than DeAndre Jordan, lock Jordan down in the paint on the defensive side of the ball.
Jordan should've used his athletic advantage in transition and on the glass against the Grizzlies, but Gasol minimizes his ability to do that.
He ended the night with just five points and four rebounds, and he also committed three turnovers in just 17 minutes of action.
Jordan was M.I.A in this one, and it hurt the Clippers and their ability to lock down the paint.
Overall Grade: F
Marc Gasol, C, Grizzlies
Believe it or not, Gasol put up just one field goal in the first half.
He wasn't aggressive on offense in the half, but he was aggressive on the glass with five rebounds.
Gasol snapped out of in the second half, though, and ended the night with 10 points and seven rebounds. While he committed five personal fouls, he still managed to stay on the floor for 39 minutes, which was rather impressive.
His defense wasn't as stellar as usual, allowing 48 points in the paint, but he was able to keep Jordan off the glass, which was important early on.
Solid effort by Gasol. Hopefully, when the Grizzlies face the Thunder, he'll able to find his 20/10 ways, because without that it will be hard to compete with Kevin Durant and Co.
Overall Grade: B-
Sixth Man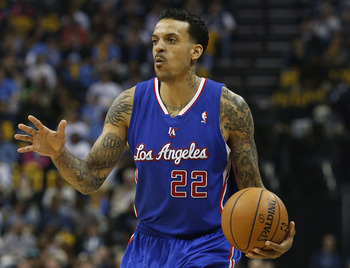 Joe Robbins/Getty Images
Matt Barnes, SF, Clippers
Apparently Matt Barnes was saving his best for Game 6.
He dropped 18 points on 6-of-6 shooting from the floor and 4-of-4 shooting from beyond the arc in the first half. It was almost like the Grizzlies didn't even see him out on the floor the way they were defending him.
Barnes only missed one three-pointer all night long, ending the night with 30 points on 11-of-14 shooting from the field and 6-of-7 shooting from beyond the arc.
He also grabbed 10 rebounds, giving him a 30 and 10 double-double. Not too shabby for a guy who averaged 10 points and 4.6 rebounds per game. Solid, solid effort by Barnes.
Unfortunately, it wasn't enough to will the Clippers to a Game 6 win.
Overall Grade: A+
Jerryd Bayless, PG, Grizzlies
Jerryd Bayless absolutely went off in Game 6, with 18 points, on 6-of-13 shooting from the field and 3-of-8 from beyond the arc.
While he got outplayed by Barnes in terms of being the best sixth man on the floor, his production meant a bit more to his team.
Bayless hit two huge three-pointers, with one coming at the end of the third quarter to extend the Grizzlies' lead to double digits as the clock expired.
While he needs to work on his efficiency, putting up 18 points is a great way to bolster the Grizzlies' starting unit's production. To beat the Thunder, the Grizzlies need Bayless to continue to put up these kind of numbers.
Overall Grade: B
Benches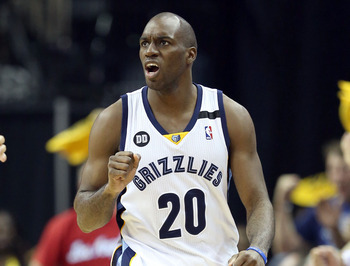 Andy Lyons/Getty Images
Clippers Bench
Where was Jamal Crawford as the Clippers' sixth man?
That's a great question, as Crawford ended the night on the bench having played just 12 minutes. Crawford was scoreless during that time, but it was rather shocking that Vinny Del Negro didn't put him in a single minute in the second half.
Aside from Matt Barnes and his ridiculous 30 points, the Clippers' bench was rather pedestrian. Their second-highest producer was Blake Griffin, with nine points and three rebounds. But that was mainly it from Lob City's bench.
The Clippers needed balanced bench production, and they didn't get it in Game 6. That lack of production was a major factor in their elimination from the playoffs.
Overall Grade: C
Grizzlies Bench
The Grizzlies didn't go too deep on their bench.
Bayless added 18 points and Quincy Pondexter dropped 10 of his own. Add Darrell Arthurs' four points, and you've got all the production from the Grizzlies bench.
It was certainly enough to get the job done, but they have to work on their efficiency—having shot just 11-of-23 from the floor.
What the stat sheet doesn't show, though, was the big shots the Grizzlies bench made, including three balls from Pondexter and Bayless.
Overall Grade: B
Keep Reading