New York Knicks vs. Boston Celtics: Postgame Grades and Analysis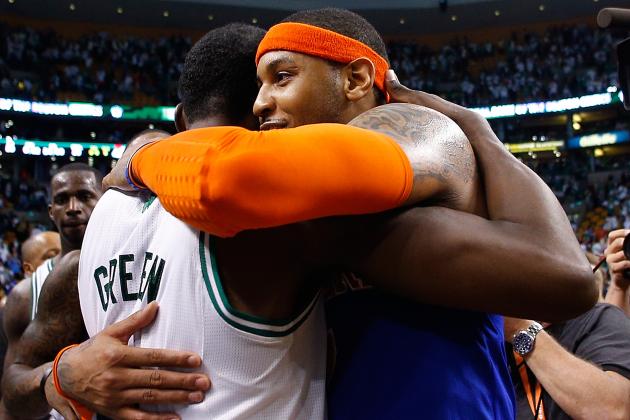 Jim Rogash/Getty Images

The New York Knicks are heading to the second round of the playoffs to face the Indiana Pacers, and they have an atrocious shooting performance by the Boston Celtics to thank for that.
The Knicks survived an epic 24-2 run by the Celtics over a five-minute span of the fourth quarter, en route to an 88-80 Game 6 win.
Carmelo Anthony led the way 21 points, seven rebounds, five assists and two huge jumpers in the last two minutes to seal the victory for the Knicks.
The Celtics fought for their lives, after scoring just 10 points in the first quarter and 17 in the second, by outscoring the Knicks 33-21 in the fourth quarter alone.
Paul Pierce and Kevin Garnett combined for 29 points, 17 rebounds and eight assists, but they looked visibly exhausted in the fourth quarter, which was a big difference-maker.
Tyson Chandler had an amazing night with nine offensive rebounds, which gave the Knicks second-chance opportunities just at the right moments.
It wasn't pretty for either team, but the Knicks prevailed, and they are one step closer to returning to the top of the Eastern Conference.
Begin Slideshow

»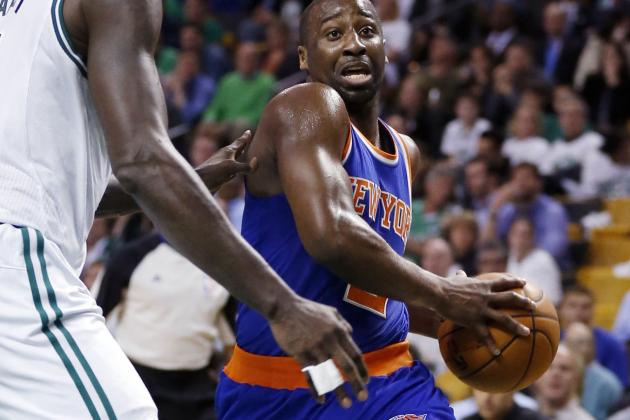 Greg M. Cooper-USA TODAY Sports

Raymond Felton, PG, Knicks
The Celtics made everyone on the Knicks look superhuman, and Raymond Felton was no exception to that.
He ended the night with 11 points, seven assists and two steals, and while that's not terribly efficient, it didn't matter because he made big shots at the right times.
It seemed like whenever the Celtics would make a small run, Felton would answer on the other side of the ball, either with an assist or a bucket.
Even when the Celtics went on a 24-2 run in the fourth quarter, Felton kept his composure and continued to control the pace for the Knicks, which was just what they needed as the Celtics were storming back
He seems to be finding his groove at just the right time, and that's extremely encouraging for the Knicks.
Overall Grade: B+
Avery Bradley, PG, Celtics
Where's Rajon Rondo when you need him, right?
Avery Bradley finally started to look like the backup point guard that he's destined to be for the Celtics.
Not only did he play just 27 minutes, he was horribly ineffective when he was on the floor, with zero points until the fourth quarter rolled around.
The Celtics better hope that Rondo makes it back next year in a timely manner, because Bradley certainly doesn't look like the kind of player who can take over games like Rondo can.
That all was the case until the fourth quarter rolled around, and Bradley decided to actually show up and remind us all of how dominant of a defensive player he can be, with three steals in the quarter.
Bradley caught fire in the fourth quarter, leading the Celtics' epic 24-2 run with 10 points of his own.
Overall Grade: C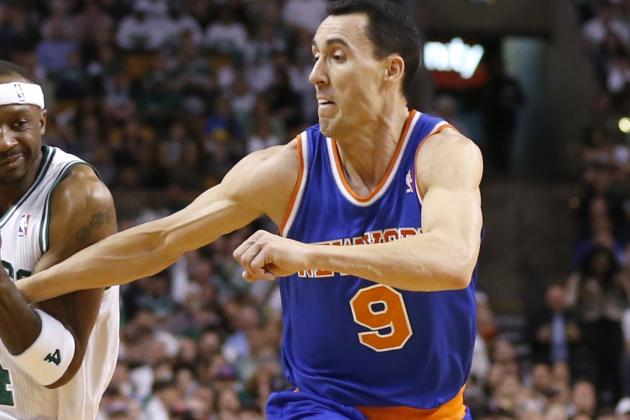 David Butler II-USA TODAY Sports

Pablo Prigioni, PG/SG, Knicks
It's hard to decide which was more shocking, the Celtics' bad performance or Pablo Prigioni's stat line of 14 points, five rebounds and three assists.
It should be noted that he accumulated those stats in just 23 minutes of action. Yeah, it was an impressive night for the Knicks rookie.
If Game 6 was played in New York City, "MVP" chants would've run through Madison Square Garden when Prigioni stepped to the line, because he absolutely owned the Celtics in Game 6.
Not a lot of people saw this kind of performance coming from him, but that's what happens when you're a 36-year-old rookie.
After adding three points and an assist in Game 5, Prigioni came alive at the perfect time.
Overall Grade: A
Jeff Green, SF, Celtics
If it wasn't for Jeff Green's 6-of-8 shooting from the charity stripe in the first half, his 1-of-6 shooting performance through the first two quarters would've looked a lot worse.
With that being said, Green had a productively average night, as he shot just 33 percent from the floor. The worst pieces of his performance were the five turnovers he committed that came at untimely moments in the game.
It has to be noted, though, that Green's play this season is certainly a bright spot for the Celtics' future. And that's encouraging considering Kevin Garnett and Paul Pierce are both nearing the end of their careers.
Either way, Green just couldn't get it done for Beantown, and that's going to hurt until the 2013-14 season begins. Green was visibly winded for the entire last quarter, and it made an impact.
With 21 points and five rebounds, Green had the best night of any Celtic, but it just wasn't enough as he fouled out with 1:21 left in the fourth quarter.
Overall Grade: C+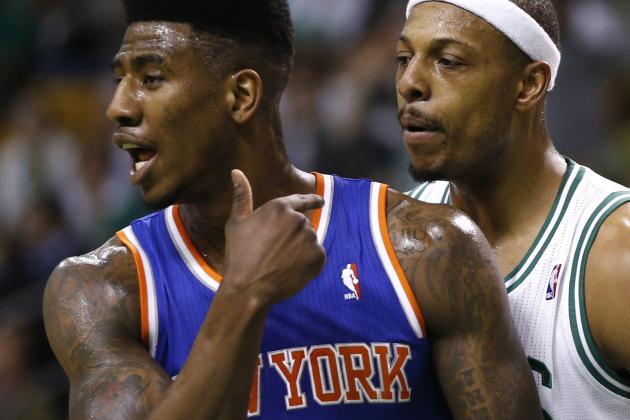 David Butler II-USA TODAY Sports

Iman Shumpert, SG/SF, Knicks
Watching Iman Shumpert play defense is a thing of beauty; well, at least when he's giving 100 percent.
Luckily, he was doing just that against the Celtics, and most significantly against Jason Terry in the first half.
In addition to his lockdown defense every minute he was on the floor, his three-point shooting was spot on too. He shot 100 percent from beyond the arc and hit two huge three-pointers late in the third quarter to put the Knicks up by 20 points.
Shumpert had a huge steal and layup to stop the Celtics' 20-0 run. Shumpert dropped 17 points on the Celtics on 6-of-9 shooting from the floor, and that was a big difference-maker for New York.
There's no doubt that Shumpert is continuing to mature, and that's going to mean a lot for the Knicks in their second-round series with the Indiana Pacers.
Overall Grade: A+
Paul Pierce, SF, Celtics
There are a lot of words that come to mind, thinking about Paul Pierce's Game 6 performance, but the words that stick the most are "utterly disappointing."
His overall stat line of 14 points, seven rebounds, five assists and two steals wasn't horrible, but his shooting percentage certainly was—ending the night 1-of-9 from beyond the arc and shooting 22 percent from the field.
It's a shame to see Pierce lose in the playoffs this way, but it's just another indicator that his days of dominance in the NBA are certainly numbered.
Late in the game, Pierce looked winded and he just couldn't find his stroke when the Celtics needed him to. The usual passion that Pierce has in his game when the game is close was nonexistent, and for Celtics fans, that has to be concerning.
Overall Grade: C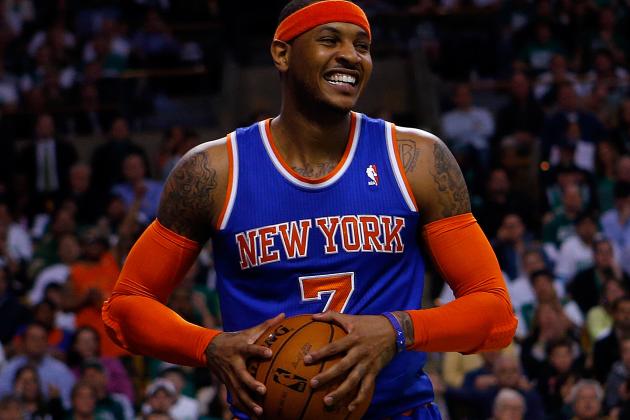 Jim Rogash/Getty Images

Carmelo Anthony, SF/PF, Knicks
Efficiency isn't a major factor of Carmelo Anthony's game, and Knicks fans just need to accept that.
Game 6 certainly wasn't an exception, as 'Melo scored 21 points on 30.4 percent shooting from the floor.
More impressive, though, was his complete production with seven rebounds, five assists and two steals. Considering that 'Melo was struggling with some sort of left shoulder injury, that production is even more impressive.
It's nice to see 'Melo finally leading his team to the next level of the playoffs. And even better news for the Knicks is that they'll be facing the Indiana Pacers in the second round of the playoffs.
'Melo knocked down an absolutely enormous three-pointer with under 1:45 left that put the Knicks up nine points, and they never looked back. As expected, he was absolutely clutch when the Knicks needed him to be.
Overall Grade: A-
Brandon Bass, PF, Celtics
The Celtics didn't do much right in the first half, and Brandon Bass was one of the main culprits for that.
He scored just four points and shot a miserable 1-of-6 from the floor. Sure, Bass isn't known for efficiency on offense, but he usually is on defense, and that was also lacking on Friday night.
His stat line of six points on 1-of-6 shooting from the floor is absolutely atrocious when you consider that he played 42 minutes.
Bass was also the only Celtics starter to not end with double digits.
Defensively speaking, Bass was almost nonexistent, and that seriously hurt the Celtics, as they gave up 15 offensive boards.
Overall Grade: F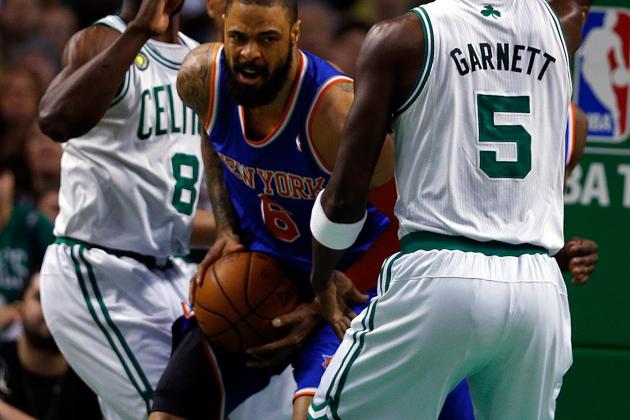 Jim Rogash/Getty Images

Tyson Chandler, C, Knicks
As usual, Tyson Chandler was the player the Knicks needed him to be. He was efficient around the rim and he clogged up the interior on the defensive side of the ball.
Stop for a moment and consider that Chandler had nine offensive rebounds. He created nine second-chance opportunities for the Knicks.
That, my friends, is what I like to call a true difference-maker.
While Chandler was the only Knicks starter not in double digits, he dominated the glass, and that gave the Knicks the advantage they needed. He's the true MVP of this game for the Knicks.
Overall Grade: A
Kevin Garnett, C, Celtics
If Kevin Garnett played like the rest of his teammates in the first half, the Celtics wouldn't have made it into double digits by the halftime break.
Either way, Garnett did lead the Celtics with an efficient performance of 15 points and 10 rebounds on 7-of-10 shooting from the field.
It was an impressive offensive performance, but it was shocking that he didn't demand the ball more, as he was honestly the only player wearing a Celtics jersey who was knocking down shots.
Usually KG would start screaming at teammates and demand the ball, but he didn't, and that cost the Celtics.
His inability to keep Chandler off the glass was a major difference-maker as well, and it was a major reason why the Knicks are moving on and the Celtics are now watching the playoffs from home.
Overall Grade: B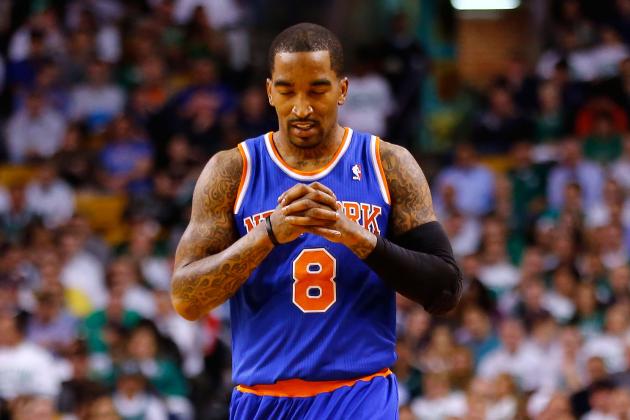 Jared Wickerham/Getty Images

J.R. Smith, SG, Knicks
J.R. Smith should've saved his "I don't know who that is" comment about Jason Terry for Game 6, because it would've been a lot more appropriate since the Knicks knocked the Celtics out.
But it still would've been a stupid statement, because he got outplayed once again by Terry.
The NBA's Sixth Man of the Year ended the night with 13 points on 5-of-13 shooting. Luckily for Smith, four of those points came in the fourth quarter when the Knicks needed someone to score.
With that being said, Smith also jacked up some very questionable shots that led to some easy buckets for the Celtics when they went on their 24-2 run in the fourth quarter.
As usual, it was an up-and-down night for Smith, with it ultimately being slightly above average.
Overall Grade: B-
Jason Terry, SG, Celtics
The "Jet" has officially landed, and he'll be landed until the 2013-14 season gets under way.
Jason Terry had a solid night, as he was the only Celtics bench player to score.
He ended the night with 14 points on 4-of-6 shooting, but it just wasn't enough to will Boston to a huge victory.
Terry didn't facilitate like he usually does, and his defense on the perimeter looked sluggish throughout the game. He did hit big shots down the stretch, but he didn't knock down enough of them, or even get enough shots for what it's worth.
Terry should've demanded the ball more than he did, and he let the Celtics down by failing to do that.
Overall Grade: B-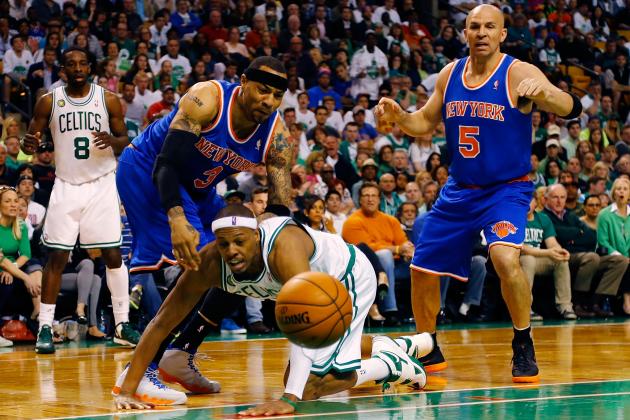 Jared Wickerham/Getty Images

Knicks Bench
Aside from J.R. Smith's 13 points, the Knicks bench put up just three points, thanks to Kenyon Martin.
That's absolutely awful, but it didn't matter because the Knicks' starters carried them.
Moving forward, Martin has to be more aggressive, more disciplined and more productive, and so does Jason Kidd.
Rough overall night for the Knicks' bench. Luckily the starting five nullified their negative impact.
Overall Grade: C-
Celtics Bench
Terrence Williams missed a wide-open layup as the Celtics were looking to increase their impressive fourth-quarter run. And that perfectly sums up the Celtics' bench unit's production in Game 6.
Aside from Jason Terry's 14 points, the Celtics bench brought nothing to the floor.
The rest of the bench, including Jordan Crawford, shot 0-of-5 from the floor and added zero points, which was a difference-maker in this one.
With no one being able to hit a shot for the Celtics, they needed some production from their bench, and they simply couldn't get it.
Overall Grade: D